Orange Key Colour Fashion Trends for Autumn 2011 & Winter 2012
Here is my review of orange, which is the new important fashion colour for 2011 and 2012. Vibrant orange colour was a popular colour in the late 60s and 70s. Orange has not had as much fashion exposure since that era - an orange moment is here again. Clothing and interiors all utilise this vivid fashion colour. My take on orange is quite liberal in that I note orange moves through a colour range that glows until it is tangerine or blood orange hot. Pantone's Emberglow shows a warmer pinker side to orange.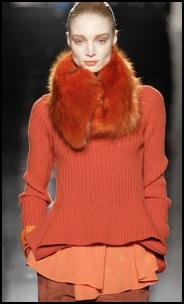 Left - Marios Schwab Vivid Orange Dress.
Sportmax AW11 - Orange Peach Emberglow Rib Knit Sweater & Fur Collar Tippet.
Frequently orange is teamed with either blue, black or grey.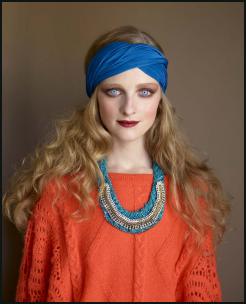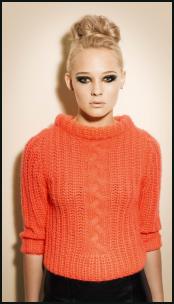 Left - Miss Selfridge Orange Cable Lace Sweater - Autumn 2011 Winter 2012.
Right - Miss Selfridge AW11/12 - Rib and Cable Knit Sweater.
Most women have some black, grey or camel pieces in their wardrobe, so adding a vibrant orange will lift a plain coat, skirt or trousers.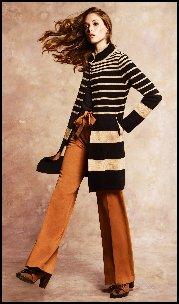 Left - Monsoon/Accessorize - Samantha Stripe Knit Coat.
Trousers - Monsoon Stockist Number: 08448110068.
Right - Great Plains AW11. Black Pencil Skirt, Orange and Black Spot Jumper.
The spot top and the orange colour, teamed with the pencil skirt takes three trends of the season to produce an easy to wear piece.
For the edgiest look this season mix and contrast bold colours to bring the zest of living colours into your world. Colour-block new with old pieces to create fashion buzz that will take you into spring 2012.
Catwalk colours focused on the richer hotter blood orange tones of emberglow.
Orange Catwalk Colours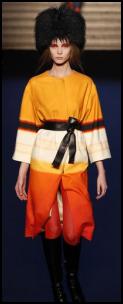 Left - Blugirl AW11 - Orange Emberglow Cropped Fur Gilet Jacket.
Right - Valentin Yudashkin AW11 - Gold/Cream/Orange/Black Coat.
Orange is part of the warm colour section of the colour wheel; add a little black and a dustier shade emerges. Add some white and lighter pastel tint is produced. The colour will also be affected by the material/fabric used. Polished leather colours will appear different from patent leather or suede even when the colour dye is the same. Variety of texture makes all colours appear different from the onlooker because light catches the material surface and reflects back the hue differently. You are reading an original orange colour fashion trends article by Pauline Weston Thomas only for publication on www.fashion-era.com ©.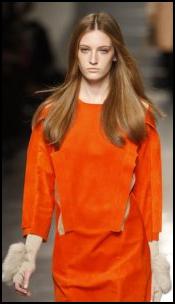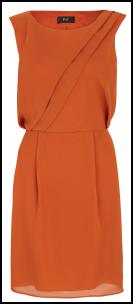 Left - Orange Catwalk Fashion - Aquascutum AW11 Womenswear Fashion .
Right - F&F Orange Pleat Shift Dress £18 - tesco.com.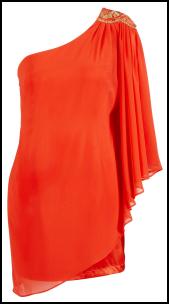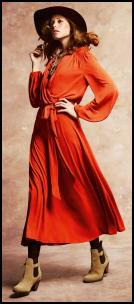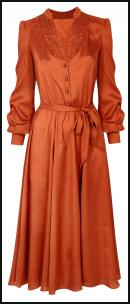 Left - Lipsy - Hot Tangerine Party Sequin One Shoulder Chiffon Sleeve Dress, £75 - Oli AW11 Clothing Stockist Number: 0871 987 1030.
Centre - Jacqueline Wrap Dress, Chocolate Floppy Hat, Central Park Bib, Dallas Boot - All Monsoon/Accessorize AW11 - Stockist: 08448110068.
Right - Wallis Orange Rust Satin 70s Dress.
‡‡
Pleats & Tucks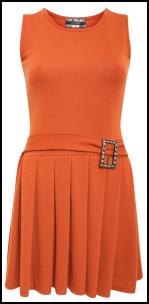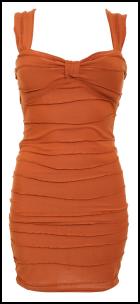 Left - Pilot AW11 - Orange Rust 60s Pleated Quant Dress Buckle Detail £23.99.
Stockist Number: +44 24 7671 8834.
Centre - ASOS Tucked Dress - ASOS AW11.
Right - Orange Rust Body Con Wrap Effect Slinky Ripple Dress - £18 - Pilotfashion.com.
Rust Orange Print Fabric Dresses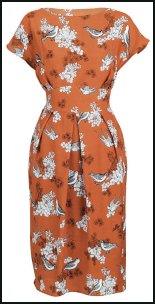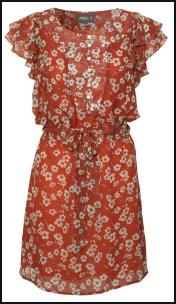 Left - Littlewoods - Orange Printed Dress In Style of Miu Miu Prints.
Right - Floral Print Dress £29 - Apricot AW11.
Fuzzy Textures
Look out for fuzzy fabrics, furry textures, goat hair, teased mohair and soft cosy pieces that make you want to get closer.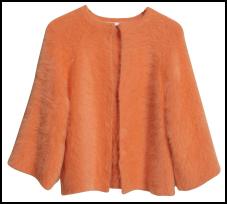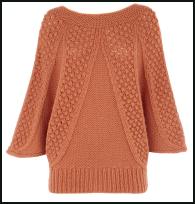 Left - Hobbs Unlimited Cloud Cardigan, £129 (€150) - Stockist Hobbs.co.uk.
Right - Oasis AW11 Textured Chunky Tunic Top Knit - Spicy Cinnamon Salmon Pink Orange Sweater.
Handcrafted knitwear uses traditional yarns as well as interwoven fur lengths to make the ultimate in cocoon dressing. Boucle wool sleeves on cardigan coats offer high street value options to compliment catwalk designers take on fur panels on coats sleeves. You are reading an original colour fashion trends article by Pauline Weston Thomas only for publication on www.fashion-era.com ©.
Dusted Cinnamon Knitwear
Sometimes the orange hue is brilliant and intense, other times it is softer, greyed and quieter, more caramel camel in hue.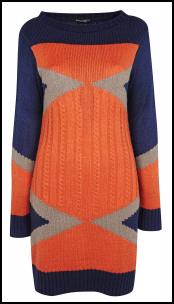 Left and Right Benetton Catwalk Orange Fashion Knitwear.
Centre - Dorothy Perkins Orange/Navy Cable Rib Sweater Dress.
Skinny polo neck sweaters made their return. In an era of better indoor climate control you may find the finest botany wool or silk roll neck polo knits are the most wearable option.
§
Coloured Jeans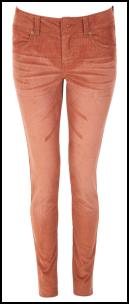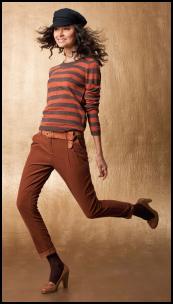 Left - Cinnamon Orange Rust Cord Jeans - Love Label at very.co.uk.
Right - La Redoute Orange/Grey Striped Jumper £25. Cinnamon Spice Baby Cord Chinos £27.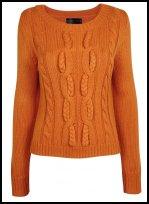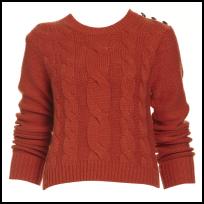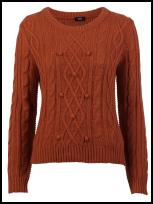 Left - Rich Egg Yolk Orange Cable Sweater - Wallis AW11.
Centre - Internacionale AW11 - Caramel Orange Titan 3 Button Shoulder Jumper.
Right - F&F Tesco - Burnt Orange Aran Cable Knit Jumper
Celine showed coats that wrapped to the side. These coats were clean cut, minimalist in line and slightly masculine in their streamlined silhouette. Other designers showed dropped waist coats held by a simple fastening button or stud, belt or tie.
Bold Bright Understated Coats
The Celine coat below is a natural true bright orange. Orange, tangerine, golden tones to burnt umber, ginger and cinnamon spice add new joy to the clothing colour spectrum. Topshop are hot on trend with this vivid pumpkin orange coat and black leather collar.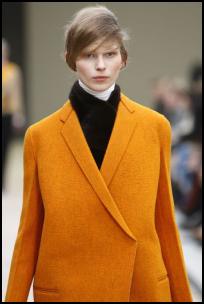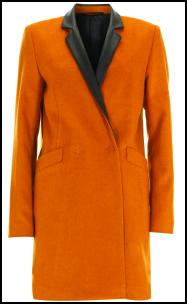 Left - Celine AW11 Catwalk Model - Pumpkin Yellow Coat.
Right - Topshop AW11 Slim Coat With Black Leather Collar.
Black & Orange Tan & Trim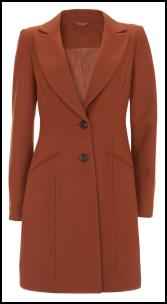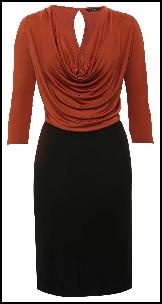 Left - Burnt Orange Coat - Littlewoods AW11.
Centre - M&Co Boutique Colour Block Dress £55.
Right - Hobbs Unlimited - Hobbs Unlimited Double Face Coat, £499/€575.
4---------M4--------4
Cocoon Coats
The overall volume look for Autumn 2011 Winter 2012 includes Cocoon Coats which often have fur hemlines or lavish collars.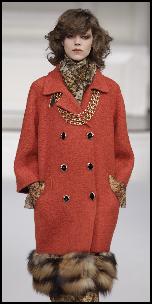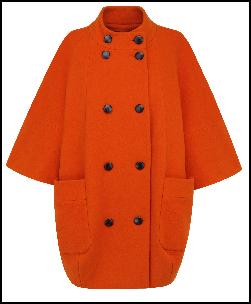 This burnt orange coats above has a loose but attractive line and is weighted by a contrast fur hem trim.
Left - Catwalk AW11 - Coat from Oscar De La Renta.
Right - Marks & Spencer Bright Orange Katy Cocoon Cape Coat £89.
Orange Jackets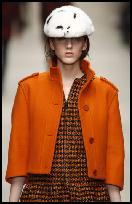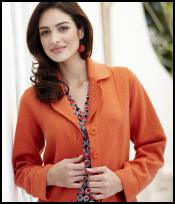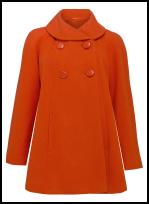 Left - Heritage on the Catwalk AW11. Burberry Orange Cropped Jacket.
Centre - Marisota Fusions By East - Orange Boiled Wool Jacket - Stockist Number: 08719847612.
Right - Sainsbury's TU Clothing Women's Orange Coat £45. Tu Stockist Number: 0800 636 262.
Celebrities are already wearing orange. In this photo actress Kirsten Dunst, garnering attended the AFI Fest 2011 Special Screening of the film Melancholia. She wore an orange/red tomato print Dolce & Gabbana dress with Van Cleef & Arpels 'Frivole' diamond and 18K yellow gold earrings and matching 'Frivole' 8-flower diamond and 18K yellow gold ring.
Orange can become so hot that it meets red in this dress and in the Benetton AW11 Campaign shown.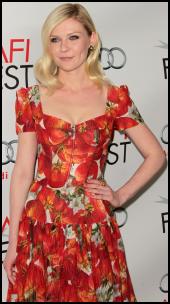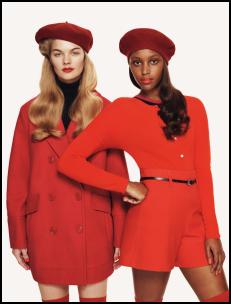 Left - Kirsten Dunst. AFI Fest 2011 Special Screening Film Melancholia.
Right - Coat & Tangerine Orange Shorts - Benetton Autumn 2011/2012.
For one of the seasons hottest looks, take red mixed with orange and geranium or coral and tangerine These vibrant cheerful jewel colours are hot winning looks this season. Think of falling russet leaves and you have a colour palette.
You are reading an original article about Autumn and Winter orange fashion colours for 2011-2012 by Pauline Weston Thomas only for publication on www.fashion-era.com ©.
...(v4r)
Latest Colour Trends for Late 2011
Intense Jewel Colours - Amber, Carnelian, Ruby Red, Amethyst, Sapphire, Emerald, Malachite, Garnet, Lapis and Citrine add a rich zing of colour. Kingfisher blues, jade and raspberry reds vie with orange brights and rusty carnelian tones. In orange tones think of any colour from golden honey amber to rich burnt orange and blood orange.
Colour Mixing - Mondrian Block Colour Mixing - Subtle Block Mixed Neutrals. Arctic Whites. Greens and orange are the new 'it' colours to enliven your clothes rail.
Red mixed with orange and geranium or coral and tangerine creates hot, hot, hot winning looks of vibrant cheerful jewel colours.
More subtle colour blocking combines rich blue with a complementary contrasting burnt orange-rust-red. That may be the most appropriate way for some women to confidently wear orange. The dress shown below left uses orange to striking effect in the belt accessory, whilst retaining the unbeaten combo of royal blue with black.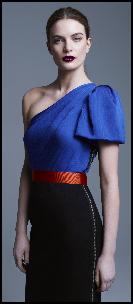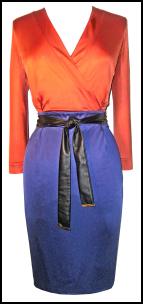 Left - Debenhams - Roksanda Iilinic Collection - Staying Power of One Shoulder Trend.
Right - Burnt Out But Opulent - Gucci Colour Block Belted Jersey Wrap-Effect Dress £445.
Begin with small amounts of oranges, such as in a belt, and then progress to whole garments like the contrast bodice of a dress. This Gucci dress has the same three colours, but you can see how by altering the proportion of any one colour, the overall effect makes for a totally different fashion design. Orange with depth, soon becomes darkened and syrupy like caramelized burnt oranges.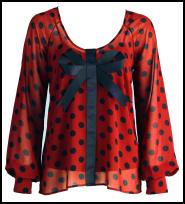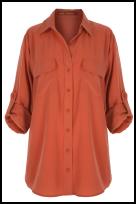 Left - Holly Willoughby Blue Spot Print Orange/Coral Chiffon Blouse £35 at Very.co.uk.
Right - Burnt Orange Utility Shirt £26/€34 - NEXT Hoxton Girls next.co.uk.
Get instant lift with a bright bold fashionable handbag. Carry your bag in an obvious no-handle grasp, or under your arm as hug me pouches. Well try it for the season and see how much it irritates you compared with underarm handle bags.
For Spring 2011 colour fashions see the Colour Block Fashion.
Orange Handbags
These handbags are all described as orange, and whilst they have a similar tone they show interesting variations.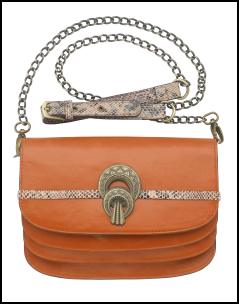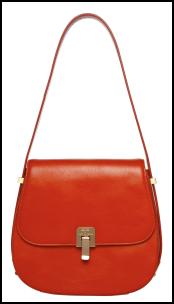 Left - Orange Tan Chain Strap Handbag - River Island Accessories AW11 WW.
Stockist Number: 0208 991 4904.
Right - House of Fraser - Orange 'Boston' Turnlock Shoulder Bag £145/€165 Pied a Terre.
Stockist Number: 020 7003 4000.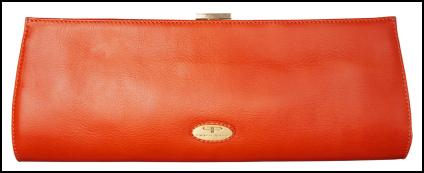 House of Fraser AW11 - Bright Orange 'LA' Clutch Bag £145/€165 Pied a Terre.
The orange bags below are truer tones of orange.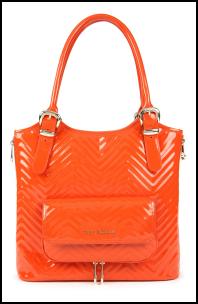 Left - Ted Baker Handbag.
Right - Fiorelli Orange Patent Purse.
The Matalan clutch bag made up in a colour found in the warm section of the colour wheel verges on salmon, coral and watermelon red.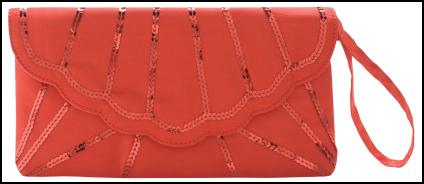 Matalan AW11 - Christmas Women's Scalloped Edge Sequin Clutch £4 - Matalan Stockist Number: 0845 330 3330.
-------v6-------
Not since the real 1970s has vibrant orange colour had such designer approval. An orange moment is here again. Both clothing and interior design feature accents of this fashion colour.

Right - PANTONE 17-1547 Emberglow
Of Emberglow the warm colour shown right, Pantone say "Radiant Emberglow, a traditional autumnal tone, emanates the warmth of a glowing fire – the perfect panacea to the crisp air of fall. Combine Emberglow with Coffee Liqueur for a classic look, or with Honeysuckle for something a bit more retro. Add a spark with shoes or a handbag in Emberglow, or perhaps a patterned scarf combining purpled Phlox or Deep Teal."
The red, cerise, honeysuckle pink, coral and tangerine orange range of harmonious colours are equally stunning colour choices. Sometimes it is difficult to know where red ends or blood orange begins. You are reading an original orange colour fashion trends article by Pauline Weston Thomas only for publication on www.fashion-era.com ©.
Contrasting soft dusty ballet and nude tone colours remain but these take on a soft tint within the Pantone Emberglow range. These pieces give the contrast of wispy ethereal looks which now meet the edgier more aggressive fetish fashions of darker winter months.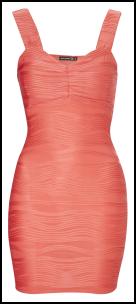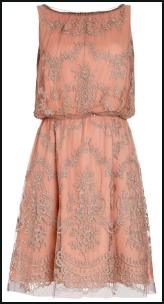 Left - Primark Body Con Pink Peach Dress.
Centre - David Koma AW11 - Ballet Pink & Black Body Con Fetish Dress.
Right - Monsoon/Accessorize - Ladylike Glamour - Etienne Lace Peach Dress - £140/€222.
Monsoon Stockist Number: 08448110068.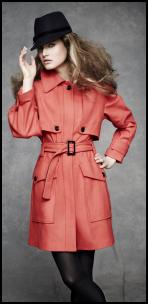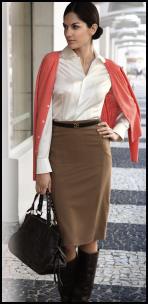 Left - Marks & Spencer 60's Pop Coat £110 .
Centre - Vanessa Bruno Limited Edition Winter 2011/12 At LaRedoute. Blouse £119, Trousers £69, Calf Length Boots £185.
Right - Coral Cardigan £139, White Silk Blouse £129, Camel Pencil Skirt £119, Brown Paisley Print Leather Bag £289. Elégance Autumn/Winter 2011 Stockist Number: 0844 557 5507.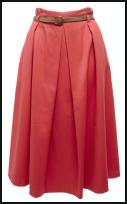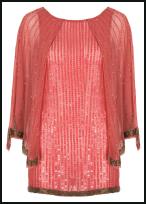 Left - Belted Wool Mix Midi Skirt £45 - ASOS WW AW11 Collection.
Right - Beaded Top.
Colour Block Orange
How you mix and match or colour block is up to you. This is a season to follow the main trend of 'colour blocking', but make up your own wardrobe palette that suits your skin tone.
Go bright and bold or settle for softer tones and add grey to burnt rust orange for a more subdued look.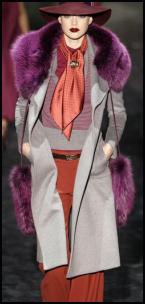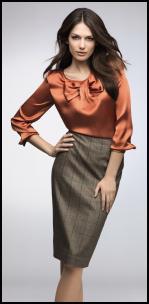 Left - Gucci Catwalk Grey Coat Teamed With Orange Rust Trousers.
Right - Elégance Burnt Orange Silk Blouse £129, Glencheck Pencil Skirt £119 - Elégance Autumn/Winter 2011.
Want to use this hot colour, but find orange does little for you? Then put that colour on your lower half, your legs, cuffs, gloves or feet. Love orange - then add a bright scarf, blouse, sweater or hat near your face.
‡
Black is low on the list of trends this autumn unless you intend to devote yourself to Fetish/Goth looks.
The bright colours that popped up everywhere for summer 2011 are now subdued into the vibrant but more subtle colours of gems from a jewellery store. For Spring 2011 colour fashions see spring's Colour Block Fashion.
Jewel colours are now the main colour story of autumn 2011 fashion trends. Those softer ballet tones are subtly there, but the main colour focus is richness and depth of tone. This is found in orange carnelian, sapphire, lapis, emerald, garnet, deep amethyst, ruby and golden citrine. Much of the golden yellow and copper tones are frequently metallic as are many green shades.
This is my review of the important fashion and bag looks in orange colour tones for the autumn winter season of 2011. You are reading an original orange colour fashion trends article by Pauline Weston Thomas only for publication on www.fashion-era.com ©.
Conclusion of Key Fashion Trends Autumn 2011 Winter 2012
This review features the most important women's fashion colour looks for the autumn 2011 and Winter 2012. This article reviews the main colour looks in dresses, footwear, bags jewellery and other fashion accessories. You have been reading an original colour fashion trends article by Pauline Weston Thomas only for publication on www.fashion-era.com ©.
Copyright of images courtesy of Prshots.com, IFTF, Swarovski, Marks & Spencer, Marisota, Accessorize Monsoon, Matalan, Hobbs, House of Fraser, Primark, Oasis, Debenhams, Littlewoods, River Island, Benetton, ASOS, Pantone, Sainsbury's Tu, Next, very.co.uk, Internacionale, Miss Selfridge, Burnt Out But Opulent, Elegance, East, M&Co, Dorothy Perkins, F&F Tesco, Ted Baker, Wallis, Oli, Pilot, Apricot, Great Plains, Fiorelli.
Date added 21 Oct 2011 - Ref: P.861.
If you like this page then please share it with your friends
---
--Link--
For more information on ladies and teens fashion trends go to:-
Archived Sections
Custom Search
About Fashion-Era.com
Fashion-Era.com looks at women's costume and fashion history and analyses the mood of an era. Changes in technology, leisure, work, cultural and moral values. Homelife and politics also contribute to lifestyle trends, which in turn influence the clothes we wear. These are the changes that make any era of society special in relation to the study of the costume of a period.

Fashion-Era.com can take no responsibility for any information on the site which may cause you error, loss or costs incurred from use of the information and links either directly or indirectly. This site is owned, designed, written and developed by author: Pauline Thomas and Guy Thomas. This site is designed to be viewed in 1024 X 768 or higher.
ALL RIGHTS RESERVED. Fashion-era.com reserves the right to add or delete information, graphics and links. Copyright © 2001-2014 on all content, text and images in Fashion-era.com. Images and text in this website may not be used on other websites.
Before you write to me for costume/fashion help or information please, please consult the extensive sitemap which lists all our pages. If you still cannot find the answer after searching the site, then before you email me, please consider if you are prepared to make a donation to the website.
Donations
Reader's donations help this site flourish, in particular donations encourage me to write more articles on fashion history as well as current trends. PayPal allows anyone with a credit card to donate easily and securely. You may donate any sum you feel appropriate.