Pink Colour Fashion Trends for Autumn 2011 & Winter 2012

Here is my review of pink fashion colours in women's fashion for Autumn 2011 and Winter 2012. The warmer jewel tones in fashion include pink ruby, rich garnet, carnelian and purple rose amethyst. Right - Pink from Pantone. PANTONE 18-2120 Honeysuckle.
Pantone's honeysuckle pink has been a winning colour throughout 2011 in all areas of life from interior decor, bridalwear to catwalk fashions. Along with other jewel colours such as garnet, pink tourmaline, pink amethyst and pink ruby these colours add fiery lively zest to the red range of hues.
Pink when teamed with red, black, orchid or purple has an effect is dramatic and bold.
Red, orange, coral or tangerine mixed with honeysuckle pink take the fashion trend of colour blocking AW11/12 to its hottest extreme.
Pinks
Honeysuckle Pink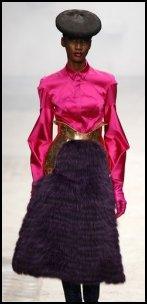 Left - Manish Arora AW11 - Pink Blouse & Skirt.
Right - Pink Chiffon Ruffle Dress £30 - Fashion Union AW Dresses.
Stockist Number: 0844 5730900.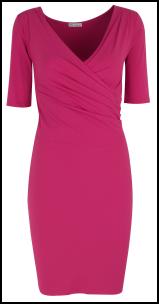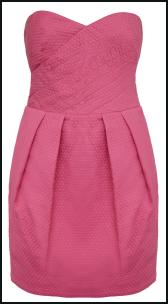 Right - Marks and Spencer AW11 Autograph Pink Dress.
Left - ASOS AW11 - Bustier Pink Mini Prom Dress.



Left - Blazer, Pink Lace Prom Dress - Very.co.uk AW11.
Centre - Tamara Ecclestone - Ultimo Couture Collection.
Ultimo is available from Debenhams & www.ultimo.co.uk.
Right - New Look AW11 - Bright Pink Empire Line Bloused Sleeve Dress - www.newlook.com.

I think honeysuckle pink looks striking with black or purple. This colour combo is very reminiscent of daring 1980s colour blocking. An easy way to try these bold looks is simply by using contrast tights.
Right - PANTONE 18-2120 Honeysuckle.
Honeysuckle pink according to Pantone offers ".... a sense of continuity from spring..." They suggest that reddish pink works with every other colour in the Pantone AW2011 fashion colour palette. It looks very good with autumnal dried leaf tones like Coffee Liqueur and Nougat.



Left - PANTONE 18-0930 Coffee Liqueur,
Centre - PANTONE 18-2120 Honeysuckle,
Right - PANTONE 16-1320 Nougat.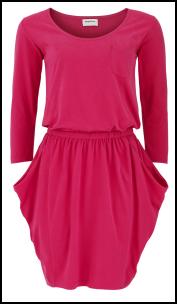 Left - 60s Girly Lace Notch Neck Pink Dress £60 - Warehouse Autumn Winter Campaign 2011
Warehouse Stockist Number: 0845 122 2251.
Centre - Jenny Dress £45 - People Tree Mainline AW11 - peopletree.co.uk.
Right - Miss Selfridge AW11 - Pink Tunic Dress, Purple Opaque Tights.
Colourful extras such as shoes and blouse add an injection of vibrant pink as and when it suits your mood or outfit. Just mix it up and get the colour block mixing trend.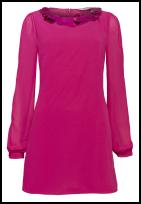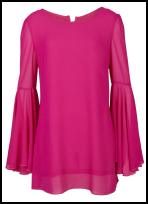 Left - Sainsbury's TU Clothing - Pink Tunic Dress £25.
Right - Hot Pink Bell Sleeved Shift Dress £30 - Fashion Union AW Dresses.
Stockist Number: 0844 5730900.
‡
Dresses in stores range from blue violet purples to rich warm red purples with a hint of damson and plum.
To add even more excitement, pair Phlox with Honeysuckle.
Near Right - A Purple - PANTONE 19-2820 Phlox.
Far Right - A Pink - PANTONE 18-2120 Honeysuckle.
These colours also blend to create richer deep pink, shocking pink and magenta tones.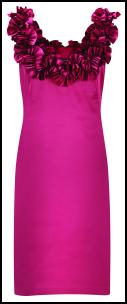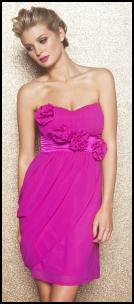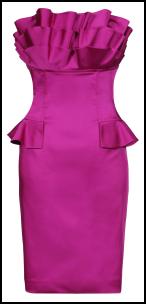 Left - Magenta Pink Dress From Bonmarché Features Rose Flower Neckline.
Centre - A|wear Vibrant Pink Corsage Detail Dress €55/£50.
Christmas 2011 Stockist Number: 00 353 1 4724900.
Right - EMIS Fuchsia Pink Peplum Ruffle Dress - Ted Baker AW11 Womenswear tedbaker.com.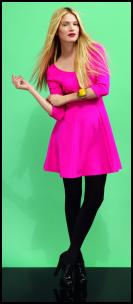 Left - Hobbs AW11 London London Elaine Dress, £149/€170 - hobbs.co.uk.
Centre - Dorothy Perkins - Pink 60s Tunic Dress.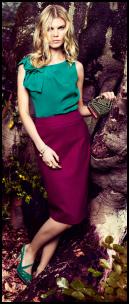 Left - Primark Autumn Winter 2011 - Stockist Number: 0118 9606 300.
Right - Monsoon/Accessorize AW11 Kite Top, Elm Skirt, Tie Front Loafer, Ash Clutch.
§
As well as effective colour styling, print fabric and check plaids are also important. The contrast with reworked digi-print animal and reptilian snakeskin print can be interesting. Floral fabrics have delicate eastern oriental blooms and assertive exotic flowing blossoms.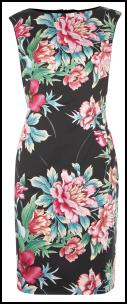 Left - Just Cavalli AW11 - Meandering Easter Flower Pattern.
Centre - Matalan AW11 Christmas Women's Wear Fashion.
Satin Floral Dress £28, Stiletto Court Shoe £12 - Stockist: 0845 330 3330.
Right - Exotic Pink Flower Print Dress. TBC.
Floral fabrics have delicate eastern oriental flowers and forms that meander over large areas of fabric.
The centre of attention for autumn 2011 has been on jewel colours. This major development carrying on from spring brights and colour-blocks.
Orchid pink and pink sapphire are cool icy pinks imbued with a hint of purple.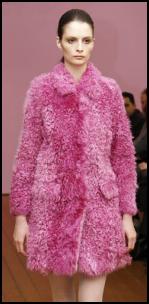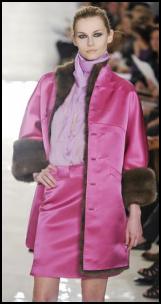 Left - Philosophy AW11 - Pink Sixties Inspired Fur Coat.
Right - Chado Ralph Rucci AW11 - Pink Satin Coat & Skirt.
For Autumn 2011 Winter 2012 vivid rich jewel colours made up in frankly fake fur materials create striking unexpected effects. When worked as retro 60s cute coats they exude a youthful guise. Every colour embraced catwalk fur coat styles. Read and see more on my fur coat article.
Hats complimented these seventies silhouette coats. The Fedora hat, the Trilby hat and the Cloche hat all added to the 40s and 70s retro feel of catwalk remix shows. These hats are easy to buy from the high street stores at every price level and in a wide range of colours.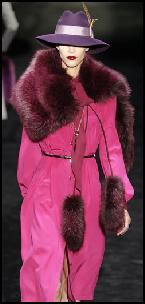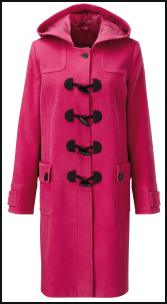 Left - Gucci AW11 - Pink Coat & Fur Accessories.
Right - Retro Pink Duffle Toggle Fastening Coat - Fifty Plus AW11.
70s styles bring back memories of Charlie's Angels. Seventies hippy chic took advantage of bright colours in fashion and maxed out old Afghan Style Boho coats, but with a new twist. Shearling and coloured Shearling was a popular designer choice especially at Gucci. Retailers everywhere have copied the catwalk look even in the brilliant colours shown here. Colours such as purple, blue and red have all been used heavily.
Duffle coat toggle fastenings decorated not just duffle coats, but also other winter apparel such as gilets, parkas and capes.
Even shoes pick up on every pink tone imaginable from dusty orchid pink to soft coral tones. There were still many platform shoes available in the high street, but catwalk designers favoured the style less opting to show lower classic court shoes in many instances.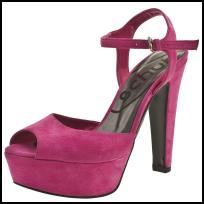 Right - Schuh Cotty Fuchsia Pink Platform Sandal £70/€90 Schuh.co.uk.
Pantone Honeysuckle Pink is frequently set against Pantone's Bamboo.
Pantone describe Bamboo 'as a fall hue, bringing a warm, exotic flavour to the season. Like a filtered sunset on the waning days of fall, Bamboo is a standout yellow with a subtle green undertone.'


Pantone Honeysuckle (Pink) - Pantone's Bamboo (Yellow).
These two dresses below use Pantone Honeysuckle (a ruby pink) and Bamboo (amber yellow) creating vibrant on trend colour charge.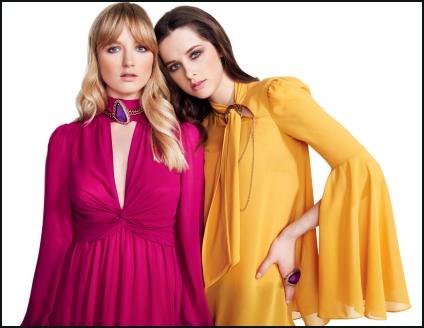 Above - New Look AW11 - Bright Pink, Bright Yellow Dresses - www.newlook.com.
For the edgiest look this season mix and contrast bold colours will bring the zest of living colours into your world. Colour-block new with old pieces to create fashion buzz that will take you into spring 2012.
The bright and neon colours of summer 2011 were replaced by vibrant gemstone colours for Autumn 2011 and Winter 2012. Pink sapphire, coral, pink tourmaline, rose amethyst, garnet and pink ruby leave consumers with a vast range of pinks to work with. Citrine and golden garments are shown here. You are reading an original article about Autumn and Winter pink colours for 2011-2012 by Pauline Weston Thomas only for publication on www.fashion-era.com ©.
...(v4r)
Latest Colour Trends for Late 2011
Intense Jewel Colours - Ruby Red, Amethyst, Sapphire, Emerald, Malachite, Garnet, Amber, Carnelian, Lapis and Citrine add a rich zing of colour. Kingfisher blues, jade and raspberry reds vie with orange brights and rusty carnelian tones. In red hues think lipstick red, ruby red, geranium and hot fuchsia pink.
Colour Mixing - Mondrian Block Colour Mixing - Subtle Block Mixed Neutrals. Arctic Whites. Greens and orange are the new 'it' colours to enliven your clothes rail.
Conclusion of Key Fashion Colour Trends Autumn 2011 Winter 2012
This review features the most important women's fashion colour looks for the autumn 2011 and Winter 2012. This article reviews the main colour looks in dresses, footwear, bags jewellery and other fashion accessories. You have been reading an pink colour fashion article by Pauline Weston Thomas only for publication on www.fashion-era.com ©.
Copyright of images courtesy of Prshots.com, IFTF, BHS, Fashion Union, Pantone, Swarovski, A|wear, ASOS, Accessorize Monsoon, Marks & Spencer, Hobbs, New Look, Next, Isme, Miss Selfridge, T K Maxx, Burnt Out But Opulent, Elegance, Schuh, Bonmarché, Dorothy Perkins, People Tree, Primark, Penneys, Ted Baker, Wallis, Fifty Plus, Ultimo Couture Collection At Debenhams, Sainsbury's Tu, Warehouse, Vera Mont.
Date added 21 Oct 2011 - Ref: P.866.
If you like this page then please share it with your friends
---
--Link--
For more information on ladies and teens fashion trends go to:-
Archived Sections
Custom Search
About Fashion-Era.com
Fashion-Era.com looks at women's costume and fashion history and analyses the mood of an era. Changes in technology, leisure, work, cultural and moral values. Homelife and politics also contribute to lifestyle trends, which in turn influence the clothes we wear. These are the changes that make any era of society special in relation to the study of the costume of a period.

Fashion-Era.com can take no responsibility for any information on the site which may cause you error, loss or costs incurred from use of the information and links either directly or indirectly. This site is owned, designed, written and developed by author: Pauline Thomas and Guy Thomas. This site is designed to be viewed in 1024 X 768 or higher.
ALL RIGHTS RESERVED. Fashion-era.com reserves the right to add or delete information, graphics and links. Copyright © 2001-2014 on all content, text and images in Fashion-era.com. Images and text in this website may not be used on other websites.
Before you write to me for costume/fashion help or information please, please consult the extensive sitemap which lists all our pages. If you still cannot find the answer after searching the site, then before you email me, please consider if you are prepared to make a donation to the website.
Donations
Reader's donations help this site flourish, in particular donations encourage me to write more articles on fashion history as well as current trends. PayPal allows anyone with a credit card to donate easily and securely. You may donate any sum you feel appropriate.