Purple Colour Fashion & Accessories Trends for Autumn 2011 & Winter 2012
Purple is much in evidence in women's clothing and accessories for Autumn 2011 and Winter 2012. Vibrant purple amethyst is one of the rich jewel hues of winter. Think of the hues fresh berries, blackcurrants damsons, plums and blueberries for any number of purple colour combinations. Accessories such as suede gloves, a belt, a handbag, coloured pantyhose, or piece of jewellery in any of the purple hues would update your autumn/winter wardrobe.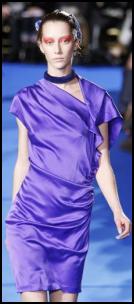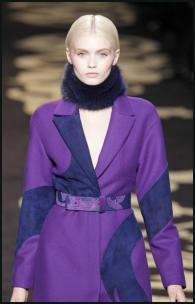 Left -Thakoon AW11 - Side Draped Purple Satin Dress.
Right - Gucci Purple Parti-Colour Coat.
Catwalk Purple embraced a whole range of purple tones from lilac, violet to aubergine. The names for purple are many and varied dependent on the tint or shade, but this season also include grape, damson, blackcurrant, mauve, amethyst, acai, eggplant, orchid, plum, wisteria, lavender, orchid and loganberry. Some are blue or red hued berry stains, but for me the prettiest purples are those wispy velvety hues found in violets and irises.
Other vivid rich jewel colours this year include golden amber, carnelian red, garnet, pink ruby, sapphire, emerald, olive green quartz, teal, aquamarine and purple amethyst.
Pantone say of this years purple hue "Phlox, a magical, deep purple with a hint of mystery, is an outstanding statement when worn on its own."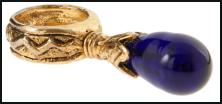 Left - PANTONE 19-2820 Phlox.
Right - ASOS - Purple Drop Earring.
Add Phlox to this season's neutrals to create a bit of drama, or combine it with Cedar, Deep Teal or Coffee Liqueur for something extraordinary. Select a purple leather croc clutch, amethyst gemstone like this earring above from ASOS to be in on the purple trend.
Proud purple adds winter opulence. Winter pieces range from true violet to more plum aubergine tones of purple. Add a purple accessory such as a belt to bring together other colour combinations.

Heather Purple Belt - Ted Baker AW11 Womenswear Accessories At Tedbaker.com.
For the edgiest look this season mix and contrast bold colours will bring the zest of living colours into your world. Colour-block new with old pieces to create fashion buzz that will take you into spring 2012.
You are reading an original article about purple fashion colours for 2011-2012 by Pauline Weston Thomas only for publication on www.fashion-era.com ©.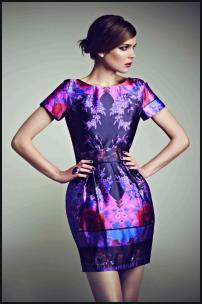 Left - Inspirational Purple Print Fashion - Mary-Katrantzou - AW11.
Right - Affordable Desirable Womenswear - Oasis Purple Print Dress.
Purple Tie Dye Fashion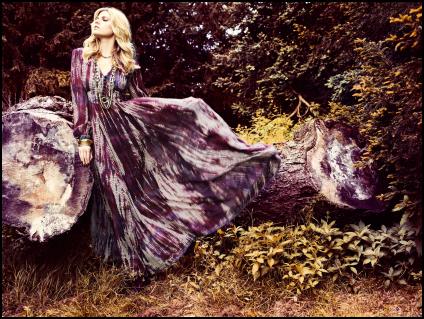 Above - Tie Dye Tones of Purple Maxi Dress - Monsoon/Accessorize AW11 - Stockist Number: 08448110068.
‡
The centre of attention for autumn 2011 has been on jewel colours and of colour blocking with these rich hues. This major development carries forward from spring brights and colour-block dresses.
Colour mixing bold purple, plum berry, damson and magenta purple with other brights like pink or teal is a norm for winter 2012. So go ahead and mix and match your colour block look.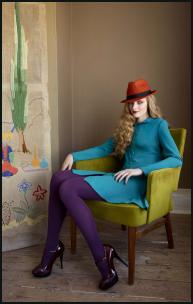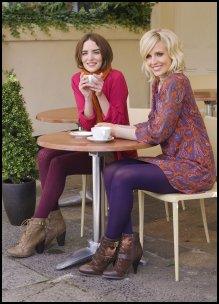 Left - Miss Selfridge Colour Blocking - Teal Dress, Purple Tights, Orange Rust Fedora.
Right - Dunnes Stores AW11.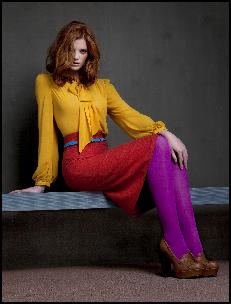 Left - Primark - Mustard Pussy Bow Blouse £10, Crimson Wool Pencil Skirt, Cobalt Belt £14, Loafers £16. Primark Autumn Winter 2011 - Primark Stockist Number: 0118 9606 300.
Right - Miss Selfridge AW11/12 - Colour Blocking - Pink Dress, Purple Pantyhose.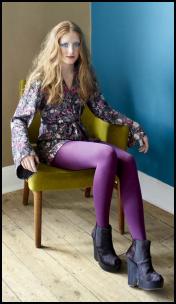 Left - Miss Selfridge - Purple Tights/Floral Tunic Dress.
Centre - Miss Selfridge AW11 - Colourful Purple Opaque Tights/Pantyhose, Yellow Print Dress.
Right - Dorothy Perkins - Purple Jeans.
These mass market garments above, and the way they have been styled are good illustrations of achieving hot on trend looks by wearing contrasting legwear or hosiery. But coloured jeans or trousers, gloves, hats and scarves also inject vibrant pops of colour such as purple and at low cost.
§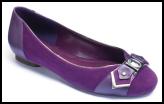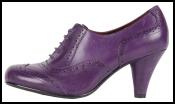 Left - Purple Ballerina Shoe, £35 - Fifty Plus Autumn Winter 2011 Collection. Fifty Plus AW11 Womenswear Stockist Number: 0871 231 2000.
Right - Hush Puppies Ponder Purple Leather Laced Shoe Boot £55.
Hush Puppies AW10 Women's Collection.
Purple is having a suede and satin moment. Low pump shoes or flats in purple suede can lift a dull outfit into brights. Purple shoe boots can set off great colour contrast with hosiery or pants.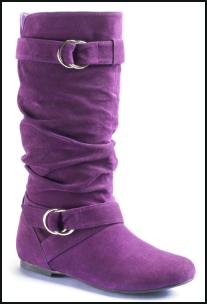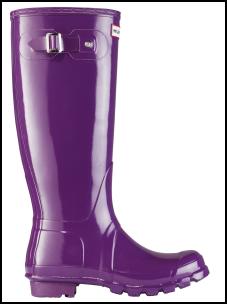 Left - Fifty Plus Autumn Winter 2011 Collection - £35. Stockist Number: 0871 231 2000. This pull-on, suede slouch boot with strap detailing is a winner whatever your age. It will suit many women as it is available up to EEE fitting.
Right - John Lewis AW11 - Hunter Original Purple Welling Glossy Boot in Blackberry, £79.
Purple Bags
Bags have contrast piping trims or inset zip metalwork, tassels and suede appliqué. These purple bags are mostly large bags, but some satin purple clutch bags are available for evening and some berry toned leather ones for all occasions.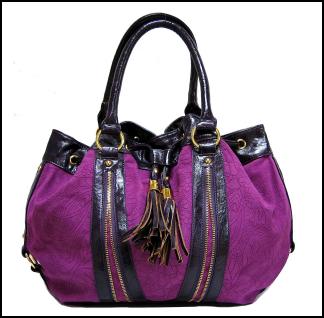 Purple Suede Effect Handbag With Tassels/Zip Detailing - £23.99 At A-shu-co.uk.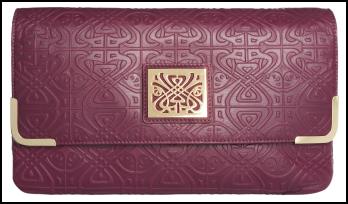 Mulberry Clutch Bag At House Of Fraser.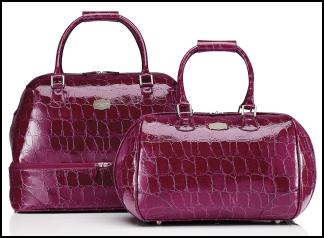 Jasper Conran For Tripp Luggage - Croc Tote Bags.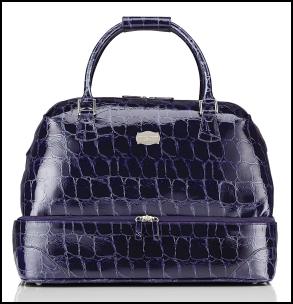 Jasper Conran For Tripp Luggage - Purple Croc Large Tote Bag.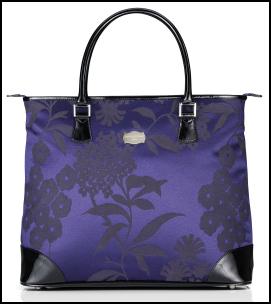 Jasper Conran At Tripp Luggage - Large Purple Grape Brocade Bag.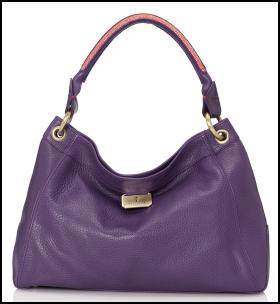 John Lewis AW11 - Immi Purple Bag.
4---------M4--------4
Women have been seeking dresses they can really wear and love, and Mary Portas has heard their cries. The dress below would suit any number of women and could be dressed up or down, layered, toughened up with thicker textured tights and boots, or worn as it is.
Day To Evening Dresses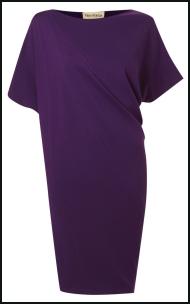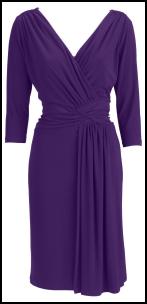 Left - Mary Portas Purple 'No Brainer' Dress £135 - House Of Fraser.
Right - V-Neck Draped Purple Dress - Isme AW11.
Drapery In Dresses

Left - People Tree Purple Wrap Draped Dress.
Centre - East - Plum Wrap Dress - EAST Gilded Lilies Collection.
EAST Autumn/Winter 2011 Clothing Stockist Number: 0208 877 6543.
Right - Marks & Spencer AW11 Purple Draped Dress.


Dresses in stores range from blue violet purples to rich warm red purples with a hint of damson and plum.
To add even more excitement, pair Phlox with Honeysuckle.
Near Right - PANTONE 19-2820 Phlox.
Far Right - PANTONE 18-2120 Honeysuckle.
Texture is also important with crochet, lace and pleating giving focus to fabric. Rib Knits also introduce texture in sweater dresses.
THE texture to buy is lace, as sported by Catherine Middleton at her wedding. Lace was already gaining ground this past year, but the Duchess of Cambridge reminded the world how glorious lace could be. Fashionistas love lace. Buy it in every colour at every opportunity.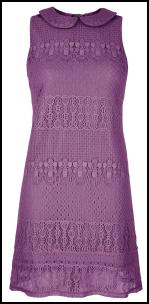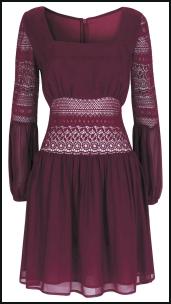 Left - Purple Lace Dress - Very.co.uk.
Centre - Burgundy Crochet Dress.
Right - La Redoute Purple Rib Sweater Dress.
Texture and pattern in knitwear is back on the fashion agenda. In knitwear look for rib knits and cable knit material.
Roses Grow On You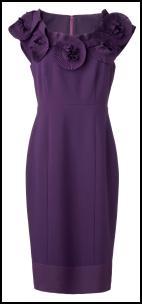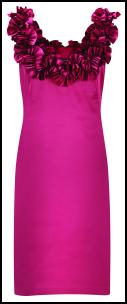 Left - Marks & Spencer AW11 - Purple Pleated Rose Neckline Dress.
Right - Magenta Pink Dress From Bonmarché Features Rose Flower Neckline.
Sequins
Sequins were suggested by designers for anytime wear, making them suited to garments designed for casual or red carpet events. So note any racks with big sequinned skirts or glitter trousers and give them a good browse.
Massive sequin Paillettes are supersized this year. Prada served up fish scale dresses and Christopher Kane scattered sheer dresses with clear sequins. The look is delicate and wispy rather than glitzy bling.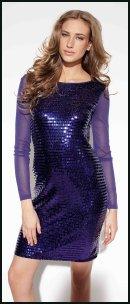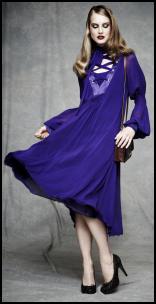 Left - Littlewoods Ireland Autumn Winter 2011 - €82.
Stockist Number: 01 811 22 22.
Right - M&S Per Una Speziale Purple Violet Dress £199 - Christmas Partywear.
Beautifully made 70s Biba inspired dress with floppy blouson sleeves and high neck.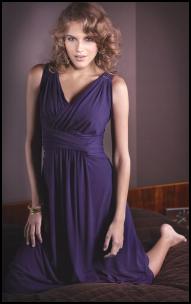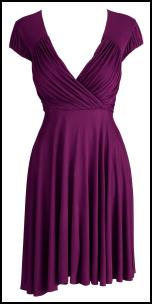 Left - Kaliko Purple Jewelled Shoulder Maxi Dress £110/€176 - Kaliko Autumn Winter 2011 Stockist Number: 01582 399809.
Right - Purple V Neck Dress - Very.co.uk.
Retailers are recognising that women want to cover up bingo or chicken wings, and so sleeves make a huge comeback. Even a wispy hint of shoulder cover makes many women feel more comfortable.
Petite Purple Dresses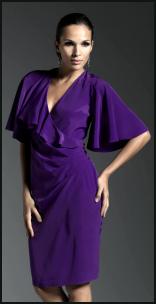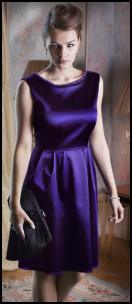 Left - M&Co Purple Dress Bell Sleeve Dress.
Right - Minuet Petite - Petite Ladies Purple Beaded Neck Stretch Satin Prom Dress £120/€192.
Minuet Petite Stockist Number: 01582 399809.
Shoulder Focus Purple Dresses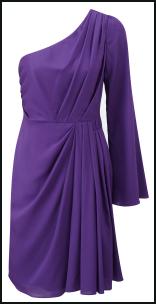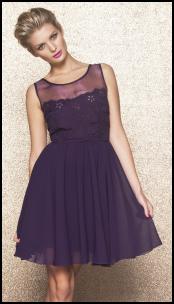 Left - Angel Sleeve Purple Pleat Swathed One Shouldered Dress.
Fever - Christie One Sleeve Dress £69.99 - Fever Designs AW11 Stockist Number: 020 7636 6326.
Right - Sheer Chiffon Cutwork Shoulder Yoke Interest Prom Party Dress From A|wear, €65/£60.
Stockist Number: 00 353 1 4724900.
Patterned Print Purple Dresses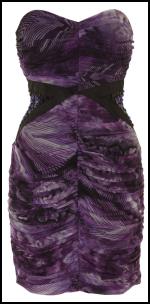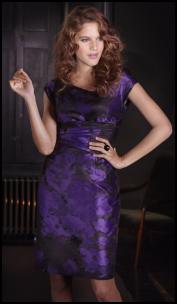 Left - Purple Print Pleat Bustier Dress - Lipsy AW11.
Right - Kaliko AW11 - Purple Multi Jacquard Dress.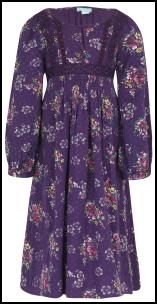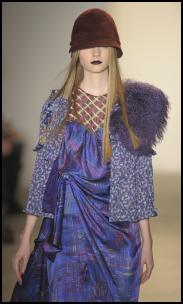 Left - Monsoon Purple Floral 70s Smock Dress.
Right - Peter Som Purple Fur Trim Jacket & Dress.
-------v6-------
Purple Fur Coats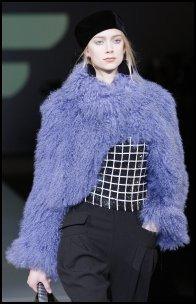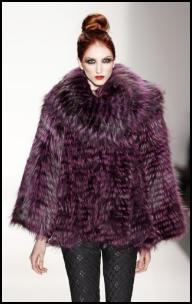 Left - Purple Fur Shrug - Emporio AW11.
Right - Venexia AW11 Grape Purple Fur Jacket.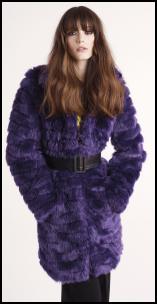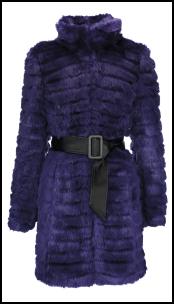 Left & Right - Star by Julien MacDonald Glam Faux Fur Coat £99/€148.50 - Debenhams.
Purple Separates
If you prefer purple separates then this blouse or skirt could pep up your party plans.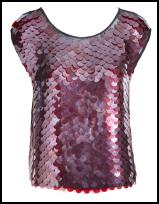 Left - ASOS Purple Sequin Pailette Top.
Right - Isme Purple Peephole Shoulder Top.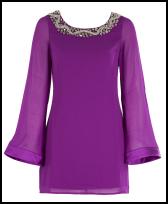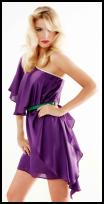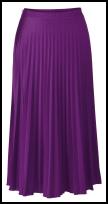 Left - Lipsy AW11 Purple Tunic Dress.
Centre - Dorothy Perkins One Shoulder Purple Short Dress.
Right - Purple Sunray Pleat Midi Skirt, £19.
Purple Evening Glamour
Make a statement by wearing a purple jumpsuit, catsuit or wide palazzo pants. These all-in-one trouser versions below each have a cutaway halter neckline style. Wide legs or harem style the choice is yours. Palazzo pants with their easy roomy flowing legs are always holiday winners for hotter climates.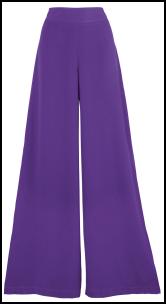 Left - Debenhams AW11 Purple Catsuit.
Centre - Simply Be AW11 Purple Palazzo Pants - £38.
Right - Satin Halter Neck Playsuit in Purple, £26 - Pilotfashion.com.
Throughout 2011 a hot trend has been that of coloured jeans. Every colour especially rich autumn berry fruit colours is worked in jeans. Velveteen, velvets and corduroy fabrics look sumptuous in cerise, plum, pink, reds and purples. Whatever your shape you'll find a purple outfit or accessory to suit you. You are reading an original article about purple fashion trends for 2011-2012 by Pauline Weston Thomas only for publication on www.fashion-era.com ©
Conclusion of Key Fashion Colour Trends Autumn 2011 Winter 2012
This review features the most important women's fashion purple colour looks for the autumn 2011 and Winter 2012. This article reviews the main colour looks in purple dresses, footwear, bags jewellery and other fashion accessories. You have been reading an original colour fashion trends article by Pauline Weston Thomas only for publication on www.fashion-era.com ©.
Copyright of images courtesy of Prshots.com, IFTF, Pantone, Swarovski, A|wear, ASOS, Accessorize Monsoon, Marks & Spencer, M&Co, Minuet Petite, Dorothy Perkins, House of Fraser, Oasis, Debenhams, Lipsy, Littlewoods, Fever, very.co.uk, Isme, Miss Selfridge, T K Maxx, House of Fraser/Mary Portas, Hush Puppies, A-shu, Kaliko, East, Bonmarché, Pilot, Oli, People Tree, Primark, Penneys, Simply Be, Fifty Plus, Dunnes.
Date added 21 Oct 2011 - Ref: P.862.
If you like this page then please share it with your friends
---
--Link--
For more information on ladies and teens fashion trends go to:-
Archived Sections
Custom Search
About Fashion-Era.com
Fashion-Era.com looks at women's costume and fashion history and analyses the mood of an era. Changes in technology, leisure, work, cultural and moral values. Homelife and politics also contribute to lifestyle trends, which in turn influence the clothes we wear. These are the changes that make any era of society special in relation to the study of the costume of a period.

Fashion-Era.com can take no responsibility for any information on the site which may cause you error, loss or costs incurred from use of the information and links either directly or indirectly. This site is owned, designed, written and developed by author: Pauline Thomas and Guy Thomas. This site is designed to be viewed in 1024 X 768 or higher.
ALL RIGHTS RESERVED. Fashion-era.com reserves the right to add or delete information, graphics and links. Copyright © 2001-2014 on all content, text and images in Fashion-era.com. Images and text in this website may not be used on other websites.
Before you write to me for costume/fashion help or information please, please consult the extensive sitemap which lists all our pages. If you still cannot find the answer after searching the site, then before you email me, please consider if you are prepared to make a donation to the website.
Donations
Reader's donations help this site flourish, in particular donations encourage me to write more articles on fashion history as well as current trends. PayPal allows anyone with a credit card to donate easily and securely. You may donate any sum you feel appropriate.