Red Colour Fashion Trends for Autumn 2011 & Winter 2012
Here is my assessment of the important warm fashion colour red for Autumn 2011 and Winter 2012. The warmer jewel tones in fashion include scarlet/guardsman red, emberglow/coral, pink ruby, rich garnet, carnelian and rose amethyst.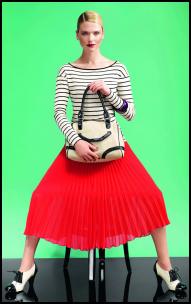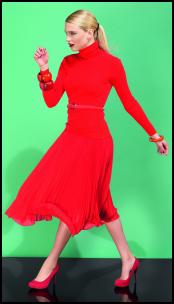 Left - Dorothy Perkins Pleated Red Skirt, White/Black Stripe Sweater Top.
Right - Dorothy Perkins Red Dress.
Pleats are currently in vogue so this skirt and these dresses here might be pieces to add to your shopping list.
If you are too busy to do colour blocking yourself, then retailers have taken the hard work out of your hands, and produced colour block pieces in all clothing ranges. Red mixed with black and white is typical colour blocking combo.
Note the subtle colour difference from rust red in the skirt, to coral and rich red in the dresses. You are reading an original red colour fashion trends article by Pauline Weston Thomas only for publication on www.fashion-era.com ©.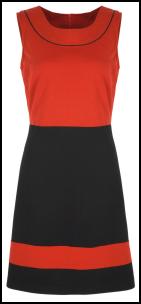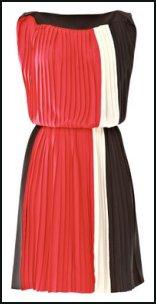 Left - Colour Block Dress £32/€42 - NEXT Future Brights.
Next Stockist Number:0844 844 8000.
Right - Designer Dress - £1313 - Vionnet Pleated Silk Dress At Matches.


Left - Penney's Red Shirt Dress.
Right - Bonmarché Colour Block Dress, £30 - Stockist Number: 01924 700 100.
Winter reds are both bright and rich in tone and add good contrast when set against black or camel.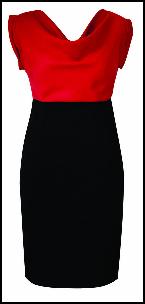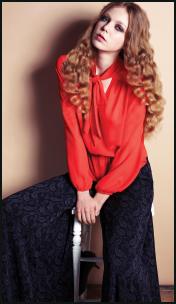 Left - Colour Block Red Black Dress - Dunnes Stores AW 11/12 - Dress €25/£21.
Right - Matalan AW11 Orange Red Tie Blouse, Wide Pants.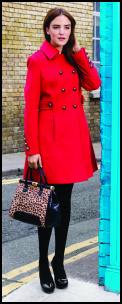 Left - Matalan AW11 Lovely Red Coat.
Centre - Matalan Red Coat.
Right - La Redoute AW11 - Red Shirt & Red Jeans.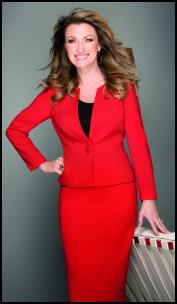 Left - Jane Seymour Wears CC AW11 Red Suit.
Right - La Redoute AW11 - Red Top & Skirt, Black Knee Boots.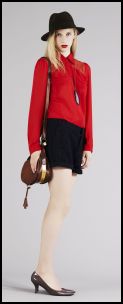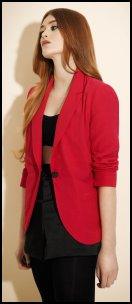 Left - Hat £25, Shirt £45, Bag £45 - Warehouse Christmas 2011.
Centre - Miss Selfridge Red Boyfriend Blazer.
Right - La Redoute Main Collection AW11 - Red Skirt & Red Tights.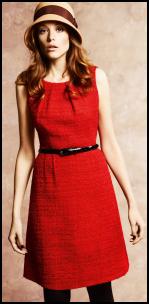 Left - Warehouse AW11/12 Red Dress. Warehouse Stockist Number: 0845 122 2251.
Right - Lynn Red Dress, Primrose Hat - Monsoon AW11 - Stockist Number: 08448110068.
‡‡
Ellie Tahari for example has some stunning rich red gowns that have more dusted depth and a touch or garnet fire about them.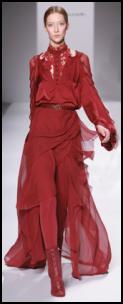 Catwalk Reds Autumn 2011 Winter 2012
Left - Rich Red Pants & Fur Jacket Michael Kors.
Right - Elie Tahiri.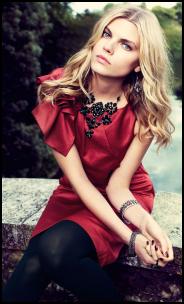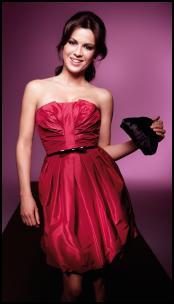 Left - Monsoon Red Cocktail Dress.
Right - Red Prom Bustier Dress. Vera Mont Autumn Winter 2011 Stockist Number: 020 7411 0322.
Dress 100% Polyester ₤180/€195.
You're guaranteed to stand out in this Vera Mont red dress. The exaggerated balloon style is totally trendy. And yet the sweet belt with bow emphasises the waistline and feminine silhouette.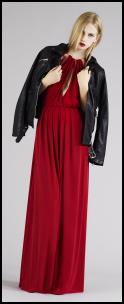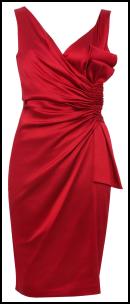 Left - Warehouse Christmas 2011 Looks - Leather Jacket £190 & Red Long Dress.
Stockist Number: 0845 122 2251.
Right - Value Brand M&Co Xmas 11 Red Satin Bow Cocktail Dress £69. Stockist Number: 0800 0317 200.
...(v4r)
The strongest most youthful appealing coat silhouette at Designer shows was the sixties Mod and seventies remix coat.
Coats are great statement making top cover. Ladylike tailoring is on the must-have list for winter 2011/12 and 60s swing coat styles have a pert prim neatness about them
The vintage look Audrey Coat below is by Silk & Sawdust. Note how the model and coat has been styled with a white high polo neck top, Baker boy cap and winter weight textured tights giving it an authentic retro 60s look. You are reading an original red colour fashion article by Pauline Weston Thomas only for publication on www.fashion-era.com ©.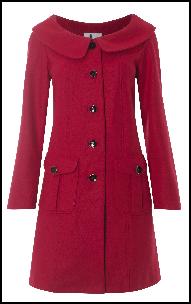 Left & Centre - 1960s Inspired Red Wool 'Audrey Coat' by Silk & Sawdust, £225.
Coats and dresses both follow this 60s swing A-line shape.



Left - Paul Costelloe AW11 - A-line Sixties Style Coral Red Mini Coat.
Centre - Penneys (Ireland) Autumn 2011 Womenswear - Red Scalloped Dress €21, Block Animal Chain Bag €7, Suedette Stack Heel Platform €19.
Right - Wallis AW11.
Pantyhose comes in every hue imaginable this winter. These colourful red tights are a bargain chain price. Coloured hosiery is a must-have investment to put the 'it' factor into your winter wardrobe.


Right - Penneys Royal Blue Outfit Colour Blocked With Rich Red Tights.
Right - Miss Selfridge AW11/12 Red Floral Print Dress, Red Hosiery;
Accessories - Royal Blue Shoes and Scarf, Satchel Handbag.
Whilst the pussy bow blouse is in shops everywhere, many prefer less fitted simpler bloused styles. This certainly is the season of the blouse. There are so many styles and textures to choose from, including heavily beaded blouses, fragile lace or sheer tops.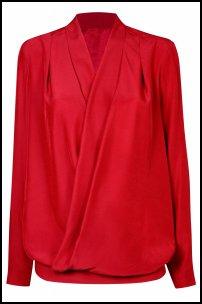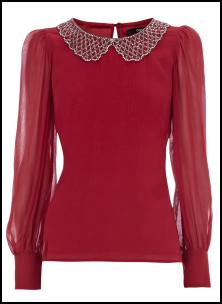 Left - Sophie Grey Collection At BHS - Red Wrap Blouse.
Right - Warehouse AW11 Deep Red Cocktail Blouse With Peter Pan Beaded Collar.
Make yourself noticed in this stunning red wrap blouse. Team it with a plain black skirt, red jeans black palazzo pants or leggings for Christmas morning. Colour clash by mixing it with bright pink or hot orange jeans. But get that lucky man to notice you.
Or check out your back of the closet items that only get a turn every festive season. Team them with a pretty beaded collar cocktail blouse, for a feminine trendy touch.
§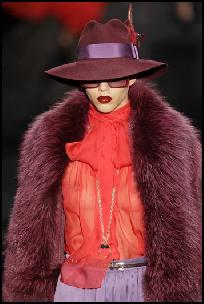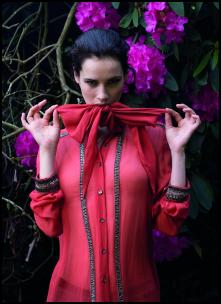 Left - Gucci Colour Blocking Catwalk Fashion AW2011/12.
Right - French Connection AW11 Ladieswear Campaign Red Pussy Bow Blouse.
French Connection Stockist Tel: 020 7036 7200.
Team a ladylike pencil skirt with an equally prim buttoned up pussy bow blouse for ultra subtle femininity. You are reading an original red colour fashion trends article by Pauline Weston Thomas only for publication on www.fashion-era.com ©.
Covetable touches with colour include Mary Katrantzou's red soled printed boots. Whilst at Kurt Geiger luscious jewel toned shoes, or triple Mary Janes, will satisfy shoe colour desires. The high street and online websites all have a good selection of colourful footwear. These red boots are from Elégance Accessories - Stockist Number: 0844 557 5507.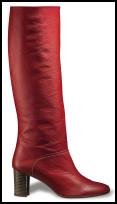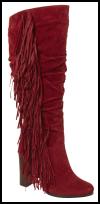 Left - Red Knee Length Boots £279. Elégance Autumn/Winter 2011.
Right - Red Fringe Boot Primark AW11 - £18.
Latest Colour Trends for Late 2011
For the edgiest look this season mix and contrast bold colours will bring the zest of living colours into your world. Red is a bold colour that goes on and on.
Raspberry reds vie with orange brights and rusty carnelian tones. In red hues think lipstick red, ruby red, geranium and hot fuchsia pink. Colour-block new red garments with new orange and pink items or use old black pieces to create fashion buzz that will take your apparel into spring 2012.
Jewel colours tell the colour story of winter 2012 fashion trends. The focus is richness and depth of tone in sapphire, lapis, emerald, garnet, deep amethyst, ruby red and golden citrine. Many of the hues have metallic undertones, for example, golden yellow, marigold, green and copper. You are reading an original article about Autumn and Winter red fashion colours for 2011-2012 by Pauline Weston Thomas only for publication on www.fashion-era.com ©.
Red Colour in Lipstick
...(v4r)
Lipstick has made a huge comeback. Bright reds and orange in a matte pout is the way to work kissable lips. Tom Ford has a wonderful red with his Private Blend Lip Colour in Cherry Lush at £35. Before you apply any lipstick, make sure your lips are free of dry skin; using a toothbrush and some lip balm will ease away the loose skin. Flaky lip skin destroys what might be a most kissable pout. Estee Lauder is the counter to head for a fast update on lipstick must-haves. That must-have lipstick is RED.
Conclusion of Key Fashion Colour Trends Autumn 2011 Winter 2012
This review features the most important women's fashion colour looks for the autumn 2011 and Winter 2012. This article reviews the main colour looks in dresses, footwear, bags jewellery and other fashion accessories. You have been reading an original red colour fashion trends article by Pauline Weston Thomas only for publication on www.fashion-era.com ©.
Copyright of images courtesy of Prshots.com, IFTF, BHS, Swarovski, Monsoon, Matalan, Marks & Spencer, M&Co, House of Fraser, NEXT, French Connection, Miss Selfridge, Elégance, Bonmarché, Dorothy Perkins, Silk & Sawdust, Primark, Penneys, Wallis, Dunnes, Paul Costelloe, Warehouse, Matches Fashion, La Redoute, CC, Vera Mont.
Date added 21 Oct 2011 - Ref: P.865.
If you like this page then please share it with your friends
---
-------- Link Pink ---------
For more information on ladies and teens fashion trends go to:-
Archived Sections
Custom Search
About Fashion-Era.com
Fashion-Era.com looks at women's costume and fashion history and analyses the mood of an era. Changes in technology, leisure, work, cultural and moral values. Homelife and politics also contribute to lifestyle trends, which in turn influence the clothes we wear. These are the changes that make any era of society special in relation to the study of the costume of a period.

Fashion-Era.com can take no responsibility for any information on the site which may cause you error, loss or costs incurred from use of the information and links either directly or indirectly. This site is owned, designed, written and developed by author: Pauline Thomas and Guy Thomas. This site is designed to be viewed in 1024 X 768 or higher.
ALL RIGHTS RESERVED. Fashion-era.com reserves the right to add or delete information, graphics and links. Copyright © 2001-2014 on all content, text and images in Fashion-era.com. Images and text in this website may not be used on other websites.
Before you write to me for costume/fashion help or information please, please consult the extensive sitemap which lists all our pages. If you still cannot find the answer after searching the site, then before you email me, please consider if you are prepared to make a donation to the website.
Donations
Reader's donations help this site flourish, in particular donations encourage me to write more articles on fashion history as well as current trends. PayPal allows anyone with a credit card to donate easily and securely. You may donate any sum you feel appropriate.