Cobalt & Royal Blue Colour Fashion Trends for Autumn 2011 & Winter 2012
Here is my review of the rich cobalt and royal blue colours for Autumn / Winter 2011. In the jewel colour range blue continues to grow in popularity. Cobalt, lapis, violet and sapphire blue have a sparkling and stunning electricity about them.
Catwalk Blues From Malandrino and David Koma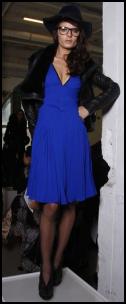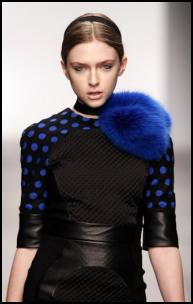 Blue will be a strong colour for some time in the world of fashion and interiors so you may select with confidence colours from cobalt blue to teal blue. Anything blue you buy now will blend will with next spring's iced blues.
Blue is certainly a statement making colour when it comes to dresses. Use blue for colour blocked pieces or as stunning stand alone colour.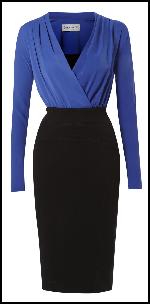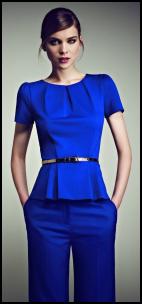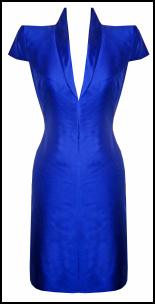 Left - Mary & House of Fraser - Antonio Cobalt Blue Dress £200 Mary Portas.
Centre - Oasis Autumn 2011/2012 True Blue Top/Trousers.
Right - Alexander McQueen at Burnt Out But Opulent.
Alexander McQueen Blue Structured Pencil Dress £375. Stockist Number: 07951 253052.
You are reading an original article about blue colours for 2011-2012 by Pauline Weston Thomas only for publication on www.fashion-era.com ©.
Bright statement colours are used for harder tailored looks that have crisp silhouettes.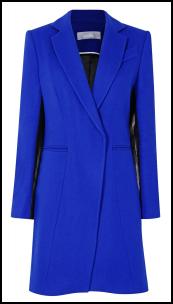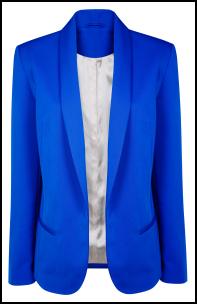 Left - Electric Blue Coat - Wallis AW11 Collection.
Right - Blue Blazer - Arcadia.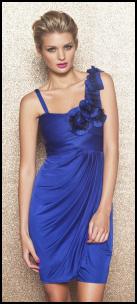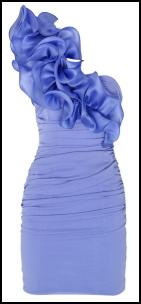 Left - A|wear Blue Flower Corsage Dress.
Left - Blue One Shoulder Ruffle Dress - Burnt Out But Opulent.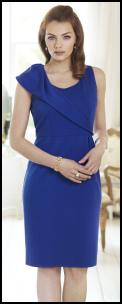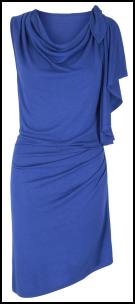 Left - Monsoon Accessorize Blue Cowl Drape Dress.
Right - Minuet Petite Blue Evening Dress.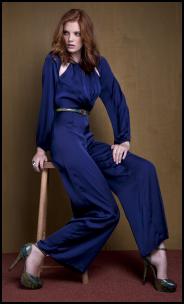 Left - Primark UK Limited Edition Slinky Jumpsuit £23. Primark Womenswear AW11. Stockist Number: 0118 960 6300.
Right - Monsoon Diadem Blue Lace Dress - £80/€125 Fusion.
Stockist Number: 08448110068.
‡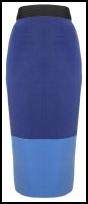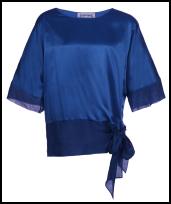 Left - ASOS Colour Block Midi Pencil Skirt.
Centre - Blue Silk Tie Top, £179 - Available in sizes 16 - 28.
Curvy and Stylish AW11 - Curvyandstylish.co.uk - Handmade in the UK plus size pieces.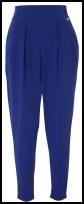 Left - Bow Tie Palazzo Pants £14 Primark Womenswear Winter Stockist Number: 0118 9606 300.
Right - Pleat Front Peg Trousers £38 - Lipsy Autumn Winter 2011 Clothing. Stockist lipsy.co.uk.
More subtle colour blocking combines rich blue with a neutral such as black, or a pop of complementary contrasting burnt orange-rust-red. That may be the most appropriate way for some women to confidently wear orange. The dress shown below left uses orange to striking effect in the belt accessory, whilst retaining the unbeaten combo of royal blue with black.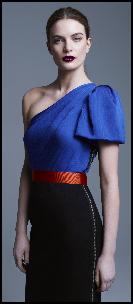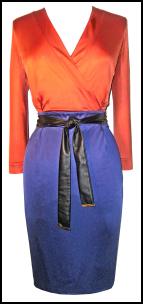 Left - Debenhams - Roksanda Iilinic Collection - Staying Power of One Shoulder Trend.
Right -Burnt Out But Opulent - Gucci Colour Block Belted Jersey Wrap-Effect Dress £445.
Begin with small amounts of oranges, such as in a belt, and then progress to whole garments like the contrast bodice of a dress. This Gucci dress above has the same three colours, but you can see how by altering the proportion of any one colour, the overall effect makes for a totally different fashion design.
Orange with depth, soon hits red colour mixes and this creates vibrant contrast when teamed with any of the blue colours such as teal blue.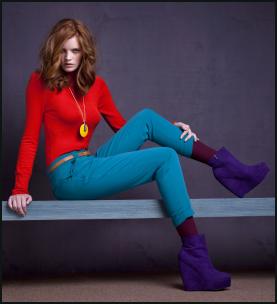 Left - Primark Roll Neck Sweater & Trousers. Stockist Number: 0118 9606 300.
Right - Penneys Royal Blue Outfit Colour Blocked With Rich Red Tights.
Colour mixing bold orange or red with bright blue as in these images is a norm for winter 2012.
§
Blue Jersey Knits
The focus for autumn 2011 is on jewel colours, a major trend carrying on from spring brights and colour blocking trends. One cannot over emphasise the richness and boldness of these colours. Here rich blue reaches that intensity of hue where it become violet blue and moves into the purple range.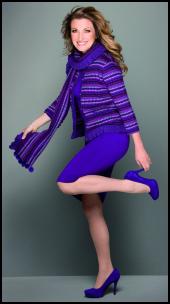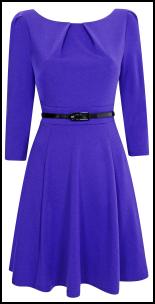 Left - CC AW11 Jane Seymour in Petite Fashions - www.ccfashion.co.uk
Right - Dorothy Perkins AW11 Violet Blue Dress £30.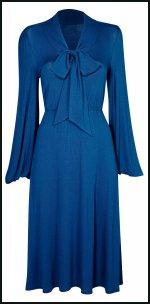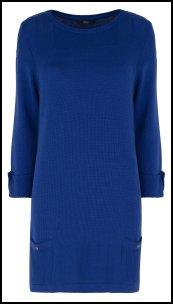 Left - BHS Sophie Grey Collection Blue Jersey Dress.
Right - Marks and Spencer Blue Straight Tunic Dress.
Swish & Swing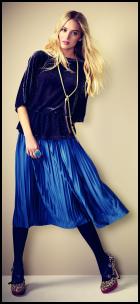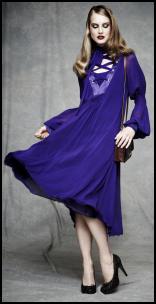 Left - River Island Xmas AW11 - Marissa Pleated Midi Skirt £30, Salome Metallic Top £22 - Stockist Number: 0208 991 4904.
Right - M&S Per Una Speziale Dress in Violet £199 - Christmas Partywear.
Beautifully 70s inspired dress in violet blue with floppy blouson sleeves and high neck.
Jewel colours are used this season with animal prints in both clothing and accessories. Rich royal blue lifts this animal print dress into a new dimension whether clothing or footwear. You are reading an original article about blue fashion colours for 2011-2012 by Pauline Weston Thomas only for publication on www.fashion-era.com ©.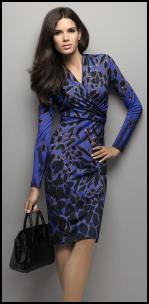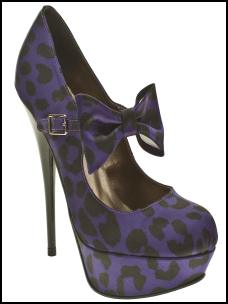 Left - Elegance - Blue/ Black Animal Print Dress.
Right - Schuh Autumn Winter 2011/12 Collection. Stockist Schuh.co.uk.
-------v6-------
Blue Accessories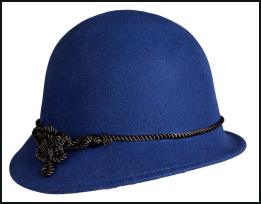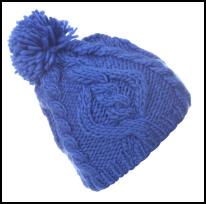 Left - EAST AW11/12 Knot Detail Blue Cloche Hat - EAST Autumn/Winter 2011 Accessories
Stockist Number: 0208 877 6543.
Right - Topshop Cobalt Blue Pompom Cable Hat.
Footwear
Blue Platform Court Shoes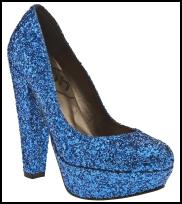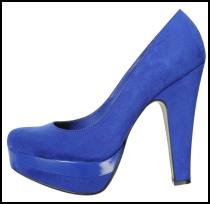 Left - Schuh Pretty Blue Glitter Platform High Court Shoe.
Right - Beautiful Bright Blue Platform Court Shoes £42 - Dorothy Perkins AW11.
Blue Boots & Bag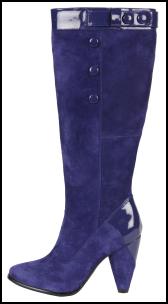 Left - Hush Puppies Sturdy High Heeled Suede Blue Boots. LOTTIE Blue Multi Suede Boots £110.
Right - Miss Selfridge Small Blue Shoulder/Across Body Bag.
In August 2011 for her first official appearance after her wedding to Monaco's Prince Albert II, H.S.H. Princess Charlene wore the Van Cleef & Arpels designed Océan necklace to the Bal de la Croix Rouge. According to Van Cleef & Arpels : Océan exalts the grace and elegance of Her Serene Highness Princess Charlene. This pledge of love, offered by the Prince to his Princess, who chose its name, transforms into a tiara.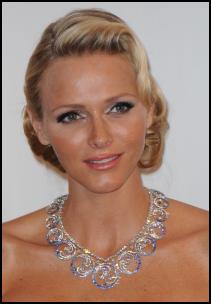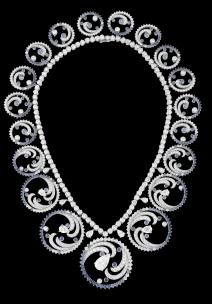 Van Cleef & Arpels say of this work of gemart:
Océan- Necklace
883 round-cut diamonds, weighing a total of over 44 carats.
10 pear-cut diamonds, weighing a total of over 4 carats.
A 4.01 carat pear-cut diamond.
359 round-cut sapphires for over a total of 18 carats, in a colour gradation of 3 hues.
The frothy lace of diamonds sparkles with the water's reflections and diffuses into fabulous asymmetrical circles.
The waters of the sea, made of blue sapphires, carry 11 pear-cut diamonds in their gentle swell.
Océan, the necklace, transforms into a royal tiara.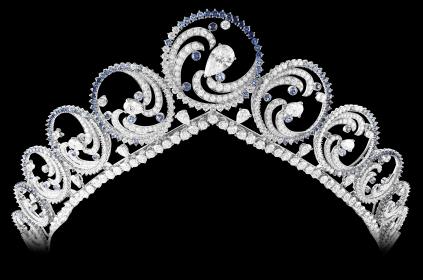 What clever piece of jewellery - pure gemart.
But for we mere mortals a pair of colourful opaque tights may be the best accessory we can hope to get in our Christmas Stocking.
4---------M4--------4

Carrie Cobalt Blue Cashmere Mix Cardi, Georgia Pink Mini Geo Skirt, Pink Oversize Corsage.
Monsoon/AccessorizeAW11 - Stockist Number: 08448110068.
The centre of attention for autumn 2011 has been on jewel colours. This major development carrying on from spring brights and colour-blocks. Achieve hot on trend looks by wearing contrasting, accessories, legwear or hosiery. Coloured jeans, chinos or tights inject vibrant pops of colour at low cost.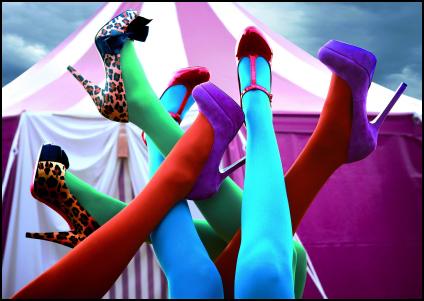 Pantyhose comes in every hue imaginable this winter. These colourful tights including blue tones are a bargain. They are a winter wardrobe must-have investment from T.K.Maxx. Put the 'it' factor into your image planning this winter with some superior legwear.
Latest Colour Trend Recap For Late 2011
The bright and neon colours of summer 2011 merge into more vibrant gemstone colours for Autumn 2011 and Winter 2012. Jewel colours tell the colour story of winter 2012 fashion trends. The focus is richness and depth of tone with sapphire, lapis, teal and aquamarine traversing the whole of the blue spectrum. Kingfisher blues, jade and raspberry reds vie with orange brights and rusty carnelian tones. You are reading an original article about Autumn and Winter blue colours for 2011-2012 by Pauline Weston Thomas only for publication on www.fashion-era.com ©.
Conclusion of Key Fashion Colour Trends Autumn 2011 Winter 2012
This review features the most important women's fashion cobalt and royal blue colour looks for the autumn 2011 and Winter 2012. This article reviews the main blue colour looks in dresses, footwear, bags jewellery and other fashion accessories. You have been reading an original blue colour fashion trends article by Pauline Weston Thomas only for publication on www.fashion-era.com ©.
Copyright of images courtesy of Prshots.com, IFTF, Swarovski, A|wear, ASOS, Monsoon, Matalan, Marks & Spencer, Minuet Petite, Oasis, Debenhams, Next, Miss Selfridge, T K Maxx, House of Fraser/Mary Portas, Burnt Out But Opulent, East, Elegance, Hush Puppies, Schuh, Dorothy Perkins, CC, Primark, Penneys, Wallis, River Island, Van Cleef & Arpels, Topshop, Lipsy, Curvyandstylish.co.uk, Vera Mont.
Date added 21 Oct 2011 - Ref: P.864.
If you like this page then please share it with your friends
---
--Link--
For more information on ladies and teens fashion trends go to:-
Archived Sections
Custom Search
About Fashion-Era.com
Fashion-Era.com looks at women's costume and fashion history and analyses the mood of an era. Changes in technology, leisure, work, cultural and moral values. Homelife and politics also contribute to lifestyle trends, which in turn influence the clothes we wear. These are the changes that make any era of society special in relation to the study of the costume of a period.

Fashion-Era.com can take no responsibility for any information on the site which may cause you error, loss or costs incurred from use of the information and links either directly or indirectly. This site is owned, designed, written and developed by author: Pauline Thomas and Guy Thomas. This site is designed to be viewed in 1024 X 768 or higher.
ALL RIGHTS RESERVED. Fashion-era.com reserves the right to add or delete information, graphics and links. Copyright © 2001-2014 on all content, text and images in Fashion-era.com. Images and text in this website may not be used on other websites.
Before you write to me for costume/fashion help or information please, please consult the extensive sitemap which lists all our pages. If you still cannot find the answer after searching the site, then before you email me, please consider if you are prepared to make a donation to the website.
Donations
Reader's donations help this site flourish, in particular donations encourage me to write more articles on fashion history as well as current trends. PayPal allows anyone with a credit card to donate easily and securely. You may donate any sum you feel appropriate.