Teal Blue Colour Fashion Trends for Autumn 2011 & Winter 2012
Here is my assessment of the important fashion colours teal blue and green blues for Winter 2012.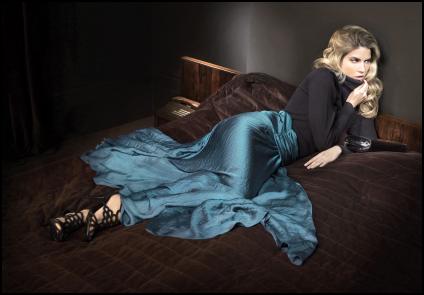 Above - Phase Eight AW11 - Lois Super Full Skirt, Polo Neck Jumper, Alexa Filigree Sandals.
The bright and neon colours of summer 2011 merge into more vibrant gemstone colours for Autumn 2011 and Winter 2012. Jewel colours tell the colour story of winter 2012 fashion trends. The focus is richness and depth of tone with sapphire, lapis, teal and aquamarine traversing the whole of the blue spectrum. You are reading an original article about teal fashion colours for 2011-2012 by Pauline Weston Thomas only for publication on www.fashion-era.com ©.


Deep Teal, a strong, blue-toned green, suggests ocean depths and the colour of the sky as daylight descends into darkness.
A great standard when used with Cedar, its colour-wheel neighbour, Deep Teal is also a unique counterpoint to Honeysuckle.
Left - PANTONE 19-4914 Deep Teal.
Right - PANTONE 15-4305 Quarry.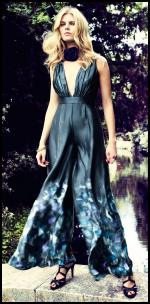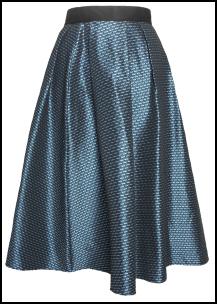 Left - Monsoon AW11 - Teal Maxi Border Print Dress.
Right - ASOS Teal Two Tone 70s Midi Skirt.
70s Midi skirts are slightly shorter than 50s Mad Men calf length skirts. Whilst maxi dresses should rest on the ankle and be easy to move in as they are intended for everyday wear as well as evening wear.
Orchid Hush
Right - PANTONE 13-3805 Orchid Hush.
Orchid Hush, a unique tone of grey with complex orchid undertones, blends well with any other colour in the palette. Quarry, a reliable medium grey, remains a practical, dependable staple.
Colours fade into each other to create a blue palette far removed from Royal and cobalt blue.
Faux fur is used extensively with whole garments and fur trim collars, tippets and bag flaps all getting the fur or skin treatments. Rich texture is easiest to do if you select fur collars and jackets of fur.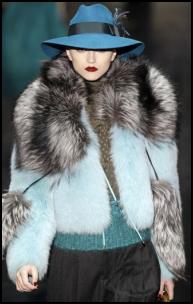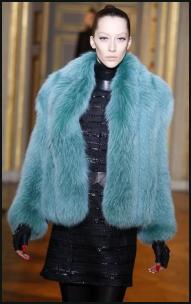 Left - Gucci AW11 Fur Jacket, Teal Blue Fedora Hat.
Right - Ungaro Teal Blue Fur Jacket.
Chubby shorter fur coats are always winter warmer seasonal must-haves - Karan knows this and showed chubby coats at DKNY. Rich jewel tone coloured Maribou feathers add exotic texture to hems, cuffs and necklines.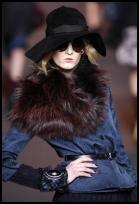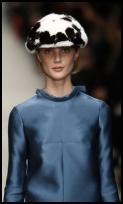 Left - Christian Dior - Teal Fashion.
Right - Burberry Teal Catwalk Outfit.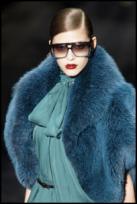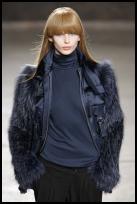 Left - Gucci AW 11. Right - Doo-Ri Aw11.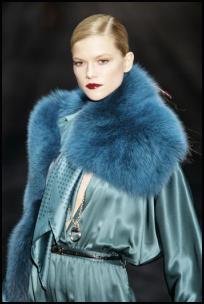 Left - Teal Blue Fur Coat Louis Vuitton AW11.
Right - Gucci AW11 - Teal Fur Throw.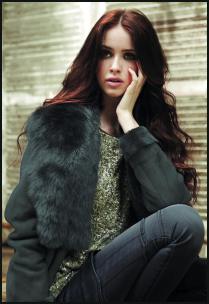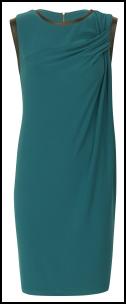 Left - Sequin Top £199 - Viyella AW11 - Viyella.co.uk.
Right - Marks & Spencer Draped Teal Shift Dress.
‡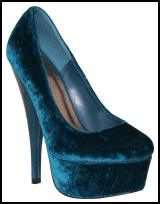 Left - Monsoon Dark Blue Teal Cropped Shrug.
Right - Pilot Teal Velvet Shoes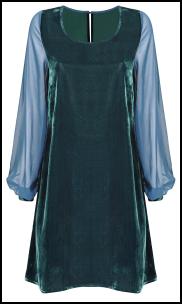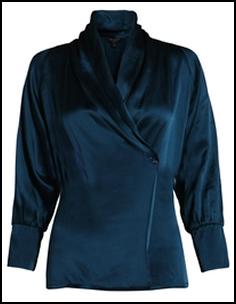 Left - Wallis Teal Velvet 60s A-Line Shift Dress.
Right - Beautiful Teal Satin Blouse - Ted Baker AW11.
This Ted baker teal wrap blouse is really beautiful and the handle is exceptional. The classic shape comes in and out of fashion. It is equally desirable in the cream version - I know I should have bought it when I saw it...
You are reading an original teal blue colour fashion trends article by Pauline Weston Thomas only for publication on www.fashion-era.com ©.
"Less is more" is the motto for this Vera Mont sheath dress. It is ideal for both daytime and evening wear. The rich petrol colour is totally fashionable.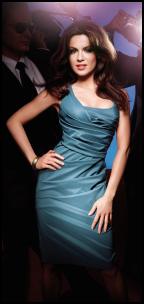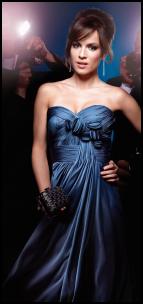 Left - Vera Mont AW11 Evening Dresses - UK ₤225/IRL €240.
Right - Vera Mont 100% Polyester Strapless Teal Blue Evening Gown UK ₤335/IRL €360. Vera Mont Autumn Winter 2011 Stockist Number: 020 7411 0322.
This fantastic evening dress above, turns its wearer into the Queen of the Night. The plain-coloured fabric decorations that refine the gentle transition to the Empire style are an absolute highlight.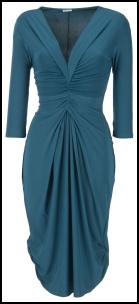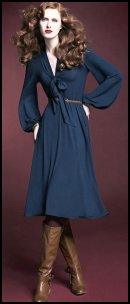 For less formality, a short prom dress in cocktail fabric such as brocade is spot on, provided you are still young and cute enough to carry this fresh look. Take the formal edge of the brocade by teaming the dress with knee high boots. For daywear these easy jersey wrap dresses can be layered with vests and dressed up or down. You are reading an original colour fashion trends article by Pauline Weston Thomas only for publication on www.fashion-era.com ©.
Left - Floral Print Dress - €55 - Dunnes Stores.
Centre - Oli - Teal Jersey Dress.
Right - BHS Dark Teal Blue Dress.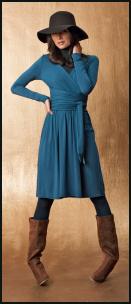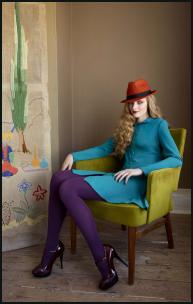 Left - La Redoute Wrapover Teal Blue Dress £25, Floppy Wool Felt Hat £29, Camel Boots £49 - All La Redoute - Stockist Number: 0844 842 2222.Centre - Right - Miss Selfridge Colour Blocking - Teal Dress, Purple Tights, Orange Rust Fedora.
§
The centre of attention for autumn 2011 has been on jewel colours. This major development carrying on from spring brights and colour-blocks. These mass market garments above, and the way they have been styled are good illustrations of achieving hot on trend looks by wearing contrasting legwear or hosiery. Coloured jeans, chinos or tights inject vibrant pops of colour at low cost.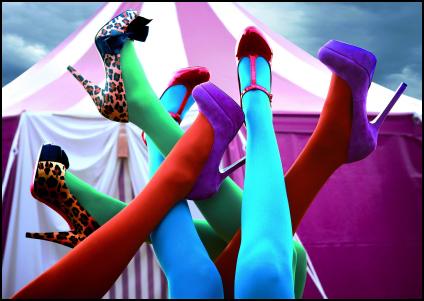 Pantyhose comes in every hue imaginable this winter. These colourful blue, red and green tights are a bargain. These opaque tights are a winter wardrobe must-have investment from T.K.Maxx. Put the 'it' factor into your image planning this winter with some superior legwear.
Don't just stop at tights choose cheerful brights for chinos, pants and jeanswear too. The midi and pencil skirt in teal is another option. Separates are ideal for colour blocking.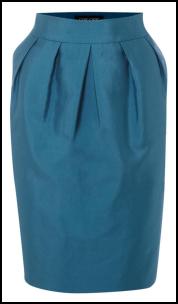 Left - Primark Teal Peg Leg Top Trousers.
Right - Pleated Tuck Top Teal Pencil Skirt.
Teal can merge toward sea greens and the colour makes it excellent for colour blocking with harmonious or contrast colours.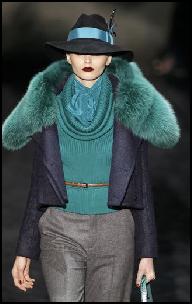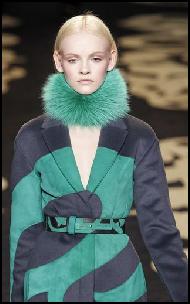 Above Catwalk Fashion AW11 - Left Gucci and Right - Versace.
Blues, Teal & Textures
Knitwear is chunky this year. While there are still finer knits to be bought, many have fine rib textures like this teal sweater from Louis Vuitton. Tweed is another popular texture and found in coats, capes and bags.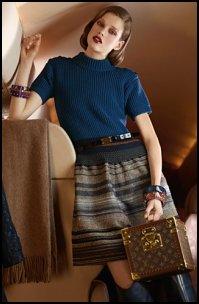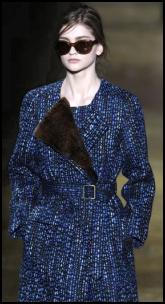 Left - Louis Vuitton Teal Rib Knit With Striped Skirt.
Right - Teal and Rich Blue Tweed Coat - Dries Van Noten AW11.
4---------M4--------4
The fine pleating trend has continued on from Spring 2011 and now all types of skirt styles and dresses utilize fine to 2 cm knife pleats. Ruffled and pleat dresses make elegant evening wear that mostly travels and sits well for Christmas cocktail and dinner parties.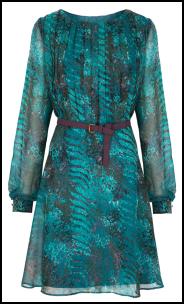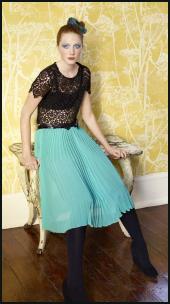 Left - Love Label Dress - Very.co.uk AW11.
Right - Miss Selfridge AW11 - Pale Teal Pleated Skirt.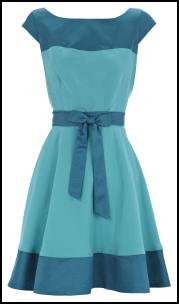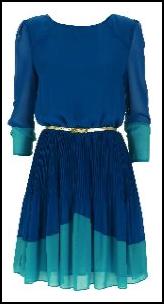 Left - Oasis - Pretty Two Tone Teal Blue Colour Block Dress.
Centre - Dorothy Perkins Teal Tone Ruched Midi Dress.
Right - Topshop Fine Pleat Skirted Dress - Darker Blue /Teal Blue £75.
This winter cloche hats are vying for attention with floppy 70s hats. Out and about in the rain the floppy wide brimmed hat offers lots of head-cover. But for sharp cold brisk days a fur or felt hat that fits well will keep your head toasty warm and snug.
Fashion trends and mini-series such as Boardwalk Empire and Downton all influence what we ultimately choose to select from the styles massed on the clothing rails. With Downton set to cover the fashion era 1920 and 1921 in the next series, this suggests to me that soon we will see a huge 1920s fashion revival from the influence of this series. After all some of the 1920s styles are simply marvellous. For an original fashion history take on the twenties see my 1920s section. You are reading an original teal blue colour fashion trends article by Pauline Weston Thomas only for publication on www.fashion-era.com ©.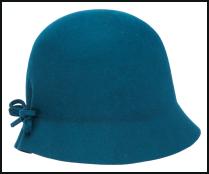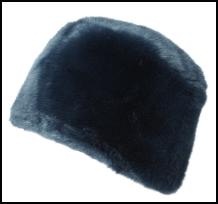 Left - Cloche Hat £14/€19 - NEXT Hoxton Girls - Stockist Number: 0844 844 8000.
Right - Primark AW11 - Teal Fur Cloche Hat.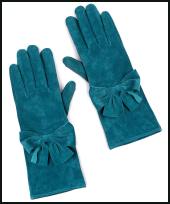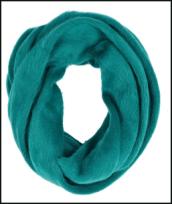 Left - EAST Long Teal Suede Bow Gloves, £26.
Right - Oasis AW11 - Teal Cowl Neckwear Accessory.
Shoulder Bags Are Back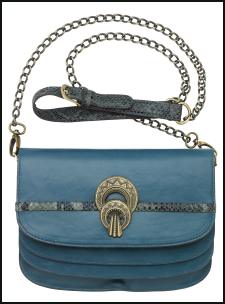 Left - River Island AW11 - Teal Handbag.
Right - Miss Selfridge - Teal Shoulder Purse Bag.
River Island AW11 - Flat Teal Ballerina Pump Shoe.
For the edgiest look this season mix and contrast bold colours will bring the zest of living colours into your world. Colour-block new with old pieces to create fashion buzz that will take you into spring 2012.
----------m6-----------
Beaded Clutch Bag
Some colour combinations such as teal look wonderful with purple. This pretty beaded clutch bag is from Marks & Spencers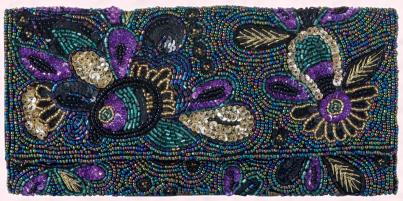 This is the not just the year of the revival of the blouse but now the season of the cocktail blouse. Teal blouses from pussy bow styles to drop waist blouson tops make colour blocking so simple to achieve.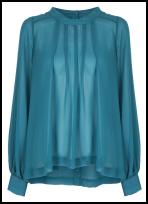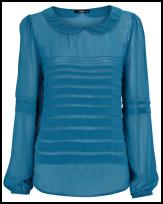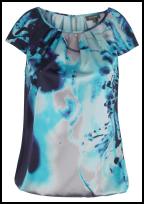 Right - Teal Blue High Neck Blouse £28/€37 NEXT - Hoxton Girls.
Stockist Number: 0844 844 8000.
Centre - Oasis Teal Tuck Pleated Blouse.
Right - Matalan Teal Retro Prim Blouse.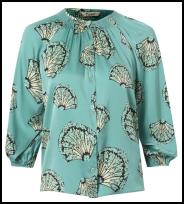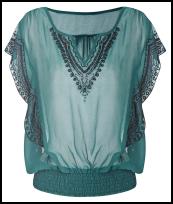 Left - Light Teal Blue Fan Printed Satin Blouse.
Right - Wallis AW11 - Teal Blouson Dropped Waist Style Teal Beaded Blouse.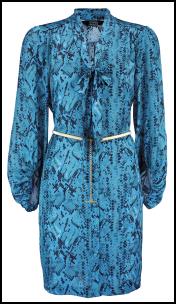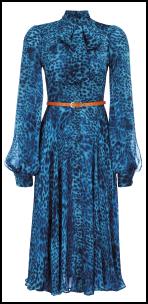 Left - Blue Snakeskin Fabric Pussy Bow Bloused Sleeved Dresses.
Right - Blue Animal Fabric Pussy Bow Bloused Sleeved Dresses.
Both Debenhams AW11.
The prints on these dresses create a different impact in bold jewel colours. It is simply amazing how versatile animal print can be - just look at teal shoes below - even they get this colourful snakeskin treatment.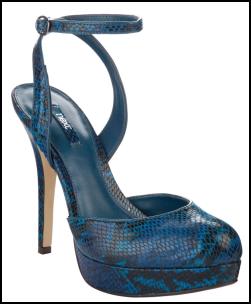 Left - Oasis AW11 - Sea Green/Teal Animal Print Shift Dress.
Right - Schuh Prince Bow Court Leopard £68/€85.
Blue will be a strong colour for some time and you may select from royal blue to teal blue. Anything blue you buy now will blend will with next spring's iced blues.
...(v4r)
Latest Colour Trend Recap For Late 2011
Intense Jewel Colours - Lapis, Aquamarine, Sapphire, Turquoise, Ruby Red, Amethyst, Emerald, Malachite, Garnet, Amber, Carnelian and Citrine add a rich zing of colour. Kingfisher blues, jade and raspberry reds vie with orange brights and rusty carnelian tones. In red hues think lipstick red, ruby red, geranium and hot fuchsia pink.
Colour Mixing - Mondrian Block Colour Mixing - Subtle Block Mixed Neutrals. Arctic Whites. Greens, blues and orange are the new 'it' colours to enliven your clothes rail.
Conclusion of Key Fashion Colour Trends Autumn 2011 Winter 2012
This review features the most important women's fashion colour looks for the autumn 2011 and Winter 2012. This article reviews the main colour looks in dresses, footwear, bags jewellery and other fashion accessories. You have been reading an original colour fashion trends article by Pauline Weston Thomas only for publication on www.fashion-era.com ©.
Copyright of images courtesy of Prshots.com, IFTF, BHS, Pantone, Swarovski, A|wear, ASOS, Accessorize Monsoon, Matalan, Marks & Spencer, Mulberry, House of Fraser, Oasis, Debenhams, Next, very.co.uk, French Connection, Isme, Phase Eight, Miss Selfridge, T K Maxx, House of Fraser/Mary Portas, Elegance, Hush Puppies, Schuh, Kaliko, East, Louis Vuitton, Bonmarché, Dorothy Perkins, F&F Tesco, Pilot, Oli, People Tree, Primark, Penneys, Ted Baker, Wallis, Simply Be, Fifty Plus, Apricot, Dunnes, Great Plains, Fiorelli, River Island, Topshop, Sainsbury's Tu, Viyella, Vera Mont.
Date added 21 Oct 2011 - Ref: P.863.
If you like this page then please share it with your friends
---
--Link--
For more information on ladies and teens fashion trends go to:-
Archived Sections
Custom Search
About Fashion-Era.com
Fashion-Era.com looks at women's costume and fashion history and analyses the mood of an era. Changes in technology, leisure, work, cultural and moral values. Homelife and politics also contribute to lifestyle trends, which in turn influence the clothes we wear. These are the changes that make any era of society special in relation to the study of the costume of a period.

Fashion-Era.com can take no responsibility for any information on the site which may cause you error, loss or costs incurred from use of the information and links either directly or indirectly. This site is owned, designed, written and developed by author: Pauline Thomas and Guy Thomas. This site is designed to be viewed in 1024 X 768 or higher.
ALL RIGHTS RESERVED. Fashion-era.com reserves the right to add or delete information, graphics and links. Copyright © 2001-2014 on all content, text and images in Fashion-era.com. Images and text in this website may not be used on other websites.
Before you write to me for costume/fashion help or information please, please consult the extensive sitemap which lists all our pages. If you still cannot find the answer after searching the site, then before you email me, please consider if you are prepared to make a donation to the website.
Donations
Reader's donations help this site flourish, in particular donations encourage me to write more articles on fashion history as well as current trends. PayPal allows anyone with a credit card to donate easily and securely. You may donate any sum you feel appropriate.