Key Colour Fashion Trends for Autumn 2011 & Winter 2012
Here is my review of all the important fashion colours for Autumn 2011 and Winter 2012. Vibrant orange has not had as much fashion exposure since the real 1970s - an orange moment is here again. Expect to see this fashion colour in all areas of life from clothing to house interiors. Also observe the vivid rich jewel colours of golden amber, carnelian red, garnet, pink ruby, sapphire, emerald, olive green quartz, aquamarine and purple amethyst.
For the edgiest look this season mix and contrast bold colours will bring the zest of living colours into your world. Colour-block new with old pieces to create fashion buzz that will take you into spring 2012.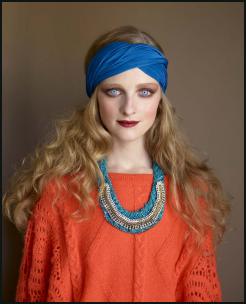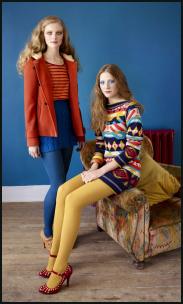 Left - Miss Selfridge Orange Cable Lace Sweater - Autumn 2011 Winter 2012.
Right - Miss Selfridge Colour Blocking Navaho Style Sweater Dress - AW11/12.
The bright and neon colours of summer 2011 merge into more vibrant gemstone colours for Autumn 2011 and Winter 2012. Jewel colours tell the colour story of winter 2012 fashion trends. The focus is richness and depth of tone in sapphire, lapis, emerald, garnet, deep amethyst, ruby and golden citrine. Many of the hues have metallic undertones, for example, golden yellow, marigold, green and copper. You are reading an original article about Autumn and Winter fashion colours for 2011-2012 by Pauline Weston Thomas only for publication on www.fashion-era.com ©.
Latest Colour Trends for Late 2011
Intense Jewel Colours - Ruby Red, Amethyst, Sapphire, Emerald, Malachite, Garnet, Amber, Carnelian, Lapis and Citrine add a rich zing of colour. Kingfisher blues, jade and raspberry reds vie with orange brights and rusty carnelian tones. In red hues think lipstick red, ruby red, geranium and hot fuchsia pink.
Colour Mixing - Mondrian Block Colour Mixing - Subtle Block Mixed Neutrals. Arctic Whites. Greens and orange are the new 'it' colours to enliven your clothes rail.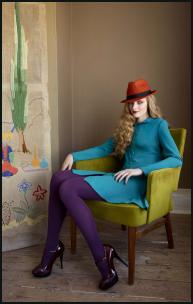 Left - Penneys (Ireland) Autumn 2011 Womenswear - Scalloped Dress €21, Block Animal Chain Bag €7, Suedette Stack Heel Platform €19.
Centre - Miss Selfridge Colour Blocking - Teal Dress, Purple Tights, Orange Rust Fedora.
Right - Miss Selfridge AW11/12 - Colour Blocking - Pink Dress, Purple Pantyhose.
Red mixed with orange and geranium or coral and tangerine creates hot, hot, hot winning looks of vibrant cheerful jewel colours.
‡
The centre of attention for autumn 2011 has been on jewel colours/ This major development carrying on from spring brights and colour-blocks. These mass market garments above, and the way they have been styled are good illustrations of achieving hot on trend looks by wearing contrasting legwear or hosiery. Coloured jeans, chinos or tights inject vibrant pops of colour at low cost.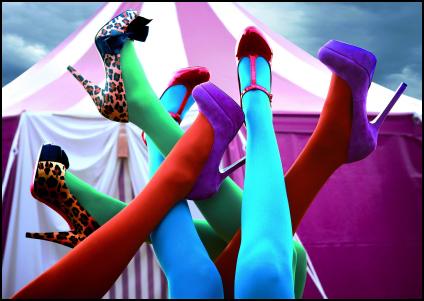 Pantyhose comes in every hue imaginable this winter. These colourful tights are a bargain and a winter wardrobe must-have investment from T.K.Maxx. Put the 'it' factor into your image planning this winter with some superior legwear. Don't just stop at tights choose cheerful brights for pants and jeanswear too. Blue will be the next big colour and you may select from royal blue to teal blue. Anything blue you buy now will blend will with next spring's iced blues.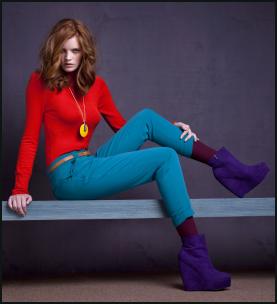 Left - Primark Roll Neck Sweater & Trousers. Stockist Number: 0118 9606 300.
Right - Penneys Royal Blue Outfit Colour Blocked With Rich Red Tights.
Colour mixing bold orange or red with bright blue as in these images is a norm for winter 2012.
The focus for autumn 2011 is on jewel colours, a major trend carrying on from spring brights and colour blocking trends. One cannot over emphasise the richness and boldness of these colours. Two of the hottest colours designers liked to show were orange and tangerine, but some will prefer the more sophisticated cooler hues. In the jewel colour range vivid strong bright blue for example continues to grow in popularity.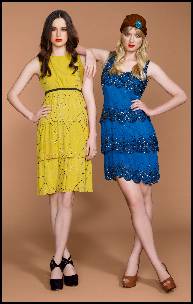 Left - Holly - Deco Beaded Line Dress £79.99/€99.99, Ribbon Tie Heels £27.99/€34.99.
Right - Yulia - Scallop Hem Beaded Dress £74.99/€99.99, Patent Peep Toe Heels £24.99/€32.99. New Look Limited Edition - Stockist Newlook.com.
Cobalt, lapis, violet and sapphire blue have a sparkling and stunning electricity about them.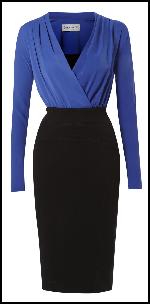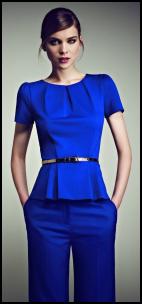 Left - Mary & House of Fraser - Antonio Cobalt Blue Dress £200 Mary Portas.
Right - Oasis Autumn 2011/2012 True Blue Top/Trousers.
More subtle colour blocking combines rich blue with a neutral such as black, or a pop of complementary contrasting burnt orange-rust-red. That may be the most appropriate way for some women to confidently wear orange. The dress shown below left uses orange to striking effect in the belt accessory, whilst retaining the unbeaten combo of royal blue with black.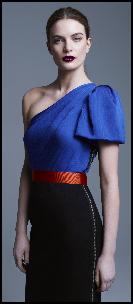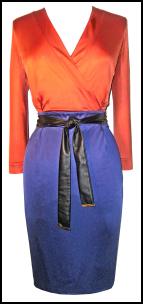 Left - Debenhams - Roksanda Iilinic Collection - Staying Power of One Shoulder Trend.
Centre - Burnt Out But Opulent - Gucci Colour Block Belted Jersey Wrap-Effect Dress £445.
Begin with small amounts of oranges, such as in a belt, and then progress to whole garments like the contrast bodice of a dress. This Gucci dress has the same three colours, but you can see how by altering the proportion of any one colour, the overall effect makes for a totally different fashion design. Orange with depth, soon hits red colour mixes.
§
Not since the real 1970s has vibrant orange colour had such designer approval. An orange moment is here again. Both clothing and interior design feature accents of this fashion colour.

Right - PANTONE 17-1547 Emberglow
Of Emberglow the warm colour shown right, Pantone say "Radiant Emberglow, a traditional autumnal tone, emanates the warmth of a glowing fire – the perfect panacea to the crisp air of fall. Combine Emberglow with Coffee Liqueur for a classic look, or with Honeysuckle for something a bit more retro. Add a spark with shoes or a handbag in Emberglow, or perhaps a patterned scarf combining purpled Phlox or Deep Teal."
The red, cerise, honeysuckle pink, coral and tangerine orange range of harmonious colours are equally stunning colour choices. Sometimes it is difficult to know where red ends or blood orange begins. You are reading an original colour fashion trends article by Pauline Weston Thomas only for publication on www.fashion-era.com ©.
Contrasting soft dusty ballet and nude tone colours remain but these take on a soft tint within the Pantone Emberglow range. These pieces give the contrast of wispy ethereal looks which now meet the edgier more aggressive fetish fashions of darker winter months.
Below - two types of the new approach to more ladylike glamour - elegant everyday to elegant evening.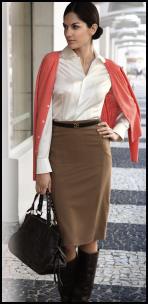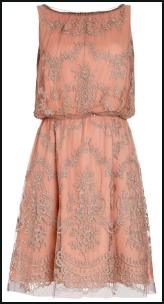 Left - Coral Cardigan £139, White Silk Blouse £129, Camel Pencil Skirt £119, Brown Paisley Print Leather Bag £289. Elégance Autumn/Winter 2011.
Right - Monsoon/Accessorize - Ladylike Glamour - Etienne Lace Peach Dress - £140/€222.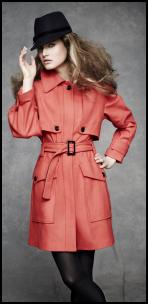 Left - Marks & Spencer 60's Pop Coat £110 .
Centre - Vanessa Bruno Limited Edition Winter 2011/12 At LaRedoute. Blouse £119, Trousers £69, Calf Length Boots £185.
Catwalk colours focused on the richer hotter blood orange tones of emberglow.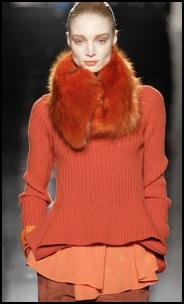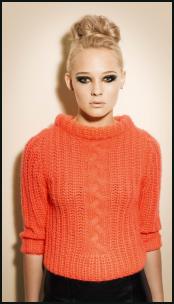 Sportmax AW11 - Orange Peach Emberglow Rib Knit Sweater & Fur Collar Tippet.
Right - Miss Selfridge AW11/12 - Peach Rib and Cable Knit Sweater.
Orange is part of the warm colour section of the colour wheel; add a little black and a dustier shade emerges. Add some white and lighter pastel tint is produced. The colour will also be affected by the material/fabric used. Polished leather colours will appear different from patent leather or suede even when the colour dye is the same. Variety of texture makes all colours appear different from the onlooker because light catches the material surface and reflects back the hue differently.
Bags
Orange Handbags
Get instant lift with a bright bold fashionable handbag. Carry your bag in an obvious no-handle grasp, or under your arm as hug me pouches. Well try it for the season and see how much it irritates you compared with underarm handle bags.
For Spring 2011 colour fashions see my fashion review Colour Block Fashion.
These handbags are all described as orange, and whilst they have a similar tone they show interesting variation.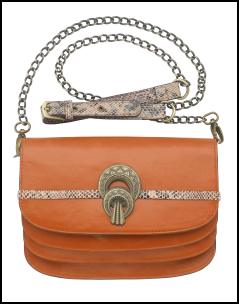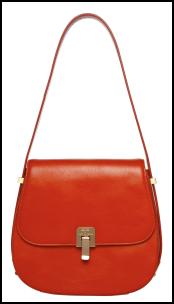 Left - Orange Tan Chain Strap Handbag - River Island Accessories AW11 WW.
Right - House of Fraser - Orange 'Boston' Turnlock Shoulder Bag £145/€165 Pied a Terre.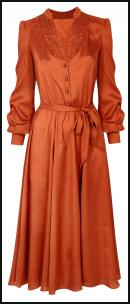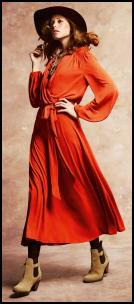 Left - Wallis Orange Rust Satin 70s Dress.
Right - Jacqueline Wrap Dress, Chocolate Floppy Hat, Central Park Bib, Dallas Boot - All Monsoon/Accessorize AW11.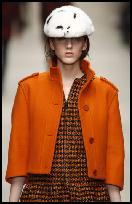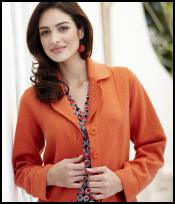 Left - Heritage on the Catwalk AW11. Burberry Orange Cropped Jacket.
Centre - Marisota Fusions By East - Orange Boiled Wool Jacket - Stockist Number: 08719847612.
Look out for fuzzy fabrics, furry textures, goat hair, teased mohair and soft cosy pieces that make you want to get closer.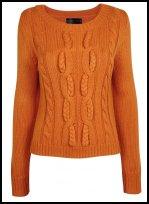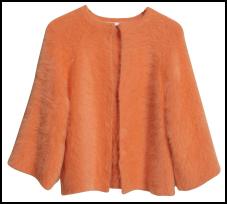 Left - Rich Egg Yolk Orange Cable Sweater - Wallis AW11.
Right - Hobbs Unlimited Cloud Cardigan, £129 (€150) - Stockist Number: 0845 313 3130 hobbs.co.uk.
Handcrafted knitwear uses traditional yarns as well as interwoven fur lengths to make the ultimate in cocoon dressing. Boucle wool sleeves on cardigan coats offer high street value options to compliment catwalk designers take on fur panels on coats sleeves. You are reading an original colour fashion trends article by Pauline Weston Thomas only for publication on www.fashion-era.com ©.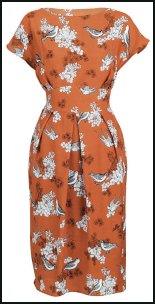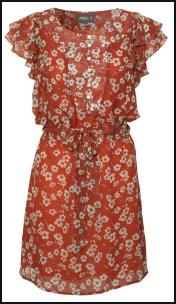 Left - Littlewoods - Orange Printed Dress In Style of Miu Miu Prints.
Centre - Benetton Catwalk Orange Fashion Knitwear.
Right - Floral Print Dress £29 - Apricot AW11.
Skinny polo neck sweaters made their return. In an era of better indoor climate control you may find the finest botany wool or silk roll neck polo knits are the most wearable option.
Sometimes the orange hue is brilliant and intense, other times it is softer, greyed and quieter, more caramel camel in hue.
-------v6-------
Colour Block Orange
How you mix and match or colour block is up to you. This is a season to follow the main trend of 'colour blocking', but make-up your own wardrobe palette that suits your skin tone.
Want to use this hot colour, but find orange does little for you? Then put that colour on your lower half, your legs, cuffs, gloves or feet. Love orange - then add a bright scarf, blouse, sweater or hat near your face.
Most women have some black, grey or camel pieces in their wardrobe, so adding a vibrant orange or red will lift a plain coat, skirt or trousers.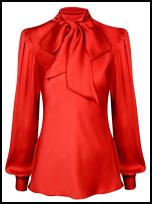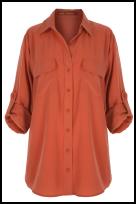 Left - Sophie Grey Collection Red Satin Pussy Bow Blouse - £28.
Right - Burnt Orange Utility Shirt £26/€34 - NEXT Hoxton Girls next.co.uk.
Red
Winter reds are both bright and rich in tone. Frequently red is teamed with black or camel.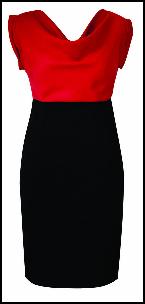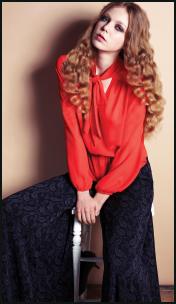 Left - Colour Block Red Black Dress - Dunnes Stores AW 11/12 - Dress €25/£21.
Right - Matalan AW11 Orange Red Tie Blouse, Wide Pants.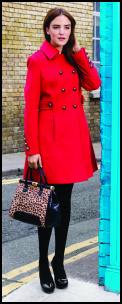 Left - Matalan AW11 Lovely Red Coat.
Centre - La Redoute AW11 - Red Shirt & Red Jeans.
Right - La Redoute AW11 - Red Top & Skirt, Black Knee Boots.
Pinks
Honeysuckle Pink


Left - Blazer, Pink Lace Prom Dress - Very.co.uk AW11.
Right - Miss Selfridge AW11 - Pink Tunic Dress, Purple Opaque Tights.
I think honeysuckle pink looks striking with black or purple. This colour combo is very reminiscent of daring 1980s colour blocking. An easy way to try these bold looks is simply by using contrast tights.
Honeysuckle pink according to Pantone offers ".... a sense of continuity from spring..." They suggest that reddish pink works with every other colour in the Pantone AW2011 fashion colour palette. It looks very good with autumnal dried leaf tones like Coffee Liqueur and Nougat.



Left - PANTONE 18-0930 Coffee Liqueur,
Centre - PANTONE 18-2120 Honeysuckle,
Right - PANTONE 16-1320 Nougat.


Pantone Honeysuckle Pink Set Against Pantone's Bamboo.
These two dresses below use Pantone Honeysuckle (a ruby pink) and Bamboo (amber yellow) creating vibrant on trend colour charge.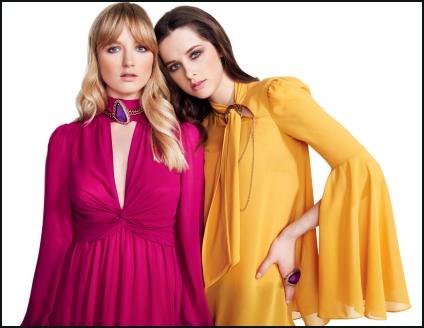 Above - New Look AW11 - Bright Pink, Bright Yellow Dresses - www.newlook.com.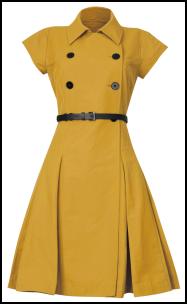 Left - Topshop AW11 Yellow Black Trim Short Coat.
Centre - Debenhams AW11 Yellow Dress With Black Button/Belt Trim.
Right - New Look AW11 Yellow Flare Blouse & Black Skinny Jeans.
Notice how often yellow is teamed with black, or features are picked out in black. Buttons, braid trim, contrast cuffs, collars and belts are the obvious choice.
4---------M4--------4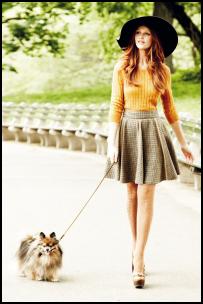 AW11 Heritage Looks Love Blouse, Pleats, Yellow Knits and Tweed Skirts.
Left - Debenhams Outfit AW11.
Right - Next AW11 Hoxton Girls - Swing Sweater £30/€40, Skater Skirt £35/€46, Floppy Hat £24/€33.
Bow blouse and pussy bow blouse are a growing fashion trend for tops and dresses.

Cedar Green
Bamboo Yellow flows seamlessly into cedar green. PANTONE 16-0526 Cedar,
This budget 60s inspired mini-coat from Matalan, uses a lime green fabric which follows on from recent colours this past year or so. Again note the black button contrast trim. This season is all about colour contrast.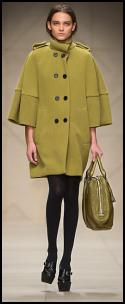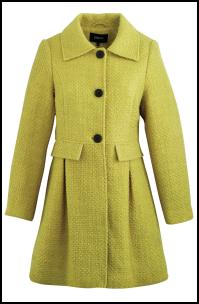 Left - Burberry Green Sculptured Cocoon Coat. Burberry Fashion AW11.
Right - Matalan AW11 - Women's 70's Lime Green Single Breasted Tulip Coat £40.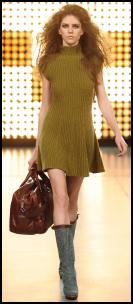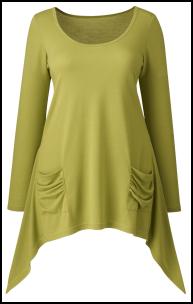 Left - Benetton Green Sweater Dress.
Right - Simply-Be Green Pointed Pocket Tunic.
Colourful bags and shoes also go the green way. Kermit green and emerald green - not much to say other than glorious vibrant green is a favourite for Autumn/Winter 2011 at Mulberry .
-------v6-------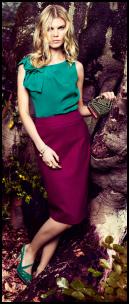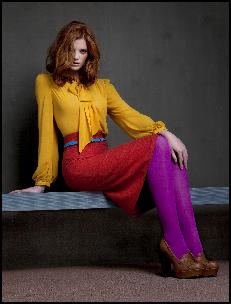 Left - Monsoon/Accessorize AW11 - Stockist Number: 08448110068.
Right - Primark Autumn Winter 2011 - Mustard Pussy Bow Blouse £10, Crimson Wool Pencil Skirt, Cobalt Belt £14, Loafers £16.
Teal Blue


Deep Teal, a strong, blue-toned green, suggests ocean depths and the colour of the sky as daylight descends into darkness.
A great standard when used with Cedar, its colour-wheel neighbour, Deep Teal is also a unique counterpoint to Honeysuckle.
Left - PANTONE 19-4914 Deep Teal.
Right - PANTONE 15-4305 Quarry.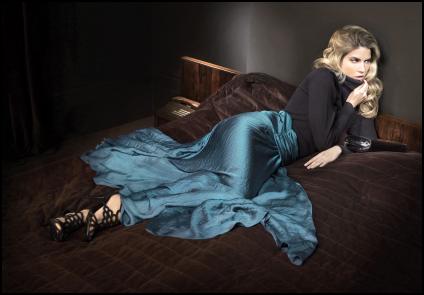 Above - Phase Eight AW11 - Lois Super Full Skirt, Polo Neck Jumper, Alexa Filigree Sandals.
Orchid Hush
Right - PANTONE 13-3805 Orchid Hush.
Orchid Hush, a unique tone of grey with complex orchid undertones, blends well with any other colour in the palette. Quarry, a reliable medium grey, remains a practical, dependable staple.
Colours fade into each other to create a blue palette far removed from Royal and cobalt blue.
Catwalk Coats - Teal Fur Coats & Trims
Faux fur is used extensively with whole garments and fur trim collars, tippets and bag flaps all getting the fur or skin treatments. Rich texture is easiest to do if you select fur collars and jackets of fur.
Chubby shorter fur coats are always winter warmer seasonal must-haves - Karan knows this and showed chubby coats at DKNY. Rich jewel tone coloured Maribou feathers add exotic texture to hems, cuffs and necklines.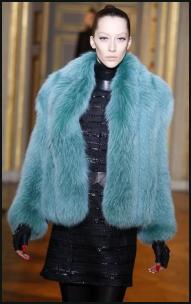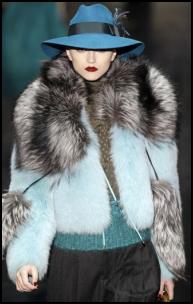 Left - Ungaro Teal Blue Chubby Fur Jacket Coat.
Right - Gucci AW11 Retro Glamour - Fur Cropped Jacket, Teal Blue Fedora Hat.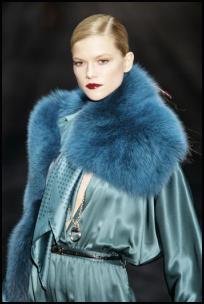 Right - Gucci AW11 - Teal Fur Throw Tippet - Contrasting Textures Of Fur & Satin.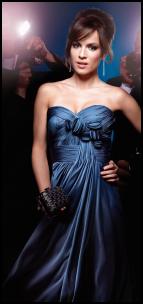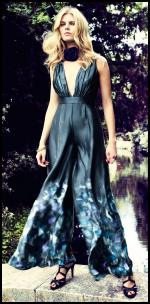 Left - Vera Mont 100% Polyester Strapless Teal Blue Evening Gown UK ₤335/IRL €360
Right - Monsoon AW11 - Teal Maxi Border Print Dress.
This fantastic Vera Mont evening dress above left turns its wearer into the Queen of the Night. The plain-coloured fabric decorations that refine the gentle transition to the Empire style are an absolute highlight. The teal border print dress offers a designer look ankle length maxi dress at a high street price.
Tones of Teal
Teal Blue Dresses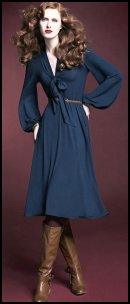 Left - Floral Print Prom Bubble Skirt Dress - €55 - Dunnes Stores.
Right - BHS Dark Teal Blue Dress.
For less formality, a short prom dress in cocktail fabric such as brocade is spot on, provided you are still young and cute enough to carry this fresh look. Take the formal edge of the brocade by teaming the dress with knee high boots. For daywear the easy jersey wrap dress can be layered with a vest and dressed up or down. You are reading an original colour fashion trends article by Pauline Weston Thomas only for publication on www.fashion-era.com ©.
...(v4r)
Teal Accessories - Cloche Hats
This winter cloche hats are vying for attention with floppy 70s hats. Out and about in the rain the floppy wide brimmed hat offers lots of head-cover. But for sharp cold brisk days a fur or felt hat that fits well will keep your head toasty warm and snug.
Fashion trends and mini-series such as Boardwalk Empire and Downton all influence what we ultimately choose to select from the styles massed on the clothing rails. With Downton set to cover the fashion era 1920 and 1921 in the next series, this suggests to me that soon we will see a huge 1920s fashion revival from the influence of this series. After all some of the 1920s styles are simply marvellous. For an original fashion history take on the twenties see my 1920s section.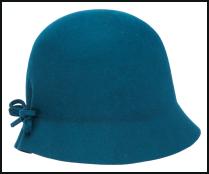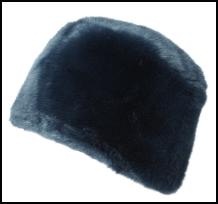 Left - Cloche Hat £14/€19 - NEXT Hoxton Girls - Stockist Number: 0844 844 8000.
Right - Primark AW11 - Teal Fur Cloche Hat.
Purple
Proud purple adds winter opulence. Winter pieces range from true violet to more plum aubergine tones of purple. Add a purple accessory to other colour combinations. Select a purple leather croc clutch, amethyst gemstone like this earring below from ASOS or purple bangles from Dorothy Perkins.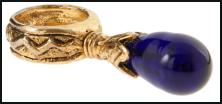 Left - PANTONE 19-2820 Phlox.
Right - ASOS - Purple Drop Earring.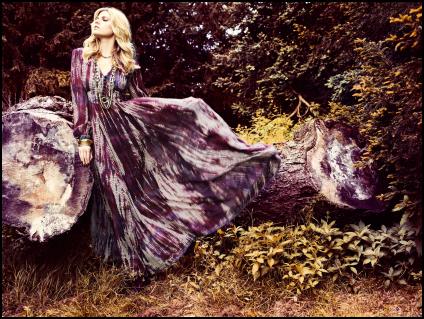 Above - Tie Dye Tones of Purple Maxi Dress - Monsoon/Accessorize AW11.
Pantone Phlox - A Purple

Pantone say of this purple hue "Phlox, a magical, deep purple with a hint of mystery, is an outstanding statement when worn on its own."
Add Phlox to this season's neutrals to create a bit of drama, or combine it with Cedar, Deep Teal or Coffee Liqueur for something extraordinary.
Catwalk Purple embraced a whole range of purple tones from lilac, violet to aubergine.
Women have been seeking dresses they can really wear and love, and Mary Portas has heard their cries. The dress below would suit any number of women and could be dressed up or down, layered, toughened up with thicker textured tights and boots, or worn as it is.
Day To Evening Dresses
Drapery In Dresses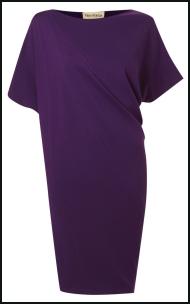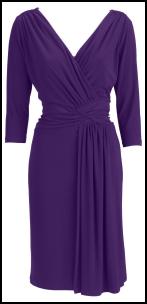 Left - Mary Portas Purple 'No Brainer' Dress £135 - House Of Fraser.
Right - V-Neck Draped Purple Dress - Isme AW11.


Dresses in stores range from blue violet purples to rich warm red purples with a hint of damson and plum.
To add even more excitement, pair Phlox with Honeysuckle.
Near Right - PANTONE 19-2820 Phlox.
Far Right - PANTONE 18-2120 Honeysuckle.
4---------M4--------4
Texture is also important with crochet, lace and pleating giving focus to fabric.
Sequins or lace are the textures to buy. Lace, as sported by Catherine Middleton at her wedding. is one of the seasons best loved fabrics. Lace was already gaining ground this past year, but the Duchess of Cambridge reminded the world how glorious lace could be. Fashionistas love lace. Buy it in every colour at every opportunity.
Sequins were suggested by designers for anytime wear, making them suited to garments designed for casual or red carpet events. So note any racks with big sequinned skirts or glitter trousers and give them a good browse.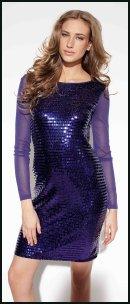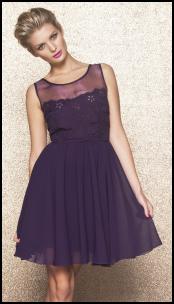 Left - Littlewoods Ireland Autumn Winter 2011 - €82.
Right - Sheer Chiffon Cutwork Shoulder Yoke Interest Prom Party Dress From A|wear, €65/£60.
Massive sequin Paillettes are supersized this year. Prada served up fish scale dresses and Christopher Kane scattered sheer dresses with clear sequins. The look is delicate and wispy rather than glitzy bling. Find yourself a piece in purple chiffon for the party season.
Consumers continue to add stability to their wardrobes with neutrals. Rich, decadent Coffee Liqueur brings a sense of elegance to fall, and is a savoury alternative to basic black.
A deliciously warm camel tan, nougat is easily a tasteful base colour for embellishment with Phlox/Purple, Emberglow/Peachy Orange Coral or Honeysuckle/Pink.
Left - PANTONE 18-0930 Coffee Liqueur.
Right - PANTONE 16-1320 Nougat.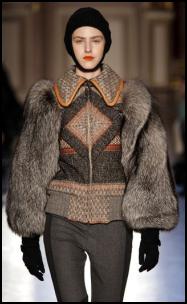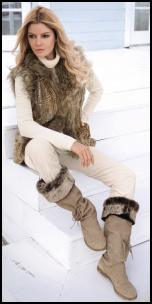 Left - Tsumori Chisato AW11 Fur Sleeve Jacket.
Right - Camel Fur Gilet Waistcoat £489, Ecru Sweater £109, Ecru Velvet Trousers £129, Knee Length Fur Trim Boots £289. Elégance Autumn/Winter 2011.
Furry looks are a huge trend this winter. Easy ways to achieve this involve the simple addition of a cropped cardigan, with a fur collar, Ugg Boots, a chunky fur handbag, or fur trim slippers to pad around the house! Such pieces are ideal for fast tracking your wardrobe into fur looks faux or real.
Sixties Chic With Pencil Skirt or A-Line Dresses
Pencil lines and A-line dresses pick up on two of the best styles of dress from early and mid-sixties fashions. This A-line shift could easily be worn as a pinafore dress with a contrast polo neck sweater, or a pussy bow blouse. The check everyday shift dress is in total contrast to the beaded dress.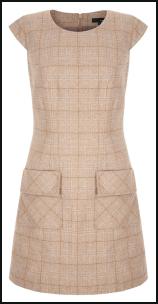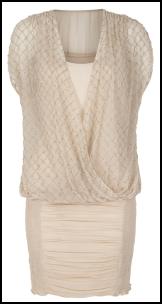 Right - NEXT A-line 60s Heritage Check Pinafore Pocket Shift Dress, £50/€66 - NEXT AW11.
Centre - Love Label Cream Beaded 80s Dress - Very.co.uk AW11.
Years ago a beaded or sequined dress would have cost so much you would have been out of pocket. Now such dresses cost a fraction of the price they might have been twenty five years ago.
The short cocktail dress is ideal for dressing up over Christmas. Imagine how fetching you might look in one as you accept canapés and drinks at Christmas parties. Note how the intricate bead and sequin work is effective in a neutral palette. The dress above would also work well for summer occasions unlike the heavier look of a little black beaded dress.
Fashion fabrics for Autumn 2011 are simply fabulous. Fashion designers chose materials with superb tactile qualities and shininess. You will fall in love with mixture of textures from subtle languid fluid silks to coarser hairier and sports fabrics. You are reading an original colour fashion trends article by Pauline Weston Thomas only for publication on www.fashion-era.com ©.
Simple Easy Neutral Coats
Silk and silk/wool mixes are the winter must-have fabrics, but whatever piece you chose colour will be one of the most important aspects of your selection. For those scared of colour neutrals offer a safe haven and are always good wardrobe basic that for some are must-haves.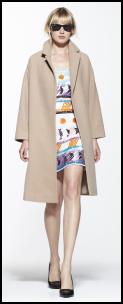 Left - Marks & Spencer AW11 - Masculine Feminine Stone Coat.
Right - Loose Camel Beige Coat - Very.co.uk
Black is low on the list of trends this autumn unless you intend to devote yourself to Fetish/Goth looks.
The bright colours that popped up everywhere for summer 2011 are now subdued into the vibrant but more subtle colours of gems from a jewellery store.
These colours in the strip below are pantone's selection of fashion colours for autumn 2011-2012. They are shown in full on the Autumn Winter 2011 Pantone colour page. For Spring 2011 colour fashions see spring's Colour Block Fashion.

No matter whether it is cabin luggage, sequin cocktail dress, or a fair isle or alpine knitted sweater knit tunic top, Pantone colours exert great influence on designers.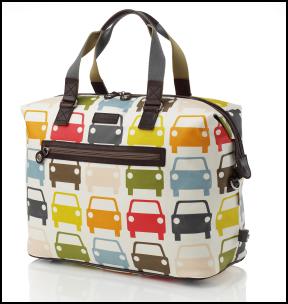 Orla Kiely Multi Car Large Tote £99.99/€130 - Debenhams AW11/12 Tripp Luggage.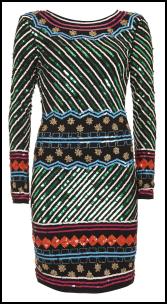 Multi Coloured Sequin Cocktail Evening Dress From TopShop.
Jewel colours are now the main colour story of autumn 2011 fashion trends. Those softer ballet tones are subtly there, but the main colour focus is richness and depth of tone. This is found in sapphire, lapis, emerald, garnet, deep amethyst, ruby and golden citrine. Much of the golden yellow and copper tones are frequently metallic as are many green shades.
Whatever garment colours you choose this winter be sure to check the latest colours in make-up.
Colour in Make-up & Nails
Lipstick
Lipstick has made a huge comeback. Bright reds and orange in a matte pout is the way to work kissable lips. Tom Ford has a wonderful red with his Private Blend Lip Colour in Cherry Lush at £35. Before you apply any lipstick, make sure your lips are free of dry skin; using a toothbrush and some lip balm will ease away the loose skin. Flaky lip skin destroys what might be a most kissable pout. Estee Lauder is the counter to head for a fast update on lipstick must-haves. Whilst there pick up some information on skin illuminators which make the skin glow.
----------m6-----------
Eyes - Smoky Eyes
Smoky eye shapes and banana socket lines create sixties doe eyed looks. Finish lashes with zero clump mascara such as Givenchy Démesure Audacious Lashes Mascara at just £22.50. Try to avoid winged liner effects and go for a gentler effect with shaded blended smoky soft looks. This is easy to achieve by using eye shadow powder over eyeliner to soften the liner or by using darker shadows brushed on slightly damp first and then softened down again with dry powders.
If you recall this look first time round, then be gentle with that socket line. However a soft socket line will actually add depth to older eyes where skin has sunk and form has been lost. Trial the technique to achieve effects that still look good hours later, to avoid overdoing this and being mistaken for a Barbara Cartland lookalike.
Glasses - try tortoiseshell sunglasses 40s style.
Nail Polish - Nail Lacquers
Revlon advises that muted bright nail polishes and lacquers are both big trends for autumn 2011. Max Mara have shown models wearing dark wine nails. The metallic colour to buy this autumn is Chanel's Le Vernis Nail Colour in Peridot - perfect peacock green and gold giving a moiré shimmer. Morticia would crave the newness of a non-pink tint!
Conclusion of Key Fashion Colour Trends Autumn 2011 Winter 2012
This review features the most important women's fashion colour looks for the autumn 2011 and Winter 2012. This article reviews the main colour looks in dresses, footwear, bags jewellery and other fashion accessories. You have been reading an original colour fashion trends article by Pauline Weston Thomas only for publication on www.fashion-era.com ©.
Copyright of images courtesy of Prshots.com, IFTF, BHS, Pantone, Swarovski, A|wear, ASOS, Accessorize Monsoon, Matalan, Marks & Spencer, Marisota, Hobbs, House of Fraser, Oasis, Debenhams, Littlewoods, Benetton, New Look, Next, very.co.uk, Isme, Phase Eight, Miss Selfridge, La Redoute, T K Maxx, House of Fraser/Mary Portas, Burnt Out But Opulent, Elegance, East, Bonmarché, Dorothy Perkins, Pilot, Primark, Penneys, Ted Baker, Wallis, Simply Be, Apricot, Dunnes, River Island, Vera Mont.
Date added 21 Oct 2011 - Ref: P.860.
If you like this page then please share it with your friends
---
--Link--
For more information on ladies and teens fashion trends go to:-
Archived Sections
Custom Search
About Fashion-Era.com
Fashion-Era.com looks at women's costume and fashion history and analyses the mood of an era. Changes in technology, leisure, work, cultural and moral values. Homelife and politics also contribute to lifestyle trends, which in turn influence the clothes we wear. These are the changes that make any era of society special in relation to the study of the costume of a period.

Fashion-Era.com can take no responsibility for any information on the site which may cause you error, loss or costs incurred from use of the information and links either directly or indirectly. This site is owned, designed, written and developed by author: Pauline Thomas and Guy Thomas. This site is designed to be viewed in 1024 X 768 or higher.
ALL RIGHTS RESERVED. Fashion-era.com reserves the right to add or delete information, graphics and links. Copyright © 2001-2014 on all content, text and images in Fashion-era.com. Images and text in this website may not be used on other websites.
Before you write to me for costume/fashion help or information please, please consult the extensive sitemap which lists all our pages. If you still cannot find the answer after searching the site, then before you email me, please consider if you are prepared to make a donation to the website.
Donations
Reader's donations help this site flourish, in particular donations encourage me to write more articles on fashion history as well as current trends. PayPal allows anyone with a credit card to donate easily and securely. You may donate any sum you feel appropriate.