Fur Coat Fashion Trends for Winter 2011
Here is my review of the important fur coat fashion looks for Autumn 2011 and Winter 2012. The use of fur worked especially well with sixties baby doll and seventies hippy chic themes.
When selecting a fur coat which can make wearers look bulkier check that the proportions are correct for your own body silhouette. Careful selection and trying on of many styles and fabric weights will ensure that there is an ideal fur coat waiting for you in a store nearby.
For Autumn 2011 Winter 2012 note the vivid rich jewel colours of amethyst, sapphire, emerald, ruby pink and ruby red, citrine, amber and orange garnet. In fur these colours have striking effects. When worked as retro 60s cute coats they exude a youthful guise.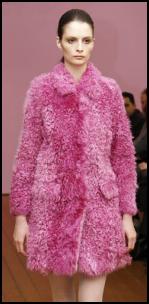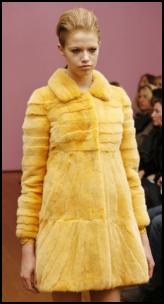 Both of these colourful sixties inspired fur coats were from Philosophy.
Variations of purple fur colours embraced every fur coat style and more are shown further down this fur coat article.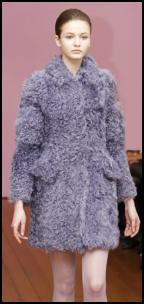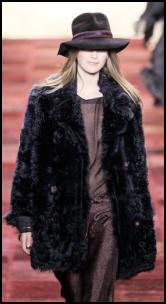 Left - Philosophy AW11 Fur 60s Coat.
Right - Tommy Hilfiger AW11 Aubergine Fur Pea Coat.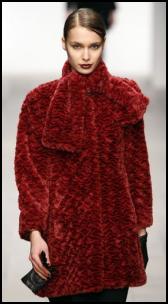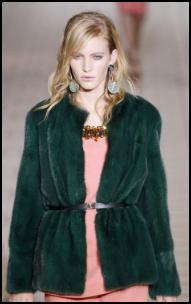 Left - Marni AW11 - Rich Russet Red Fur Coat.
Right - Marni AW11 - Rich Sea Green Short Cocoon Fur Coat.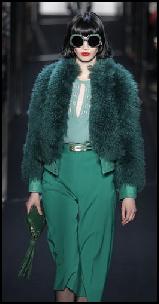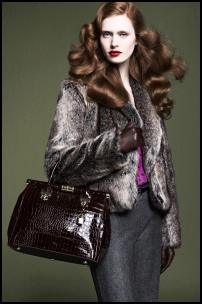 Right - Diane Von Furstenberg AW11 Sea Green Fur Jacket.
Right - BHS Short Fur Coat.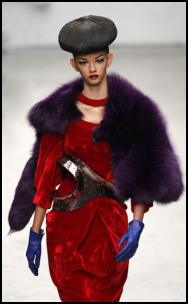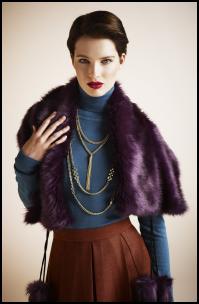 Left - Manish Arora AW11 - Fur Purple Cape.
Right - River Island AW11 WW Campaign Purple Fur. Stockist Number: 0208 991 4904.
Shorter chubby faux fur coats in bright colours such as purple, navy, claret, teal, caramel and honey have surfaces that are set in rows like traditional skins were once used. Shearling and Mongolian fur has been dyed to bright colours. Purple and aubergine toned dyed fur was a popular choice.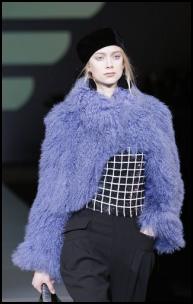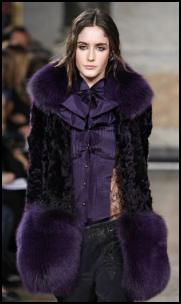 Left - Dyed Shearling Jacket Emporio Armani.
Right - Emilio Pucci AW11 - Purple Aubergine Fox Fur Coat.
‡‡
Jewel Colours For Furs
Seventies hippy chic took advantage of bright colours in fashion and maxed out old Afghan Style Boho coats but with a new twist. Shearling and coloured Shearling was a popular designer choice especially at Gucci. Retailers everywhere have copied the catwalk look even in brilliant colours like purple. Many more use soft and dark greys or cinnamon and taupe colours which are more wearer subtle.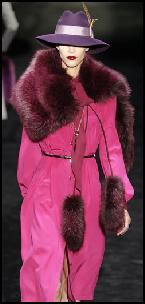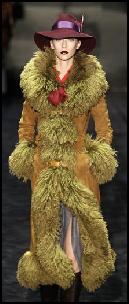 Left - Gucci AW11 - Pink Coat & Fur Accessories.
Right - AW11 Seventies Afghan Style Coat Gucci AW11.
Hats complimented these seventies silhouette coats. The Fedora hat, the Trilby hat and the Cloche hat all added to the retro feel of catwalk remix shows. These hats are an easy look for the high street chains to add to their ranges.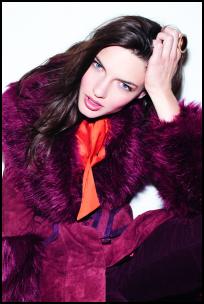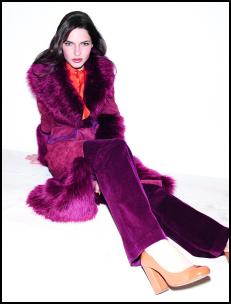 Left & Right - Wallis AW11 Berry Suede Coat.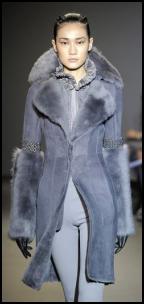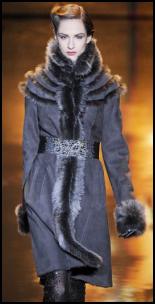 Left - Venexiana AW11 - Coat & Huge Shawl Fur Collar.
Right - Andrew Gn Fall 11 - Shearling Coat with Toscana Lamb Trim.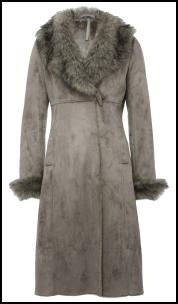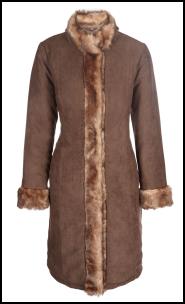 M&Co Boutique Faux Fur Sheepskin Coat £130
Marisota AW11 - Faux Suede Shearling Coat - £65.
Easy lines of the cocoon shape are ideal for all over fur styles.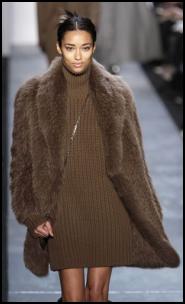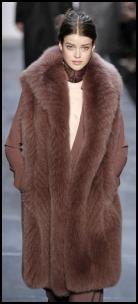 Fur Coat & Sleeveless Fur Long Gilet Coat Both By Michael Kors AW11.
‡‡
Shorter Chubby Fur Coats
Shaggy furs such as Mongolian fur and synthetic versions dominate casual outerwear jackets and gilets. Expect to see some very interesting fashion clothing pieces based around fur trim.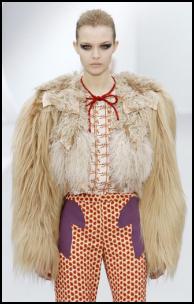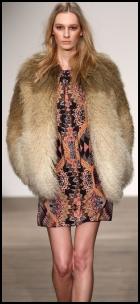 Right - Fur - Just Cavalli AW11.
Left - Chubby Fur Coat Matthew Williamson AW11.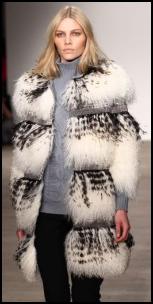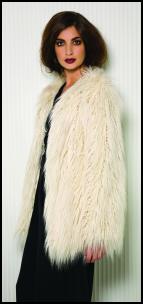 Right - Fur Coat Matthew Williamson AW11.
Centre - Fur Chubby Coat Dunnes Stores.
Creamy neutral chubby furs will team with many clothes, but the bold bright colours of sea green add a zing very much of this season,

A confident take on catwalk collections with a leather skirt, androgynous style blouse, and a hip length Chubby fur jacket from Marks & Spencer AW11.
Snakeskin is the material of Autumn 2011. Now designers play more with reptilian prints such as crocodile, python and alligator. The must-have 'it' print of the moment is snakeskin. It's used not just for boots and shoes, but also for belts, bags and fabric prints. Snakeskin is the pattern foundation used for vibrant colour prints in rich hues of sea green and golden tones.
Sea Green Furs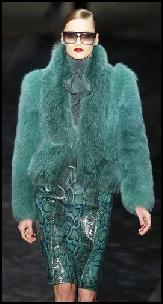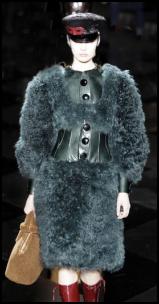 Left - Luxury Opulent Fur Looks From Gucci AW11.
Coat From Louis Vuitton AW11.
Forties to Seventies Remix Glamour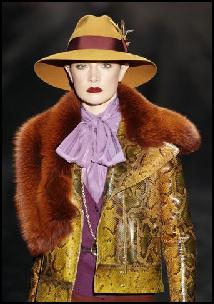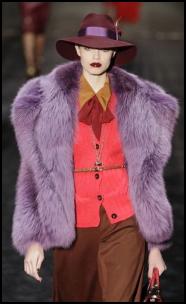 Snakeskin with Sweeping Forties Fur Collars From Gucci AW11.
Note the Fedora hat and there was an acknowledgement to 70s sunglasses and pussy bow blouses.
Snakeskin imagery is also being used in jewellery, scarves, spectacles, footwear and handbags. I love the snakeskin bangles at Harvey Nichols and the snakeskin boots from Prada.
At Chloe snakeskin looked at home on bucket bags making statement making accessories with a sixties vibe. For a more affordable take try the snakeskin clutch at Banana Republic. You are reading an original article about autumn coats for 2011-2012 by Pauline Weston Thomas only for publication on www.fashion-era.com ©
-------v6-------
Furry Looks
Short Chubby Coats
Tipped two-tone fur material has been used extensively on parka coats. Tipped multi dyed fur also lent itself to all sorts of chubby coat, jackets, gilet, hood, ear muffs, detachable tippets and fur collar variations.

Left - Roland Mouret Tipped Fur Jacket AW11.
Right - Pringle of Scotland AW11 - Chubby Fur Coat.
These short brown faux fur jackets have more than one colour in them, incorporating golden tones as orange gains fashion kudos.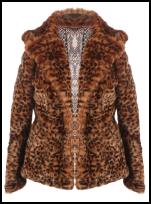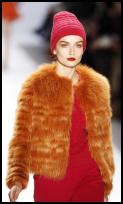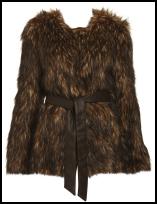 Left - Contoured Fur Jacket By Missguided AW11.
Centre - Luca Luca Fur jacket.
Right - Choc Speckled Belted Fur Coat Jacket - Internacionale AW11 Clothing.
Stockist Number: 0141 552 2020.
Fashion fabrics for Autumn 2011 are simply fabulous. Fashion designers chose materials with superb tactile qualities and shininess.
Hour Glass Waists
Buttoned up sexiness emerges with hour glass silhouettes. This autumn fashion trend is setting the tone for future styles with feminine waistlines reveal that girls still have curves. This is wearable Mad Men fashion - less perfect, more 'now'. Additionally, the colour palette is of autumn 2011, not a season of fifty years ago.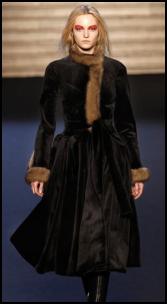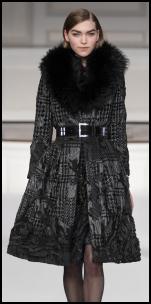 Left - Valentin Yudashkin AW11 - Fitted Waist Fur Coat.
Centre - Purple Mink and Leather Fur Coat - Malandrino.
Right - Coat by Oscar De La Renta AW11.
...(v4r)
Statement skirts add sculptured lines. These figure shaping seam lines reinforce the swagger when a woman moves and wiggles as she walks. Think small waists and get some great sculpting body wear under foundation garments like Gok Wan, Playtex, Berlei or Spanx body wear from sellers such as Woods or Figleaves. Otherwise you may need to sign on at the gym and ensure yours fridge is health food filled soon.
For fifties trends make sure your hem falls on or below the knee. This emphasis on the waist is reinforced by both the sheath and fitted shift dress and the pencil skirt. The sheath dress drapes and fits to create a figure-of-eight fashion form. These fur coats emulate that fifties feel.
Short Fur Capes - Ideal for Evening
Make a stunning entrance at Christmas parties wearing fur capes over your favourite evening pants or dress.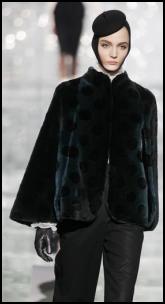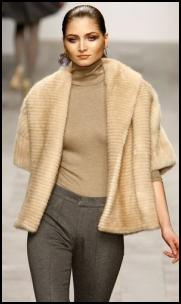 Left - Marc Jacobs AW11 Fur Cape.
Right - Issa Fur Elbow Length Cape - Issa AW11.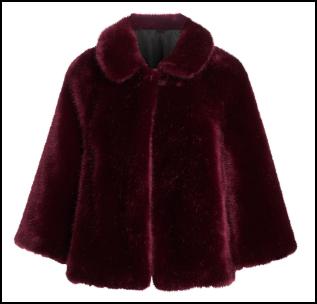 Left - Athena Fur Coat, £95/ €150 - Monsoon/Accessorize Womenswear.
These two capes below are just different colours of the same capelet. They are the winter alternative shoulders cover-up to the pashmina.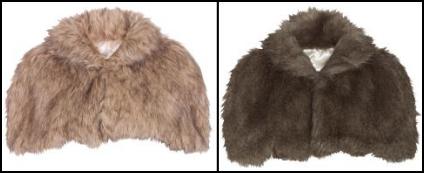 For something more covering these capes both from Monsoon Accessorize offer a little more length. The damson fur cape would be very versatile as a winter short coat substitute. The cream cape offers both evening and bridal glamour.
Catwalk Fur Capes
Leopard print has been a huge trend over the past decade and now leopard print is a classic.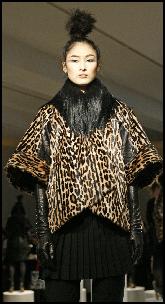 Left - Ralph Lauren Leopard Print Cape - Catwalk Coats Fashion AW11.
Right - Cape Influence Leopard Print Distressed Leather Jacket With Kidassia Goat Collar Trim.
Catwalk Leopard Print Fur Gilets
Gilets in leopard prints featured in several catwalk shows for Autumn 2011.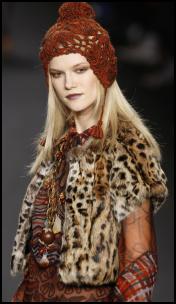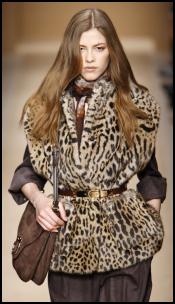 Left - Leopard Print Fur Gilet from Anna Sui AW11.
Left - Dior Leopard Printed Mink Gilet.
-------v6-------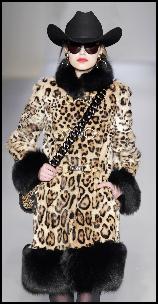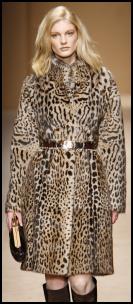 Left - Moschino Leopard Stencilled Rabbit Coat With Dyed Black Fox Trim.
Right - Ferragamo AW11 Stencilled Mink Coat.
Animal is now such a classic print that designers are using rainbow colours with these traditional motifs. Leopard print three quarter jackets are ideal winter coats for use casually with trousers or as a luxury touch for evening. Last year I bought faux fur Biba Leopard coat. It proved to be a very successful buy for the arctic snowy winter we had and best of all is such a classic item that it will be just as fashionable this year as it was in 2010.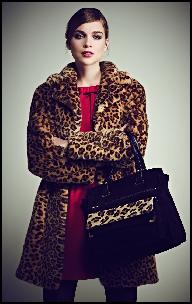 Left - Oasis AW11 - Fake Fur Leopard Print Coat.
Right - Leopard Print Coat at very.co.uk.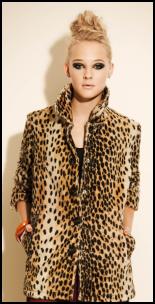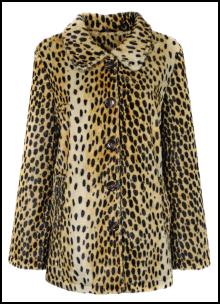 Left & Right - Miss Selfridge Faux Fur Leopard Print Coat £89.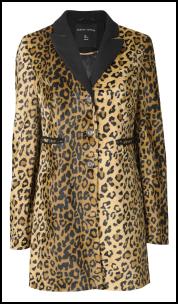 Left - Leopard Faux Fur Coat £69.
Right - Dorothy Perkins Brown Animal Leopard Coat, Contrast Collar £79.
-------v6-------
The Overall Volume Look Autumn 2011 - This includes Cocoon Coats, padded fur sleeves in coats and jackets. Full blouson sleeves sometimes morph into cape shoulder styles or cape sleeves.
Look out for fuzzy fabrics, furry textures, goat hair, teased mohair and soft cosy pieces that make you want to get closer. Boucle wool sleeves on cardigan coats offer high street value options to compliment catwalk designers take on fur panels on coats sleeves.
Faux fur is used extensively with whole garments and fur trim collars, tippets and bag flaps all getting the fur or skin treatments. Chubby shorter fur coats are always winter warmer seasonal must-haves - Karan knows this and showed chubby coats at DKNY. Marina Rinaldi has some luxury fur coats that are both sleek and stylish, perfect for plus size women who long for high fashion and enough material to cover lumps and bumps.
Rich texture is easiest to do if you select fur collars and jackets of fur. Maribou feathers in rich jewel colours add exotic alternative texture to hems, cuffs and necklines. After that try baroque brocade fabrics or crocodile and snakeskin textures in bags, footwear and fabrics. Shearling handbags and Mongolian furs add texture that is layered to enhance contrast.
You will fall in love with mixture of textures from subtle languid fluid silks to coarser hairier and sports fabrics. Silk and silk/wool mixes are the winter must-have fabrics. Other luxury materials such as silk panne velvet make the perfect luxury fabric for winter festive coats.
Coat Accessory & Add-ons Autumn 2011
Bags Tippets Gloves
Get instant lift with a bright bold fashionable handbag. Carry your bag in an obvious no handle grasp under your arm as hug me pouches. Well try it for the season and see how much it irritates you compared with underarm handle bags.
Update your autumn pieces that with jewel toned court shoes. Select a heel that suits you and try a small platform for the seasonal touch.
The Mary Jane shoe has multiple straps and worn with patterned hosiery/pantyhose adds retro quality to leg looks. Pump shoes have shorter pointed toes and easy heels. Solid square heels and cone heels follow 1970s trends in women's shoes. Platforms and wedges, which are still available, often have fur cuff trims.
Fetish fashion themes are a shoe designer's dream as they enable a play in design terms that goes beyond usual shoe design boundaries. Best of all this season your local shop may stock them rather than a specialist catalogue. Even the most reluctant wearer of fashion might be persuaded into the purchase of a pair of quirky shoes or boots and use them to update last year's coat.
Knee high, above or just below the knee high boots are called cuissardes. Take the easy way to get one of the strongest fashion looks of fall. For a real 60s look team your retro Mod coat with a pair of retro Chelsea boots. You are reading an original article about autumn and winter fashion coats for 2011-2012 by Pauline Weston Thomas only for publication on www.fashion-era.com ©
Key Fashion Trends Autumn 2011
The key elements of fashion trends for autumn 2011, winter 2012 depend on longer lengths and bold rich vibrant colours in contrast textures and luxury fabrics. The silhouette pays homage to forties, sixties and seventies decades of style fashions.
Conclusion of Key Fashion Trends Autumn 2011 Winter 2012
This review features the most important women's fashion fur coat looks for the autumn 2011 and Winter 2012. This article reviews the main looks in fur coats, fur jackets and fur capes. You have been reading an original fashion trends article by Pauline Weston Thomas only for publication on www.fashion-era.com ©
Copyright of images courtesy of IFTF, Swarovski, Marks & Spencer, Debenhams, BHS, River Island, Marisota, Missguided, M&Co. Elegance, Accessorize Monsoon, Matalan, Wallis, Dunnes Stores, very.co.uk, Dorothy Perkins, Miss Selfridge, PRShots.com.
Date Added 21 Sept 2011 - Ref: P.854.
If you like this page then please share it with your friends
---
--Link--
For more information on ladies and teens fashion trends go to:-
Archived Sections
Custom Search
About Fashion-Era.com
Fashion-Era.com looks at women's costume and fashion history and analyses the mood of an era. Changes in technology, leisure, work, cultural and moral values. Homelife and politics also contribute to lifestyle trends, which in turn influence the clothes we wear. These are the changes that make any era of society special in relation to the study of the costume of a period.

Fashion-Era.com can take no responsibility for any information on the site which may cause you error, loss or costs incurred from use of the information and links either directly or indirectly. This site is owned, designed, written and developed by author: Pauline Thomas and Guy Thomas. This site is designed to be viewed in 1024 X 768 or higher.
ALL RIGHTS RESERVED. Fashion-era.com reserves the right to add or delete information, graphics and links. Copyright © 2001-2014 on all content, text and images in Fashion-era.com. Images and text in this website may not be used on other websites.
Before you write to me for costume/fashion help or information please, please consult the extensive sitemap which lists all our pages. If you still cannot find the answer after searching the site, then before you email me, please consider if you are prepared to make a donation to the website.
Donations
Reader's donations help this site flourish, in particular donations encourage me to write more articles on fashion history as well as current trends. PayPal allows anyone with a credit card to donate easily and securely. You may donate any sum you feel appropriate.