Fur Trim Coat Fashion Trends for Autumn 2011
Here is my review of the important fur trim fashion looks for Autumn 2011 and Winter 2012. The use of fur worked especially well with sixties baby doll and seventies hippy chic themes.
Coats are great statement making top cover and are a considered purchase for most women. Not all women want the full-on look of a totally fur coat. Many might prefer a fur trim padded parka or a fur trimmed wool coat.
For those who like the opulence of fur, but have to spend wisely, choosing a classic seasonless garment with a detachable fur collar may be the answer to your coat dilemma. Texture is a fashion feature of material today. Rich texture is easiest to do if you select fur collars and jackets of fur. Maribou feathers in rich jewel colours add exotic alternative texture to hems, cuffs and necklines. Shearling handbags and Mongolian furs add texture that is layered to enhance contrast between material.
In Autumn Winter 2011/12 you can select a reworked silhouette style from at least 5 different decades of the C20th this season, so a fur trim coat styled like these 1920s wrap shapes could take you into the next big Boardwalk Empire coat trend.
A Class Act - Fur Trim Cream Side Wrap Coats - 1920s Remix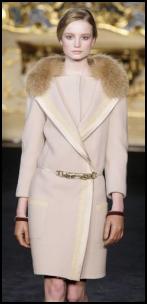 Left - This Gorgeous Drop Waist Belted Creamy Wrap Coat by Aquilano is one of my favourite coats this year. Aquilano AW11 Catwalk Show. The Wang coat would not look out of place in a Boardwalk Empire programme.
Centre - Aquilano AW11/12 Catwalk Show - Coat.
Right - Alexander Wang AW11/12 - Fur Collar Coat.
These coats emulate lines shown on my 1920s fashion history page.
Excess Shearling, fur trims, fur chokers, tippets, collars, fur banded and front trimmed coats and suit jackets were among the surprises from AW11/12 designers.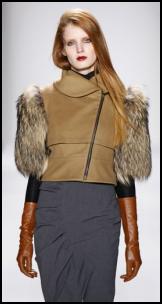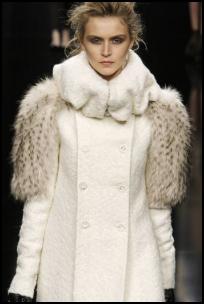 Left - AW11/12 - Cynthia Steffe Fur Sleeve Leather Cropped Zipper Jacket.
Right - Byblos AW11 - Winter White Coat Fur Upper Sleeves.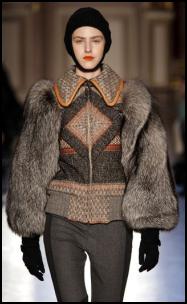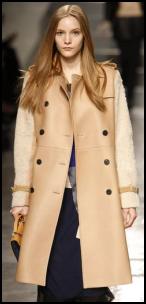 Left - Tsumori Chisato AW11 - Fur Sleeve Winter Sports Jacket.
Right - Aquascutum AW11/12 - Textured Beige Shearling Lamb Fur Sleeve Coat.
‡
1970s Styling Fresh Tailoring Twists - Jewel Colours For Furs
The use of fur worked especially well with sixties baby doll and seventies hippy chic. These colourful sixties inspired fur coats were from Philosophy.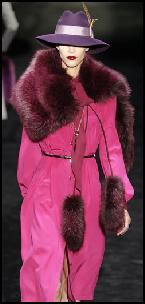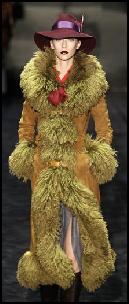 Left - Gucci AW11 - Pink Coat & Fur Accessories.
Right - AW11 Seventies Afghan Style Coat Gucci AW11.
Hats complimented these seventies silhouette coats. The Fedora hat, the Floppy hat, the Trilby hat and the Cloche hat all added to the retro feel of catwalk remix shows. These hats are an easy look for the high street chains to add to their ranges.
Suede and Shearling or flat shaved furs are also trimmed with contrast fur.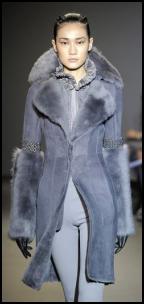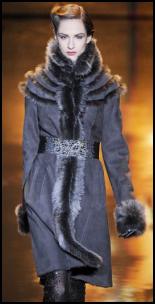 Left - Venexiana AW11 - Coat & Huge Shawl Fur Collar.
Centre - Coat By Donna Karan AW11.
Right - Andrew Gn Fall 11 - Shearling Coat with Toscana Lamb Trim.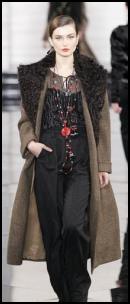 Above Left - Catwalk Fashion AW11 - Ralph Lauren Coat.
Centre - Ralph Lauren Coat
Right - John Lewis AW11 COLLECTION Fur Collar Trim Double Breasted Camel Coat £189.
Fur collars are added to leopard prints, luxury leather and reptilian skins.
Snakeskin is the material of Autumn 2011. Now designers play more with reptilian prints such as crocodile, python and alligator. The must-have 'it' print of the moment is snakeskin. It's used not just for boots and shoes, but also for belts, bags and fabric prints. Snakeskin is the pattern foundation used for vibrant colour prints in rich hues of sea green and golden tones.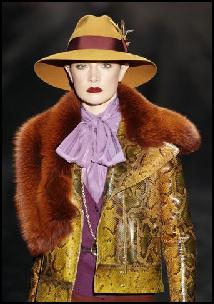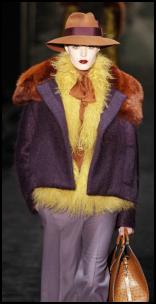 Snakeskin Jacket & Fur Collar, Wool Jacket & Fur Collar - Both From Gucci Catwalk AW11.
Note the Fedora hats and acknowledgement of 70s sunglasses and pussy bow blouses.
Snakeskin imagery is also being used in jewellery, scarves, spectacles, footwear and handbags. I love the snakeskin bangles at Harvey Nichols and the snakeskin boots from Prada.
At Chloe snakeskin looked at home on bucket bags making statement making accessories with a sixties vibe. For a more affordable take try the snakeskin clutch at Banana Republic. You are reading an original article about autumn coats for 2011-2012 by Pauline Weston Thomas only for publication on www.fashion-era.com ©
§
Fur Front Band Coats
Other coats for winter 2012 have added fur front border or side panels. Some even have whole or partial fur sleeves, hem bands, collars or skirts.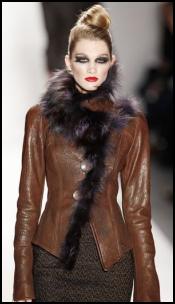 Left - Centre - AW11 - Venexiana Leather Fitted Jacket.
Right - Ralph Lauren AW11 - Jacket & Pants.
Retailers picked up on the fur trim trend and these two coats, left below, are good examples of a take on the fur trim front fall collar.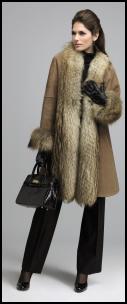 Elégance Autumn/Winter 2011 - Fur Trimmed Camel Coat £1499, Black Trousers £119. Elégance Stockist Number: 0844 557 5507.
Fur Hem Coats
The overall volume look for Autumn 2011 Winter 2012 includes Cocoon Coats which often have fur hemlines or lavish collars.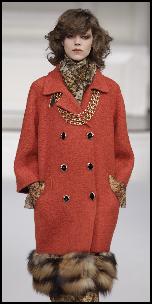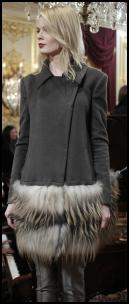 These coats above have semi loose lines, but with fur hem trims.
Left - Catwalk AW11 - Coat from Oscar De La Renta.
Right - Grey Coat and Deep Double Fur Hem Trim By Wes Gordon AW11.
Fur Cuff Coats
Many Coat styles and dresses have fur hemlines this winter. The fur in high street pieces is mostly faux. An alternative to fur is the leather or faux leather hem panel band.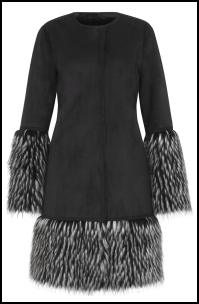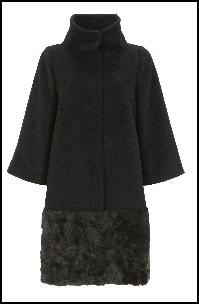 Left - TK Maxx - Black Coat With Faux Fur Detail £69.99/€89.99.
Above Right - Mint Velvet AW11/12 Funnel Neck Fur Trim Coat, £199/€259.
Military coats for Winter 2012 focus on fastening features such as toggles, impressive buttons, high necklines or fur swathe collars.
More coat like versions with duffle fastening elements include these coats below. These are must-haves for 'snow is here' and make warm everyday coats.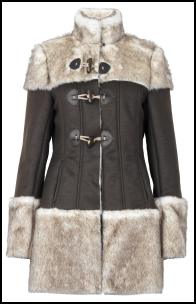 Centre - Debenhams Red Herring Coat £85/€128.
Right - Shearling Coat Limited Availability TK Maxx stores £79.99/€99.99.
-------v6-------
Fur Collars & Fur Shoulders
Collars of fur are very large or very small.
.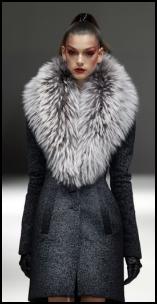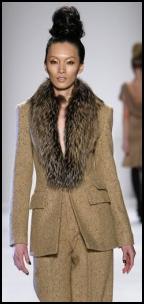 Left - Braganza AW11 - Grey Coat With Massive Tipped Fur Shawl Collar.
Left - Zang Toi AW11 - Camel Trouser Suit Fur Shawl Collar.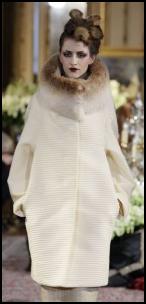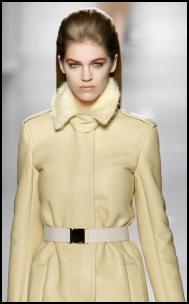 Left - John Galliano AW11 Cream Ribbed Cocoon Coat.
Right - MaxMara AW11 Catwalk Buttercream Fashion Coat with Yellow Mink Collar.
Sixties and Seventies Revisited
Retro 60s Prim Miss Fur Collar Coats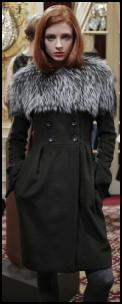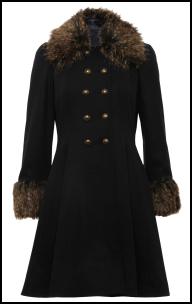 Left - Wes Gordon AW11/12 - 60s Remix Coat With Fur Shoulder Collar.
Right - M&Co Boutique AW11 Faux Fur Trimmed Coat £129.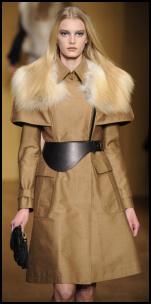 Left - Derek Lam AW11 - Camel Trench Coat With Bleached Golden Fox Fur Collar.
Maxi Fur Collar Coats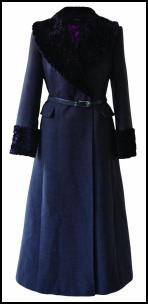 Left - Ralph Lauren AW11/12 Purple Fur Collar Coat.
Right - Dunnes Stores AW11/12 - Faux Fur Collar Maxi Coat €100/£85.
Right - Martin Grant AW11/12 - Cinnamon Coloured Long Maxi Wrap Coat.
-------v6-------
Retro Fifties Fur Collar Coat & Costume Suits
Statement skirts and perky fitted little cropped jackets add sculptured lines. These figure shaping seam lines contract the torso, whilst expanding expand the arms with fuller sleeves. Extras like peplums reinforce the swagger when a woman moves and wiggles as she walks.
Think small waists and get some great sculpting body wear under foundation garments like Gok Wan, Playtex, Berlei or Spanx body wear from sellers such as Woods or Figleaves. Nipped in waistline make a great foil for shoulders broadened by a fur collar or huge tippet.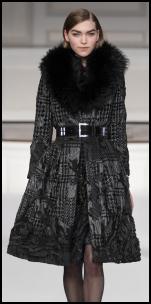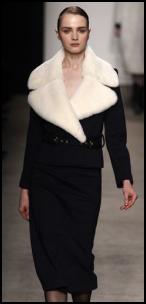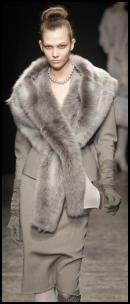 Right - Coat by Oscar De La Renta AW11/12.
Centre - Black Suit White Fur Collar - Véronique Leroy AW11/12.
Right - AW11 - Donna Karan Costume Suit & Fur Throw.
In other women's fashion clothing this emphasis on the waist is reinforced by both the sheath and fitted shift dress and the pencil skirt. The sheath dress drapes and fits to create a figure-of-eight fashion form. Make sure your hem falls on or below the knee.
Remix 70s Parka Coat Fashion
Fur Trim Parkas AW11/12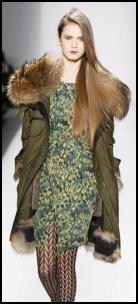 Left - Cynthia Steffe AW11 - Olive Green Parka Coat, Patterned Tights/Dress.
Centre - Taupe Parka By Matthew Williamson AW11.
Right - Miss Selfridge AW11 Parka Coat & Lace Dress.
As you can see these parkas with fur trims are worn with garment pieces that might surprise you. Evening dresses with visible cleavage, shorts and floral feminine dresses with patterned tights all counteract the functional nature of the parka.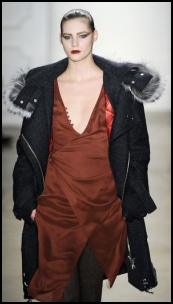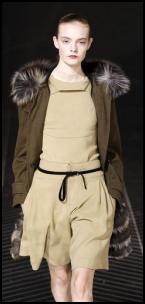 Left & Centre - Both Parka Coats by Altuzarra AW11.
Left - Olive Parka Coat and Shorts - Roland Mouret AW11.
Olive green has been the colour of choice for many designers when interpreting parka concepts.
The throw on functional parka coat is the choice of many women. Every high street collection has a parka in its range. Check the weight of your parka choice carefully and don't be misled into buying a summer weight garment in off season sales believing it might see you through winter. Better quality winter weight parkas have good thermal lining or fur linings.
Long Line Sleeveless Coats With Fur Trim
These garments are not quite gilets, not quite coats. But they do look useful for novel layering!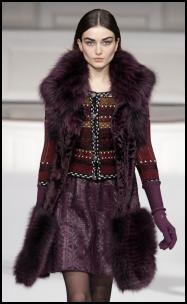 Left - Oscar De La Renta AW11 - Aubergine Fur Trim Knee Length Gilet Coat.
Right - Vera Wang AW11 - Sleeveless Coat With Fur Skirted Hemline.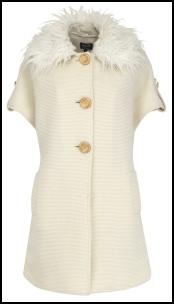 Right & Left - Marks & Spencer Per Una Speziale Waffle Fur Coat £199.
Jumper £16, Per Una Leggings £19.50, Shoes £45 - All Marks & Spencer AW11.
...(v4r)
Fashion Fur Fabrics
Fashion fabrics for Autumn 2011 Winter 2012 are simply fabulous. Fashion designers chose materials with superb tactile qualities and shininess.
Look out for fuzzy fabrics, furry textures, goat hair, teased mohair and soft cosy pieces that make you want to get closer. Boucle wool sleeves on cardigan coats offer high street value options to compliment catwalk designers take on fur panels on coats sleeves.
Faux fur is used extensively with whole garments and fur trim collars, tippets and bag flaps all getting the fur or skin treatments. Chubby shorter fur coats are always winter warmer seasonal must-haves - Karan knows this and showed chubby coats at DKNY. Marina Rinaldi has some luxury fur coats that are both sleek and stylish, perfect for plus size women who long for high fashion and enough material to cover lumps and bumps.
Bags for Autumn 2011
Get instant lift to your fur trimmed coat with a bright bold fashionable handbag. If a fur trimmed coat is not to your taste perhaps try a fur handbag or leopard print bag. There are plenty in shops and online shopping will give you access to an unlimited range of fur fabric and animal fabric bags.
Carry your bag in an obvious no handle grasp under your arm as hug me pouches. Well try it for the season and see how much it irritates you compared with underarm handle bags.
Catwalk Fur Clutch Bags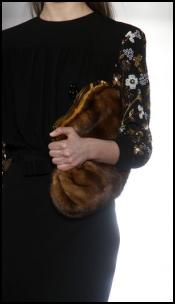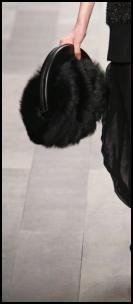 Fur Clutch Bags
Left - Miu Miu Clutch Handbag.
Right - Fur Clutch Bag - Rocha AW11
Fur Tippets
Select a fur tippet shoulder piece for extra warmth or to change the look of your sweaters, dresses and coats.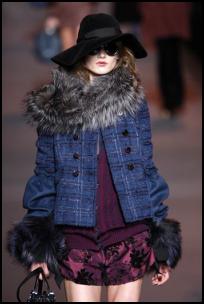 Dior AW11.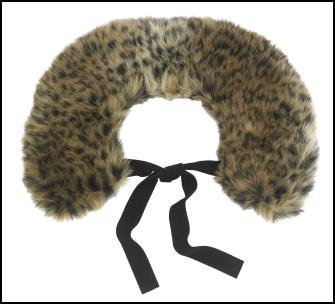 This leopard print faux fur tippet is from River Island AW11 Collection.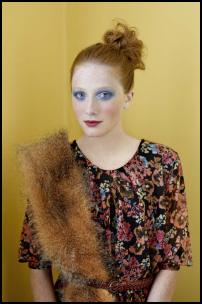 Miss Selfridge AW11 - Fur Tippet Throw
Gilets
Toscana and other fur gilets merge into longer Shearling coats as a functional choice of warmer winter outerwear coat. This knit and fit gilet cardigan is more like an accessory than a garment. Use fur trim knitwear pieces like these to introduce fur in a simple way.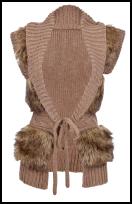 Miso Fur Gilet Cardigan 86847 £39.99 Republic Stockist republic.co.uk.
-------v6-------
Gloves
Gloves in every colour, style and material make dressing the hands so easy for winter 2012.
Shoes
Update your autumn pieces that with jewel toned court shoes. Select a heel that suits you and try a small platform for the seasonal touch.
The Mary Jane shoe has multiple straps and worn with patterned hosiery/pantyhose adds retro quality to leg looks. Pump shoes have shorter pointed toes and easy heels. Solid square heels and cone heels follow 1970s trends in women's shoes. Platforms and wedges, which are still available, often have fur cuff trims. Many shoes are made in animal prints. Even wellingtons are made using the animal print.
Fetish fashion themes are a shoe designer's dream as they enable a play in design terms that goes beyond usual shoe design boundaries. Best of all this season your local shop may stock them rather than a specialist catalogue. Even the most reluctant wearer of fashion might be persuaded into the purchase of a pair of quirky shoes or boots and use them to add a quirky update to this or last year's coat.
Knee high, above or just below the knee high boots are called cuissardes. Take the easy way to get one of the strongest fashion looks of fall. Fot a real 60s look team your retro Mod coat with a pair of retro Chelsea boots. You are reading an original article about autumn and winter fashion fur trimmed coats and jackets for 2011-2012 by Pauline Weston Thomas only for publication on www.fashion-era.com ©
Key Fashion Trends Autumn 2011
The key elements of fashion trends for autumn 2011, winter 2012 depend on longer lengths and bold rich vibrant colours in contrast textures and luxury fabrics. The silhouette pays homage to forties, sixties and seventies decades of style fashions.
Conclusion of Key Fashion Trends Autumn 2011 Winter 2012
This review features the most important women's fashion looks for the autumn 2011 and Winter 2012. This article reviews the main looks in dresses, footwear, bags jewellery and other fashion accessories. You have been reading an original fashion trends article by Pauline Weston Thomas only for publication on www.fashion-era.com ©
Copyright of images courtesy of IFTF, Swarovski, Marks & Spencer, Debenhams, River Island, M&Co., Elégance, Mint Velvet, Wallis, Miss Selfridge, John Lewis, TK Maxx, Dunnes Stores, Republic, PRShots.com. Header Image IFTF.
Date Added 21 Sept 2011 - Ref: P.855.
If you like this page then please share it with your friends
---
--Link--
For more information on ladies and teens fashion trends go to:-
Archived Sections
Custom Search
About Fashion-Era.com
Fashion-Era.com looks at women's costume and fashion history and analyses the mood of an era. Changes in technology, leisure, work, cultural and moral values. Homelife and politics also contribute to lifestyle trends, which in turn influence the clothes we wear. These are the changes that make any era of society special in relation to the study of the costume of a period.

Fashion-Era.com can take no responsibility for any information on the site which may cause you error, loss or costs incurred from use of the information and links either directly or indirectly. This site is owned, designed, written and developed by author: Pauline Thomas and Guy Thomas. This site is designed to be viewed in 1024 X 768 or higher.
ALL RIGHTS RESERVED. Fashion-era.com reserves the right to add or delete information, graphics and links. Copyright © 2001-2014 on all content, text and images in Fashion-era.com. Images and text in this website may not be used on other websites.
Before you write to me for costume/fashion help or information please, please consult the extensive sitemap which lists all our pages. If you still cannot find the answer after searching the site, then before you email me, please consider if you are prepared to make a donation to the website.
Donations
Reader's donations help this site flourish, in particular donations encourage me to write more articles on fashion history as well as current trends. PayPal allows anyone with a credit card to donate easily and securely. You may donate any sum you feel appropriate.