Parka Coat & Puffa Fashion Trends for Winter 2011/12
Here is my review of the important coat fashion looks for Autumn 2011 and Winter 2012.
Parka coats merge with being substantial raincoats and fold up pack away light cover coats. Young and older women and men love them finding them practical non dressy garments. They can be as light as air made from shimmering parachute silks to thick and heavy padded goose down coats.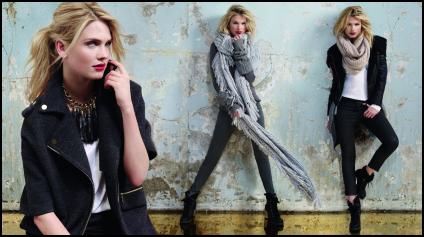 Above - Winter Outerwear Apparel Choices At Dorothy Perkins - Autumn 2011 Campaign.
Accessorise winter parka coats with fur tippets, knit cowls or long woollen scarves.
After the harsh snow of Autumn 2010 women are gearing up for winter weather and the purchase of a new coat such a parka is a sensible utilitarian as well as fashion chic choice for fall 2011. This article has plenty of parka examples from short statement puffa bodywarmer jackets to longer line parka coats. Start here to see the styles and get set on finding a parka coat that will take you through 2012.
Modern parkas have come a long way from the sixties Mods fishtail green hooded parkas which were US Army government surplus coats that found their way into mainstream fashion. Luxury fabrics, linings and fur trims make them desirable outerwear.
Olive green has been the colour of choice for many designers when interpreting traditional parka concepts.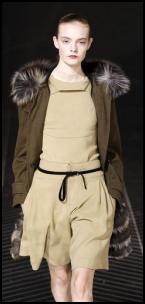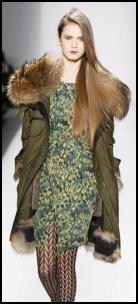 Left - Olive Parka Coat and Shorts Outfit - Roland Mouret AW11.
Right - Cynthia Steffe AW11 - Olive Green Parka Coat, Floral Dress & Patterned Tights.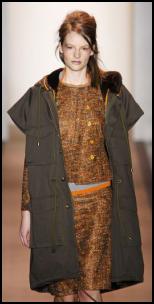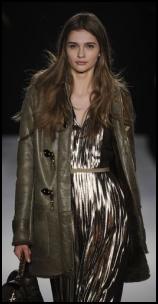 Left - Peter Som AW11 - Short Sleeve Combat Pocket Parka.
Right - Mulberry AW11 - Olive Green Leather Parka Coat.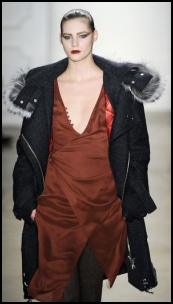 Above - Both Parka Coats by Altuzarra AW11.
As you can see these parkas with fur trims are worn with garment pieces that might surprise you. Evening dresses with visible cleavage, shorts and floral feminine dresses with patterned tights all counteract the functional nature of the parka.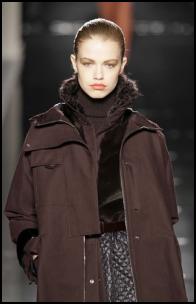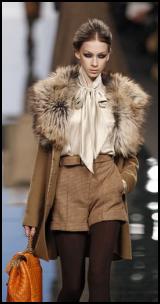 Autumn 2011 Winter 2012 Catwalk Outerwear Apparel.
Left - Sportmax.
Right - Ermanno Scervino.
The throw on functional parka coat is the choice of many women. Every high street collection has a parka in its range. Check the weight of your parka choice carefully and don't be misled into buying a summer weight garment in off season sales believing it might see you through winter. Better quality winter weight parkas have good thermal lining or fur linings.
‡
Fur Trim Parkas Autumn 2011 Winter 2012



Left - Taupe Parka By Matthew Williamson AW11.
Centre - Miss Selfridge AW11 Parka Coat & Lace Dress.
Right - Parka Coat £285/IRL€315 in 100 % Polyamide (Nylon).
Betty Barclay Autumn Winter 2011 Stockist: 020 7411 032.
Betty Barclay write of their coat 'This parka guarantees a look that's casual yet stylish! The large decorative buttons underline the sporty look, and the colour is pleasantly restrained, showing off the straight cut perfectly. The soft hood can be pulled up to the widened collar, giving perfect protection from the wind and weather.'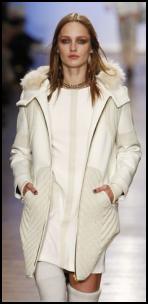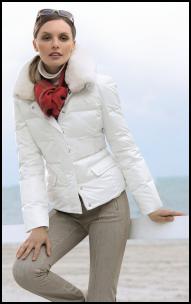 These quality winter white padded puffa jacket and a padded puffa coats are the elegant way to the ski slopes and the high street. The coats are perfect for winter sports wear.
Left - Catwalk Fashion AW11 - Padded Winter White Coat From Rag & Bone.
Centre - Elégance Ecru Puffa Jacket/Fur Trim £399 - Coat sizes 10-22, Camel Sweater £159, Camel Trousers £129, Fur Trimmed Boots £289. Elégance Autumn/Winter 2011 - elegance.co.uk.
Right - Elégance White Fur Collar Puffa Jacket £359, Taupe Jeans £119, Red Scarf £99. Elégance Autumn/Winter 2011 - Stockist Number: 0844 557 5507.
Greys, blues and purple make excellent choices for parka coats for everyday wear. Olive green is a popular designer colour choice for parka coats for autumn 2011. Knee length parka coats offer full functionality and sometimes better thermal qualities than an ordinary wool coat.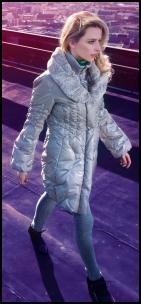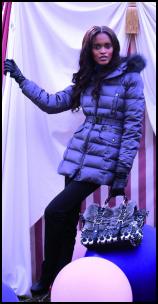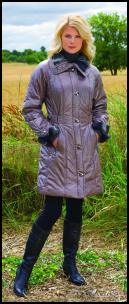 Betty Barclay the designer of this coat says "In this delicate grey coat, every woman will look like an ice queen. The overstitching at the waist is perfectly integrated into the creased look and is continued across the sleeves. The soft, cuddly collar not only keeps the wearer warm but is also an integral part of the unusual design of this very special coat."
Left - Betty Barclay Coat AW11 - UK₤230/€ 280. Betty Barclay Stockist Number: 020 7411 0322.
Centre - Blue Quilted Padded Hip Coat From T.K.Maxx.
Right - Dunnes Stores Faux Fur Longline Coat €100/£85, Leather Knee Boots.
§
Statement Jackets
Designer Short Parka & Padded Puffa Coats & Jacket
Designers know those who have money like to be seen on the ski slopes. Every year designers incorporate pieces in their catwalk shows that their customers will be able to wear for winter sports occasions - both for posers and piste users.
Parka coats frequently have traditional duffle fastenings, popper fasteners, metal fittings, as well as concealed zips or fashion visible zipper teeth. Better quality Parkas are filled with luxury down feathers and made from trademarked breathable waterproof fabrics such as GORE-TEX® , Sympatex or performance engineered WINDSTOPPER® fabrics.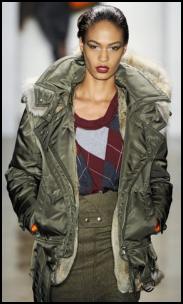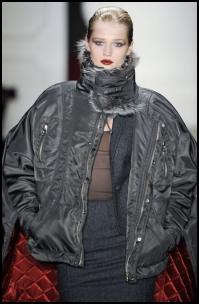 Above - Catwalk Fashion - Parka & Padded Jackets at Altuzarra AW11.
Padded Gilets
In Britain gilets are outerwear sleeveless popover waistcoat vests made in fur, knit or puffa padded quilted fabrics. The gilet is ideally suited to the temperate British climate where sudden temperature changes mean layers are the best option for days with plummeting temperatures or doubtful weather.
In some countries the word gilet is spelt gillet. In France a gilet is a jacket.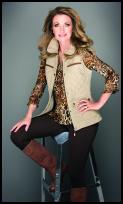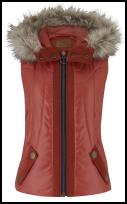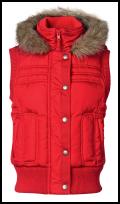 Left - Quilted Gilet £89 - CC (formerly Country Casuals) - ccfashion.co.uk
Centre - River Island AW11 Padded Bodywarmer Gilet.
Right - Marks & Spencer Indigo Red Padded Gilet.
Coat Accessory & Add-ons Autumn 2011
...(v4r)
Bags Tippets Gloves
Get instant lift with a bright bold fashionable handbag. Carry your bag in an obvious no handle grasp under your arm as hug me pouches. Well try it for the season and see how much it irritates you compared with underarm handle bags.
Update your autumn pieces that with jewel toned court shoes. Select a heel that suits you and try a small platform for the seasonal touch.
The Mary Jane shoe has multiple straps and worn with patterned hosiery/pantyhose adds retro quality to leg looks. Pump shoes have shorter pointed toes and easy heels. Solid square heels and cone heels follow 1970s trends in women's shoes. Platforms and wedges, which are still available, often have fur cuff trims.
Fetish fashion themes are a shoe designer's dream as they enable a play in design terms that goes beyond usual shoe design boundaries. Best of all this season your local shop may stock them rather than a specialist catalogue. Even the most reluctant wearer of fashion might be persuaded into the purchase of a pair of quirky shoes or boots and use them to update duller pieces.
Knee high, above or just below the knee high boots are called cuissardes. Take the easy way to get one of the strongest fashion looks of fall. For a real 60s look team your retro Mod coat with a pair of retro Chelsea boots. You are reading an original article about autumn and winter fashion coats for 2011-2012 by Pauline Weston Thomas only for publication on www.fashion-era.com ©
Top Fashion Trends for Autumn Winter 2011-2012
In Autumn 2011 Winter 2012 you can choose from a parka, padded quilted puffa, a fur coat, leather or more formal ladies wool coat or even a cape. Furthermore you can select a reworked silhouette style from at least 5 different decades of the C20th.
This fashion trends article focuses on the Autumn Winter 2011/12 main styles and trends in women's parka coats, puffa coats, quilted and padded parkas. The Overall Volume Look Autumn 2011 includes Cocoon Coats which may be padded parkas, padded fur sleeves in coats and jackets and full blouson sleeves. The cocoon trend also works its way around the more casual relaxed wear of quilted puffa padded coats and fur coats.
The Top New Silhouette Coat Trends
The strongest coat silhouette at Designer shows was the cocoon coat, alongside statement jackets, sixties Mod and seventies remix.
Conclusion of Key Fashion Trends Autumn 2011 Winter 2012
This review features the most important women's fashion looks for the autumn 2011 and Winter 2012. This article reviews the main looks in dresses, footwear, bags jewellery and other fashion accessories. You have been reading an original fashion trends article by Pauline Weston Thomas only for publication on www.fashion-era.com ©
Copyright of images courtesy of IFTF, Swarovski, Marks & Spencer, Debenhams, River Island, Elégance, Accessorize Monsoon, Miss Selfridge, Dorothy Perkins, TK Maxx, Betty Barclay, Rag & Bone, Dunnes Stores, CC, PRShots.com.
Date Added 21 Sept 2011 - Ref: P.851
If you like this page then please share it with your friends
---
--Link--
For more information on ladies and teens fashion trends go to:-
Archived Sections
Custom Search
About Fashion-Era.com
Fashion-Era.com looks at women's costume and fashion history and analyses the mood of an era. Changes in technology, leisure, work, cultural and moral values. Homelife and politics also contribute to lifestyle trends, which in turn influence the clothes we wear. These are the changes that make any era of society special in relation to the study of the costume of a period.

Fashion-Era.com can take no responsibility for any information on the site which may cause you error, loss or costs incurred from use of the information and links either directly or indirectly. This site is owned, designed, written and developed by author: Pauline Thomas and Guy Thomas. This site is designed to be viewed in 1024 X 768 or higher.
ALL RIGHTS RESERVED. Fashion-era.com reserves the right to add or delete information, graphics and links. Copyright © 2001-2014 on all content, text and images in Fashion-era.com. Images and text in this website may not be used on other websites.
Before you write to me for costume/fashion help or information please, please consult the extensive sitemap which lists all our pages. If you still cannot find the answer after searching the site, then before you email me, please consider if you are prepared to make a donation to the website.
Donations
Reader's donations help this site flourish, in particular donations encourage me to write more articles on fashion history as well as current trends. PayPal allows anyone with a credit card to donate easily and securely. You may donate any sum you feel appropriate.