60s Remix Coat Fashion Trends for Autumn 2011
Here is my review of the important sixties coat fashion looks for Winter 2011/12. There is shorter length coat in every coat type. This fashion trends article focuses on the retro sixties styles and trends in women's coats.
If the sixties are not suited to your body shape there are still countless looks in coats to try. Furthermore, you can select a reworked silhouette style from at least 5 different decades of the C20th.
The strongest most youthful appealing coat silhouette at Designer shows was the sixties Mod and seventies remix coat.
Coats are great statement making top cover. Ladylike tailoring is on the must-have list for winter 2011/12 and 60s swing coat styles have a pert prim neatness about them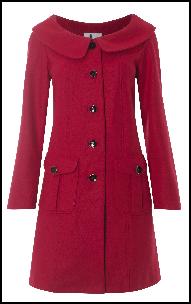 Left & Centre - 1960s Inspired Red Wool 'Audrey Coat' by Silk & Sawdust, £225.
Right - Paul Costelloe AW11 - A-line Sixties Style Coral Red Mini Coat.
The vintage look Audrey Coat above is by Silk & Sawdust. Note how the model and coat has been styled with a white high polo neck top, Baker boy cap and winter weight textured tights.
The retro 60s cute coat exudes a youthful guise. The essence of 60s and military elements took main stage at Burberry. Retro 60s remix concentrates on little intricacies such as topstitched areas, braid or leather bound collar revers. Exaggerated wide set sixties collars add a true retro element to the coats below.




Left - ASOS Black Coat With White Collar.
Centre - Hobbs London Audrey Coat, £239/€275. www.hobbs.co.uk.
Right - Paul Costelloe AW11 - Sixties Leather Front Panel Coat.
Far Right - Very.co.uk - 60s Black Short Coat and Spot Tights.
Similar spot tights are available at Marks & Spencers.
‡
Monochrome Sixties
Black and white is just right in sixties styles monochrome graphic prints, crisp line, or swinging silhouettes. Skinny polo neck sweaters made their return. In an era of better indoor climate control you may find the finest botany wool or silk roll neck polo knits are the most wearable option once that coat is off. The black polo neck sweater is much associated with 60s beatnik and Beatles album covers. It really is a simple way to get the 60s look.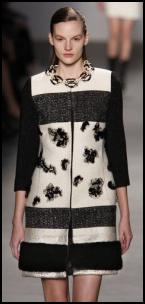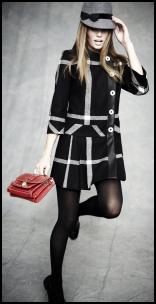 Left - Giambattista Valli AW11 - 60s Monochrome Evening Glitz A-Line Coat.
Right - Marks & Spencer - Black & White Check 60s Coat.
Graphic silhouettes at Calvin Klein were illustrated by A-line shifts and narrow tapered pants in neutral tones. Coats followed the 60's swing A-line shape. In stores and boutiques you will find all lengths available from knee to mid-thigh length.
60s Glitzy Coats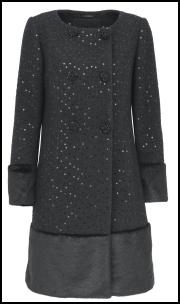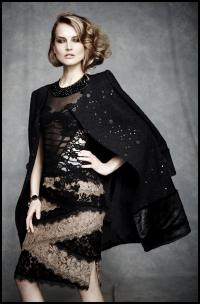 Left & Right - Marks & Spencer AW11 Per Una Luily Sequin Coat - £110.
I have seen this Per Una coat and it is a very attractive above knee coat, so attractive I ordered it before sizes disappeared.
The fabric is covered with a smattering of shimmery subtle black sequins and gorgeous buttons. The hemline and cuffs are made from a flat faux fur giving an effect similar to that found in a traditional beaver top hat. The style has all the qualities needed to make it a hot on trend must-have coat for the festive season.
But you could try colour this winter for your sixties coat.
Cerise, Raspberry Pink, Honeysuckle and Red are hot colours for Autumn 2011. These tones are mixed with orange and geranium or coral and tangerine.
Burberry's fashion designs used paint-box colours for womenswear apparel. Teamed with Baker boy caps, this easy to wear and practical daily commute style is set to be a winter winner not only for Burberry, but for the stores that have copied it.
Citrine, golden amber, turquoise and emerald all create hot winning looks of vibrant cheerful rainbow pops of colour for Autumn 2100 Winter 2012.




Above Left - Matalan AW11 Women's 70's Single Breasted Tulip Coat £40.
Matalan Stockist Number: 0845 330 3330.
Centre Left - M&Co Collarless Red Coat £75, Beret £10.
M&Co AW11 Womenswear - Stockist Tel: 0800 0317 200.
Centre Right - ASOS AW11 - Green Coat £100. Stockist Number: www.asos.com
Far Right - Turquoise Coat by Oasis AW11.
Prada gave us reinvented 60s styles of fresh modern coats teamed with snakeskin boots. Moschino also reinterpreted the military drummer coat. Sixties double breasted short coats have a car coat effect.
§
For Autumn 2011 colours, note the vivid rich jewel colours of amethyst, ruby pink, citrine, sapphire, emerald, ruby red, amber and orange garnet. In fur these colours have striking effects.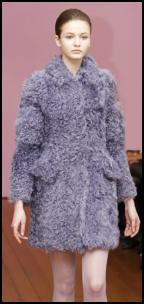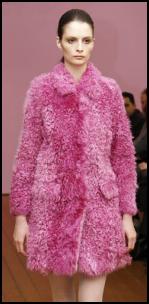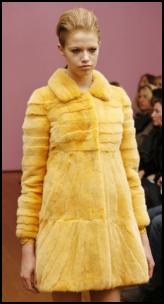 The use of fur worked especially well with sixties baby doll and seventies hippy chic. These colourful sixties inspired fur coats were from Philosophy.
Remix - Military Drummer Boy Style Coats
60s meets the 1970s. Burberry Prorsum have updated pea coats with effortless military details making coat styles that are so very wearable.
Bold Colours
Bold bright colours continue to dominate. This works especially well for shorter coats which can be offset by other colours or neutrals.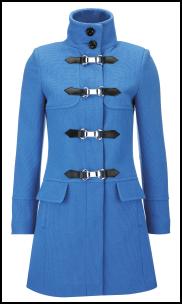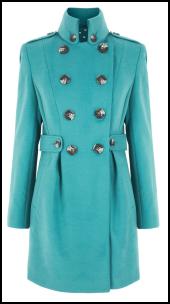 Left - Debenhams Red Herring Blue Coat £79/€118.50.
Next Hoxton Girls - Double Breasted Coat £58/€77.
Autumn Colours - Ginger Cinnamon Spice Coats.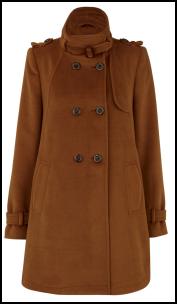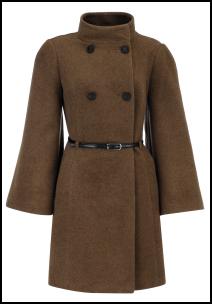 Left - F&F Tobacco Brown Military Coat £45.
Right - Similar tobacco coat but belt cinched. Principles Coat by Ben de Lisi at Debenhams £90/€135.
Olive Green Coats
Look out for mid-thigh and below knee midi length military fitted hip coats, loose throw wraps and military styled capes. Many styles combine parka features as the coat from Betty Barclay shows.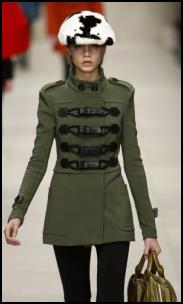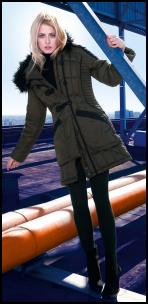 Left - Burberry Catwalk Coat AW11.
Right - Betty Barclay Jacket - 100% Polyamide (Nylon) UK₤320/ IRL€350.
Betty Barclay Autumn Winter 2011 Stockist Number: 020 7411 0322.
Betty Barclay say of this Outdoor Jacket Coat :-
'Toggle closures are the height of fashion again! On this stylish coat with various overstitched patterns, they elegantly conceal the zipper with a flap and ensure a feeling of snug warmth. The sportily elegant coat also has practical large pockets and its warm hood is trimmed with fake fur.'
-------v6-------
Sixties Meets Seventies
As the real 1960s progressed hippie elements from abroad began to be added to coats. Some haberdashery extras were long hair fur deep hems and fur cuffs. This characteristic of hem and collar effect is shown in these coats. Full fur coats with cowl collars were a frequently seen designer coat silhouette.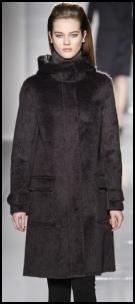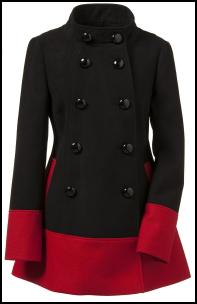 Left - Max Mara Funnel Neck Fur Coat.
Right - A coat with sixties mini coat characteristics. This coat is almost a jacket.
Penneys Autumn 2011 Womenswear Colour Block Black & Red Hem Coat €35.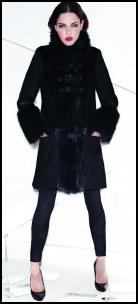 Right - Debenhams Red Herring Coat £85/€128.
Right - Wallis AW11 Sixties Fur Funnel Fur Hem Coat.
Military coats for Winter 2012 focus on fastening features such as toggles, impressive buttons, deep fur cuffs, high necklines or fur swathe collars.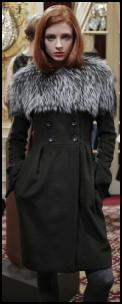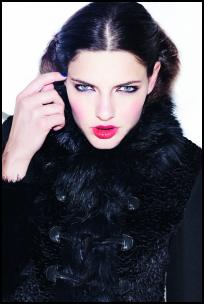 Left - Wes Gordon AW11 Coat.
Right - Wallis AW11 Sixties Fur Funnel Fur Hem Coat.
Bright Checks For 60s Coat Styles


Paul Costelloe Coats AW11.
These feature late remixed 60s/70s emphasis with rounded elongated collars.
Heritage Trends for Autumn 2011
Heritage as a style theme was seen at Fendi, Rag & Bone, Tory Burch and Burberry. This look uses traditional British textile materials for best effect. Burberry produced many coat styles themed around remix 60s fashions.
-------v6-------
Heritage - Tweeds, Plaids, Tartans and Checks.
Burberry used colours with black to create amazing checks in rich wools. Burberry used these luscious wool fabrics to create coats and capes that were distinctive and desirable. Hound and dogtooth checks, blanket plaids and tablecloth checks were used in all manner of tailoring especially capes. Tailored jackets and pure wool check skirts also suit the good quality British wool theme.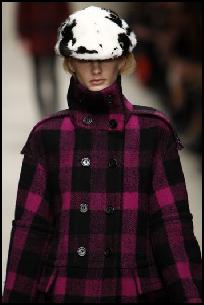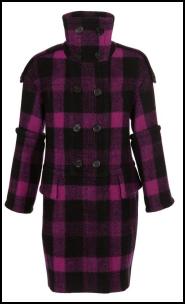 Left - Burberry Prorsum - Relaxed Fit Purple & Virgin Wool Check Coat, Tubular Sleeves & High Funnel Neck - £2395.
Available at Burberry and www.brownsfashion.com. The double-breasted front closure adds an extra warming front layer right up to the chin. Ideal torso cover in winter winds. The half-length sleeves have layered detail, whilst the long epaulettes add shoulder focus. At the back, interest is given with a half cinch belt and gathering. The relaxed fit means the wearer has room for some winter layers, making this a stylish chic, but practical choice.
On the high street companies such as Phase Eight and Hobbs have some sixties inspired heritage coats. I especially like the sixties coats by Paul Costelloe.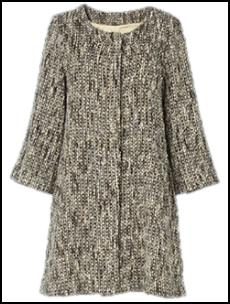 Phase Eight AW11 - Sixties Silhouette Heritage Look Camel Tweed Coat £99.
Right - Paul Costelloe Sixties Chick Heritage Tweed Coat & Muff.
Everyday Wear
Another Era - Duffle Coats
Anoraks and shorter duffle coat styles were very casual pieces of clothing in the fifties sixties. Designers have reinvented them often using bright bold colours especially the warm orange harmonies.
Short coats have traditional duffle fastenings or metal fittings. Casual wear duffle coats are useful for a throw on jacket alternative to today's puffa padded or quilted jacket.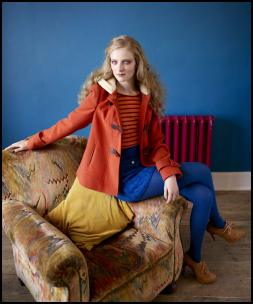 Left - Debenhams Duffle Coat £95 €143.
Right - Miss Selfridge AW11 Fashion Colour Blocking.
More coat like versions with duffle fastening elements include these coats below. These are must-haves for 'snow is here' and make warm everyday coats. They are short and in keeping with 60s and 70s retro styling. The Shearling coat is very much on trend this autumn.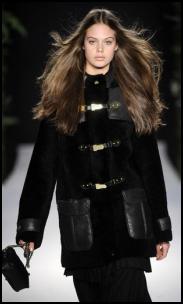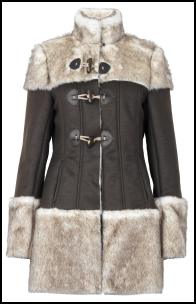 Left - Catwalk Coat Design From Mulberry AW11.
Right - Shearling Coat Limited Availability TK Maxx Stores £79.99/€99.99.
TK Maxx Stockist Number: 01923 473 3000.
-------v6-------
Sixties coats were often made in luxury material, cloque fabrics, ribbed ottoman silks and floral printed fabrics. This season expect to see a shimmer on sixties A-line swing coats and little empire line jackets.

Left - Etro AW11 Sequin Coat.
Right - Oscar de la Renta AW11 - Bead & Sequin Embellished Evening Jacket.
Fashion fabrics for autumn 2011 are simply fabulous. Fashion designers chose materials with superb tactile qualities and shininess. Rich texture is easiest to do if you select fur collars and jackets of fur. Maribou feathers in rich jewel colours add exotic alternative texture to hems, cuffs and necklines. Try baroque brocade fabrics or crocodile and snakeskin textures in coats too.
Faux fur is used extensively with whole garments and fur trim collars, tippets and bag flaps all getting the fur or skin treatments. Sixties style coats often feature little fur collars or flat contrast white collars.
You will fall in love with mixture of textures from subtle languid fluid silks to coarser hairier and sports fabrics. Silk and silk/wool mixes are the winter must-have fabrics. Other luxury materials such as silk panne velvet make the perfect luxury fabric for winter festive coats.
Coat Accessory & Add-ons Autumn 2011
Bags Tippets Gloves
...(v4r)
Get instant lift with a bright bold fashionable handbag. Carry your bag in an obvious no handle grasp under your arm as hug me pouches. Well try it for the season and see how much it irritates you compared with underarm handle bags.
Update your autumn pieces that with jewel toned court shoes. Select a heel that suits you and try a small platform for the seasonal touch.
The Mary Jane shoe has multiple straps and worn with patterned hosiery/pantyhose adds retro quality to leg looks. Pump shoes have shorter pointed toes and easy heels. Solid square heels and cone heels follow 1970s trends in women's shoes. Platforms and wedges, which are still available, often have fur cuff trims.
Fetish fashion themes are a shoe designer's dream as they enable a play in design terms that goes beyond usual shoe design boundaries. Best of all this season your local shop may stock them rather than a specialist catalogue. Even the most reluctant wearer of fashion might be persuaded into the purchase of a pair of quirky shoes or boots and use them to add a quirky appeal to their sixties coat purchase.
Knee high, above or just below the knee high boots are called cuissardes. Take the easy way to get one of the strongest fashion looks of fall by wear knee high boots. For a real 60s look team your retro Mod coat with a pair of retro Chelsea boots. You are reading an original article about autumn and winter sixties fashion coats for 2011-2012 by Pauline Weston Thomas only for publication on www.fashion-era.com ©
Key Fashion Trends Autumn 2011
The key elements of fashion trends for autumn 2011, winter 2012 depend on longer lengths and bold rich vibrant colours in contrast textures and luxury fabrics. The silhouette pays homage to forties, sixties and seventies decades of style fashions.
Top Fashion Trends for Autumn Winter 2011-2012
For 2011/12 some fashion designers have reworked styles from several specific decades of the 20th century. They've created so many fresh innovative looks enabling every woman to style her individual lifestyle new image and wardrobe. Sixties looks merge with seventies retro and forties elements all working together. The fashion outcome suggests a remix that makes a woman think 'This is familiar, I've seen this before, but I'm not sure where.' For everyday wear many will love the shorter 60s and 70s remix military coats, that are ideal coats for driving a car.
Tailoring Fashion Trends for Autumn 2011
One of most commercial fashion trends in UK in 2011 has been the new retro 1970s. Now for autumn this trend continues, but is joined by the late forties look along with a favourite retro fashion of recent years - sixties Mod. The strongest coat silhouette at Designer shows was the cocoon coat, but the most appealing youthful coat was the retro sixties swinging A-line coat.
Whatever silhouette or retro trend you select you can be sure fashion styles for autumn 2011 and winter 2012 focus on mixes of zinging jewel colours.
Conclusion of Key Fashion Trends Autumn 2011 Winter 2012
This review features the most important women's fashion looks for the autumn 2011 and Winter 2012. This article reviews the main looks in dresses, footwear, bags jewellery and other fashion accessories. You have been reading an original fashion trends article by Pauline Weston Thomas only for publication on www.fashion-era.com ©
Copyright of images courtesy of IFTF, Swarovski, Paul Costelloe, Marks & Spencer, Hobbs, Penneys, Oasis, Debenhams, M&Co. Elegance, Accessorize Monsoon, Matalan, F&F, ASOS, Next, very.co.uk, Wallis, Miss Selfridge, Dorothy Perkins, TK Maxx, Betty Barclay, Silk & Sawdust, MaxMara, PRShots.com.
Header Image - Paul Costelloe.
Date Added 21 Sept 2011 - Ref: P.850.
If you like this page then please share it with your friends
---
--Link--
For more information on ladies and teens fashion trends go to:-
Archived Sections
Custom Search
About Fashion-Era.com
Fashion-Era.com looks at women's costume and fashion history and analyses the mood of an era. Changes in technology, leisure, work, cultural and moral values. Homelife and politics also contribute to lifestyle trends, which in turn influence the clothes we wear. These are the changes that make any era of society special in relation to the study of the costume of a period.

Fashion-Era.com can take no responsibility for any information on the site which may cause you error, loss or costs incurred from use of the information and links either directly or indirectly. This site is owned, designed, written and developed by author: Pauline Thomas and Guy Thomas. This site is designed to be viewed in 1024 X 768 or higher.
ALL RIGHTS RESERVED. Fashion-era.com reserves the right to add or delete information, graphics and links. Copyright © 2001-2014 on all content, text and images in Fashion-era.com. Images and text in this website may not be used on other websites.
Before you write to me for costume/fashion help or information please, please consult the extensive sitemap which lists all our pages. If you still cannot find the answer after searching the site, then before you email me, please consider if you are prepared to make a donation to the website.
Donations
Reader's donations help this site flourish, in particular donations encourage me to write more articles on fashion history as well as current trends. PayPal allows anyone with a credit card to donate easily and securely. You may donate any sum you feel appropriate.