Navaho Poncho & Knit Coat Fashion Trends 2011/12
Here is my review of the important women's Navaho fashion looks for Autumn 2011 and Winter 2012.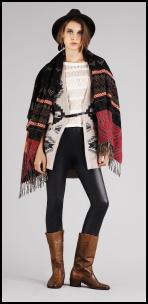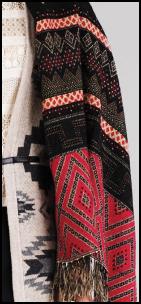 Above - Warehouse AW11 Poncho.
There is a style for every woman and in 2012 you may want to go native and select Navaho elements in your choice of ladies winter fashion-wear.
This fashion trends article focuses on the Autumn Winter 2011/12 main styles and trends in women's Navaho ponchos.

Left - House of Fraser AW11 Poncho.
Right - NEXT - Navaho Wrap £30/€41.
NEXT Stockist Number: 0844 844 8000.
Navaho
The Boho ethnic contrast of Navaho folksy blanket, poncho free flowing garments are functional for winter layering in and out of doors. If it looks as if your granny stitched, knitted or crocheted it then it's likely to be hot on trend.
The softer earthy colours of some Navaho styled pieces make for easy casual relaxed wearing. The natural tones are not so intense or crowd alerting as some jewel tones that can merge on acid brights.
Knitwear pieces also utilise the poncho as do felted wools and check tweeds which add heritage style always a winter winner.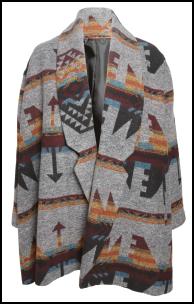 Above - ASOS AW11 Navaho Jacket.
Right - Penneys (Ireland) - Navaho Coat Ecru, Skinny Jeans, Shearling Boots.
‡‡
Global Mix Ponchos
Following on from the cape is the even freer spirit theme of the poncho and Mexican throw - think Spaghetti western. Fringe is an integral part of many ponchos or capes.
Closely aligned to the pattern mix is that of Fjordic Heritage as seen in House of Fraser.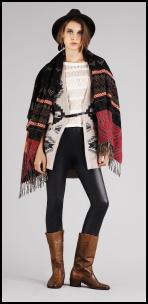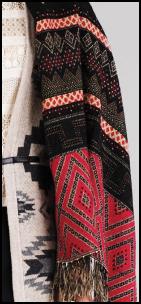 Above - Warehouse AW11 Christmas Knit Poncho.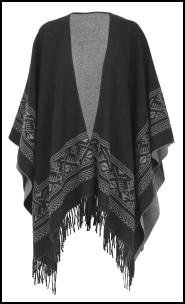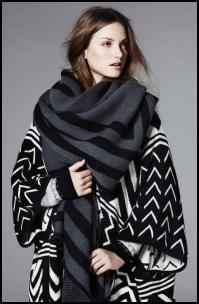 Left - Accessorize AW11 Peruvian Poncho, £35/€59.
Right - Black and White Poncho £80/€104. Slate Grey Stripe Wrap £45/€72 Linea. Part of House of Fraser's Fjordic Heritage Collection. Stockist Number: 020 7003 4000.
Perhaps all of these ponchos drawing from traditional folkloric and ethnic patterns can be summed up with this mass market inexpensive poncho. Its from Matalan and they call it Global Mix Aztec Wrap.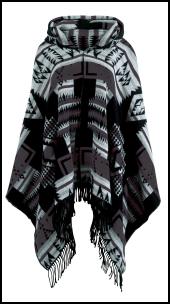 Global Mix Aztec Wrap £10. Matalan AW11 Women's Apparel.
‡‡
Black, grey, white and red are recurring colours schemes for ponchos. Perhaps high street buyers gained inspiration from this wonderful coat by de La Renta .
Crunch Tweed fabrics in the manner of materials by C20th Fabric Designer Bernat Klein. The coat below left from Oscar de La Renta looks like knit at first glance, but it is slub yarn woven fabric. This has an Alpine/Fair Isle/Navaho knit look to it like the poncho far right from Warehouse AW11 Christmas range.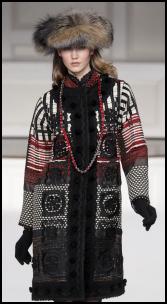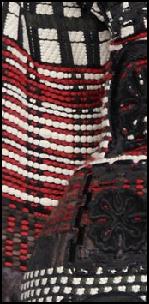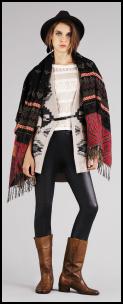 Proenza Schouler took inspiration from Native American crafts. Easy loose silhouettes, texture on texture combined with geometric traditional ethnic prints. Rodarte's 'Little House on the Prairie' incorporated handmade crafting effects and rich colourations.
Navaho is a trend that also comes and goes and is part of the global culture ethnic trend that dominated the noughties. River Island has picked up a treat on this look and you'll find other retailers have lots of Navaho inspired pieces from bags to braids as well as ponchos and knitwear pieces.
You are reading an original article about women's panchos for 2011-2012 by Pauline Weston Thomas only for publication on www.fashion-era.com ©
-------v6-------
Conclusion of Key Fashion Trends Autumn 2011 Winter 2012
This review features the most important women's fashion looks for the autumn 2011 and Winter 2012. This article reviews the main looks in dresses, footwear, bags jewellery and other fashion accessories. You have been reading an original fashion trends article by Pauline Weston Thomas only for publication on www.fashion-era.com ©
Copyright of images courtesy of IFTF, Prshots.com, Swarovski, House of Fraser, Penneys, Accessorize, Matalan, ASOS, Warehouse, Next.
Date Added 21 Sept 2011 - Ref: P.852
If you like this page then please share it with your friends
---
--Link--
For more information on ladies and teens fashion trends go to:-
Archived Sections
Custom Search
About Fashion-Era.com
Fashion-Era.com looks at women's costume and fashion history and analyses the mood of an era. Changes in technology, leisure, work, cultural and moral values. Homelife and politics also contribute to lifestyle trends, which in turn influence the clothes we wear. These are the changes that make any era of society special in relation to the study of the costume of a period.

Fashion-Era.com can take no responsibility for any information on the site which may cause you error, loss or costs incurred from use of the information and links either directly or indirectly. This site is owned, designed, written and developed by author: Pauline Thomas and Guy Thomas. This site is designed to be viewed in 1024 X 768 or higher.
ALL RIGHTS RESERVED. Fashion-era.com reserves the right to add or delete information, graphics and links. Copyright © 2001-2014 on all content, text and images in Fashion-era.com. Images and text in this website may not be used on other websites.
Before you write to me for costume/fashion help or information please, please consult the extensive sitemap which lists all our pages. If you still cannot find the answer after searching the site, then before you email me, please consider if you are prepared to make a donation to the website.
Donations
Reader's donations help this site flourish, in particular donations encourage me to write more articles on fashion history as well as current trends. PayPal allows anyone with a credit card to donate easily and securely. You may donate any sum you feel appropriate.