Key Women's Fashion Styles for Winter Shorts 2011/12
Here is my review of the important fashion look in shorts for Autumn 2011 and Winter 2012. The trend is for more gracious looks and the freedom to select from so many styles to suit individual body shapes. Check that the proportions of any shorts you select are correct for your own body silhouette. Even if you have model legs fashion hosiery adds a fashion conscious winter touch.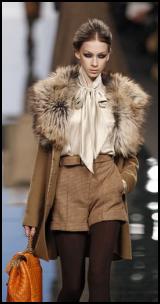 Heritage Looks - Winter Shorts By Ermanno Scervino AW11.
Winter Shorts
Winter shorts have become an alternative pants dressing for winter. But shorts of 2011/2012 are worn with greater elegance. For the majority of women these won't be the cropped high figure hugging hot pants of the 1970s or the Louis Vuitton version below left which basically are high leg briefs. Most women will find a longer pair of winter shorts easier and more comfortable to wear. Shorts from Rag & Bone are shown below right.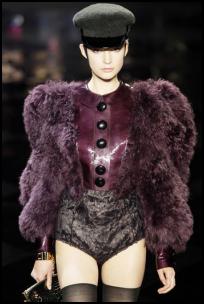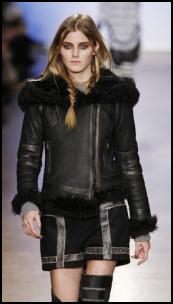 Shorts teamed almost always with thicker or opaque winter weight hosiery capture the fashion moment of seasonal temperature differences. The shorts of 2011/12 just as often have turn ups as none, but few on the high street are high cut.
Shorts & Jewel Colours.
Shorts utilise luxury materials in jewel colours or rich fabrics. Shorts look less risquι when teamed with coloured pantyhose tights, leggings or jeggings. For evening looks they adapt well to fetish fashion looks with a simple legwear change to sheer patterned tights.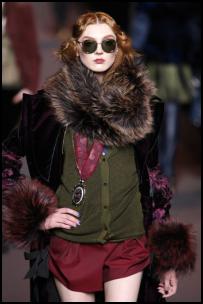 Above Upper Right - ASOS patent Pink Shorts £55.
Middle & Lower Right - Miss Selfridge Suede Shorts.
Far Right - Littlewoods Ireland - Love Label PU Plum Placket Shorts €42. Littlewoods Autumn Winter 2011 Fashion - Stockist Number: 01 811 22 22.
Catwalk fashion shorts from shown beside shorts in pink and plum tones from the high street. This season think colour, think colour blocking, think leather and suede, think pinks, think winter shorts and thicker winter tights.
For Autumn 2011 colours, note the vivid rich jewel colours of amethyst, sapphire, emerald, ruby pink and ruby red, citrine, amber and orange garnet. Vibrant orange colour has not had as much exposure since the real 1970s - an orange moment is here again. Expect to see this fashion colour in all areas of life from clothing to interiors.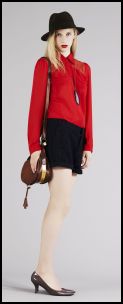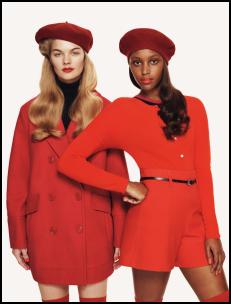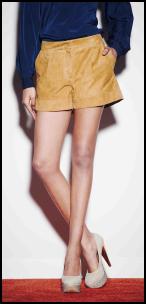 Left - Hat £25, Shirt £45, Bag £45 - Warehouse Christmas 2011.
Centre - Tangerine Orange Shorts - Benetton Autumn 2011/2012.
Right - Littlewoods Ireland - Love Label Gold Suede Shorts €82.
§
Shorts Plus Tights - 2011/2012 Trend
As there are many pantyhose/tights available in rich textured patterns this enables the wearer to self style any number of fashionable options. Wearing thicker tights with short pants also means women with less than perfect legs can rein in and mould legs into better overall shape.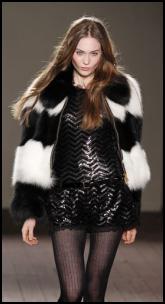 Left - Winter Tights - Patterned Leopard Spot Pantyhose - AW11 Marks & Spencer.
Centre Left - Fringe Shorts by Chloe AW11.
Centre Right - Moschino Cheap and Chic AW11 Catwalk Sequin Shorts.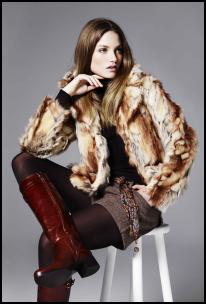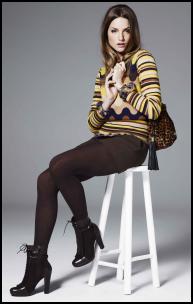 Above Left - Brown Tweed Shorts £45/€59 Linea Weekend, Chocolate Roll Neck Jumper £130/€150 MaxMara Weekend, Faux Fur Jacket £85/€119 Vila - All House of Fraser Lady Marmalade Collections. HOF Stockist Number: 020 7003 4000.
Right - House of Fraser Biba - Chocolate Seam Detail Shorts £65/€78, Leopard Print Drawstring Tassel Bag £295/€336 Biba, Tights by Wolford.
House of Fraser Biba Stockist Number: 020 7003 4000.
Luxury Evening Shorts
For evening lace shorts, velvet shorts and jewel colour options worn with sheer hosiery add grown up glamour for the sartorially brave.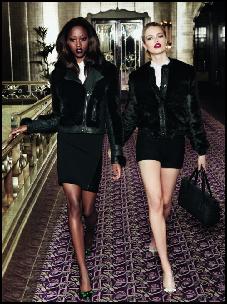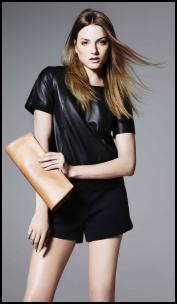 Above Left - TopShop AW2011 Campaign. Evening Black Shorts.
Right - House of Fraser - Modernist - Black Flannel Shorts £75/€90, Black Leather Top £120, Tan 'LA' Leather Clutch £95/€108 Pied a Terre.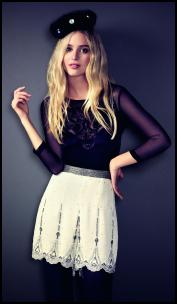 Left - Diana Embellished Shorts £40, Tamara Velvet Detail Bodysuit £28, Onyx Pillbox Hat River Island Xmas AW11. Stockist Number: 0208 991 4904.
Above Left - Warehouse Sequin Shorts £55.
Centre - Warehouse Christmas 2011 - Sequin Playsuit Shorts £90, Bag £30, Belt £28. Warehouse Stockist Tel: 0845 122 2251.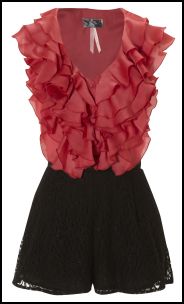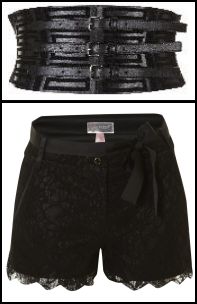 Left - Lipsy Autumn Winter 2011 Clothing - Ruffle Top and Lace Short Play.
Right - Black Fetish Corset Belt Topshop, Lipsy Lace Short £35/€45. Lipsy Autumn Winter 2011 Clothing. lipsy.co.uk or 0844 844 0088.
‡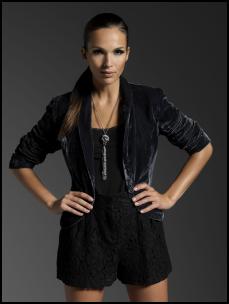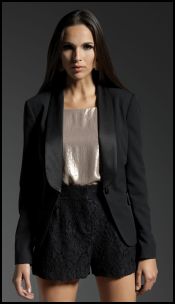 M&Co Xmas 11 Womenswear - Lace Shorts £32, Velvet Blazer £69, Camisole £10. Stockist Number: 0800 0317 200.
Right - M&Co Tuxedo Jacket £49, Metallic Tee £29, Lace Shorts £32. M&Co Xmas 11 Womenswear - Stockist Number: 0800 0317 200.
If you seek a pair of shorts as shown at Louis Vuitton then look no further than Topshop who have these black sequin briefs shown below in store for the Christmas AW11 season.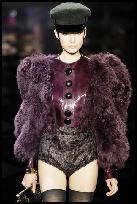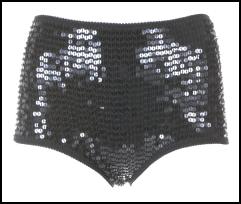 Coloured evening lace shorts are available at Asos and blue pailette sequin shorts are at Topshop for AW11.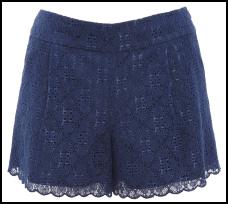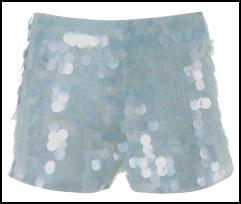 Shorts For Daywear & Casual Wear
Shorts for the office need to be longer than some that might be worn for casual wear. If in doubt wear other attire you know Human Resources find acceptable business clothing. If you are short you may find shorts that appear longer on your frame than a taller friend's might seem. Otherwise consider culottes like those below left as another choice.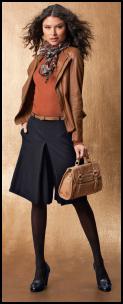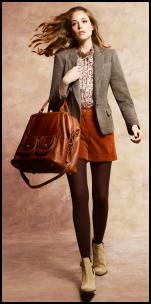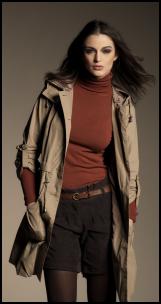 Above Left - La Redoute Belted Culottes £35, Scarf £13, Tan Leather Jacket £179 Camel Undersweater £9, Mini-satchel Bag £39.
La Redoute Stockist Number: 0844 842 2222.
Centre - Bea Babycord Shorts 963050185588 Venetia Pussy Bow Blouse 923119, Harley Hacking Jacket 993488, Illinois Tote 943297, Dallas Boot 943020 - Monsoon/Accessorize AW11 - Stockist Number: 08448110068.
Right - M&Co AW11 Womenswear - Belted cord shorts £26, Roll-neck Jumper £18, Parka Jacket £65. Stockist Number: 0800 0317 200.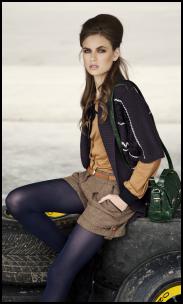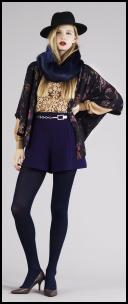 Jet Set Autumn 2011 - Jet Set 17 - Tweed Shorts, €38/35, Peter Pan Collar Top, €32/£28, Chunky Navy Cable Cardigan, €50/£45, Green Satchel, €25 £20. A|wear Stockist Number: 00 353 1 4724900.
Centre - NW3 by Hobbs NW3 Patchway Shorts, £79 (€90), NW3 Willow Hat, £49 (€55). NW3 Kirkham Shirt, £69 (€80). NW3 Heath Belt, £45 (€50). NW3 Willow Chelsea Ankleboots, £179 (€205).Stockist Number: 0845 313 3130 - www.hobbs.co.uk.
Right - Warehouse AW11/12 Smart Shorts.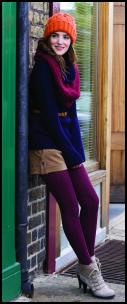 Left - F&F Autumn/Winter 2011 Womenswear - Shorts £14, Cardigan £16, Blouse £14, Belt £3, Tights £5, Boots £22.
Centre Left - Dunnes Stores Ladies Autumn 2011 - Everyday Heritage Cord Shorts and Knitwear.
Centre Right - Marks & Spencer Luxe Craft - Limited Collection Shorts £29.50, Hat £12, Limited Collection Top £39.50, Limited Collection Gilet £39.50, Belt £29.50. Boots £45.
Far Right - F&F Autumn/Winter 2011 Womenswear - Belted Shorts £16,Jacket £28, Blouse £14, Tights £3.50 and Boots £22. www.tesco.com/clothing.
You are reading an original article about autumn and winter fashion trends for 2011-2012 by Pauline Weston Thomas only for publication on www.fashion-era.com ©
-------v6-------
Conclusion of Key Fashion Trends Autumn 2011 Winter 2012
This review features the most important women's fashion looks for the autumn 2011 and Winter 2012. This article reviews the main looks in dresses, footwear, bags jewellery and other fashion accessories. You have been reading an original fashion trends article by Pauline Weston Thomas only for publication on www.fashion-era.com ©
Copyright of images courtesy of Prshots.com, Swarovski, Marks & Spencer, Hobbs, House of Fraser, Primark, Oasis, Debenhams, River Island, Monsoon Accessorize, ASOS, Dunnes, Hobbs, Topshop, F&F Tesco, Warehouse, very.co.uk, A|wear, IFTF, Pilot, Great Plains, Littlewoods Ireland, La Redoute, Lipsy, M&Co.
Header Image - Rag and Bone Shorts - Courtesy IFTF.
Date added 21 Sept 2011 - Ref: P.845.
If you like this page then please share it with your friends
---
--Link--
For more information on ladies and teens fashion trends go to:-
Archived Sections
Custom Search
About Fashion-Era.com
Fashion-Era.com looks at women's costume and fashion history and analyses the mood of an era. Changes in technology, leisure, work, cultural and moral values. Homelife and politics also contribute to lifestyle trends, which in turn influence the clothes we wear. These are the changes that make any era of society special in relation to the study of the costume of a period.

Fashion-Era.com can take no responsibility for any information on the site which may cause you error, loss or costs incurred from use of the information and links either directly or indirectly. This site is owned, designed, written and developed by author: Pauline Thomas and Guy Thomas. This site is designed to be viewed in 1024 X 768 or higher.
ALL RIGHTS RESERVED. Fashion-era.com reserves the right to add or delete information, graphics and links. Copyright © 2001-2014 on all content, text and images in Fashion-era.com. Images and text in this website may not be used on other websites.
Before you write to me for costume/fashion help or information please, please consult the extensive sitemap which lists all our pages. If you still cannot find the answer after searching the site, then before you email me, please consider if you are prepared to make a donation to the website.
Donations
Reader's donations help this site flourish, in particular donations encourage me to write more articles on fashion history as well as current trends. PayPal allows anyone with a credit card to donate easily and securely. You may donate any sum you feel appropriate.