Bold Blue Women's Fashion Trends for Summer 2012
This is a review of the importance of blue as a top fashion colour for spring and summer 2012. This article describes in detail many blue based fabric styles in dresses and printed pants.

In a restricted palette such as Pantone's rich Sodalite Blue or navy with white you instantly achieve a wearable, attractive and classic look or can be the prettiest blue babe.
You are reading an original review of blue colour key trends for summer 2012 by Pauline Weston Thomas only for publication on www.fashion-era.com ©
Pretty pastels may be important this season, but so is vivid cobalt blue and every tint and shade either side of this glorious hue. Add white to Sodalite blue for some wonderful softer pastel blue tints.
Top Blue Colour Trends To Watch
Bold Blues - Cobalt Blue looks on trend teamed with white and gold.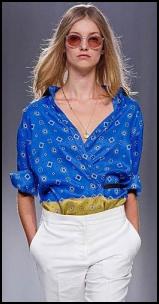 Left - Catwalk Fashions - Paul Smith Cobalt Blue Shirt.
Right - The Skinny Alternative. Phase Eight SS12 Royal Blue Skinny 7/8th Jeans Pants £59, Hemming Stripe Top £49. Accessories - Leanna Strappy Shoe £125, Snake Tie Necklace £25.
Stockist Number: 0207 471 4422 or phase-eight.co.uk.
For 2012 blue teamed with white offers a fashion aware, but show stopper crisp clean look that recognises the freshness of breezy spring and summer days.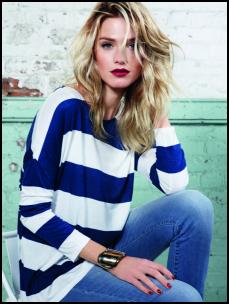 Above - All Set For Carefree Summer Days SS12 - Dorothy Perkins Womenswear.
Every woman should own a striped matelot style top that she can bring out every year for casual holiday breaks. A top like this fits in so easily at the beach or on days just messing around doing nothing. Teamed with a bit of red this top would be a quick way to add a little patriotic Union Jack flag flavour for the Queen's Diamond Jubilee in May 2012.
Make those blue eyes even bluer with the reflection of a blue dress or top.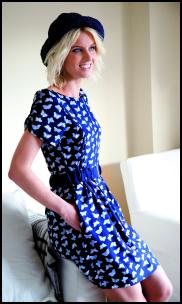 Left - Heatons Women's Lifestyle Spring 2012 - Cobalt Blue White Butterfly Dress - £18/€22.50, Straw Crusher Hat - £5/€6 - Stockist Number: 01 4630100
Right - Cobalt Pleated Skirt SS12 Austin Reed Womenswear Stockist Number: 01845 573 135. Ivory Chiffon Pleat Jersey Top £49 Cobalt Pleated Skirt £129.
§
Team your blue buys with other contrasting colours from bold brights, startling neon hues to delicate pastels. Select and additional colour from the pretty sugar sorbet pastels of pink, peach, lemon and lilac. Or, stick to the harmonious palette of soft powder blue, aquamarine, light lavender or palest turquoise for a coordinated look.
The royal blue dress far right below shows the new form of half peplum. Read more about 2012 peplum fashions here.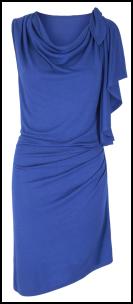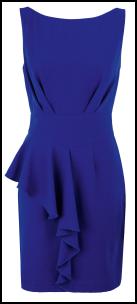 Left - Amazon Blue Dress £40/€62 Due April Monsoon - Stockist Number: 08448110068.
Centre - House Of Fraser SS12 Cobalt Blue Dress.
Right - Blue Half Peplum Dress by F&F Limited Edition. F&F Womenswear Spring Summer 2012 £20 Stockist Number: 0800 505555 - www.tesco.com/clothing.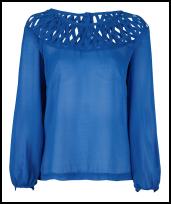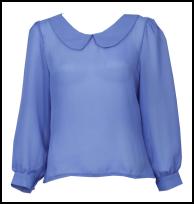 Left - Love Label Lattice Detail Blue Blouse £25 - Very.co.uk Love Label.
Right - Blue Sheer Peter Pan Collared Blouse £23 - Want Her Dress Stockist Number: wantherdress.com.
The simplest quick way to add blue to your wardrobe is with an easy top, jeans or a new blue handbag, grab bag or a shopper tote as shown here. There is choice for every woman or girl with bags ranging from £8 for the shopper tote bag to £159 for the lovely grab bag.
‡‡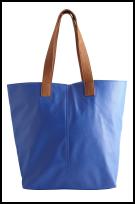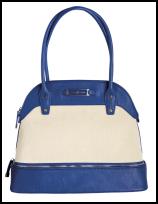 Left - Inexpensive Accessory Ideal For the Beach. Matalan Bag - Bright Blue Tote Shopper Bucket Bag £8 Matalan Stockist Number: 0845 330 3330.
Right - J Jeans by Jasper Conran Canvas Kettle Bag £49/€76 - Debenhams Stockist Number: 08445616161.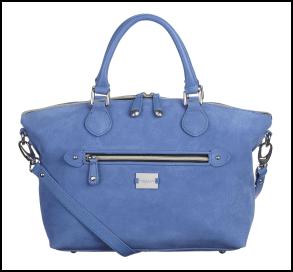 Modalu - London Artemis Gorgeous Sky Blue Grab Bag £159.
Blue Prints
For Spring and Summer 2012 check out the huge variety of print fabrics from:-
Spring Floral Blooms
Art Scene Prints - Think Rodarte/Vincent Van Gogh, Jill Sander/Pablo Picasso.
Afro Tribal/Jungle Mix
Tropical Paradise - Pineapples, Palm Trees, Butterflies & Birds
Paisley Patterns
The use of blue is reinforced in the prints behind the concept of ethereal Water World or oceanic inspired prints as well as washed out or tie dyed and batik effect fabrics.
Below dresses featuring border prints that meander and soften in motif size and colour depth.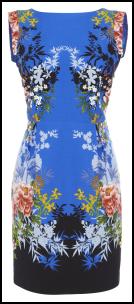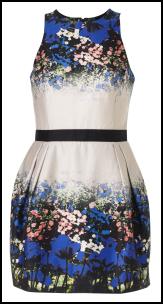 Left & Centre - Oasis SS12 Blue Print Dress. Also shown in header.
Right - Primark Flower Print Dress £15.
Primark UK Ladieswear Stockist Number: 0118 9606 300.
...(v4r)
Peter Pilotto's fashion show had the most beautiful prints with detailed sculptured shapes making each garment a piece of art.
More print was at Jonathan Saunders with paisley print shots and frocks in pastels that spread in Ombre wave bands from richer tones at hemlines softening to paler shaded above. Polka dot bib dresses offered softer more classic pattern for those scared of big prints. But big prints are everywhere in the from of the scarf print most usually seen on silk foulard scarves.
Paisley
Exotic Silk Scarf Print Patterns
Paisley patterns combined with delicious deep blues add a richness to print that is enhanced by simple tunic shapes where the print takes centre stage as in the example below.
Simple tunic shift dresses show prints to best advantage when the dress is shorter. The high street has their version of silk foulard styles.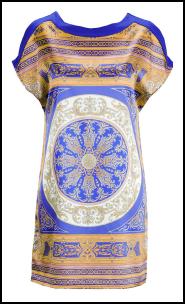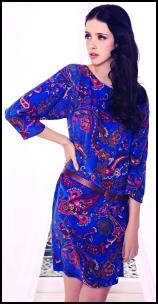 Left - Blue/Gold Scarf Circle Kaleidoscope Border Print Tunic Dress.
Right - Viyella Ocean Paisley Short Dress £175 - Viyella SS12 Ella - Stockist Number: 01845 573 120 or Viyella.co.uk.
The horse emblem, paisley and leather hardware imagery was used on many pieces of clothing and accessories and fitted perfectly with the history of Gucci in its 90th year. It looks especially good in scarf print blouses. But expect to see scarf prints across the whole spectrum of garments including dresses and pyjama styled trousers.
Beautiful blues feature in many prints and plains and especially in pyjama style pants.
Printed Pyjama Palazzo Pants
Printed Pants have captured the imagination of fashionistas.



Left - Blue Floral Trousers €50/£38 - NEXT. NEXT Stockist 0844 844 8000.
Centre - Gucci Tropical Printed Silk Pyjama Trousers - Farfetch.com.
Right - Blue & White Scarf Print Pyjama Pants.
Choose from patterned pants that are skinny or wide. Both suit print fabrics.
Paisley prints offer incredible variety in SS12. In multi colours the paisley motif looks joyful and trades on its Indian heritage of spectacular colour mixing.
4---------M4--------4
Bows & Butterflies Print Blouses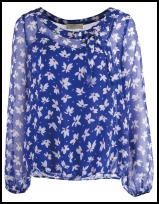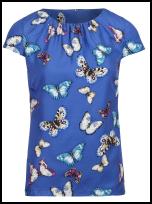 Left - Print Bow Blouse €35/£30 Dunnes Gallery Spring 2012.
Right - Butterfly Top £99.90 - Austin Reed SS12 Womenswear - Stockist Number: 01845 573 135.
Lost Atlantis Waterworld Prints
At Alexander McQueen, Chanel and Givenchy the sounds of the sea gave inspiration to designers who interpreted a world of the Lost Atlantis.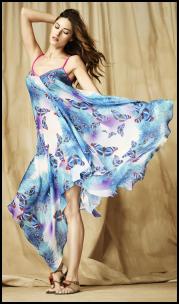 Left - Monsoon Optical Psychedelic Sleeveless V-neck Oceana Dress £100/€155 - Due May 2012. Monsoon Stockist Number: 08448110068.
Centre - Butterfly Print Dress - Monsoon SS12 -Stockist Number: 08448110068.
Right - Claire Sweeney Tie Dye Maxi Dress £55 - Fashion World SS12 Womenswear - Stockist Number: 0871 984 7550 fashionworld.co.uk.
At McQueen Sarah Burton showed ethereal gowns that were inspired by coral reefs. Mermaids and clamshells gave inspiration too - think fishy and waterworlds.
Feminine Floral & Lace Blues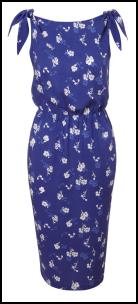 Right - Oasis SS12 Blue Flower Dress on White.
Centre - Kaliko SS12 Blue Cotton Lace Dress £120/€192 Kaliko Spring Summer 2012 Stockist Number: 01582 399809.
Right - Apricot SS12 - Rich Blue 50's Floral Pencil Skirt Dress.
Bold Blue Floral Print Blouses
Peter Pan collars grace many blouses, tops and dresses. Contrast white cpeter Pan collars add a real 1960s retro fashion touch.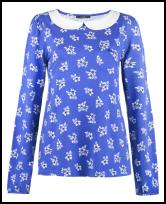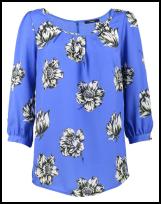 Left - Peter Pan Floral Print Top £10 - George at ASDA - Stockist Number: 0800 952 0101.
Right - George at ASDA Blue Large Flower Print Loose Blouse £12.
Stockist Number: 0800 952 0101.
Frightened of Print? Take The Easy Way Out - Try The Spots and Stripes Trend.
Stripes
Ocean Blue Depth - Stripe Prints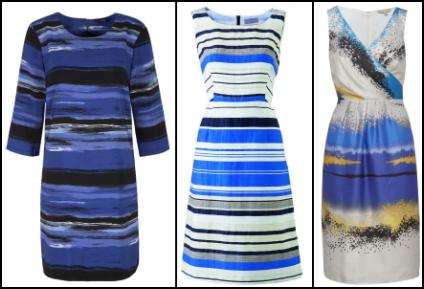 Left - Blue Brushstroke Stripe Dress £16 George at ASDA.
ASDA SS 2012 Stockist 0800 952 0101.
Centre - Blue/White Stripe Dress £45 ISME SS12 WomensWear.
Right - M&Co Boutique Blur Seaside Stripe Dress £85. M&Co SS12 Womenswear.
-------v6-------
Darker Blues - Navy/White Digital Nautical Prints
Printed Palazzo Pants
Palazzo pants have a holiday feel and all that air makes them a good bet in a hot climate where coverage is good for insect protection.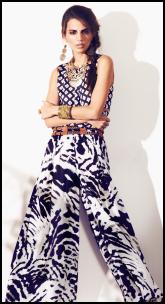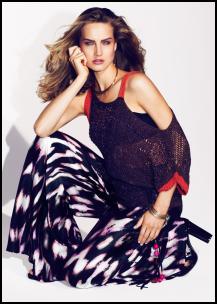 SS12 Culture Clash M&S Top £22.50, Navy & White Wide Print Trousers £35.
SS12 Culture Clash Per Una Speziale Top £45, Trousers £59, Shoes £29.50, Necklace £9.50, bracelet £7.50 - All Marks & Spencer.
You are reading an original 2012 main blue fashion trends article by Pauline Weston Thomas only for publication on www.fashion-era.com ©.
Copyright of images courtesy of Prshots.com, Swarovski, Marks & Spencer, NEXT, Apricot, Monsoon, Warehouse, Paul Smith, Dorothy Perkins, Phase Eight, Heatons, Austin Reed, House Of Fraser, Matalan, Debenhams, Modalu, Oasis, Primark, very.co.uk, Kaleidoscope, Viyella, fashionword.co.uk, Isme, George at Asda, Kaliko, farfetch.com, wantherdress.com, Gucci, Dunnes, TKMaxx.
Date Added 14 March 2012 - Ref: P.875.
If you like this page then please share it with your friends
---
-------- Link Pink ---------
For more information on ladies and teens fashion trends go to:-
Archived Sections
Custom Search
About Fashion-Era.com
Fashion-Era.com looks at women's costume and fashion history and analyses the mood of an era. Changes in technology, leisure, work, cultural and moral values. Homelife and politics also contribute to lifestyle trends, which in turn influence the clothes we wear. These are the changes that make any era of society special in relation to the study of the costume of a period.

Fashion-Era.com can take no responsibility for any information on the site which may cause you error, loss or costs incurred from use of the information and links either directly or indirectly. This site is owned, designed, written and developed by author: Pauline Thomas and Guy Thomas. This site is designed to be viewed in 1024 X 768 or higher.
ALL RIGHTS RESERVED. Fashion-era.com reserves the right to add or delete information, graphics and links. Copyright © 2001-2014 on all content, text and images in Fashion-era.com. Images and text in this website may not be used on other websites.
Before you write to me for costume/fashion help or information please, please consult the extensive sitemap which lists all our pages. If you still cannot find the answer after searching the site, then before you email me, please consider if you are prepared to make a donation to the website.
Donations
Reader's donations help this site flourish, in particular donations encourage me to write more articles on fashion history as well as current trends. PayPal allows anyone with a credit card to donate easily and securely. You may donate any sum you feel appropriate.