Coat Fashion Trends for 2012
Cape Coat Fashion Trends
There is a coat style for every woman and in 2011 you can choose from a short cape coat, a maxi or midi coat: a duffle, parka, padded quilted puffa, a fur coat, leather or more formal ladies wool coat.
The recognition of individual styling gives freedom to select from many styles to suit individual body shapes. For cape coat styles check that the proportions are correct for your own body silhouette.
Here is my review of the important cape coat fashion looks for Autumn 2011 and Winter 2012. Heritage works the cape so well. Burberry did it in the best British way.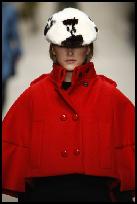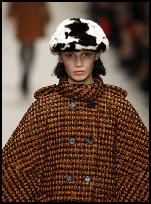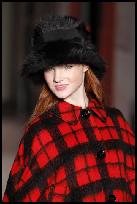 Above Left & Centre - AW11/12 Burberry Celebrates British Wool With 2 Cape Coats.
Right - Moschino Cheap & Chic Checks. All Burberry looks copied well in mass fashion wear.
Burberry used colours with black to create amazing checks in rich wools. Burberry used these luscious wool fabrics to create coats and capes that were distinctive and desirable. Hound and dogtooth checks, blanket plaids and tablecloth checks give a cosy air to winter coats, throws, wraps, ponchos and capes. Tailored jackets and pure wool check skirts also suit the good quality British wool theme. Capes area perfect extra layer choice when thinking of country walks wearing heritage tweeds.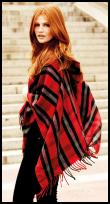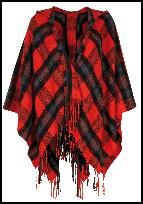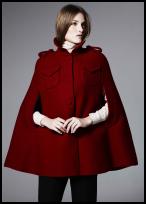 Left & Centre - NEXT AW11/12 Check Cape £28/€38.
Skinny Jeans £22/€29 - NEXT Stockist 0844 844 8000.
Right - Modernist at House of Fraser. Boutique by Jaeger - Red Cape Coat £330.
HOF Stockist Number: 020 7003 4000.
Cape Styling
Note how the Deep red Jaeger cape above has arm slits for ease of movement. Some capes have cape sleeves. Look out for capes that either have arm slits or semi sleeves for easier function in wear. For the costume history of cape styles see my fashion-era page on Cape and Cloak fashion history.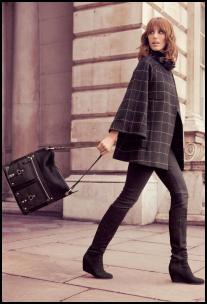 High Street Fashion AW11.
Left - Tartan Cape by Oasis AW11.
Centre - Mint Velvet AW11 - Check Cape, £149/€189, Skinny Jean, £59/€79, Long Boot, £179/€229, Ponyskin Pocket Bag, £139/€179 - Stockist Number: 0845 456 2200.
Right - Check Plaid Cape From very.co.uk.
‡
Plainer Neutral Capes
For high drama the capes the piece to attract notice in autumn 2011. A plain fabric cape adds a versatile touch to wardrobe planning and can come into its own in winter as a versatile layering item. This black cape could soon be a wardrobe must-have it's so classic. The camel cape looks easy to wear and could be the alternative to a puffa jacket when walking the dog.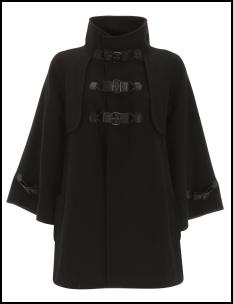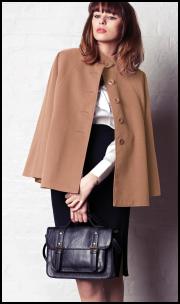 Left - Mint Velvet AW11 Cape - Mint Velvet Stockist Number: 0845 456 2200.
Right - Matalan AW11 - Retro Prim Cape £35, Pussy Bow Blouse £16, Pencil Skirt £14, School Satchel £10.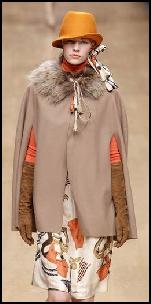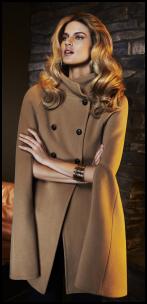 Left - Camel Split Cape by Blugirl AW11.
Right - Phase Eight AW11 Camel Chesterfield Cape £160 - phase-eight.co.uk.
-------v6-------
The strongest coat silhouette at Designer shows was the cocoon coat, alongside statement jackets, sixties Mod and seventies remix.
This cocoon coat silhouette even works in cape coat styles.
Cocoon Cape Coat Style
Burberry opted for colour and wool to create bright pieces.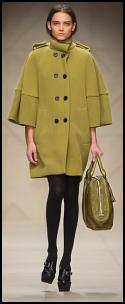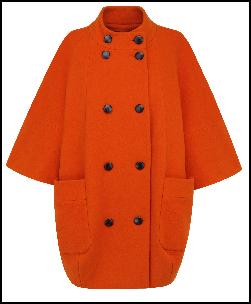 Left - Burberry AW11 Green Sculptural Wool Cape Coat - £2195.
Right - Marks & Spencer Bright Orange Katy Cocoon Cape Coat £89.
See more cape element coats below.
Short Capes - Ideal for Evening
Designers used luxury furs both real and fake to create stunning capes for Autumn 2011 and Winter 2012.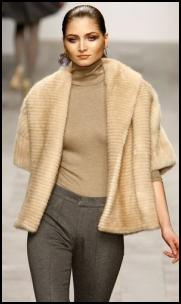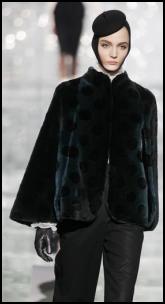 Left - Issa Fur Elbow Length Cape - Issa AW11.
Right - Marc Jacobs AW11 Fur Cape.
Make a stunning entrance at Christmas parties wearing fur capes over your favourite evening pants or dress.
Catwalk Animal Print Fur Capes.
Leopard print has been a huge trend over the past decade and now leopard print is a classic. Leopard print three quarter jackets are ideal winter coats for use casually with trousers or as a luxury touch for evening. Plain fur capes vary from short capelets to longer hip length pieces.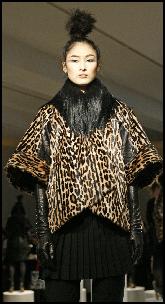 Right - Cape Influence Leopard Print Distressed Leather Jacket With Kidassia Goat Collar Trim.
§

Above - Wallis AW11 Sequin Cape. Both of these Wallis capes would dress up the plainest of outfits.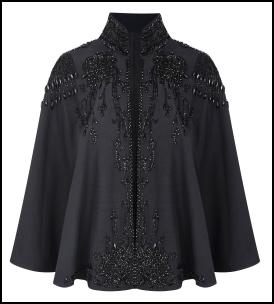 Above - Wallis AW11 Black Beaded Cape - £75.
Catwalk Capes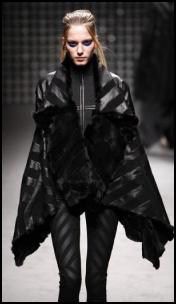 And for the ultimate fetish fashion trend black cape, this black leather and fur banded cape coat from Gareth Pugh could be your must-have. How you choose to wear it, playing it up or down, will create an individual fashion look.
Left - Ralph Lauren Black Capelet.
Right - Black Leather Banded Cape Gareth Pugh AW11.
Long Capes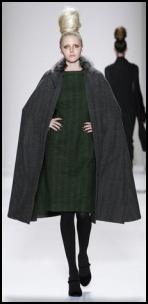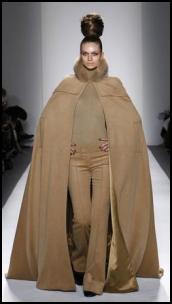 Catwalk Cape Coats Fashion - Zang Toi AW11.
-------v6-------
Short Fur Capelets
These two fur shoulder capes below are just different colours of the same capelet. They are the winter alternative shoulders cover-up to the pashmina. They offer just a little more cover than a fur tippet.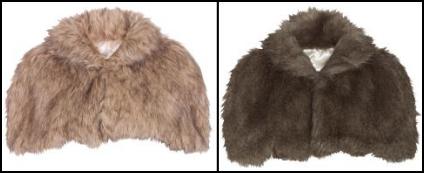 For something more covering these capes both from Monsoon accessorize offer a little more length. The damson fur cape would be very versatile as a winter short coat substitute. The cream cape offers both evening and bridal glamour.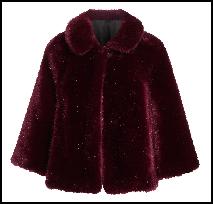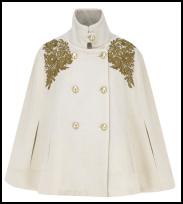 Left - Athena Fur Coat Cape, £95/ €150 - Monsoon/Accessorize Womenswear.
Right - Fusion Orion Wool Cape - £120 Monsoon/Accessorize.
Stockist Number: 08448110068.
Some women simply love leather pieces. The olive green cape below is from Blugirl, and the black cape shouldered jacket is from Littlewoods.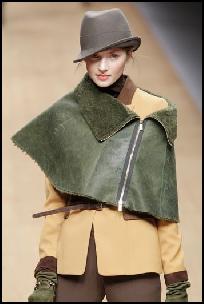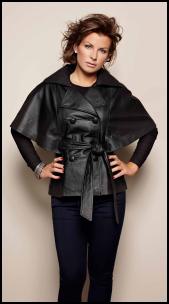 Left - Green Short Zip Front Capelet by Blugirl AW11.
Right - Littlewoods - Coleen Cape Leather Coat €149.
Highwayman element shoulders added to coats give extra warmth. This check coat is also from Littlewoods.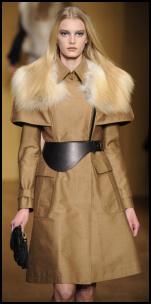 Left - Derek Lam AW11 - Camel Trench Coat With Bleached Golden Fox Fur Collar.
Right - Miss Selfridge Ginger Fur Collar Coat £95.
This cape into coat styling has great utilitarian properties for the newer fuller bloused sleeves on many pieces.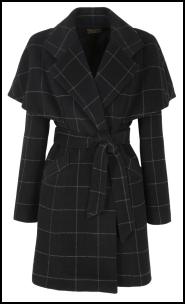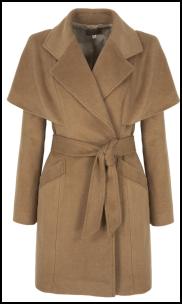 Left & Right - Littlewoods Coleen Coat.
Cape Sleeve Dresses
Some dresses also use the cape feature in sleeves which hint at the generous fullness of the 1970s wider bell and cape sleeve fashion. The latter cape/shoulder styling was used a great deal on wedding dresses and blouse styles so watch out for that as a new trend look in wedding gowns. Capes available at Yves St Laurent. The short capes or a cocoon coat may be the best option for a cover up for dresses like these.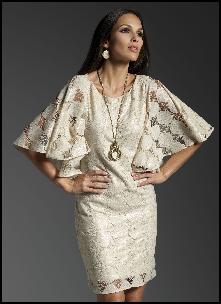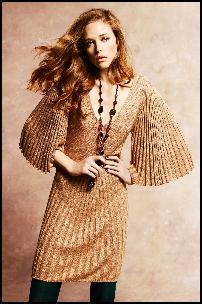 Left - M&Co - Spot Frill Cape Sleeve Lace Dress £69.
M&Co Stockist Number: 0800 0317 200.
Right - Monsoon/Accessorize AW11 Cleopatra Sunray Cape Sleeve Tunic.
Stockist Number: 08448110068.
1970s wider bell and cape sleeve and shoulder styling was used a great deal on wedding dresses and blouse styles; so watch out for that as a new trend look in wedding gowns.
-------v6-------
Ponchos
Following on from the cape is the even freer spirit theme of the poncho and Mexican throw - think Spaghetti western. Fringe is an integral part of many ponchos or capes.

Left - House of Fraser AW11 Poncho.
Right - NEXT - Navaho Wrap £30/€41.
NEXT Stockist Number: 0844 844 8000.
Navaho
The Boho ethnic contrast of Navaho folksy blanket, poncho free flowing garments are functional for winter layering in and out of doors. If it looks as if your granny stitched, knitted or crocheted it then it's likely to be hot on trend.
The softer earthy colours of some Navaho styled pieces make for easy casual relaxed wearing. The natural tones are not so intense or crowd alerting as some jewel tones that can merge on acid brights. Knitwear pieces also utilise the poncho as do felted wools and check tweeds which add heritage style always a winter winner.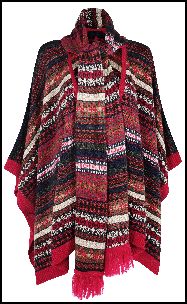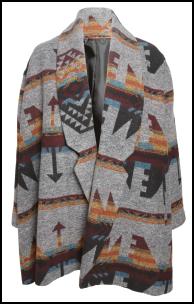 Above - Dorothy Perkins Knit Poncho.
Right - ASOS AW11 Navaho Jacket.
Proenza Schouler took inspiration from Native American crafts. Easy loose silhouettes, texture on texture combined with geometric traditional ethnic prints. Rodarte's 'Little House on the Prairie' incorporated handmade crafting effects and rich colourations.
Navaho is a trend that also comes and goes and is part of the global culture ethnic trend that dominated the noughties. River Island has picked up a treat on this look and you'll find other retailers have lots of Navaho inspired pieces from bags to braids as well as ponchos and knitwear pieces.
You are reading an original article about autumn and winter fashion trends for 2011-2012 by Pauline Weston Thomas only for publication on www.fashion-era.com ©
-------v6-------
Fabrics & Texture
Shininess, Silky Fluid, Furry & Fuzzy Fabrics
What fabric should you buy your cape you may be thinking with so many choices shown here.
Fashion fabrics for autumn 2011 are simply fabulous. Fashion designers chose materials with superb tactile qualities and shininess.
Look out for fuzzy fabrics, furry textures, goat hair, teased mohair and soft cosy pieces that make you want to get closer.
Faux fur is used extensively with whole garments and fur trim collars, tippets and bag flaps all getting the fur or skin treatments. Rich texture is easiest to do if you select fur collars and cape jackets of fur. Maribou feathers in rich jewel colours add exotic alternative texture for capes, hems, cuffs and necklines.
You will fall in love with mixture of textures from subtle languid fluid silks to coarser hairier and sports fabrics. Silk and silk/wool mixes are the winter must-have fabrics. Other luxury materials such as silk panne velvet make the perfect luxury fabric for winter festive capes.
Coat Accessory & Add-Ons Autumn 2011
Bags Tippets Gloves
Get instant lift with a bright bold fashionable handbag. Make sure your bag is suitable to wear with your cape by trying a few styles. Or wear a cross body bag under your cape.
Update your autumn pieces that with jewel toned court shoes. Select a heel that suits you and try a small platform for the seasonal touch.
The Mary Jane shoe has multiple straps and worn with patterned hosiery/pantyhose adds retro quality to leg looks. Pump shoes have shorter pointed toes and easy heels. Solid square heels and cone heels follow 1970s trends in women's shoes. Platforms and wedges, which are still available, often have fur cuff trims.
Fetish fashion themes are a shoe designer's dream as they enable a play in design terms that goes beyond usual shoe design boundaries. Best of all this season your local shop may stock them rather than a specialist catalogue. Even the most reluctant wearer of fashion might be persuaded into the purchase of a pair of quirky shoes or boots and use them to enhance this years cape. coat. You are reading an original article about autumn and winter fashion coats for 2011-2012 by Pauline Weston Thomas only for publication on www.fashion-era.com ©
Key Fashion Trends Autumn 2011
The key elements of fashion trends for autumn 2011, winter 2012 depend on longer lengths and bold rich vibrant colours in contrast textures and luxury fabrics. The silhouette pays homage to forties, sixties and seventies decades of style fashions.
Tailoring Fashion Trends for Autumn 2011
One of most commercial fashion trends in UK in 2011 has been the new retro 1970s. Now for autumn this trend continues, but is joined by the late forties look along with a favourite retro fashion of recent years - sixties Mod. The strongest cape silhouette at Designer shows was the cocoon cape coat.
Whatever silhouette or retro trend you select you can be sure fashion styles for autumn 2011 and winter 2012 focus on mixes of zinging jewel colours.
Top Fashion Trends for Autumn Winter 2011-2012
For 2011/12 some fashion designers have reworked styles from several specific decades of the 20th century. They've created so many fresh innovative looks enabling every woman to style her individual lifestyle new image and wardrobe. Sixties looks merge with seventies retro and forties elements all working together. The fashion outcome suggests a remix that makes a woman think 'This is familiar, I've seen this before, but I'm not sure where.' For everyday wear many will love the shorter 70s remix military coats, that are ideal coats for driving a car.
This fashion trends article focuses on the Autumn Winter 2011/12 main styles and trends in women's capes and ponchos.
Conclusion of Key Fashion Trends Autumn 2011 Winter 2012
This review features the most important women's fashion looks for the autumn 2011 and Winter 2012. This article reviews the main looks in dresses, footwear, bags jewellery and other fashion accessories. You have been reading an original fashion trends article by Pauline Weston Thomas only for publication on www.fashion-era.com ©
Copyright of images courtesy of IFTF, Prshots.com, Swarovski, House of Fraser, Oasis, Debenhams, Littlewoods, M&Co., Accessorize Monsoon, Matalan, ASOS, Next, very.co.uk, Mint Velvet,Phase Eight, Wallis, Miss Selfridge, Dorothy Perkins.
Date Added 21 Sept 2011 - Ref: P.847
If you like this page then please share it with your friends
---
--Link--
For more information on ladies and teens fashion trends go to:-
Archived Sections
Custom Search
About Fashion-Era.com
Fashion-Era.com looks at women's costume and fashion history and analyses the mood of an era. Changes in technology, leisure, work, cultural and moral values. Homelife and politics also contribute to lifestyle trends, which in turn influence the clothes we wear. These are the changes that make any era of society special in relation to the study of the costume of a period.

Fashion-Era.com can take no responsibility for any information on the site which may cause you error, loss or costs incurred from use of the information and links either directly or indirectly. This site is owned, designed, written and developed by author: Pauline Thomas and Guy Thomas. This site is designed to be viewed in 1024 X 768 or higher.
ALL RIGHTS RESERVED. Fashion-era.com reserves the right to add or delete information, graphics and links. Copyright © 2001-2014 on all content, text and images in Fashion-era.com. Images and text in this website may not be used on other websites.
Before you write to me for costume/fashion help or information please, please consult the extensive sitemap which lists all our pages. If you still cannot find the answer after searching the site, then before you email me, please consider if you are prepared to make a donation to the website.
Donations
Reader's donations help this site flourish, in particular donations encourage me to write more articles on fashion history as well as current trends. PayPal allows anyone with a credit card to donate easily and securely. You may donate any sum you feel appropriate.