Glam Goth Fetish Styles for 2012
The 2011 Autumn/ Winter catwalk made many references to glam Goth and fetish leather and bondage inspired collections. As well as clothing, countless fashion accessories got the glam fetish treatment.
Shoes, chokers, belts and gloves all alluded to bondage fashion with associated and very obvious indulgence toward excess studs, straps, peek-a-boo cut-outs and whip fringes. Contrasting textures of lace, velvet, leather, sheer chiffon and latex and skin tight fabrics highlighted strict prim dominatrix effects with provocative temptress.
Fast track this Goth fetish look by buying some fierce ankle strap studded shoes. Or opt for slightly prettier lace ankle boots or fetching Victoriana Style laced up shoes.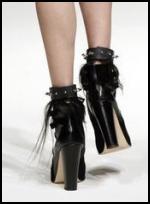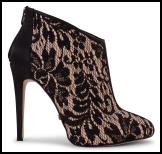 Left - Felder Felder Catwalk Collection AW11.
Right - Black and Gold Lace Detail Ankle Boots £50 - Fashion Union AW Boots -
Stockist Number: 0844 5730900.
Now the Catwalk Glam Goth/Dominatrix/Fetish fashion look has been translated into wearable looks on the high street. Black and sheer fabrics are always winter party wear winners.
In this fashion review you will see how the mass market version of Goth/Dominatrix/Fetish fashion offers an alternative yet still edgy approach that will suit both a younger and more sophisticated mature woman. Think sheer, lace, figure hugging fabrics, peek-a-boo and leather.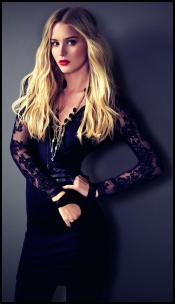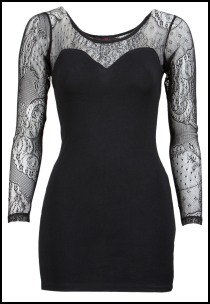 Left - River Island Black Top With Lace.
Right - Yogoego.com - Motel Rocks Lace Insert Else Dress £48.
Stockist Number: 0208 920 6626.
The 2011 Autumn/ Winter catwalk had many references to Glam Goth and fetish leather bondage inspired collections.
Collections veered between challengingly provocative to prim and strict. Peter Pan collars, stockings and French maid nipped in waist effects. Shoes and collars with bondage elements were in focus. Seductive lace or sheer panels gave alluring contrast with textures of rough and smooth against slippery leather or latex. Straps, choker collars, shorts, fur and corset bustier silhouettes lent a peek a boo naughtiness that was playful and provocative.
In other aspects of fashion trends current wardrobe updates demands less flesh exposure, with longer ladylike styles in jewel colours. The trend is for gracious looks and the freedom to select from so many styles to suit individual body shapes. Skirts can be short or BTK (below the knee). If your fashionista passion is for a more thought provoking look then pushing boundaries with styles that favour leather sheer contrast, lace, satin and boned pieces, all highlighting erogenous areas then browse this Glam Goth fashion review for some hot on trend photos.
Body Shape 2011/12
Fetish Dominatrix to High Gothic. Luxe Lace Layers = sheer areas, cut out and torn fabrics, bands or tape lines of studs and often with patent or black leather. Team with over knee cuissarde boots and add a sultriness best kept for night times. Look out for gladiator shoe boots that trace an openwork boot pattern to mid-calf. Seen at Giles, Givenchy, McQueen, Christopher Kane and Dolce & Gabbana.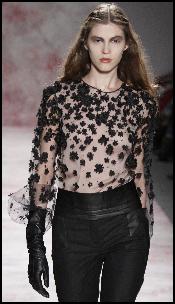 Above Left - Sisley Benetton AW2011 Catwalk Cuissarde Boots.
Centre - Prabal Gurung Catwalk Show AW2011.
Right - Marks & Spencer AW11- Historical Romance
Autograph Dress £65, Necklace £19.50, Belt £18, Tights £6, Shoes £49.
High Street Black With Sheer Or Lace Areas
Dresses and tops use sheer area, lace areas or cut away and reveal body areas for a seductive effect.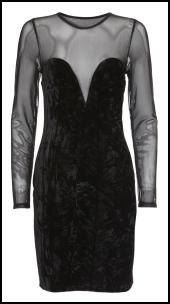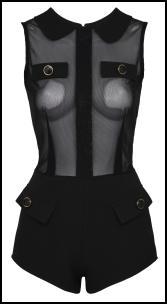 Left - Topshop Mesh & Crushed Velvet Dress.
Right - ASOS Black Sheer Top Playsuit.
See glamorous goth fashion for 2013
‡‡
Lace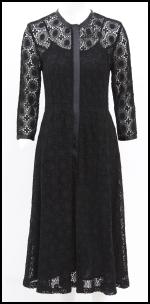 Left - Valentino Lace Dress £2,245.00 - Matchesfashion.com.
Centre - Matalan AW11 Black Short Dress, Sheer Bodice & Sleeves.
Right - ASOS Black Lace Midi Dress.
Lace made a welcome return some seasons ago, but its desirability increased a hundred times after Catherine Middleton wore a beautiful lace gown for her wedding in summer 2011.
Black is always popular for lace dresses, producing the ideal little black dress.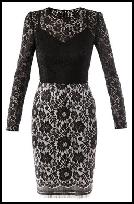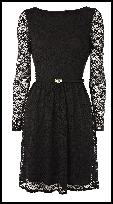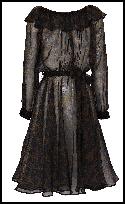 Left - Dolce & Gabbana Black Lace Cocktail Evening Dress - Matchesfashion.com.
Right - Oasis AW11/12 Little Black Lace Dress.
Right - AW11/12 Oasis Little Black Sheer Dress.
The black lace used in many of the dresses and blouses shown here is a very sophisticated stand-alone look. This can be taken into fetish themes as long as you select footwear and jewellery appropriate to your end fashion goal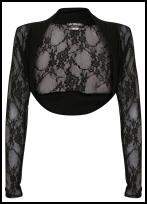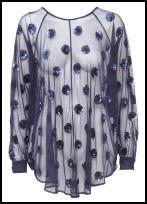 Left - Black Lace Effect Shrug £9.99 - Pilot Clothing www.pilotfashion.com.
Right - ASOS Sheer Sequin Top.
Spots - Polka Dot Spot Fabrics/Textures.
Spots appear on everything from footwear to hosiery. Large or small spots worked on barely black sheer tights add an instant nod to the fetish fashion theme. These black dresses below all have an element of little black dress and the possibility of Fetish and Glam Goth qualities when styled correctly. The semi sheer spots add a mysterious characteristic similar to that of lace.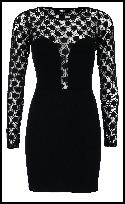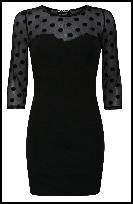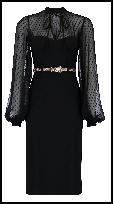 Left - Debenhams LBD - Debenhams Stockist Number: 08445616161
Centre - Black Polka Dot Lace Shoulder/Sleeve Dress £17.99 From Pilot.
Pilot Stockist Number: +44 24 7671 8834.
Right - Star by Julien MacDonald Dobby Spot Little Black Dress, £60/€90 - Debenhams.
‡‡
The Return Of The Peplum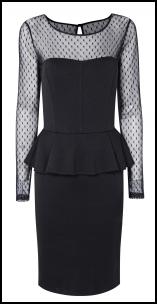 Left - Wallis Peplum Dress.
Right - Marks & Spencer Black Peplum & Lace Womenswear Fashions.
If these looks are for you and you wish to push the limits beyond a basic dress with lace sleeves then check out La Redoute. Fast track elements of this by checking out their lingerie range. La Redoute have a provocative seductive stretch stocking black lace all-in-one at £95 which can be used as the under layering basic for adding other pieces such as leather skirts.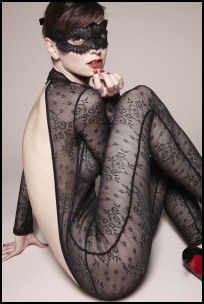 La Redoute - Black Lace Long Sleeve Body Stocking £95.
§
Hosiery or Charnos Armery from Mary Portas is such a simple way to add the extra Glam Goth touches. Marks & Spencer have a good stock of lace, floral and spotted tights that make for great alluring legwear. House of Fraser stock lace and plain Armery - hosiery for arms that have seen better days! Thank you Mary Portas, I've mentioned a need for this some years ago. Marlene Dietrich knew this trick when she wore fine silk sheer chiffon sleeves and a sheer bodice yoke that reached and disguised her ageing throat.



Left - Spot Tights - Very.co.uk.
Centre - Sheer Spot Tights £8 - Accessorize Stockist Number: 08448110068.
Right - Animal Print Pantyhose - Marks & Spencer.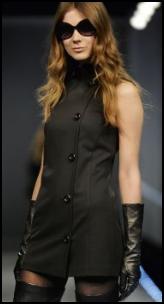 Left - Sisley Benetton AW12.
Right - Over Knee Black Paramount Boots £195 - Dune.
Teamed with over the knee boots even the most basic skirt or trousers can be given the edge. High over knee boots are sometimes known as cuissardes.
Or if this footwear is not to your liking, look for another accessory such as a detachable black sequin collar with stud ties. Add this to a plain sheer top or bustier, then let the boss in you out and everyone will know you are not to be messed with.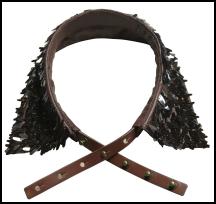 Hobbs Unlimited Sequin Collar, £89/€100 - Hobbs Footwear & Accessories. You are reading an original Goth 2012 fashion article by Pauline Weston Thomas only for publication on www.fashion-era.com ©
Leather Bound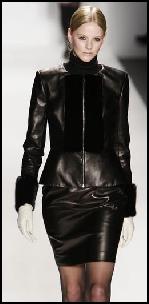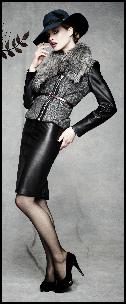 Left - Elene Cassis Leather Fashions.
Centre - Ralph Lauren Catwalk Leather Looks AW2011/12.
Right - Marks & Spencer AW11 - Retro Glamour.
Hat £19.50, Limited Collection Jacket £120, Belt £5,
M&S Woman Skirt £99, Tights £3.50, Shoes £49.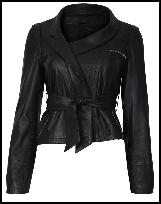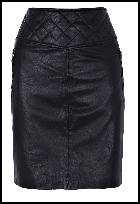 Left - Preen Edition - Leather Jacket Debenhams - Stockist Number: 08445616161
Right - Oasis AW11 - Leather Skirt.
Fantasy Fetish Fashion/High Goth
Coloured lace, especially sapphire blues, emerald, ballet pink or red add a welcome alternative to the black lace used for sleeves and shoulder insets in Goth fetish fashions.
Cobwebby skirts, high necklines in early Edwardian Downton style and jet beading add a prettiness to Goth not seen before. Reptilian snakeskin, alligator and crocodile surface prints add character to materials from finest chiffon georgette to hardest leather.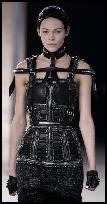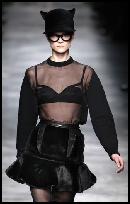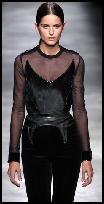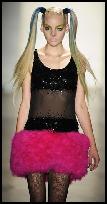 Above - Catwalk Fashions from McQueen, Givenchy and Jeremy Scott.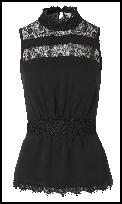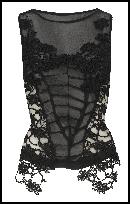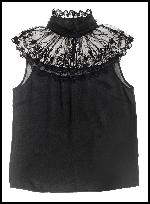 High street black tops to help work this look.
Left - Debenhams Black Top.
Centre - M&S - Per Una Speziale Dita Shell Top £45.
Right - Sisley Benetton Lace Yoke Black Overblouse.
These two styles of Goth and Fetish fashion intermix very easily. Fetish fashion is a fun look for empowered women strong enough to cope with showing her more public daring figure to friends and colleagues.
Accessories - Shoes
Ease yourself into this Goth Fetish look by buying some fierce ankle strap studded shoes. Or opt for slightly prettier lace ankle boots or fetching Victoriana Style laced up shoes.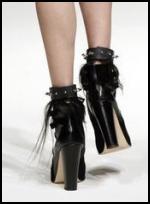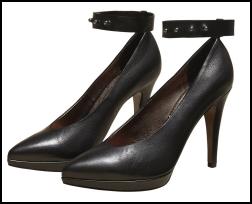 Left - Felder Felder Catwalk Collection AW11.
Right - Hobbs Unlimited Stina Platforms, £179/€205 Hobbs Footwear & Accessories - hobbs.co.uk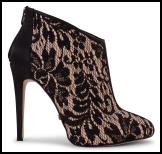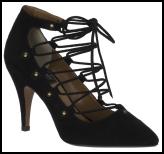 Left - Black and Gold Lace Detail Ankle Boots £50 - Fashion Union AW Boots -
Stockist Number: 0844 5730900.
Right - Bertie - Sindie Laced Black Ankle Strap Court Shoe - £85/€100.
Bertie Women's Footwear - Stockist Number: 0207 258 3605.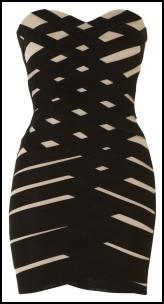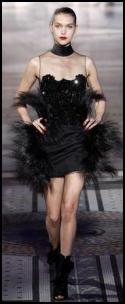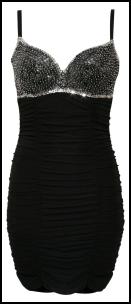 Left - Body Con Black Bandage Wrap Dress.
Centre - Giles Catwalk AW11.
Right - Pilot.com Black Beaded Bra Cup Dress With Silver Sequin Bust £29.99.
Get some Spanx or similar Goth bustier corsetry to define that body into the whittled waistline. The narrow waist is required of the new fetishist fashion trend, where the norm for perfecting dominatrix vixen garb is an hour glass silhouette. Those Edwardian women knew how to enhance their curvaceous features despite being swaddled in layers of clothing.
Black Dresses With Peek-A-Boo Bare Midriff Sections


Left - ASOS Cut Out Panelled Yoke Crepe Midi Dress £65. ASOS WW Christmas Collection at asos.com .
Right - Peek a-boo Waist One Shoulder Embellished Maxi Dress Lipsy Autumn Winter 2011 Clothing.
Add Instant Glam Goth Value With Accessory Styling
Any garment almost can be teamed with a belt or restrictive bondage choker stud collar for an edgier fashion touch. Simplest fashion element of all is the corset belt. Topshop does it so well.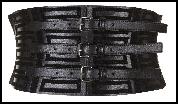 Black Fetish Corset Belt From Topshop.
Luxury Evening Shorts Black As Night
For evening lace shorts, velvet shorts and jewel colour options worn with sheer hosiery add grown up glamour for the sartorially brave.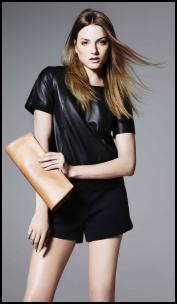 Left - House of Fraser - Modernist - Black Flannel Shorts £75/€90, Black Leather Top £120, Tan 'LA' Leather Clutch £95/€108 Pied a Terre.
Right - Warehouse Christmas 2011 - Sequin Playsuit Shorts £90, Bag £30, Belt £28. Warehouse Stockist Tel: 0845 122 2251.
If you seek a pair of shorts as shown at Louis Vuitton then look no further than Topshop who have these black sequin briefs shown below in store for the Christmas AW11 season.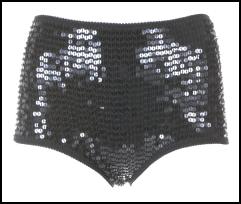 Coloured evening lace shorts are also available at ASOS and blue Pailette sequin shorts are at Topshop for AW11.
Conclusion of Glam Goth Fetish Styles for 2012
The 2011 catwalks often made use of glam Goth and fetish leather and bondage inspired collections. As well as clothing, other fashion accessories got the glam fetish treatment. You have been reading an original Goth fashion article by Pauline Weston Thomas only for publication on www.fashion-era.com ©
Copyright of images courtesy of Prshots.com, Swarovski, Marks & Spencer, Hobbs, House of Fraser, Oasis, Debenhams, River Island, Accessorize Monsoon, Matalan, Benetton, ASOS, Warehouse, Dolce&Gabbana, very.co.uk, IFTF, Topshop, Pilot, Fashion Union, Yogoego.com, Lipsy, Bertie, Dune, www.matchesfashion.com, La Redoute,
Date added 21 Sept 2011 - Ref: P.869.
If you like this page then please share it with your friends
---
--Link--
For more information on ladies and teens fashion trends go to:-
Archived Sections
Custom Search
About Fashion-Era.com
Fashion-Era.com looks at women's costume and fashion history and analyses the mood of an era. Changes in technology, leisure, work, cultural and moral values. Homelife and politics also contribute to lifestyle trends, which in turn influence the clothes we wear. These are the changes that make any era of society special in relation to the study of the costume of a period.

Fashion-Era.com can take no responsibility for any information on the site which may cause you error, loss or costs incurred from use of the information and links either directly or indirectly. This site is owned, designed, written and developed by author: Pauline Thomas and Guy Thomas. This site is designed to be viewed in 1024 X 768 or higher.
ALL RIGHTS RESERVED. Fashion-era.com reserves the right to add or delete information, graphics and links. Copyright © 2001-2014 on all content, text and images in Fashion-era.com. Images and text in this website may not be used on other websites.
Before you write to me for costume/fashion help or information please, please consult the extensive sitemap which lists all our pages. If you still cannot find the answer after searching the site, then before you email me, please consider if you are prepared to make a donation to the website.
Donations
Reader's donations help this site flourish, in particular donations encourage me to write more articles on fashion history as well as current trends. PayPal allows anyone with a credit card to donate easily and securely. You may donate any sum you feel appropriate.