Women's Fashion Trends for Spring Summer 2012
This is a review of the key fashion looks for the spring summer season of 2012. This article describes in detail the main styles in women's dresses, footwear, bags, jewellery and other female fashion accessories.
You are reading an original article evaluating the key fashion trends for summer 2012 by Pauline Weston Thomas only for publication on www.fashion-era.com ©
Left - Lim Catwalk - Pastel Fashions.
Topics for Summer 2012 Women's Fashion
Women's Fashion Looks - The strongest fashion trend stories for Spring & Summer 2012 include Pretty Pastels, Peplums, 60s A-line Silhouettes, 1920's Jazz Age Retro, Red to Tangerine Peach Tones, Perfect Pleats, Leather & Lace, Sporty Styling, Scarf Prints, Tropical Tribal Prints, Summer Body Reveal - Midriff Hi Tops & Shorts.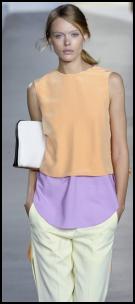 Above Left - Matthew Williamson - Burnt Orange Tangerine Narrow Pants and Coral Jacket.
Centre - Peach Themed Tibi Catwalk - Orange Peach Shorts/Jacket.
Right - Philip Lim Catwalk - Pastels Top.
Colours - All of these moods acknowledge colour as such an important fashion element. Choose from pastels, bright paint box colours, whites or shots of dazzling neon colours.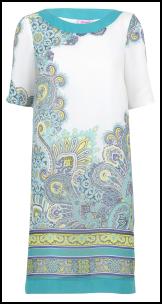 Prints - to this add the extra dimension of POWERFUL PRINTS. Select from Tribal Ethnic Desert Prints, Silk Scarf Traditional Print Patterned Pieces, Tropical Birds/Butterflies, Botanical Jungle Prints - Lost Atlantis Sea/Ocean Prints and Art Deco Designs.
Right - On Trend Colour & Print Mix - Marks & Spencer Per Una SS12 Pastel Aqua Lemons Paisley Scarf Print 60's Retro Tunic Shift Dress.
Colour Mixing - Look for Pretty Pastels, Dolly Mixtures, Sugar Almond, Sweet Pea, Macaroon or Sorbet Ice Tints. Pastels come in every fabric - silks, satins, matt cottons, brocades, textured contrast yarns.

Sixties Silhouette Influences. Nuclear Sharp A-line Neatness. Cutaway Armholes and Halter Necklines. Perfect Preppy Elements. Peter Pan Contrast Collars/Cuffs. Baby Doll Ingénues.

Above Left - New Look Striped Pastel/Black Dress.
New Look Stockist Number: 0500 454 094 or www.newlook.com.
Centre and Right - River Island Dress From River Island SS12 WW Campaign. River Island Stockist Number: 0208 991 4904 or www.riverisland.com.

Twenties Jazz Age Retro Styles - Dropped Waist Dresses. 60s meets 20s.
Peplums - formally Structured to Frilly Swinging Peplums. Sassy 80s Woman. Perky Peplums have become more innovative with origami folds or bell-shapes.
Woman in White - Girly White Lace. Clinical Precision Tailoring. Contrast Edge Bound Trimmings.
Body Beautiful - Midriff Bralets, Hi Tops, Waistline Cut-outs, Cropped Pastel, Denim or Floral Shorts.
Sporty Fitness Fashion - Athletic Track Sports Influenced Easy Wear Pieces for Olympic Moments.
Fifties American Dream - Rock & Roll - 50s Cat's Eye Sunglasses, Preppy Pieces, 50s Retro Car Prints, Cheerleader Midriffs. Bright Scarlet, Cobalt Blue, Turquoise & Green. Polished Looks/Fabrics. Heeled Mules Add Clickety Clack Marilyn Monroe Inspiration.
Pants - Slim Trousers and Coloured Jeans. Silky Pyjamas in Paisley Prints. Right - Warehouse Lace Peplum Top £35, Cream Shorts £40 Warehouse Stockist Number: 0845 122 2251.


‡‡

COLOUR TRENDS

Colour Blocking.
Soft Pretty Pastels. Brights Jewel Colours. Neon Colour Pops.
Pantone Spring 2012 Colours - Tangerine Tango, Solar Power (Gold Yellow), Cabaret (Fuchsia Pink), Sweet Lilac, Margarita (Willow Green), Sodalite Blue, Starfish (Taupe), Driftwood (Rich Grey) & Cockatoo (Sea Green Turquoise).




Above - Pastel Coloured Jeans From New Look SS2012.


TEXTURES
Textured Decorated Daywear.
Marvellous for those who love to bring evening into day or carry day to evening. Shimmer and sparkle, glisten and glow with gemstones, beading and dazzling diamante. Glowing High-Tech materials embedded with studs or metallic foil embellish and brighten everyday wear.
Dolce&Gabbana devotees can find a similar look at high street retailer River Island - Right.
Glossy Leather Ladies - Laser cutwork in dresses, skirts and bags. Metallic leathers.
Naturals & Lace - Broderie Anglaise, Guipure, Whitework, Pin Tucks, Laser Cutwork.
Perfect Pleats Return. Concertina, Sunray, Fine Accordion, Box Pleats. Swathes of Pleat Inserts.

...(v4r)


PRINTS

Powerful Prints:-
The Silk Headscarf Interpreted in Blouses, Tops, Shirts, Skirts, Shoes, Bags Scarves. Equestrian, Paisley and Hermès/Gucci Styled Traditional Scarf Prints for Garments.
Tribal Ethnic Mix - Safari, Tribal, Ikat, Zebra and Leopard Print Looks. Tribal Ethnic Mask Patterns, Bold African Border Prints. Fringe, Macramé, Crochet, Raffia, Loose Weaves. Colourful Beadwork, Moroccan Tiles. Earth, Sand, Terracotta Colours.
Water World - Lost Atlantis Prints - Sea/Ocean Prints. Water Washed Dyes.
Homage to Famous Artist Prints.
Art Deco Designs - Triangle/Skyscraper Beading/Print Patterns - Limited Art Deco Colour Palette.
Florals - Perennial Plant Explosions, Tropical & Botanical Jungle Prints - Exotic Birds, Butterflies, Huge Flora /Leaves.
In a restricted palette such as navy/white or black/white you instantly achieve a neutral expensive classic look.
You are reading an original article on key women's fashion trends for 2012 by Pauline Weston Thomas only for publication on www.fashion-era.com ©.
The Silhouette - The Peplum
Many fashion designers re-introduced peplums into their ranges, but in 2012 the peplum has a different look. It comes in many variations so for this season call it a modern peplum since fashion designers have given it a more architectural shape.
The modern peplum has greater volume, structure and padding to keep that architectural shape alive. It echoes much of the volume led fashions of the past decade
Structured Peplums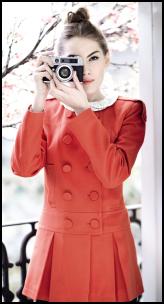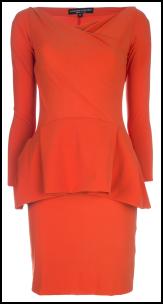 Left - Tangerine Coral Red Box Pleat Peplum Jacket - Various Items At TKMaxx SS12.
Right - LE PETITE ROBE DI CHIARA BONI Peplum Dress £324 :farfetch.com.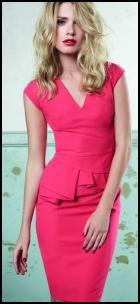 Left - Dorothy Perkins SS12 - Coral Pink Peplum Shift Dress £28.
Right - Marks & Spencer Pastel Pink Peplum Dress.
Phoebe Philo designer at Celine showed a big peplum belt that was a detachable accessory. Peter Pilotto, Osman, Thakoon, House of Dior, Dries van Noten, Jason Wu, Acne and high street store Zara all have peplum elements in their collections. Peplums were added not just to tops and jackets, but also to skirts and as waist highlighting to dresses. See and read about more fashionable peplums on the peplum webpage.
Watch those peplums take hold in 2012 and read more about peplum tops here.
§
The perfect peplum flatters the boyish girl or the curvy woman. The peplum is especially kind to a thick waist whilst flowing over a soft abdomen. The peplum tailors in a feminine way re-sculpting the body imperfect into the body beautiful. Make no mistake about the peplum - it can reshape you into an hour glass silhouette even if you haven't got a single curve and have a straight down boyish figure.
Laser Cutting
Laser cutting is everywhere and not only will you see it in fashion pieces but also in interior items such as lampshades or ceiling light fittings.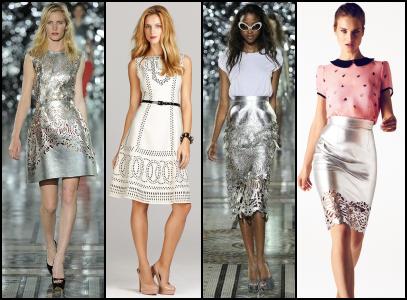 Left - Catwalk Fashion SS12 - Metallic Leather Laser Cut Dress.
Centre Left - Ben de Lisi Laser Cut Dress £110/€170.
Debenhams Stockist Number: 08445616161.
Centre Right - Giles Deacon - Made to Order Silver Laser Cut Leather Skirt.
Right - Marks & Spencer SS12 - Silver Laser Skirt .
Laser cut leather pieces enable intricate patterns to be made and which emulate lace borders. Laser Cut & Embroidered Cowgirl Boots or laser cut bags are an easy way to wear this trend but in a small amount.
Orange Peach to Tangerine Tango Tones
Twenties Hip Focus Dropped Waistlines
Twenties influence was very evident on the catwalks.



Left & Right - SS12 Philosophy Catwalk - Pastel Peach Retro Twenties Dropped Waist Beaded Dresses.
Centre - P.A.R.O.S.H 1920s Decolletè Sequined Dress £419 - Farfetch.com.
Films that are influencing twenties retro fashion silhouettes include W.E; the film depicting Marilyn Monroe's life, plus TV's Downton Abbey and Birdsong.
At Max Mara lace, sequins and fabulous prints were the fabric mainstays of the showcase.
The High Street Tackles The Drop Waisted Dress


Left - Dress By A|Wear SS12.
Right - Burnt Orange Dress - John Lewis SS12.
The use of pastel or strong bold colour, rich pattern and textural passementerie can be found in garments and fabrics. Or add embellishment yourself by accessorizing with brooches and pins. Decorate necklines, hats, bags and scarves with jewellery or trims. Try using clips on the corners of necklines for a true retro touch.
Think of tasselled trims, feathers, rich lavish beading and dropped waist dresses that swish and swing. Elastication was also a feature at No. 21 where Alessandro Dell'Acqua used it the give a new look to hemlines. Peach, toffee, caramel, icy blue and silver were tints to tempt.
Alberta Ferretti collections always seem modern and fresh with spring/summer 2012 no exception. Colours included - peach, mustard brown and yellow, blue, cobalt and emerald. The looks varied from twenties drop waist lines in for example blocks of white with emerald, monochrome slip dresses, to jungle safari styling.
Read more about retro twenties flapper styles and also retro sixties dresses for SS12.
-------v6-------
Art Deco Inspired Flapper Dresses
Tribal meets art deco styling in these boldly designed patterns. The high street does some brilliant takes on catwalk fashion designs. Today fashion is for everyone not just for the latest celebrity.


Left - SS12 Art Deco Twenties Black/Gold/White Catwalk Inspiration.
Centre - High street Interpretation By River Island 2012.
Geometric Aztec Beaded Fringe Ivie Dress £100 - riverisland.com.

Gucci's Frida Giannini also took inspiration from the early twentieth century with Art Deco inspired glamorous party wear. Art deco was evident in the geometric prints and the bold use of striking statement making coloured lining flashes such as emerald or tangerine. Strong colours continued into high waisted silk trousers. Beaded, fringed and chevron patterned drop-waist styles added a Charleston vibe for the modern world.
Variations and spins on Art Deco pattern formations work so well in beaded dresses. The art deco styling of the black and gold dress above adds a retro touch to this beaded shift. This piano keys pattern beaded dress below and shown in nude/black has a twenties feel with its dropped waist and swishy fringe beaded skirt.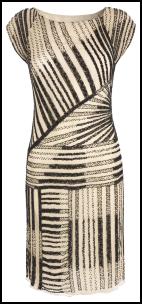 Left - Pastel Contrast. Biba Pastel Nude Beaded Retro Flapper Dress £225/€257. Biba Ivory 'Faith' Clutch £145/€174. All at House of Fraser - Stockist Number: 020 7003 4000. Centre & Right - Ben De Lisi Bead Embellished Dress £150/€232.
Debenhams Clothing - Stockist Number: 08445616161.
Read more about retro twenties flapper styles and also retro sixties dresses for SS12.
Peach Apricot & Burnt Orange
Skirts, Shorts, Jumpsuit, Maxi Dress

These women's fashion looks above very much capture some of the relaxed pastel peach and orange trends of summer 2012.
Left - SS12 Mint Velvet Peach Orange Hip Yoke Summer Skirt - £59/€79.
Mint Velvet SS12 Stockist Number: 0845 456 2200.
Centre Left - Catwalk Fashion By Tibi - Peach Pastel Shorts/Jacket.
Centre Right - Coral/ Orange Jumpsuit £29 La Redoute - Stockist Number: 0844 842 2222.
Right - Primark UK - Limited Edition Orange Maxi Dress £20, Wedge Shoes £16.
Primark Spring 2012 Ladieswear Stockist Number: 0118 9606 300.
...(v4r)
Texture and contrasting textures are so important for 2012.
Consider the following textures:-
Lace
Surface Encrustation
Floral Appliquéd Fabrics
Lustre - Shimmer and Iridescent Sheen
Silk Organza Sheer Sparkle
Glowing Fabrics
Laser Cutwork
Whitework
Pleats & Tucks
Flatter More Subtle Brocade Decorative Fabrics
Cutwork, Laser Work & Beaded Textures
These retro sixties A-line shift tunics can be worn as short dresses or tunics. The beaded dress features birds and the cutwork dress a stylised version of the paisley motif so popular in scarf print fashions.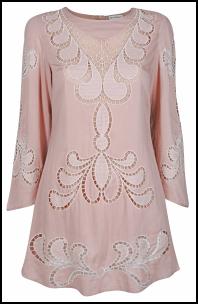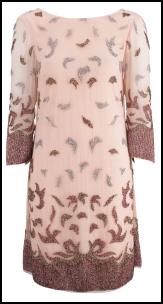 Left - Miss Selfridge SS12 - Pastel Pink Cutwork Dress - £55.
Right - Love Label SLV Pink Coffee Bow Embellished Tunic £65 - Very.co.uk.
Lace & Pleated Textures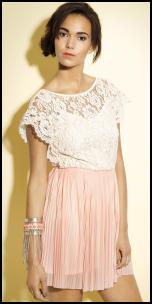 Left - Dorothy Perkins SS12 Pastel Pink Lace Peplum Dress £45.
Right - Miss Selfridge SS12 Ivory Corded Lace & Peach Pleated Dress £45.
Pretty Pastels - Sugar Sorbet Princess. Powder Blue, Pastel Pink, Peach Blush, Lemon Sherbet, Soft Lavender,
Yellow - Sahara Sunset - Yellow to Coral and Tangerine Tango.
Spearmint/Peppermint Green - Aquamarine.
Bold Blues - Cobalt blue is so beautiful. I declare it my favourite colour of 2012. I like it so much I'm decorating my new kitchen with cobalt blue, azure blue and aquamarine soft furnishings.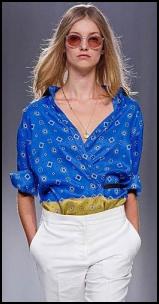 Left - Catwalk Fashions - Paul Smith Cobalt Blue Shirt.
Right - The Skinny Alternative. Phase Eight SS12 Royal Blue Skinny 7/8th Jeans Pants £59, Hemming Stripe Top £49, Leanna Strappy Shoe £125, Snake Tie Necklace £25. Stockist Number: 0207 471 4422 or Phase-eight.co.uk.
You can see and read more about blues and blue print on the blues webpage.
Spearmint Aquamarine Colour Tones
Whether your style is to wear trousers or a ladylike dress, mint/aquamarine tones add the perfect unusual pastel colour to your next new pieces.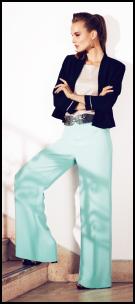 Left - Blouse £25, Pants £39 La Redoute Stockist Number: 0844 842 2222.
Centre - Marks & Spencer SS12 - Deco Diva M&S Jacket £49.50, Top £25, Wide Palazzo Mint Green Trousers £35, Earrings £7.50, Belt £35, Shoes £29.50.
Right - Blouse £25, Pants £39 - La Redoute Stockist Number: 0844 842 2222.
The colours may be similar, but change of texture makes each dress appear quite different. Chiffon fine pleats, lace and brocade all create feminine pieces with a hint of glamour for summer.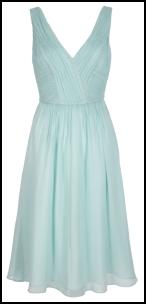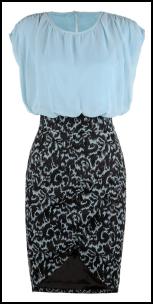 Left - Sea Foam Claire Dress £110/€170 - Monsoon Stockist Number: 08448110068.
Centre - Marks & Spencer Mint Lace Dress.
Right - Very.co.uk Fearne Cotton Brocade Skirt Dress £59.
Read more about aquamarine and mint green fashion styles on this mint green webpage.
Bird Fabric Prints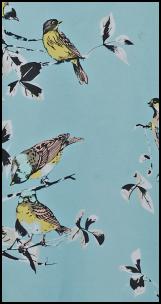 Dress Detail & Right - Dorothy Perkins SS12 Turquoise Bird Print Polyester Dress £32.
Colour Blocking Tangerine /Aquamarine & Pink/Aqua
This season stylist everywhere are teaming orange or coral pink tones with the colour wheel opposites the complementary hues of aqua and turquoise colours.

Left - New Look SS12 - Dip Hem Colour Block Shirt £19.99/€24.99. Mint Green Contrast Trim Running Shorts £17.99/€22.99.
Right - Warehouse Long Line Blue Jacket £60, Tailored Coral Pink Shorts £35, Paisley Scarf Print Blouse £50 - Warehouse Spring Summer 2012.
Warehouse Stockist Number: 0845 122 2251.
Read and see more about colour blocking these two colours here.
More Soft Pastels
Pastels are the latest way with manipulating colour. Take your choice from mixing old brights or soft delicate pastels. Pastels are for everyone.
Read more about pastel colours for women's fashion clothing in 2012..
Likeable Lemon Ladies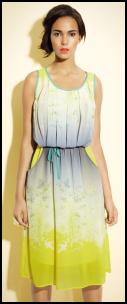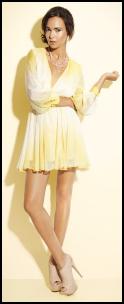 Left - Miss Selfridge SS12 Womenswear.
Centre - Miss Selfridge SS12 Womenswear.
In The Pink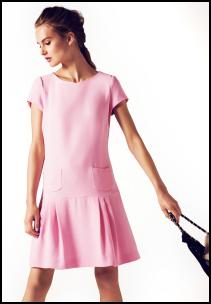 Left - Pastel Colour Mixing on The Philosophy Catwalk SS12.
Centre - Marks & Spencer Park Avenue Pink Mini Dress £39.50, Bag £22.50.
Left - Pastels At Matalan SS12 Women's - Sorbet Coloured Block Vest £7, Multi Hoop Drop Earrings £6, Coloured Skinny Jean £16 Matalan. Stockist Tel: 0845 330 3330.
Prints
Spring Floral Blooms
Art Scene Prints - Think Rodarte/Vincent Van Gogh, Jill Sander/Pablo Picasso.
Afro Tribal/Jungle Mix
Paisley Patterns
Classic Prints - The Easy Way Out - Try Spots and Stripes Trend.
Below dresses featuring border prints that meander and soften in motif size and colour depth.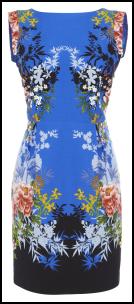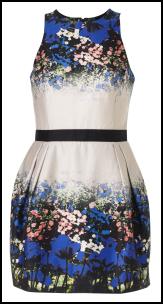 Left & Centre - Oasis SS12 Blue Print Dress.
Right - Primark Flower Print Dress £15.
Primark UK Ladieswear Stockist Number: 0118 9606 300.
Peter Pilotto's fashion show had the most beautiful prints with detailed sculptured shapes making each garment a piece of art.
More print was at Jonathan Saunders with paisley print shots and frocks in pastels that spread in Ombre wave bands from richer tones at hemlines softening to paler shaded above. Polka dot bib dresses offered softer more classic pattern for those scared of big prints.
Beautiful blues feature in many prints and plains.
Printed Pyjama Palazzo Pants
Printed Pants have captured the imagination of fashionistas.



Left - Blue Floral Trousers €50/£38 - NEXT. NEXT Stockist 0844 844 8000.
Belt £25, Earrings £7.50, Necklace £15, Bracelet £7.50 Marks & Spencer.
Centre - Gucci Printed Silk Pyjama Trousers - Farfetch.com.
Right - Blue & White Scarf Print Pyjama Pants.
Choose from patterned pants that are skinny or wide. Both suit print fabrics.
Paisley prints offer incredible variety in SS12. In multi colours the paisley motif looks joyful and trades on its Indian heritage of spectacular colour mixing.
Palazzo pants have a holiday feel and all that air makes them a good bet in a hot climate where coverage is good for insect protection.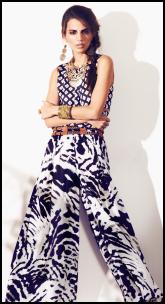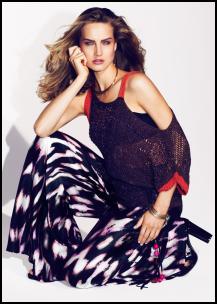 SS12 Culture Clash M&S Top £22.50, Navy & White Wide Print Trousers £35.
SS12 Culture Clash Per Una Speziale Top £45, Trousers £59, Shoes £29.50, Necklace £9.50, bracelet £7.50 - All Marks & Spencer.
At Alexander McQueen, Chanel and Givenchy the sounds of the sea gave inspiration to designers who interpreted a world of the Lost Atlantis.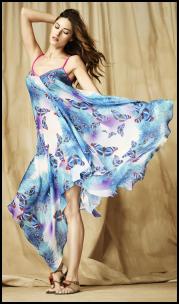 Left - Monsoon Optical Psychedelic Sleeveless V-neck Oceana Dress £100/€155 - Due May 2012. Monsoon Stockist Number: 08448110068.
Centre - Butterfly Print Dress - Monsoon SS12 -Stockist Number: 08448110068.
Right - Claire Sweeney Tie Dye Maxi Dress £55 - Fashion World SS12 Womenswear - Stockist Number: 0871 984 7550 fashionworld.co.uk.
At McQueen Sarah Burton showed ethereal gowns that were inspired by coral reefs. Mermaids and clamshells gave inspiration too - think fishy and waterworlds.
Paisley patterns combined with delicious deep blues add a richness to print that is enhanced by simple tunic shapes where the print takes centre stage.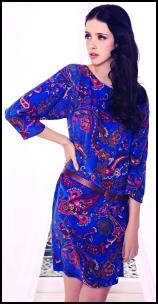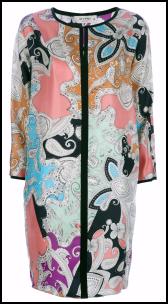 Left - Viyella Ocean Paisley Short Dress £175 - Viyella SS12 Ella - Stockist Number: 01845 573 120 or Viyella.co.uk.
Right - Etro Paisley Dress £575 Farfetch.com.

Simple tunic shift dresses show prints to best advantage when the dress is shorter.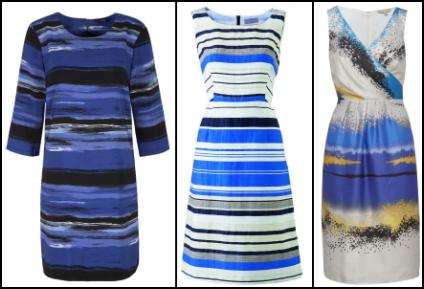 Left - Blue Brushstroke Stripe Dress £16 George at ASDA.
ASDA SS 2012 Stockist 0800 952 0101.
Centre - Blue/White Stripe Dress £45 ISME SS12 WomensWear.
Right - M&Co Boutique Blur Seaside Stripe Dress £85. M&Co SS12 Womenswear.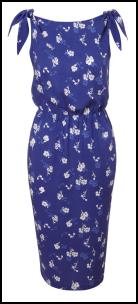 Right - Oasis SS12 Blue Flower Dress on White.
Right - Apricot SS12 - Rich Blue 50's Floral Pencil Skirt Dress.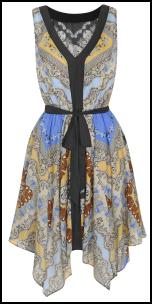 Left - Catwalk Lookalike - Scarf Print Handkerchief Hem Dress BHS £30.
Right - Dolce&Gabbana SS12 Scarf Dress.

The horse emblem, paisley and leather hardware imagery was used on many pieces of clothing and accessories and fitted perfectly with the history of Gucci in its 90th year. It looks especially good in scarf print blouses. But expect to see scarf prints across the whole spectrum of garments including dresses and pyjama styled trousers.
The high street has their version of silk foulard styles.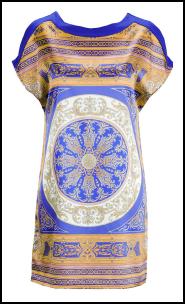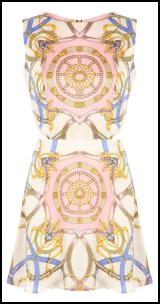 Left - Blue/Gold Scarf Circle Kaleidoscope Border Print Tunic Dress From SS12 Very.co.uk.
Right - Missguided Scarf Print Dress - Spring Summer 2012 - Stockist: missguided.co.uk.
The Classic Scarf Print Shirt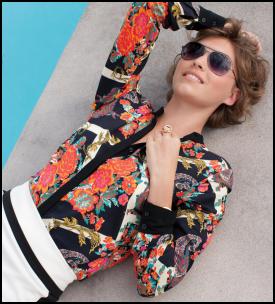 Left - NEXT Red Roses Scarf Border Print Black Shirt £30/€40, Ring £6/€8 - Both NEXT Clothing - Stockist Number: 0844 844 8000.
These scarf prints make use of the borders associated with silk scarf prints and they are incorporated into the garment design and cutting.
Foulard Silk Scarf Border Prints
Today Hermès and Liberty still makes silk foulard headscarves. In the past square silk headscarves were often made in a beautiful glossy richly patterned silk material known as silk foulard. Today silk foulard is still used, but since the middle of the C20th many silk scarf materials have been made from satin polyester.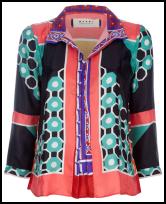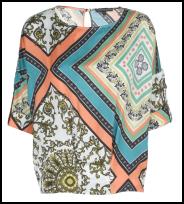 Left - Minted! Etro Paisley Blouse £575 - Stockist Number: www.farfetch.com.
Right - Skinted! Marks & Spencer Scarf Print Blouson Top.
Dependant on the grade of polyester used, it can sometimes be almost impossible to distinguish between the fabrics at first glance. It is only on handling and wearing the fabric that the wearer notices differences in drape and feel, especially in hotter climates. Since this type of pattern is as distinguishable as the same found on headscarf foulard, retailers in 2012 are once again describing these garments as foulard prints.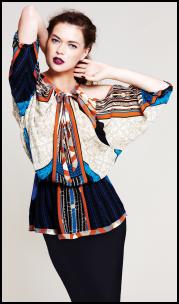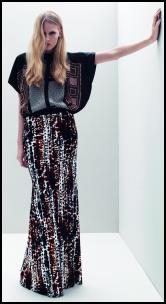 Left - Top £14, Skirt £10 by F&F Womenswear Spring Summer 2012 - Tesco.com.
Right - Hobbs Unlimited Spot Print Scarf Blouse, £129/€150. Animal Maxi Skirt, £139/€160 - Stockist Number: 0845 313 3130 - Hobbs.co.uk.
For SS12 D&G used inspirational silk foulard printed squares to create designs and accessories that stretched the imagination. Orange apple and fuchsia all clashed baroque-style patterns as prints were mixed in a joyful way.
You can read and see more silk scarf prints here.
Bralets, Crop Tops & Sundress Bodices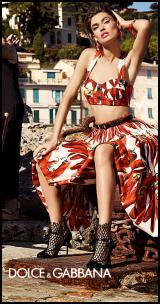 In Milan for Spring Summer 2012 Dolce & Gabbana showed fitted and flaring circle frocks with the inspiration clearly Italian. Continuing the 50s theme Dolce and Gabbana mixed high waist circle skirts with pin up girl corset bra crop top sun and swimwear.
Yes - the crop top is back, but only for those with superb abs. If you have any flab forget this look unless you are prepared to spend hours in the gym or doing Pilates. Please don't show that muffin top as this look sits above high waisted trousers. It's not low slung, or on the hip, but firmly placed well above the waistline.

Left - Miss Selfridge SS12 - Peach Bra Top & Pastel Stripe Skirt.
Right - River Island Black Gold Stud Embellished Bastille Bra Top TBC, Naomi Skirt £85.
Both Riverisland.com.
For 2012 D&G obliged with bling accessories of charms and pile 'em high gold chains which the high street has emulated so well.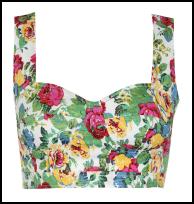 Left - Boohoo SS12 Penny Crop Bra Top £20.
Stockist Number: 0161 237 7700 - Boohoo.com.
If you feel you want to wear this fashion then consider how you can make it more elegant with a less is more attitude. if you are not on the beach then wear it well.
Wear a simple jacket or semi sheer blouse to soften all that exposure in an era of more modest looks. Note how high waisted these peg harem trousers below are when teamed with a bra band.

Left - Anthony Vaccarello White Jacket £125, Bust Band £9, Pants £89 - La Redoute Anthony Vaccarello - Stockist Number: 0844 842 2222.
Right - Monsoon Semi Sheer Pippa Shirt, Jafar Trousers, Lydford Sandals.
The tropical border on the skirt and bra above are another take on the hothouse jungle prints so abundantly used in dresses, skirts, blouse and pants for 2012.
You are reading an original 2012 women's fashion trends article by Pauline Weston Thomas only for publication on www.fashion-era.com ©.
Bold dynamic unusual prints have earthy ethnic tribal motif elements which are combined with a melange of pseudo animal prints. These tribal prints are straight from the designer's vivid imagination and the facility of a psychedelic approach to the possibilities within digital printing.
At Max Mara Spring Summer 2012 - tobacco, aquamarine, beige and gold, were the colours of summer.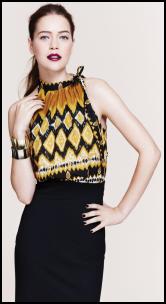 Left - F&F at Tesco Top £12, Skirt £16 - F&F Womenswear Spring Summer 2012. Stockist Number: 0800 505555.
Right - F&F Womenswear Spring Summer 2012, Top £12, Bag £8, Shoes £22 and Sunglasses £5 by F&F. Belted skirt £18 by F&F Limited Edition. Stockist Tesco.com/clothing.
Yellow ochre, tan and black highlight the earth tribal ikat relationship. This year designers have played with stripes, geometric zig zag or the suggestion of animal striations to create modern prints that appear simple, yet are strikingly effective.
See more tribal fashion styles on the SS12 tribal webpage
§
Maxi Dresses have continued to attract fans as they are well suited to all day dressing for holidays. The loose flowing lines and gorgeous prints means that a wide range of body figure types feel happy and comfortable in a maxi dress.
Tropical Hothouse Flower Print Maxi Dresses
The maxi dress is especially suited to exotic prints that flow up the length of the skirt dress. Border prints and tiers of frill also utilise fabric cutting to show off the printed fabric to maximum effect.


Centre - Wallis SS12 - Tropical Red Flower Animal Print Maxi Dress.
Right - Monsoon Gazella Print Maxi Dress £225/€350 Stockist Number: 08448110068.
As it is intended for daywear a true maxi dress unlike an evening dress should hover at the ankle and allow the wearer to show off pretty sandals or shoes. Maxis are often yoked, empire line or halter necklines and as beachwear offer easy comfort for those who wish to go braless. Yummy mummies also find a maxi dress an attractive alternative to other maternity wear!
Flowing maxi dresses are often made in less expensive materials as they can be used as beach cover up wear. Crinkle cotton or viscose fabric offer value for money, are cool to wear and flow well. Dresses with halter necklines allow the wearer to tan and stay cool. The women's maxi dresses above show how effective striped arrangements can look especially up to date when the fabric has a tribal fashion look.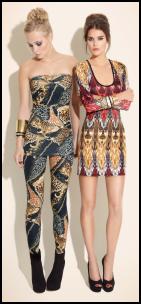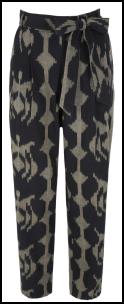 Centre - Miss Selfridge Tribal Print Fashion Pieces SS12.
Right - Monsoon Ikat Print Trouser £45/€70 - Stockist Number: 08448110068.
Abstract tribal animal inspired prints in dark and brooding earthy tones are also used for jeggings, treggings and flowing pants.
Floral prints and border prints add a dimension that make some garments appear to be a complete tropical jungle or garden scene.
These tropical print dresses are all very different, but each uses the hothouse print them to make a style very different from the piece next to it. Orange, desert ochre and contrast blue are some of the typical colours available in tribal pieces.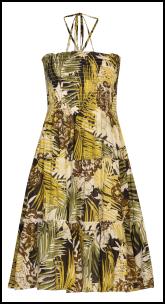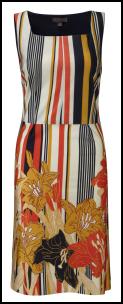 Left - River Island SS12 Tropical Flower Fifties Tie Halter Neck Dress.
Centre - Boohoo Jungle Tribal Print Yellows Sundress. TBC.
Right - Sunset Pencil Dress, White, £59.99 Fever Designs Spring Summer 2012 - Fever Stockist Number: 020 7636 6326.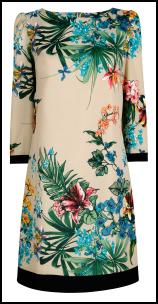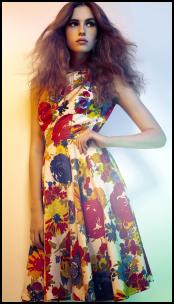 Left - Border Print Dress TBC - John Lewis
Right - Phase Eight SS12 - 50's Full Skirt Floral Print Prom Dress.
See more tropical fashion styles on the SS12 tropical prints webpage
Sports Follower
Luxe sportswear takes inspiration from the track or field. This look embraces techno fabrics. Look for silky track pants, tops with sheer mesh panels, racer backs, go faster stripes that define garment shapes on shoulders and leg seam lines.
At Max Mara Spring Summer 2012 Neoprene shell tops, pencil skirts, and tube dresses gave a slim line silhouette with an added sporty touch marked by elasticated wrists and collars. All ideal in an Olympic year. MaxMara luxury label's collection uses a clean uncluttered sleek silhouette that uses high performance fabrics in desert sand colours as well as leather and organza.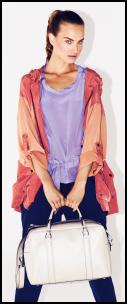 Left - SS12 M&S Trackstar Limited Coral & Peach Colour Blocking Parka £65, Lavender Lilac Top £25, Trousers £22.50, Bag £89 - All Marks & Spencer Ladies Fashion.
Centre - New Look SS12 - Yellow Neon Sheer Shell Shirt £19.99/€24.99 Under Orange Neon Bandeau £3.99/€4.99, Nude With Neon Go Faster Stripe Tracksuit Pants £22.99/€29.99 - Newlook.com.
Right - Green Oversized Green Sports Team Number Jersey T-shirt £14.99/€17.99, Yellow Pleat Midi Skirt £19.99/€24.99 - Newlook.com.
For practical sporty cover up consider layering of cycling shorts with tunic dresses. for outer cover choose lightweight zipped hi tech parka/anoraks from long to short lengths.
If you like more girly looks and are currently fixated on dresses then try this River Island body con dress which makes use of this effect with a contrast mesh insert. See more sporty styles here.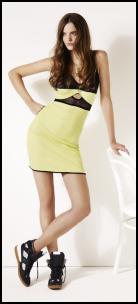 Left & Centre - River Island SS12 - Hartley Neon Lemon Aertex Dress, £40 - River Island SS12 WW Clothing Stockist Number: 0208 991 4904 or Riverisland.com.
Knitwear
Spring has brought new life to separates with statement knitwear. Buy one outstanding knit piece and wear it with similar toned, but contrasting texture pieces on the bottom half. Choose from matte or lustrous yarns, silk and cashmere mixes or cotton with rayon and linen for a cooler top.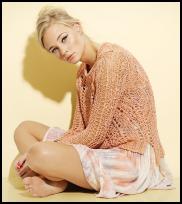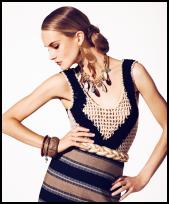 Right - Miss Selfridge SS12 Womenswear Separates.
Right - M&S Crochet Vest. Tribal Natural Earth Inspired Knit Crochet Vest Top With Tribal Look Costume Jewellery.
Knitwear is set to make strong fashion statement for Autumn 2012 so get stocking up on all season quirky knitwear now.
Women's Footwear Styles for Summer 2012
Strappy Ankle Boots
Spotted Shoes
Striped Shoes
Floral Shoes
Deep Wedge Shoes
Decorative Trainers
Heeled Mules - Clickety Clack Marilyn Monroe Inspiration.
Shoes Covered In Crystal, Rhinestones, Sequins.
Laser Cut & Embroidered Cowgirl Boots
Masculine Watches
Stacked Bold Chunky Bangles Cuffs
Gold Choker Collars - Ancient & Tribal styles
Glorious Gypsy.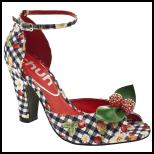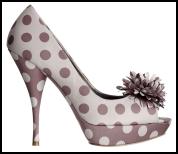 Left - Schuh Cherry Pie Check Fruit Print Ankle Strap Peep Toe Shoe £45/€60 Schuh Spring Summer 2012 Collection - Stockist www.schuh.co.uk.
Right - Faith Fried - Spot Shoe £68/€92 Faith At Debenhams Footwear Stockist Number: 08445616161.
Handbags for Summer 2012
Diane von Furstenberg has said 'your handbag is your home during the day' and I really do agree with her - it is so important to be happy with your handbag.
Fashion History Note - Dolce & Gabbana 2012
Domenico Dolce and Stefano Gabbana's announced that After the SS 2012 show D&G, their diffusion range, will become part of Dolce&Gabbana. Future shows will merge the two brands.
You are reading an original 2012 fashion trends article by Pauline Weston Thomas only for publication on www.fashion-era.com ©.
Copyright of images courtesy of Prshots.com, Apricot, A|Wear, BHS, Boohoo, Dorothy Perkins, Debenhams, Fever, farfetch.com, fashionworld.co.uk, F&F at Tesco, George At Asda, Hobbs, House of Fraser, Isme, John Lewis, La Redoute, Marks & Spencer, Matalan, Mint Velvet, Miss Selfridge, M&Co, missguided.co.uk, Monsoon, New Look, NEXT, Oasis, Phase Eight, Primark, River Island, schuh.co.uk. Swarovski, TKMaxx, very.co.uk, Viyella, Wallis, Warehouse.
Date Added 24 Feb 2012 - Ref: P.872.
If you like this page then please share it with your friends
---
-------- Link Pink ---------
For more information on ladies and teens fashion trends go to:-
Archived Sections
Custom Search
About Fashion-Era.com
Fashion-Era.com looks at women's costume and fashion history and analyses the mood of an era. Changes in technology, leisure, work, cultural and moral values. Homelife and politics also contribute to lifestyle trends, which in turn influence the clothes we wear. These are the changes that make any era of society special in relation to the study of the costume of a period.

Fashion-Era.com can take no responsibility for any information on the site which may cause you error, loss or costs incurred from use of the information and links either directly or indirectly. This site is owned, designed, written and developed by author: Pauline Thomas and Guy Thomas. This site is designed to be viewed in 1024 X 768 or higher.
ALL RIGHTS RESERVED. Fashion-era.com reserves the right to add or delete information, graphics and links. Copyright © 2001-2014 on all content, text and images in Fashion-era.com. Images and text in this website may not be used on other websites.
Before you write to me for costume/fashion help or information please, please consult the extensive sitemap which lists all our pages. If you still cannot find the answer after searching the site, then before you email me, please consider if you are prepared to make a donation to the website.
Donations
Reader's donations help this site flourish, in particular donations encourage me to write more articles on fashion history as well as current trends. PayPal allows anyone with a credit card to donate easily and securely. You may donate any sum you feel appropriate.