Pleated & Lace Fabric Fashion Trends Spring Summer 2012
This is a review of the key pleated and lace fashion looks for the spring summer season. You are reading an original article about decorative daywear and evening trends for 2012 by Pauline Weston Thomas only for publication on www.fashion-era.com ©
Right:-
Colour Block Pleated Skirt - Wallis SS12.

Top Trends for Summer 2012
Left - Pleated Peach Pink Party Dress £120/€192 - Modern Romance SS12 Collection at Kaliko.
Texture and contrasting textures are a growing trend for 2012. A whole generation of young women will be new to fine pleats. Compared to the past, today's modern fabric finishes help to create uncrushable materials designed to keep the wearer looking reassuringly good all day. This is always desirable for day long events such as weddings.
Many of these pieces are intended for daywear and bring to fashionwear a delightful term - decorative daywear.
Looking for some romance in fashion, then wear these pieces day or evening and just feel good about yourself. Or, if you only dress up for events select them for occasion party wear as a colourful change from that little black dress.
Colour Blocked Pleats
Pleats come plain and colour blocked. Colour blocking takes the form of neon brights, bold brights and pastel blocking.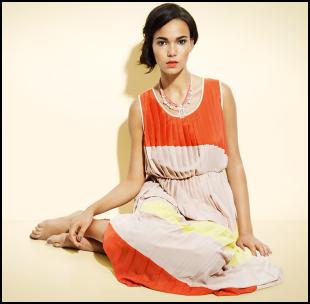 Miss Selfridge Summer 2012 - Tangerine Orange, Lemon & Pale Nude Pleated Dress.
Warm Colours For Pleats
These two colours are Pantones Spring Summer 2012 Cabaret - Pantone 18-2140 (hot pink colour) and Pantone's Tangerine Tango - Pantone 17-1463.
When white is added to these colours to make a tint a whole range of coordinating soft pastels emerge.
Colours move through the spectrum from hot pink, burnt orange, soft coral to the lightest peach and gold.
Fine pleats are a miracle of modern technology. Modern pleats travel well and arrive uncrushed, making pleated dresses great occasion wear for a social gathering that involves long distance travel.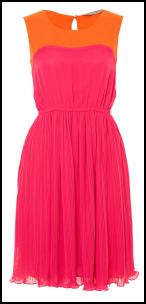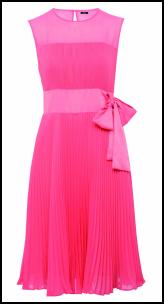 Left - A|Wear Orange & Bright Pink Colour Block Pleated Dress £50/£45.
Colour Couture A|wear Stockist Number: 00 353 1 4724900.
Right - M&Co Boutique - Shocking Pink Fine Pleat Dress With Sash £79.
Note the higher necklines on dresses. Modesty has been combined with allure in the yoked semi sheer upper bodice a style so reminiscent of the fifties and sixties.
Sashes in satin or lustrous silk organza add a flamboyant touch, with the effect of a beautifully tied up box of chocolates or a prize chocolate Easter Egg (with a waist of course). Think Mad Men and Betty Draper.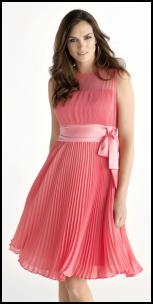 Left - M&Co Boutique Salmon Coral Pink Pleat Chiffon Dress £79.
M&Co SS12 Womenswear Stockist Number: 0800 0317 200.
Right - Pastel Perfect Mix - Oasis SS12.
Salmon Orange Pleated Skirt & Lemon Mix Top.
‡‡
These colour block pleated dresses in bold brights sorbet pastels are all suitable for occasion wear, the races or weddings.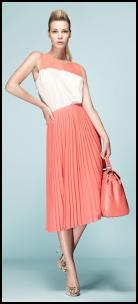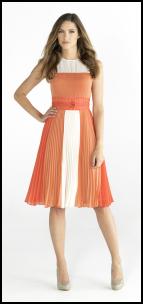 Right - House of Fraser SS12 - Coral/White Silk Vest £79, Coral Pleated Midi Skirt £99, Coral 'Palermo' Satchel £185, Natural 'Ateeka' Court Shoes £150 all Pied a Terre At House of Fraser - Stockist Number: 020 7003 4000.
Left - M&Co Boutique Colour-Block Pleat Dress £79.
You are reading an original 2012 pleats and lace decorative daywear and evening fashion trends article by Pauline Weston Thomas only for publication on www.fashion-era.com ©.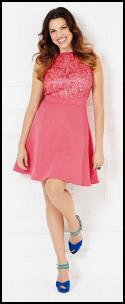 Left - No pleats on these dresses but notice the similarity of styling. A Salmon Pink SS12 Embellished Bodice Dress. Dress By Warehouse £75 - Warehouse Stockist Number: 0845 122 2251.
Right - Coral Pink Lace Bodice Dress. Love Label Lace Detail Prom Dress €69 Littlewoods Ireland - Stockist Number: 01 811 22 22.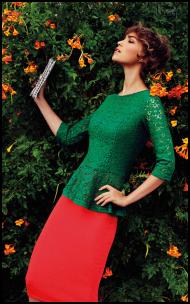 Green Lace Peplum Top. TBC.
Texture and surface encrustation is the theme of decorative daywear for 2012. The following textures are mixed together to create gloriously rich garments that glow with laser cutwork, pleats, lace, whitework, piped edges, applied fabrics and tucks. Shimmer, sparkle and iridescent sheen is provided by lustrous silk organza.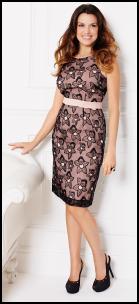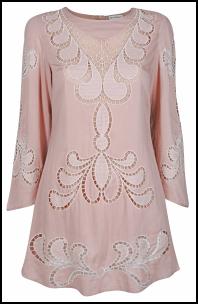 Right - Plus Size Lace Dress - Evans.
Miss Selfridge SS12 - Pastel Pink Cutwork Dress - £55.
The pretty pleated waisted dresses like those shown above and the Kaliko dress immediate left above, are all ultra feminine and assume you have the ideal figure form. If you love a dress like this one by Kaliko, but your arms have lost their firmness, check out Kaliko or Phase Eight lacy cover-ups and see how good you can look.
But, what if they don't suit your body shape. If your waist is not your best figure feature you'll be thrilled to find alternatives such as the retro body sixties skimming slimming shift dress below or the generously cut plus size black/nude lace dress above from Evans. Evans make plus size clothes and proportions are adapted to the fuller figure.
This decorative daywear A-line shift can be worn as a short dress or as a tunic.
Nude Tones - Pleats & Lace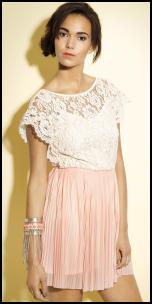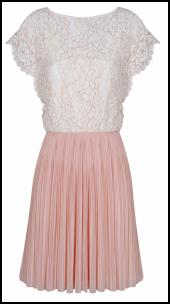 Left & Centre - Miss Selfridge SS12 Ivory Corded Lace & Peach Pleated Dress £45. Also shown in header.
§
Surface Encrustation, Lace & Floral Appliquéd Fabrics
Features of decorative daywear include girly white lace and chic woman. This works well as "Woman in White" and invariably the look is expensive.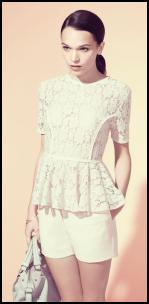 Left - White Dress By John Lewis SS12.
Centre - Warehouse Lace Peplum Top £35, Cream Shorts £40 Warehouse Stockist Number: 0845 122 2251.
Left - Dorothy Perkins SS12 Pastel Pink Lace Peplum Dress £45.
The two lace items both have lace peplums.
Watch those peplums take hold in 2012.
Many fashion designers re-introduced peplums into their ranges, but in 2012 the peplum frequently has a different look. It comes in many variations and is often stepped. pleated or half a peplum. So for this season call it a modern peplum since fashion designers have given it a more architectural shape.
The modern peplum has greater volume, structure and padding to keep that architectural shape alive. It echoes much of the volume led fashions of the past decade. Read and see more about peplums here.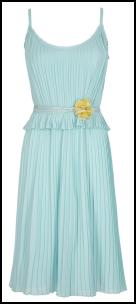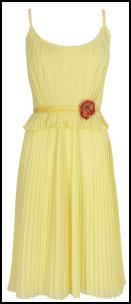 Left & Centre - Monsoon Lemon or Aquamarine Lauren Dress £100/€155.
Monsoon Stockist Number: 08448110068.
Kaliko Spring Summer 2012 - Stockist Number: 01582 399809.
Right - SS12 M&Co Lemon Accordion Fine Pleat Dress.
Coloured Lace Looks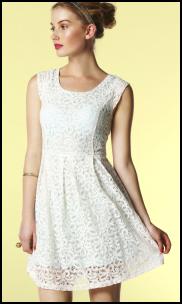 Left - Apricot - White Lace Dress With Pastel Peppermint Green Under-Layer.
Centre - Lemon Dress - Marks & Spencer SS12.
Right - Left - Marks & Spencer Mint Lace Dress.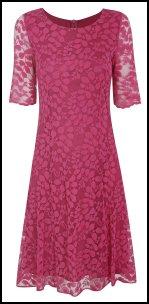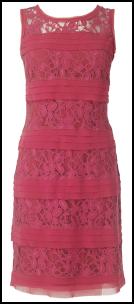 Right - Deep Pink Lace Dress - Wallis SS12 'W' Collection.
Right - Pink Lace & Pleat Layer Dress - Phase Eight.


Centre - Kaliko SS12 Blue Cotton Lace Dress £120/€192 Kaliko Spring Summer 2012 Stockist Number: 01582 399809.
Centre - Erdem Catwalk Lace White Dress.
Right - Salmon Pink Boutique Lace Dress £79 M&Co Womenswear.
Lace Neutrals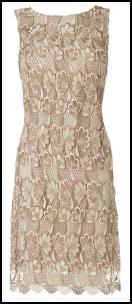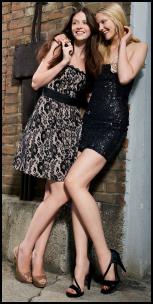 Left - Phase Eight SS12 - Ecru Lace Straight Shift Dress.
Right - Black & Rose Lace Dress. VM by Vera Mont "Sevilla" (Left) "San Salvador" (Right).
This princess-style dress with fitted bodice in Black Rose simply oozes playful elegance! The combination of the rosé-coloured underskirt with black bonded lace and the floral pattern gives the dress a unique character. This sexy sequinned dress is figure-hugging and sparkles in seductive black. A nude-colour silk flower at the neckline is an eye-catching feature on this evening outfit – ideal for parties. UK₤200, IRL€205. Sequin Dress UK₤165, IRL€170 - Vera Mont Spring Summer 2012 - Stockist Number: 020 7411 0322.
4---------M4--------4
You have been reading an original 2012 pleats and lace decorative daywear and evening fashion trends article by Pauline Weston Thomas only for publication on www.fashion-era.com ©.
Copyright of images courtesy of Prshots.com, Swarovski, Marks & Spencer, Monsoon, Warehouse, Farfetch.com, Wallis, M&Co, La Redoute, Vera Mont, Phase Eight, Apricot, Kaliko, Lovarni, John Lewis, Monsoon, Oasis, A|Wear, Evans, Littlewoods, House of Fraser.
Date Added 24 Mar 2012 - Ref: P.882.
If you like this page then please share it with your friends
---
-------- Link Pink ---------
For more information on ladies and teens fashion trends go to:-
Archived Sections
Custom Search
About Fashion-Era.com
Fashion-Era.com looks at women's costume and fashion history and analyses the mood of an era. Changes in technology, leisure, work, cultural and moral values. Homelife and politics also contribute to lifestyle trends, which in turn influence the clothes we wear. These are the changes that make any era of society special in relation to the study of the costume of a period.

Fashion-Era.com can take no responsibility for any information on the site which may cause you error, loss or costs incurred from use of the information and links either directly or indirectly. This site is owned, designed, written and developed by author: Pauline Thomas and Guy Thomas. This site is designed to be viewed in 1024 X 768 or higher.
ALL RIGHTS RESERVED. Fashion-era.com reserves the right to add or delete information, graphics and links. Copyright © 2001-2014 on all content, text and images in Fashion-era.com. Images and text in this website may not be used on other websites.
Before you write to me for costume/fashion help or information please, please consult the extensive sitemap which lists all our pages. If you still cannot find the answer after searching the site, then before you email me, please consider if you are prepared to make a donation to the website.
Donations
Reader's donations help this site flourish, in particular donations encourage me to write more articles on fashion history as well as current trends. PayPal allows anyone with a credit card to donate easily and securely. You may donate any sum you feel appropriate.