Pastel Colour Trends for Spring Summer 2012
This is a review of the key pastel fashion looks for the summer season of 2012. This article describes in detail the main pastel styles in women's dresses, jeans, shorts and other feminine fashion.
This year soft pretty gentle sugar sorbet pastels give bright jewel and neon hues a run for their money. Pale colours are a hot fashion trend. Everyone can instantly update their wardrobe at budget friendly ticket prices in 2012. Retailers have sourced plenty of coloured jeans and shorts in pastel colours for 2012.
Right - Perfect Pastel Pants - Lilac jeans from Republic and teamed with the latest cropped floral bustier bra top.


Colour blocking continues to be important for fashion in 2012. Pantones' colours include tangerine tango a hot bright orange, but softer paler colours like pastel peach is in line with the mood for pastel tints. The softer Pantone hues include Sweet Lilac, a pastel Willow Green and Cockatoo a mellow sea green.
Right - Pantone Sweet Lilac Colour 14-2808.
Left - Colour Pantone - Cockatoo 14.5420.
Add white to any of these colours and you get pretty softer pastel tints of the same colour base.


Above Left - PANTONE 14-0116 Margarita - A piquant yellow-green.
Above Right - PANTONE 18-3628 Bellflower - A distinct ornamental purple.


Above Left - PANTONE 13-0759 Solar Power - An energetic yellow.
Above Right - PANTONE 18-2140 Cabaret - A rosy red.
Mix the colours up and you get pretty prints like this Aztec styled top.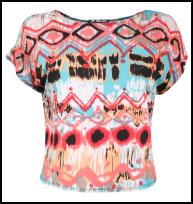 Tribal Aztec Print Top in Multi Colour £12.99 Pilot Clothing Stockist Number: +44 24 7671 8834 - pilotfashion.com.
New Look a UK retailer with fast fashion appeal sell many budget line garments and they offer many garments in paler colours - these pastel jeans are a great example of their ability to get catwalk looks to high street level.
Other retailers across the high street such as Dorothy Perkins, Marks & Spencer also have pastel tint jeans and pants in their ranges too.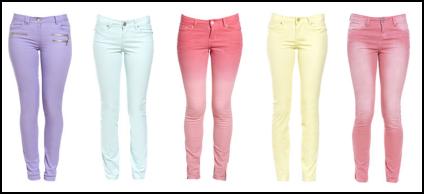 Above - Pastel Coloured Jeans From New Look SS2012.
In 2012 you will be spoilt for choice when it comes to selecting a new pair of pastel coloured holiday jeans.
You are reading an original pastel colour trends summer 2012 fashion article by Pauline Weston Thomas only for publication on www.fashion-era.com ©
‡‡
At D&G the shortest of shorts caught the mood and these pastel shorts below available at Penney or Primark will give you change from a tenner.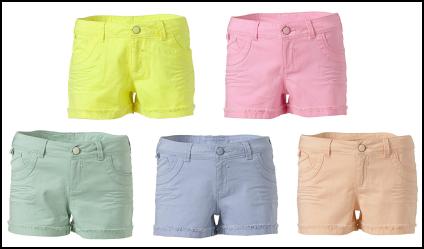 Basic Pastel Colour Shorts €7 In Stores End Feb - Penneys (Ireland).
Little easy over-blouse tops compete with the crop top. But whichever you select the pastel top is the ideal top for teaming with jeans or cotton shorts.

Left - Miss Selfridge SS12 - Peach Bra Top & Pastel Stripe Skirt.
Right - Republic SS12 Pastel Pink With Denim Fashion.
...(v4r)
Yes - the crop top is back, but only for those with superb abs. If you have any flab forget this look unless you are prepared to spend hours in the gym or doing Pilates. Please don't show that muffin top as this look sits above high waisted trousers. It's not low slung, or on the hip, but firmly placed well above the waistline.
Summary - Top 2012 Spring Summer Fashion Trends
Fashion Looks - The strongest fashion trend stories for Spring & Summer 2012 include Pretty Pastels, Peplums, 60s A-line Silhouettes, 1920's Jazz Age Retro, Red to Tangerine Peach Tones, Perfect Pleats, Leather & Lace, Sporty Styling, Summer Body Reveal - Midriff Hi Tops & Shorts. This is all shown on the main SS2012 fashion trends page.
SS12 Catwalk Colours
All of these new season fashion moods acknowledge pastel colours as such an important fashion element. The delicacy of pastel tints combined with silks and suede all add extra luxury factors to the ownership of such garments.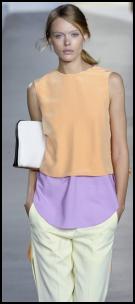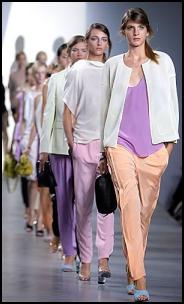 Left & Right - Philip Lim Catwalk - Pastels Top, Pastel Peach & Lilac Mauve Pants.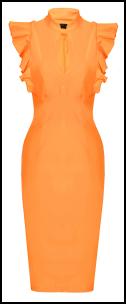 Left - Catwalk Fashion By Tibi - Peach Pastel Shorts/Jacket.
Centre - Hybrid Frill Apricot Orange Pencil Dress £85 Lovarni.com.
Far Right - SS12 Mint Velvet Peach Orange Dropped Waist Hip Yoke Summer Skirt - £59/€79. Mint Velvet SS12 Stockist Number: 0845 456 2200.
‡‡
Pastel Peach Apricot Twenties Hip Focus Dropped Waistlines
The 1920s look has dropped waists and peach or oyster pastels suit this look so well.

Above Left & Centre - SS12 Philosophy Catwalk - Pastel Peach Retro Twenties Dropped Waist Trimmed & Beaded Dresses.


Above Centre Right - Pastel Contrast Biba Pastel Nude Beaded Retro Dropped Waist Flapper Dress £225/€257. Biba Ivory 'Faith' Clutch £145/€174. All at House of Fraser - Stockist Number: 020 7003 4000.
Films that are influencing twenties retro fashion silhouettes include W.E and TV's Downton Abbey. The dropped waist adds a new dimension to dresses which until now have focused more on body con styling.
On the catwalk beaded, fringed and chevron patterned drop-waist styles added a Charleston vibe for the modern world. Fringe always adds a twenties touch and some tops almost morph into dresses when the fringe reaches the ankles as this one right does.
Above Right - Miss Selfridge Lemon Top £45.
Left - Pastel Lemon Beaded Retro Twenties Flapper Dress From New Look.
Colours
Pretty Pastels - Sugar Sorbet Princess. Powder Blue, Pastel Pink, Peach Blush, Lemon Sherbet, Soft Lavender = Pastel Colour Blocking.
Yellow - Sahara Sunset - Yellow to Coral and Tangerine Tango.
Spearmint/Peppermint Green - Aquamarine.
Lemon & Pink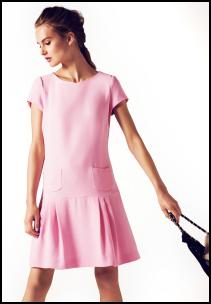 Left - Pastel Colour Mixing on The Philosophy Catwalk SS12.
Centre - Marks & Spencer Park Avenue Pink Mini Dress £39.50, Bag £22.50. Also shown in header.
Left - Pastels At Matalan SS12 Women's - Sorbet Coloured Block Vest £7, Multi Hoop Drop Earrings £6, Coloured Skinny Jean £16 Matalan. Stockist Tel: 0845 330 3330.
-------v6-------
Pastel Peplums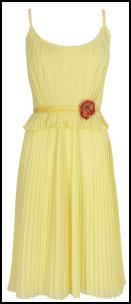 Right - Marks & Spencer Pastel Pink Peplum Dress.
Left - Monsoon Lemon Lauren Dress £100/€155 - Due April.
Monsoon Stockist Number: 08448110068.
Colour Mixing - Look for Pretty Pastels, Dolly Mixture, Sugar Almond, Sweet Pea, Macaroon or Sorbet Ice Tints. Pastels come in every fabric - silks, satins, matt cottons, brocades, textured contrast yarns.
Lemon & White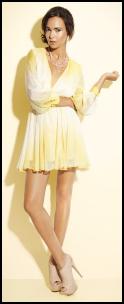 Left - Pale Lemon Dress - Marks & Spencer SS12.
Centre - Miss Selfridge SS12 Pale Lemon & White Dress - Womenswear.
Right - Monsoon Lemon Brocade Cambridge Dress - £95/€150. Monsoon Stockist Number: 08448110068.
Peplum Top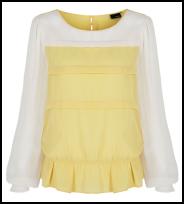 Lemon & White Pleated Peplum Top.
Peplums come in all styles and you can see and read more about them here,
Luxe sportswear takes inspiration from the track or field. This look embraces techno fabrics and very often uses softer paler colours instead of more utilitarian greys or navy. Look for silky track pants, tops with sheer mesh panels, racer backs, go faster stripes that define garment shapes on shoulders and leg seam lines.
If you like more girly looks and are currently fixated on dresses, then try this River Island body con dress which makes use of this effect with a contrast mesh insert.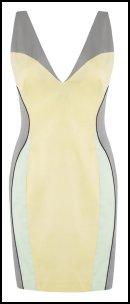 Left - River Island SS12 - Hartley Neon Lemon Aertex Dress, £40 - River Island SS12 WW Clothing Stockist Number: 0208 991 4904 or Riverisland.com.

Centre - New Look SS12 - Yellow Neon Sheer Shell Shirt £19.99/€24.99 Under Orange Neon Bandeau £3.99/€4.99, Nude With Neon Go Faster Stripe Tracksuit Pants £22.99/€29.99 - Newlook.com.
Right - Debenhams SS12 Sporty Body Con Dress.
Shaded Pastels
A wide range of fashion pieces are showing shaded Ombre effects throughout their ranges. Blue mixed fading into citrine lemon is a typical colour combo.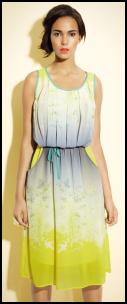 Left - Miss Selfridge SS12 Womenswear.
Centre - Catwalk Fashion.
Right - Miss Selfridge Pastel Shaded Dress. Miss Selfridge SS2012 Fashionwear.
Cutaway Pastels
These dresses have cutaway waistlines and the centre dress has cutaway armholes.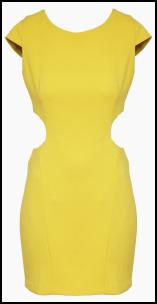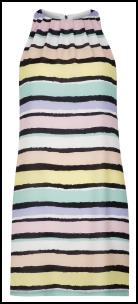 Left - Citrus Yellow Waist Cut Out Dress ASOS.com.
Above Centre - New Look Striped Pastel/Black Dress.
Right - Pastel Shaded Cut Out Dress.
Spearmint Aquamarine Colour Tones
Whether your style is to wear trousers or a ladylike dress, mint/aquamarine tones add the perfect unusual pastel colour to your next new pieces. Aquamarine looks especially pretty but expensive when worked as a floral or scarf print.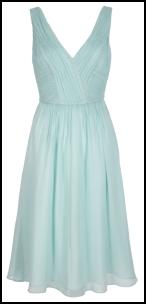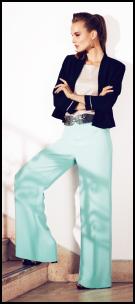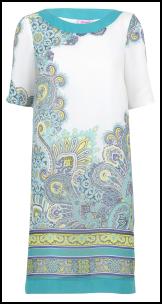 Left - Sea Foam Claire Dress £110/€170 - Monsoon Stockist Number: 08448110068.


Centre - Marks & Spencer SS12 - Deco Diva M&S Jacket £49.50, Top £25, Wide Palazzo Mint Green Trousers £35, Earrings £7.50, Belt £35, Shoes £29.50.
Right - Marks & Spencer Per Una SS12 Pastel Aqua Lemons Scarf Print 60's Retro Dress.
Right - Pantone Colour - Cockatoo.
Flatter, soft and subtle brocade fabrics add interest to simple shapes like this halter neck dress. Simple shapes such as shifts display brocade and decorative patterns to best advantage. The onlooker focuses on the garment fabric rather than the silhouette. In this case the soft aquamarine mint colours look delicate and dreamy set against silver and pink tones. 0.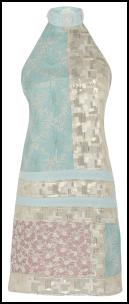 Left and Right - River Island Dress From River Island SS12 WW Campaign. River Island Stockist Number: 0208 991 4904 or www.riverisland.com.
Materials & Surface Texture in Fabrics Spring Summer 2012
Texture and contrasting textures such as brocade, lace and beading are important for 2012. Quilting has made a welcome return and combined with a floral print looks fresh and new. The suede shoes also add textural interest and hone on one of springs hottest trends of pastel colours.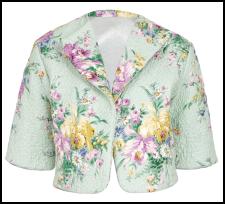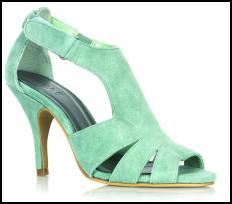 Left - ASOS SS12 Mint Green Floral Rose Print Jacket.
Right - Marisota SS12 - Aquamarine/Mint Green/Jade - Strappy Heeled Sandals.
You are reading an original 2012 pastel colour fashion trends article by Pauline Weston Thomas only for publication on www.fashion-era.com ©.
Copyright of images courtesy of Prshots.com, ASOS, Debenhams, House of Fraser, Lovarni.com, Marks & Spencer, Marisota, Matalan, Mint Velvet, Miss Selfridge, M&Co, Monsoon, New Look, Penneys, Republic, River Island, Swarovski, Warehouse.
Date Added 14 Mar 2012 - Ref: P.873.
If you like this page then please share it with your friends
---
-------- Link Pink ---------
For more information on ladies and teens fashion trends go to:-
Archived Sections
Custom Search
About Fashion-Era.com
Fashion-Era.com looks at women's costume and fashion history and analyses the mood of an era. Changes in technology, leisure, work, cultural and moral values. Homelife and politics also contribute to lifestyle trends, which in turn influence the clothes we wear. These are the changes that make any era of society special in relation to the study of the costume of a period.

Fashion-Era.com can take no responsibility for any information on the site which may cause you error, loss or costs incurred from use of the information and links either directly or indirectly. This site is owned, designed, written and developed by author: Pauline Thomas and Guy Thomas. This site is designed to be viewed in 1024 X 768 or higher.
ALL RIGHTS RESERVED. Fashion-era.com reserves the right to add or delete information, graphics and links. Copyright © 2001-2014 on all content, text and images in Fashion-era.com. Images and text in this website may not be used on other websites.
Before you write to me for costume/fashion help or information please, please consult the extensive sitemap which lists all our pages. If you still cannot find the answer after searching the site, then before you email me, please consider if you are prepared to make a donation to the website.
Donations
Reader's donations help this site flourish, in particular donations encourage me to write more articles on fashion history as well as current trends. PayPal allows anyone with a credit card to donate easily and securely. You may donate any sum you feel appropriate.