Peplum Fashion Trends for Spring Summer 2012
Here is a review of the peplum fashion looks for the spring summer season of 2012. This article describes in detail the peplum styles in dresses, skirts and tops in current women's fashion.
Right - Pretty Pastels.
ASOS Peplum Bandau Dress in Darling Buds Of May Print £48 - Asos.com.
Fashion Looks - One of the strongest fashion trends popping up on the department store rails is that of the peplum.
Peplums - Formally Structured to Frilly Swinging Peplums. The perky peplum of old has competition from more innovative peplums with origami folds, bell-shapes, frilly Fortuny pleats, box pleats, asymmetric peplums, or half peplums. Watch those peplums take hold in 2012.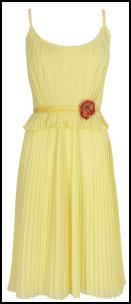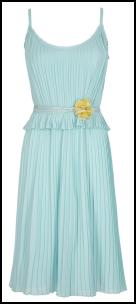 Left - Monsoon Lemon Lauren Dress £100/€155 - Due April.
Monsoon Stockist Number: 08448110068.
Right - Mint Green Aquamarine Pleated Frilly Peplum Dress. Monsoon £100/€155 - Due April.
Monsoon Stockist Number: 08448110068.
You are reading an original peplum trends for summer 2012 fashion article by Pauline Weston Thomas only for publication on www.fashion-era.com ©
Top Trend To Watch
Many fashion designers re-introduced peplums into their ranges, but in 2012 the peplum has a different look. It comes in many variations so for this season call it a modern peplum since fashion designers have given it a more architectural shape.
The modern peplum has greater volume, structure and padding to keep that architectural shape alive. It echoes much of the volume led fashions of the past decade.
‡‡
Structured Peplums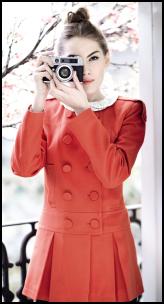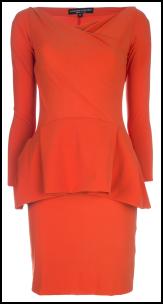 Left - Tangerine Coral Red Box Pleat Peplum Jacket - Various Items At TKMaxx SS12.
Right - LE PETITE ROBE DI CHIARA BONI Peplum Dress £324 - farfetch.com.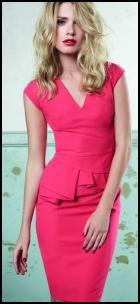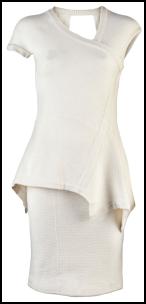 Left - Dorothy Perkins SS12 Pastel Pink Lace Peplum Dress £45.
Centre - Dorothy Perkins SS12 - Coral Pink Peplum Shift Dress £28.
Right - Yigal Azrouel Fitted Peplum Dress - £534 - Farfetch.com.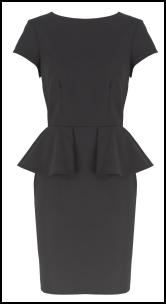 Right - Marks & Spencer Pastel Pink Peplum Dress. Also shown in header.
Right - Marks & Spencer Dark LBD Peplum Dress.
Softer Frilly & Draping Peplums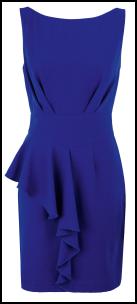 Left - Warehouse SS12 Lace Cami £38, Peplum Skirt £45.
Warehouse Stockist Number: 0845 122 2251.
Right - Structured New Half Peplum Blue Dress by F&F Limited Edition. F&F Womenswear Spring Summer 2012 £20 Stockist Number: 0800 505555 - www.tesco.com/clothing.
Watch those peplums take hold in 2012.
§
Phoebe Philo designer at Celine showed a big peplum belt that was a detachable accessory. Peter Pilotto, Osman, Thakoon, House of Dior, Dries van Noten, Jason Wu, Acne and high street store Zara all have peplum elements in their collections. Peplums were added not just to tops and jackets, but also to skirts and as waist highlighting to dresses.
Peplum Tops
The peplum was popular both before and after the Second World War. Then it was revived again in the 1980s. The 80s peplum enhanced the silhouette to create a sharpened waistline to compete with fitted shoulder padded jackets and slinky silky pencil skirt dresses.
Peplum tops vary from limp or crisp frills that are simply gathered on, flutes that ripple gently over the hips in undulating folds; or pleats from fine accordion to deep structured box pleat peplums. Peplum fabric can be sparse or fulsome.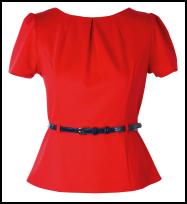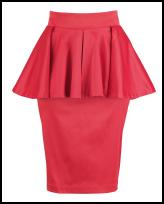 Left - Savida - Curved Peplum Red Top Showing A Hint Of Peplum Cut With The Structured Top- Dunnes Stores Spring 2012 £24/€28.
Right - Marks & Spencer Red Peplum Skirt Showing Very Full Peplum Add-on.
The peplum effect can be achieved by introducing godets into princess seams of a jacket. To my mind the best peplum is the type that is cut on a circle or cut on the true bias grain of fabric. The latter will fall in the most graceful curving waves that highlight the body rather than bump it up or sticks out awkwardly. But the main factor to remember is that the fit and the cut of the peplum has to be good and balance for your figure type is key to pulling of peplum fashions.
The perfect peplum flatters the boyish girl or the curvy woman. The peplum is especially kind to a thick waist whilst flowing over a soft abdomen. The peplum tailors in a feminine way re-sculpting the body imperfect into the body beautiful. Make no mistake about the peplum - it can reshape you into an hour glass silhouette even if you haven't got a single curve and have a straight down boyish figure.
Peplum Tops
These are simple peplum tops, much less structured than some of the peplums shown on the dresses above.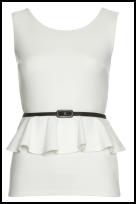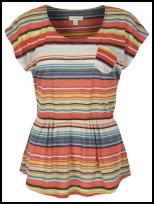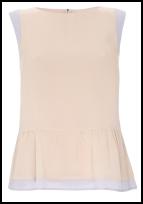 Left - Internacionale Sleeveless - White Belted Frilly Peplum Top - £12.99 Spring 12 Clothing Stockist Number: 0141 552 2020.
Centre - Monsoon SS12 - Saira Stripe Gathered Peplum Vest Top - £26/€40. Monsoon Stockist Number: 08448110068.
Right - Mint Velvet SS12 Retro Sherbet Pastel Peach Blocked Silk Pleated Peplum Shell Top - £59/€79. Stockist Number: 0845 456 2200.
Foulard satin prints make use of the borders associated with silk scarf prints and they are incorporated into the garment design and cutting. This low cost blouse from Tesco also incorporates a soft gathered peplum.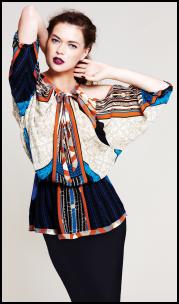 Left - Top £14, Skirt £10 by F&F Womenswear Spring Summer 2012 - Tesco.com.
Right - Pretty Candy Coloured Pastel Colour Blocking - M&Co Peplum Frill Top £29, Belted Capri Trousers £26.
-------v6-------
A peplum draws attention to your body. It's the original body-con from more sedate times and what better time to reintroduce it in a time of new fashion modesty.
The peplum has been in and out of fashion history for centuries in one way or another. Today's peplum styles are not unlike some seen on my 1948 pattern drafting page. You can download the free sketched layout patterns for these peplum styles from these two fashion designs and see more styles from 1948.
My View On The Fashion For Peplums
I'll be frank, I wore one as a wonderful navy and white spot crisply tailored blouse in the seventies, again in the late 80s and early 90s when I had several suits with curvy fitted peplum jackets. Even my slim skirted wedding dress had a bit of a peplum on the upper bodice.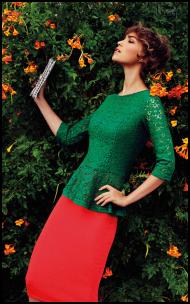 Those of us with proportionately slimmer hips than upper body welcome the womanly curves and balance a peplum can give to a straight down lower half. Some say peplums enlarge the hips, but this isn't always a bad thing if the peplum suits your body type. If you try some styles and think "oh no a peplum doesn't suit me" then steer well away, but not before trying a fair selection of different peplum garments before writing off the peplum fashion fad. Different fabrics drape differently so test out lots of peplum styles before saying no to the peplum.
I'm for the peplum. A peplum can be dramatic and sculptural or soft and flouncy. You know that old rule - invest in a trend at the start of it not at the end. It's a fact that the SS2012 peplum falls into that category, because come fall 2012 the peplum is likely to be even more visible. Fashion designers showed it again for autumn. Remember that gypsy skirt that would not fade away, well watch out for the peplum this year.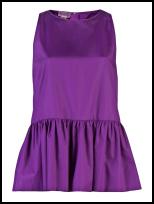 Right - Colour Blocking With A Green Lace Peplum Top & Red Skirt.
Left - More Colour - Giambattiista Valli Purple Peplum Frill Top £584 farfetch.com.
Women love the way a peplum makes them look and feel flirty, pretty, curvy but girly.
Personally I prefer peplums more when set from the waist and which are no longer than 20cm deep. I also prefer them when they are part of either a fitted princess or darted top or jacket. I am not a fan of peplum dresses, but maybe they will suit you. for me the best figure flattering effect is gained from wearing a peplum jacket or blouse with trousers or a slim-line pencil skirt. This creates the best balance for me.
So I know my peplum look, but do you know yours! If the peplum is new to you get trying on peplum outfits now across the range available and get to know the shapes that suit you way before fall when the peplum becomes more mainstream. In this celebrity age the most important ahead of the pack approval has come from none other than the newest royal of the decade The Duchess of Cambridge.
You have been reading an original 2012 peplum fashion trends article by Pauline Weston Thomas only for publication on www.fashion-era.com ©.
Copyright of images courtesy of Prshots.com, Swarovski, Marks & Spencer, Warehouse, New Look, ASOS, M&Co, Miss Selfridge, Monsoon, Mint Velvet, Dorothy Perkins, farfetch.com, Dunnes, TKMaxx, Tesco, Internacionale.
Date Added a 14 Mar 2012 - Ref: P.876.
If you like this page then please share it with your friends
---
-------- Link Pink ---------
For more information on ladies and teens fashion trends go to:-
Archived Sections
Custom Search
About Fashion-Era.com
Fashion-Era.com looks at women's costume and fashion history and analyses the mood of an era. Changes in technology, leisure, work, cultural and moral values. Homelife and politics also contribute to lifestyle trends, which in turn influence the clothes we wear. These are the changes that make any era of society special in relation to the study of the costume of a period.

Fashion-Era.com can take no responsibility for any information on the site which may cause you error, loss or costs incurred from use of the information and links either directly or indirectly. This site is owned, designed, written and developed by author: Pauline Thomas and Guy Thomas. This site is designed to be viewed in 1024 X 768 or higher.
ALL RIGHTS RESERVED. Fashion-era.com reserves the right to add or delete information, graphics and links. Copyright © 2001-2014 on all content, text and images in Fashion-era.com. Images and text in this website may not be used on other websites.
Before you write to me for costume/fashion help or information please, please consult the extensive sitemap which lists all our pages. If you still cannot find the answer after searching the site, then before you email me, please consider if you are prepared to make a donation to the website.
Donations
Reader's donations help this site flourish, in particular donations encourage me to write more articles on fashion history as well as current trends. PayPal allows anyone with a credit card to donate easily and securely. You may donate any sum you feel appropriate.