Key Scarf Print Fashion Trends Spring Summer 2012
Here is a review of the foulard scarf print fashion looks for the spring summer season of 2012. This article describes in detail the main scarf print styles in dresses, pants, blouse and maxi dresses. This is an important trend for summer and just one scarf print item will enliven your wardrobe bringing it into 2012.
Today Hermθs and Liberty still makes silk foulard headscarves. In the past square silk headscarves were often made in a beautiful glossy richly patterned silk material known as silk foulard. Today silk foulard is still used, but since the middle of the C20th many silk scarf materials have been made from satin polyester.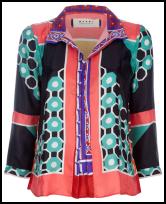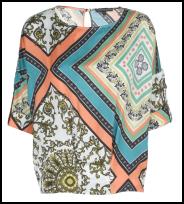 Left - Minted! Etro Paisley Blouse £575 - Stockist Number: www.farfetch.com.
Right - Skinted! Marks & Spencer Scarf Print Blouson Top.
Dependant on the grade of polyester used, it can sometimes be almost impossible to distinguish between the fabrics at first glance. It is only on handling and wearing the fabric that the wearer notices differences in drape and feel, especially in hotter climates. Since this type of pattern is so distinguishable as the same found on headscarf foulard, retailers in 2012 are once again describing these richly patterned garments as foulard prints.
You are reading an original key trends for summer 2012 fashion article by Pauline Weston Thomas only for publication on www.fashion-era.com ©
Women have loved paisley patterns for centuries. The Georgians and Victorians adored Kashmir scarves woven or embroidered with intricate traditional paisley patterns.
Initially the scarves/shawls were a covetable imported accessory of the wealthy only until manufacturers mass produced cheaper versions in both Paisley and Norwich. In the 1980s there was also a huge revival of the large paisley shawl and women draped them over their shoulders and arranged them in a dozen different ways to uplift a plainer outfit.
Read more about the Victorian Kashmir shawl here.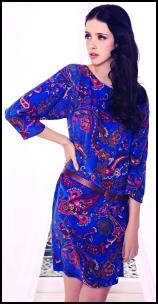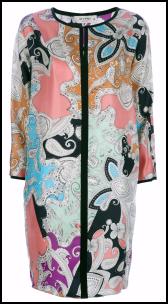 Left - Viyella Ocean Paisley Short Dress £175 - Viyella SS12 Ella - Stockist Number: 01845 573 120 or Viyella.co.uk.
Right - Etro Paisley Dress £575 - Farfetch.com.

Now for 2012 there are paisley patterns combined with delicious colours such as deep blues.
‡‡
Paisley adds a richness to print that is enhanced by simple tunic shapes where the print takes centre stage. Maxi dresses show the paisley off to perfection when the deign meanders as a border print changing scale from small to medium to larger paisley motifs.
Paisley Maxi Dress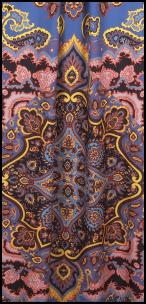 Monsoon Toshka Maxi Scarf Print Dress & Detail £169/€270 Stockist Number: 08448110068.
Scarf prints frequently incorporate the paisley motif combining it with folkloric elements or new designs.
Easy Scarf Print Shifts
Simple tunic shift dresses show scarf prints to good advantage when the dress is cut simply.
Paisley pattern in foulard silks is often combined with kaleidoscopic design and in the digital age some of the fabric prints are truly outstanding in spectacular form and design.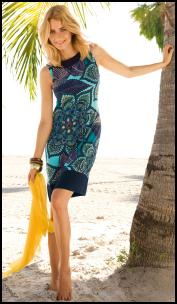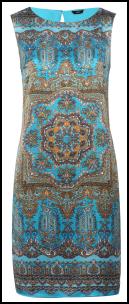 Centre - Betty Barclay SS12 Print Dress.
Centre & Right - Turquoise Taupe Mix Tropical Scarf Print Shift Dress £45 - M&Co Womenswear. Also shown in header.
In these tunic/shift dresses above and below you will notice how variety of scale adds lightness and contrast to the design enhancing overall pattern interest.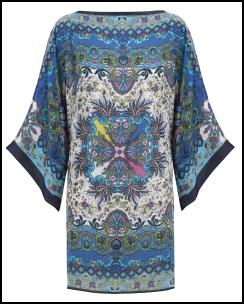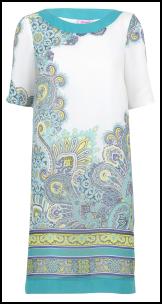 Left - SS12 Speziale Tropical Scarf Print Tunic £65 Marks & Spencer.
Right - On Trend Colour & Print Mix - Marks & Spencer Per Una SS12 Pastel Aqua Lemons Paisley Border Scarf Print 60's Retro Dress.
§
Scarf Print Wrap Dresses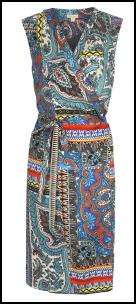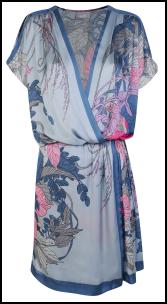 Left - Monsoon Koscian Scarf Print Wrap Dress - £119/€185.
Monsoon Stockist Number: 08448110068.
Right - Wrap Scarf Print Dress - Wallis SS12.
Exotic Silk Scarf Print Patterns for 2012
The horse emblem, paisley and leather hardware imagery was used on many pieces of clothing and accessories and fitted perfectly with the history of Gucci in its 90th year. It looks especially good in scarf print blouses. But expect to see scarf prints across the whole spectrum of garments including dresses and pyjama styled trousers.
The high street has their version of silk foulard styles and these show the motif being mirror reversed or kaleidoscopically imaged.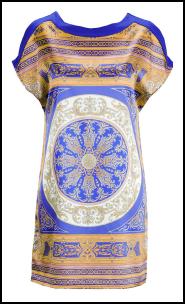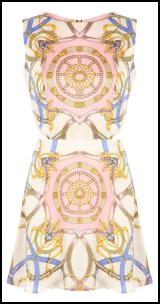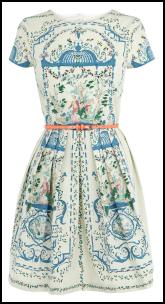 Left - Blue/Gold Scarf Circle Kaleidoscope Border Print Tunic Dress From SS12 Very.co.uk.
Centre - Missguided Scarf Print Dress - Spring Summer 2012
Stockist: missguided.co.uk.
Right - Oasis SS12 Scarf Print Full Skirt Dress.
Silk Scarf Handkerchief Hemlines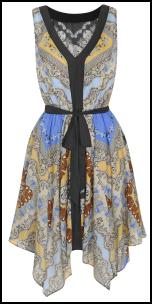 Left - Catwalk Lookalike - Scarf Print Handkerchief Hem Dress BHS £30.
Centre - Dolce&Gabbana SS12 Scarf Dress.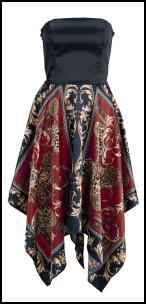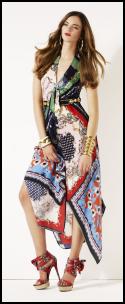 Left & Right - River Island Scarf Print Handkerchief Hem Maxi Dress.
Centre - Very.co.uk - Scarf Print Boobtube Dress £45.

Centre - Warehouse Paisley Scarf Print Blouse £50, Long Line Blue Jacket £60, Tailored Coral Pink Shorts £35, - Warehouse Spring Summer 2012.
Warehouse Stockist Number: 0845 122 2251.
Right - Oasis SS12 - Border Scarf Print Pink & White Dress.
...(v4r)
Prints
Celebrate spring and summer with
Spring Floral Blooms
Art Scene Prints - Think Rodarte/Vincent Van Gogh, Jill Sander/Pablo Picasso.
Afro Tribal/Jungle Mix
Paisley Patterns
Or opt for classic prints - try the fashion trend for spots and stripes instead.
Below dresses featuring border prints that meander and soften in motif size and colour depth. Silk scarves are not always paisley designs but also meandering floral or abstract patterns. Frequently designers treat a scarf as an open canvas and in recent years younger fashion designers have approached the dress in the same way making the dress a canvas for their marks whilst navigating the form of the body.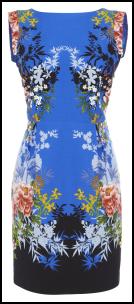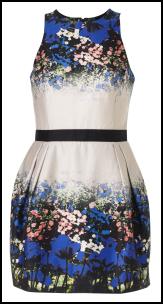 Left & Centre - Oasis SS12 Blue Print Dress.
Right - Primark Flower Print Dress £15.
Primark UK Ladieswear Stockist Number: 0118 9606 300.
Peter Pilotto's fashion show had the most beautiful prints with detailed sculptured shapes making each garment a piece of art.
More print was at Jonathan Saunders with paisley print shots and frocks in pastels that spread in Ombre wave bands from richer tones at hemlines softening to paler shaded above. Polka dot bib dresses offered softer more classic pattern for those scared of big prints.
Beautiful blues feature in many prints and plains.
Printed Pyjama Palazzo Pants
Printed Pants have captured the imagination of fashionistas.



Left - Blue Floral Trousers €50/£38 - NEXT. NEXT Stockist 0844 844 8000.
Belt £25, Earrings £7.50, Necklace £15, Bracelet £7.50 Marks & Spencer.
Centre - Gucci Printed Silk Pyjama Trousers - Farfetch.com.
Right - Blue & White Scarf Print Pyjama Pants - Wallis SS12.
Choose from patterned pants that are skinny or wide. Both suit print fabrics.
Paisley prints offer incredible variety in SS12. In multi colours the paisley motif looks joyful and trades on its Indian heritage of spectacular colour mixing.
Feather Print Patterns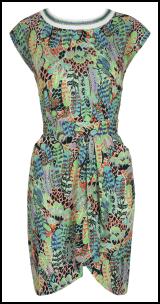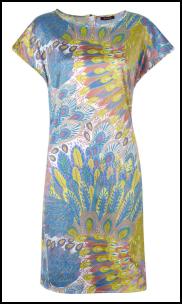 Left - Green Feather Print Dress. Monsoon SS12 Neo Mexico
Ramirez Dress £65/€99 Due May - Monsoon Stockist Number: 08448110068
Right - Isme Blue Feather Print Tunic Dress.
The Classic Scarf Print Shirt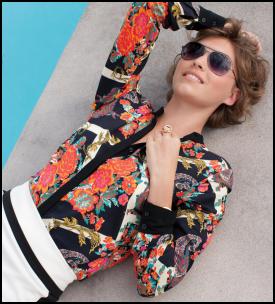 Left - NEXT Red Roses Scarf Border Print Black Shirt £30/€40, Ring £6/€8 - Both NEXT Clothing - Stockist Number: 0844 844 8000.
Foulard Silk Scarf Border Prints
For SS12 D&G used inspirational silk foulard printed squares to create designs and accessories that stretched the imagination. Orange apple and fuchsia all clashed baroque-style patterns as prints were mixed in a joyful way.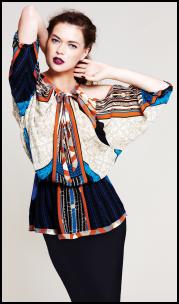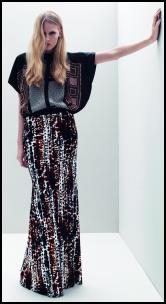 Left - Top £14, Skirt £10 by F&F Womenswear Spring Summer 2012 - Tesco.com.
Right - Hobbs Unlimited Spot Print Scarf Blouse, £129/€150. Animal Maxi Skirt, £139/€160 - Stockist Number: 0845 313 3130 - Hobbs.co.uk.


Left - Scarf Print Blouse Top £29, Pants £49 - La Redoute Stockist Number: 0844 842 2222.
Right - Scarf Print Shirt Marks & Spencer.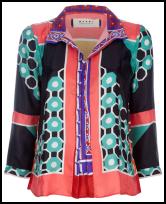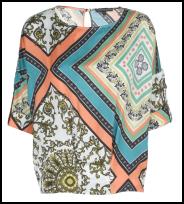 Left - Minted! Etro Paisley Blouse £575 - Stockist Number: www.farfetch.com.
Right - Skinted! Marks & Spencer Scarf Print Blouson Top.
These scarf prints all make use of the borders and central motif associated with silk scarf prints and they are incorporated into the garment design with the initial fabric cutting.
You are reading an original 2012 scarf prints fashion trends article by Pauline Weston Thomas only for publication on www.fashion-era.com ©.
Copyright of images courtesy of Prshots.com, Swarovski, Marks & Spencer, Hobbs, NEXT, Monsoon, Warehouse, New Look, Very.co.uk, Farfetch.com, Tesco, Primark, Isme, Boohoo, Missguided.com, Wallis, Betty barclay, M&Co, La Redoute, Viyella, Monsoon.
Date Added 14 Mar 2012 - Ref: P.883.
If you like this page then please share it with your friends
---
-------- Link Pink ---------
For more information on ladies and teens fashion trends go to:-
Archived Sections
Custom Search
About Fashion-Era.com
Fashion-Era.com looks at women's costume and fashion history and analyses the mood of an era. Changes in technology, leisure, work, cultural and moral values. Homelife and politics also contribute to lifestyle trends, which in turn influence the clothes we wear. These are the changes that make any era of society special in relation to the study of the costume of a period.

Fashion-Era.com can take no responsibility for any information on the site which may cause you error, loss or costs incurred from use of the information and links either directly or indirectly. This site is owned, designed, written and developed by author: Pauline Thomas and Guy Thomas. This site is designed to be viewed in 1024 X 768 or higher.
ALL RIGHTS RESERVED. Fashion-era.com reserves the right to add or delete information, graphics and links. Copyright © 2001-2014 on all content, text and images in Fashion-era.com. Images and text in this website may not be used on other websites.
Before you write to me for costume/fashion help or information please, please consult the extensive sitemap which lists all our pages. If you still cannot find the answer after searching the site, then before you email me, please consider if you are prepared to make a donation to the website.
Donations
Reader's donations help this site flourish, in particular donations encourage me to write more articles on fashion history as well as current trends. PayPal allows anyone with a credit card to donate easily and securely. You may donate any sum you feel appropriate.