Tailored Androgyny Coat Fashion for Winter 2011/12
Here is my review of women's tailored coat fashion for winter 2012. Warm colours can soften some of the harsher masculine lines and androgynous styling.
Let us start with one of the hottest looks, red mixed with orange and geranium or coral and tangerine These vibrant cheerful jewel colours are hot winning looks this season. Think of falling russet leaves and you have a colour palette.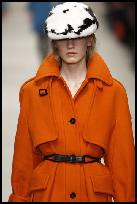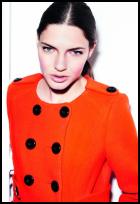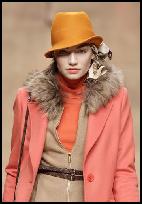 Left - Coat by Burberry AW11.
Centre - Wallis AW11 Streamlined Collarless Red Coat.
Right - Coat by Blugirl AW11.
The trend is growing for longer ladylike styles and the recognition of individual styling. With so much freedom to select from many styles to suit individual body shapes, check that the proportions are correct for your own body silhouette.
Celine showed coats that wrapped to the side. These coats were clean cut, minimalist in line and slightly masculine in their streamlined silhouette. Other designers showed dropped waist coats held by a simple fastening button or stud, belt or tie.
Bold Bright Understated Coats
The Celine coat below is bright orange. Orange, tangerine, golden tones to burnt umber, ginger and cinnamon spice add new joy to the clothing colour spectrum. Topshop are hot on trend with this vivid pumpkin orange coat and black leather collar.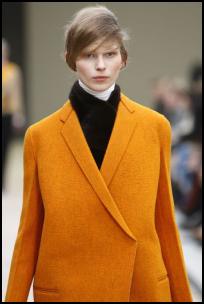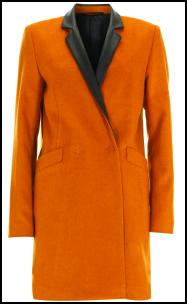 Left - Celine AW11 Catwalk Model - Pumpkin Yellow Coat.
Right - Topshop AW11 Mustard Slim Coat With Black Leather Collar.
Bright statement colours are used with pared down lines found in men's tailoring.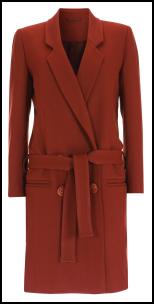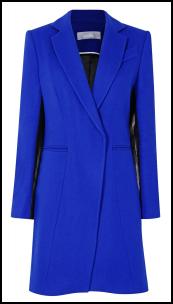 Right - Topshop AW11 Tan Wool Belted Long Coat.
Right - Electric Blue Coat - Wallis AW11 Collection.
‡
Side Wrap Coats for Winter 2011
In the women's coats below you can see the clean masculine lines that make these such easy coats to wear. Notice how the shoulders show broader width in the coats.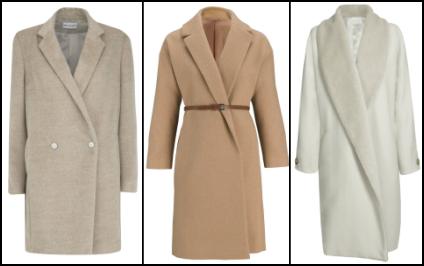 Left - Marks & Spencer Autograph Coat £199.
Centre - Camel Wrap Coat - Diana Vickers AW11 - Very.co.uk.
Right - Nicole Farhi - Wool Cashmere, Mohair Trim Coat - £790.
Nicole Farhi is at 158 New Bond Street, London W1S 2UB.
Stockist - Tel: +44 (0) 20 7499 8368 or www.nicolefarhi.com .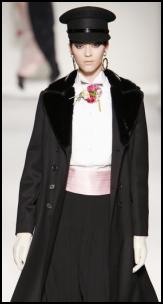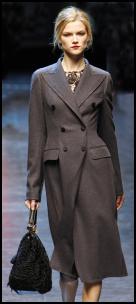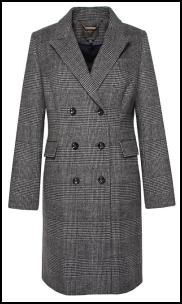 Left - Moschino AW11 Coat.
Centre - Dolce & Gabbana Catwalk Fashion AW11.
Right - Alexon AW11 - Grey Prince of Wales Check Classic Man Tailored Double Breasted Coat. This 50% Wool coat is a must-have style for the season and goes up to generous size 22 fittings - £180.
§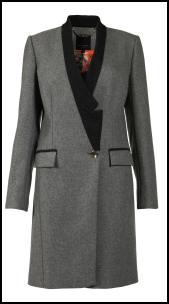 Left - John Lewis AW11 COLLECTION Fur Collar Trim Double Breasted Camel Coat £189.
Right - Ted Baker - Black Piped Grey Tailored Coat.
Along with British firms Aquascutum and Jaeger, Burberry does tailoring so beautifully.
Designs used colours with black to create amazing checks in rich wools. Burberry used luscious virgin wool fabrics to create coats and capes that were distinctive and desirable. Hound and dogtooth checks, blanket plaids and tablecloth checks give a cosy air to winter coats, throws, wraps, ponchos and capes. Tailored jackets and pure wool check skirts also suit the good quality British wool theme.
Modern Double Breasted Tailored Coat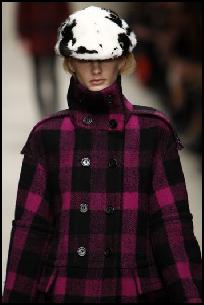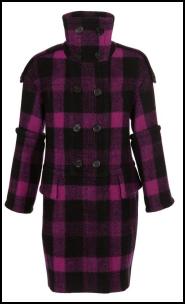 Left - Burberry Prorsum - A Relaxed Fit Purple & Virgin Wool Check Coat, Tubular Sleeves & High Funnel Neck - £2395.
...(v4r)
Available at Burberry and www.brownsfashion.com. The double-breasted front closure adds an extra warming front layer right up to the chin. Ideal torso cover in winter winds. The half-length sleeves have layered detail, whilst the long epaulettes add shoulder focus. At the back, interest is given with a half cinch belt and gathering. The relaxed fit means the wearer has room for some winter layers, making this a stylish chic but practical choice.
Preppy Tomboy and Classic Pretty Boy Tailored Jackets
Double breasted fashion is dominant in tuxedo and blazer garments. The tuxedo jacket and the blazer add a tomboy air to jacket dressing. Dolce & Gabbana favoured the tuxedo and teamed with a lovely ruffled blouse - it got dubbed the pretty boy look.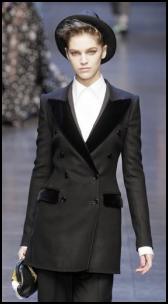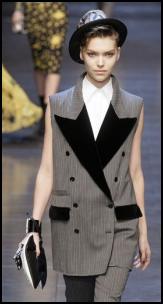 Dolce & Gabbana Catwalk fashion AW11.
Malene Birger does the androgynous look so well. It truly is perfect for the woman in a hurry, someone who prefers to dress in an uncluttered masculine streamlined way. Take a minimalist approach and focus on a bare wardrobe using just black and white or mix subtly greyed block colours.
Masculine Tailored Androgyny Coats & Jacket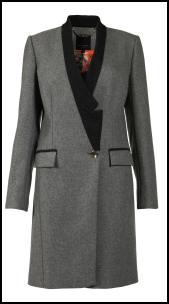 Left - Roksanda Ilincic Edition at Debenhams. Velvet Tie-waist Coat £115/€172.50, Satin Top £32/€48, Crepe trouser £42/€63. Stockist Number: 08445616161.
Centre - Pakiri Coat Ted Baker AW11 Womenswear Clothing.
Stockist tedbaker.com .
Right - Jonathan Saunders Edition T Debenhams - Colour Block Blazer £75/€112.50, Colour Block Mesh Tee £28/€42, Tencel Belted Trousers £40/€60..
These longer-line silhouette jacket coats are a hot trend in the Winter of 2011/12. Relaxed blazer looks and oversized 1980s slouchy blazers with revers or tuxedo shawl collars can accommodate the current fashion for bulkier sleeved garments.
If you prefer more regular smart patterns in coats try variations on Prince of Wales checks which make up well in lean blazer looks.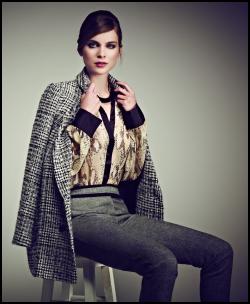 Masculine/Feminine Oasis AW - Check Coat.
Miss Selfridge AW11 - Blazer £48, Leather Leggings.
You are reading an original article about winter fashion coats for 2011-2012 by Pauline Weston Thomas only for publication on www.fashion-era.com ©
Leather leggings are a simple way to introduce leather into your wardrobe. Now leather stands alone as a material in complete dresses, skirts, pants or gilet and biker jackets. Biker jackets are made in skins, suede, leather, denim corduroy and other materials.
The severe leather trend is the reaction to feminine frilly styling. This fashion statement tells the onlooker this woman means business. Leather with stilettos are meant to be perceived as dangerous as they look.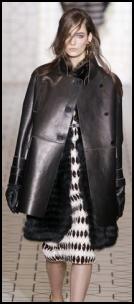 AW11 Catwalk Leather Fashion.
Tailored Leather Coats from Marni, Chloe and Ralph Lauren.
Annette Görtz does leather looks well and you can find leather pieces from the Annette Görtz range at upmarket boutiques.
-------v6-------
Wrap Over Maxi & Midi Coats
Remember those wonderful cream and camel Max Mara dressing gown style cashmere coats of a couple of years ago. Well there are newer wrap versions in stores.
Left - Martin Grant AW11 - Cinnamon Coloured Long Maxi Wrap Coat.
Centre - Amanda Wakeley Wrap Coat Wrapped With Belt. Wakeley AW11.
Right - From very.co.uk - Holly Willoughby Long Maxi Wrap Red Coat £89.

Camel & Natural Coats

Left - Classic Investment Dressing - Jaeger AW11 Camel Wrap Warwick Coat - 50% Angora, 50% Wool - £550.

Jaeger say:- Elegant full length coat given added sophistication with its large rever collar and waist cinching belt. Perfect layered over evening outfits or adding a luxurious edge to everyday looks, this long length coat will take centre stage with its sleek and timeless styling.

Centre - Alexander Wang AW11 Catwalk Coat.

Right - Jigsaw Camel Coat With Fly Front Button Stand. This is a great alternative if you are not fond of visible buttons, but dislike wrap coat styles.
Tailored Military Midi Length & Maxi Coats
Some women simply prefer longer coats which swirl around their ankles. The maxi fulfils this desire. Maxis suit the addition of a fur collar trim for maximum winter warmth.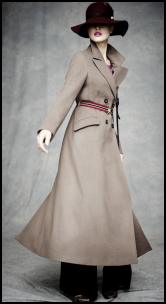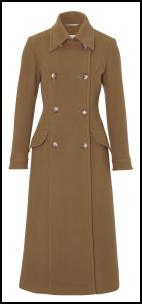 Left - Primark Military Coat.
Centre - Retro Glamour - Marks & Spencer.
Autograph Coat £199, Hat £19.50, Autograph, Belt £9.50.
Right - Viyella Military Maxi Coat £399 - Viyella AW11 Womenswear Coats - Viyella.co.uk.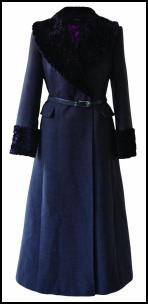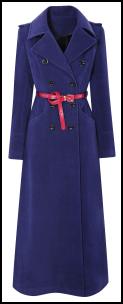 Left - Ralph Lauren AW11 Purple Fur Collar Coat.
Centre - Dunnes Stores AW11 - Faux Fur Collar Maxi Coat €100/£85.
Right - BHS - Double Breasted Melton Funnel Neck Blue Coat £69.
Tailored Cream Military Coats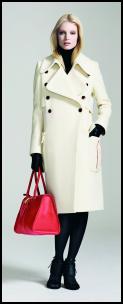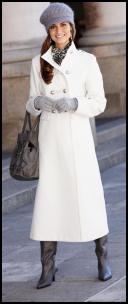 Left - Jaeger AW11 Cream Coat, 90% Wool, 10% Cashmere to size 16 £560.
Jaeger say:- Add an on-trend military edge to your wardrobe with this double breasted coat, fastening with chunky tan buttons. Given a striking edge with oversize pockets and a large tailored collar, this sophisticated coat is perfect layered over fitted dresses and suits this season.
...(v4r)
Right - Fifty Plus - Braid Trim Longline Coat - from £100. Fifty Plus Autumn Winter 2011 Collection Stockist Number: 0871 231 2000.
Fifty Plus sell this classic coat following current trends for an off-white/cream winter coat. The military coat is also available in black is sold in UK sizes 12-32. This classic military coat with a flattering longer line midi length will serve you more than one season. If you prefer a wrap tie belt or belted coat than a buttoned longer coat then check out the two alternatives.
Plus sizes are well served these days with larger sizes available from many brands such as BHS, Marks & Spencer and Fifty Plus.
2011 Women' Coat Trims - Topstitching
Topstitching on revers and peaked revers, just about 6mm from the fabric edge is a traditional 1970s finish on coats and jackets. This looks good on extra wide collars. In the original seventies versions it was great way to keep bouncy man mad polyesters and acrylic jersey knits under control and make them lay flat.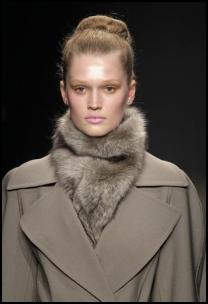 Left - Classic Topstitched Coat by Donna Karan.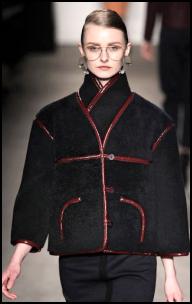 Binding inserts in colourful patent leather or braid create contrast sections with bold shapes.
Left - Veronique Leroy AW11 - Statement Jacket.
Right - Primark AW11 Belted Coat £45. Bound revers in colour contrast braids add remixed style of the seventies.
The coat below from Fever has very interesting style lines. The silhouette belongs to several fashion history eras - the 1820s-1830s, 1890s and the 1970s. The topstitching is shown in detail and reminds me very much of a heavily topstitched black Mac I owned in the 1970s. Every seam was highlighted with white saddle stitching. Fashion is forever repeating itself.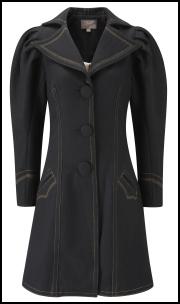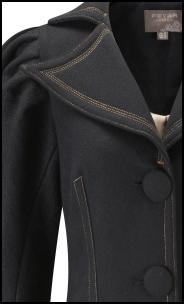 Above & Right - Fever Autumn Winter 11 Womens Collection - Fever Boleyn Coat Black £149.99.
Fever Stockist Number: 020 7636 6326.
Coat revers in Autumn 2011 shows gained even more credibility when made totally of sequins. Get the 70s look with sequin revers or bound contrast edges. Marks and Spencer are selling leggings with sequins down the side seams so this is an easy trend to buy into.
The creamy white coat trimmed with red wool shown below, is a perfect example of contrast braid trim work on the collar edges.
Epaulettes, buckle bands and belts add military precision trims. The red coat below has that real marching quality with its functional epaulette elements on sleeve and shoulders.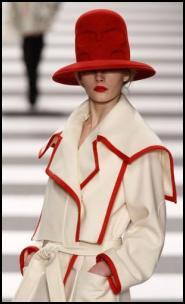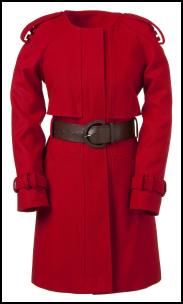 Left - Designer Cream Coat with Red Trim - Jean-Charles de Castelbajac Catwalk Fashion AW11.
Right - Penneys (Ireland) Autumn 2011 Womenswear - Round Neck Red Belted Coat €40.
Fur Trim Glamour
Other coats this Autumn 2011 have added fur front border or side panels. Some even have whole or partial fur sleeves, hem bands, collars or skirts.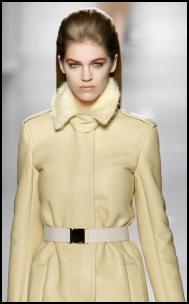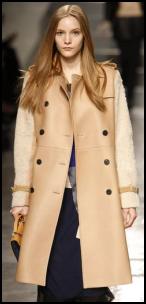 Left - MaxMara AW11 Catwalk Buttercream Fashion Coat with Yellow Mink Collar.
Right - Aquascutum AW11 - Textured Beige Shearling Lamb Fur Sleeve Coat.
...(v4r)
Fifties Fashion Figure - Hour Glass Waists
Buttoned up sexiness emerges with hour glass silhouettes. This autumn fashion trend is setting the tone for future styles with feminine waistlines reveal that girls still have curves. This is wearable Mad Men fashion - less perfect, more 'now'. Additionally, the colour palette is of autumn 2011, not a season of fifty years ago. This especially suits little waisted tailored jackets.
Statement skirts and perky fitted little cropped jackets add sculptured lines. These figure shaping seam lines contract the torso, whilst expanding expand the arms with fuller sleeves. Extras like peplums reinforce the swagger when a woman moves and wiggles as she walks. Think small waists and get some great sculpting body wear under foundation garments like Gok Wan, Playtex, Berlei or Spanx body wear from sellers such as Woods or Figleaves. Otherwise you may need to sign on at the gym and ensure yours fridge is health food filled soon.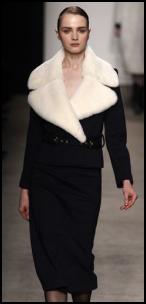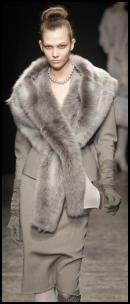 Left - Black Suit White Fur Collar - Véronique Leroy AW11.
Right - AW11 - Donna Karan Costume Suit.
This emphasis on the waist is reinforced by both the sheath and fitted shift dress and the pencil skirt. The sheath dress drapes and fits to create a figure-of-eight fashion form. Make sure your hem falls on or below the knee.
Coat Accessory & Add-ons Autumn 2011
Bags Tippets Gloves
Get instant lift with a bright bold fashionable handbag. Carry your bag in an obvious no handle grasp under your arm as hug me pouches. Well try it for the season and see how much it irritates you compared with underarm handle bags.
Update your autumn pieces that with jewel toned court shoes. Select a heel that suits you and try a small platform for the seasonal touch.
Add a fur tippet for instant wow.
The Mary Jane shoe has multiple straps and worn with patterned hosiery/pantyhose adds retro quality to leg looks. Pump shoes have shorter pointed toes and easy heels. Solid square heels and cone heels follow 1970s trends in women's shoes. Platforms and wedges, which are still available, often have fur cuff trims.
Fetish fashion themes are a shoe designer's dream as they enable a play in design terms that goes beyond usual shoe design boundaries. Best of all this season your local shop may stock them rather than a specialist catalogue. Even the most reluctant wearer of fashion might be persuaded into the purchase of a pair of quirky shoes or boots and use them to update a more traditional tailored coat.
Knee high, above or just below the knee high boots are called cuissardes. Take the easy way to get one of the strongest fashion looks of fall. For a real 60s look team your retro Mod coat with a pair of retro Chelsea boots. You are reading an original article about autumn and winter fashion coats for 2011-2012 by Pauline Weston Thomas only for publication on www.fashion-era.com ©
-------v6-------
Key Fashion Trends Autumn 2011
The key elements of fashion trends for autumn 2011, winter 2012 depend on longer lengths and bold rich vibrant colours in contrast textures and luxury fabrics. The silhouette pays homage to forties, sixties and seventies decades of style fashions.
Tailoring Fashion Trends for Autumn 2011
One of most commercial fashion trends in UK in 2011 has been the new retro 1970s. Now for autumn this trend continues, but is joined by the late forties look along with a favourite retro fashion of recent years - sixties Mod. The strongest coat silhouette at Designer shows was the cocoon coat.
Whatever silhouette or retro trend you select you can be sure fashion styles for autumn 2011 and winter 2012 focus on mixes of zinging jewel colours.
Conclusion of Key Fashion Trends Autumn 2011 Winter 2012
This review features the most important women's fashion looks for the autumn 2011 and Winter 2012. This article reviews the main looks in dresses, footwear, bags jewellery and other fashion accessories. You have been reading an original fashion trends article by Pauline Weston Thomas only for publication on www.fashion-era.com ©
Copyright of images courtesy of IFTF, Swarovski, Marks & Spencer, Primark, Penneys, Debenhams, very.co.uk, Bhs, Fifty Plus, Wallis, Miss Selfridge, Topshop, John Lewis, Whistles, Alexon, Ted Baker, Jaeger, Jigsaw, Viyella, Nicole Farhi, Dunnes Stores, Fever, PRShots.com.
Date Added 21 Sept 2011 - Ref: P.849.
If you like this page then please share it with your friends
---
--Link--
For more information on ladies and teens fashion trends go to:-
Archived Sections
Custom Search
About Fashion-Era.com
Fashion-Era.com looks at women's costume and fashion history and analyses the mood of an era. Changes in technology, leisure, work, cultural and moral values. Homelife and politics also contribute to lifestyle trends, which in turn influence the clothes we wear. These are the changes that make any era of society special in relation to the study of the costume of a period.

Fashion-Era.com can take no responsibility for any information on the site which may cause you error, loss or costs incurred from use of the information and links either directly or indirectly. This site is owned, designed, written and developed by author: Pauline Thomas and Guy Thomas. This site is designed to be viewed in 1024 X 768 or higher.
ALL RIGHTS RESERVED. Fashion-era.com reserves the right to add or delete information, graphics and links. Copyright © 2001-2014 on all content, text and images in Fashion-era.com. Images and text in this website may not be used on other websites.
Before you write to me for costume/fashion help or information please, please consult the extensive sitemap which lists all our pages. If you still cannot find the answer after searching the site, then before you email me, please consider if you are prepared to make a donation to the website.
Donations
Reader's donations help this site flourish, in particular donations encourage me to write more articles on fashion history as well as current trends. PayPal allows anyone with a credit card to donate easily and securely. You may donate any sum you feel appropriate.