Tangerine & Orange Rust Colour Fashion Trends Spring Summer 2012
This is a review of the tangerine orange fashion looks for the spring summer season of 2012. Tribal influences mean that colours are sometimes richer deeper and more burnt in hue - not quite rust. These are sun dried tones with a hint of Moroccan influence.
Stripes and ikat patterns offer further room for fabric print expression.

Above Left Pantone - Tangerine Tango 17-1463.
Right - Hobbs SS12 Tribal Pleat Dress. This Hobbs print is also available as a long pleated skirt.
Left - This tribal earth colours Ikat pattern detail and dress is from Fat Face.
Brooke Rising Blaze Woven Maxi £55 -Fat Face.
Look for burnt orange and coral tones that meet tangerine tango in all women's fashion styles. You are reading an original tangerine and orange colour trends summer 2012 fashion article by Pauline Weston Thomas only for publication on www.fashion-era.com ©
Separates For 2012
For tall women specialist Long tall Sally have some shirts that really are long enough to cover a tall girl's bottom. This relaxed fit shirt is an easy way to introduce some tangerine into your wardrobe.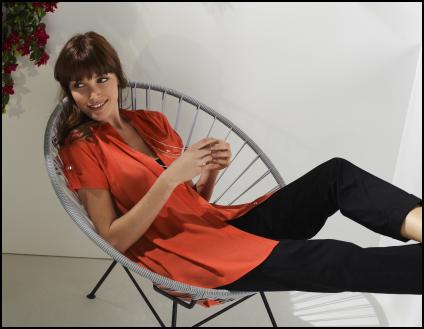 Tangerine Soft Easy Fit Shirt £35 Long Tall Sally Spring Summer 2012 - Longtallsally.com.
This year bright jewel tangerine tango orange tones fade down from hot sunburst hues to gentle soft pastel peach, nude and apricot tones. Nude flesh tones have been popular for several years and the trend continues. On this page we can see how strong the colour of tangerine has become as it moves from orange, to blood orange tangerine.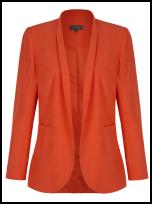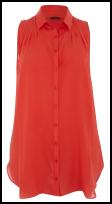 Left - House of Fraser SS12 Tangerine Orange Jacket £169 Pied a Terre.
House of Fraser Stockist Number: 020 7003 4000.
Dorothy Perkins SS12.
Right - Tangerine Sleeveless Shirt.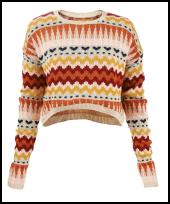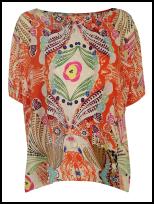 Left - Bank - Ribbon Zig Zag Sweater Knit Aztec Cropped Jumper £28, Bank Fashion.
Bank Stockist Number: 0844 264 0111.
Right - Orange Tropical Tribal Paisley Scarf Print Loose Silk Kaftan Top Blouse -
‡‡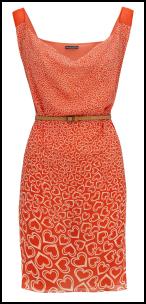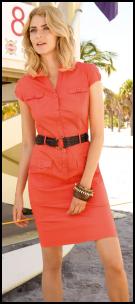 Left - Limited Collection SS12 Orange Sweetheart Short Dress £39.50. Marks & Spencer.
Right - Betty Barclay Orange Shirtwaist Dress. Also shown in header.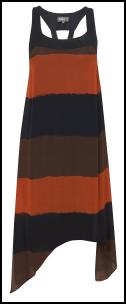 Left - Burnt Orange Dress - John Lewis SS12.
Apricot - Apricot SS12 - Black, Orange And Brown Horizontal Striped Dress £31.
Right - Burnt Orange Dress With Long Sleeves - Alexon SS12.

Above Left - Matthew Williamson - Burnt Orange Tangerine Narrow Pants and Coral Jacket.
Centre Left - Catwalk Fashion By Tibi - Peach Pastel Shorts/Jacket.
Centre Right - Coral/ Orange Jumpsuit £29 La Redoute - Stockist Number: 0844 842 2222.
Right - Primark UK - Limited Edition Orange Maxi Dress £20, Wedge Shoes £16.
Primark Spring 2012 Ladieswear Stockist Number: 0118 9606 300.
Every type of pleat can be seen this summer from peplums with box pleats to finest accordion pleats that trim a neckline. Dresses or skirts with pleats or pleated skirts are soft and dreamy in this season's tint of coral, peach and tangerine orange.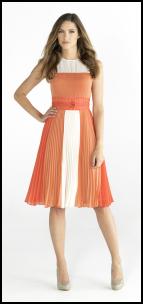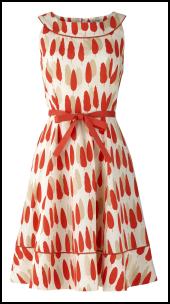 Left - M&Co Boutique Colour-block Orange Pleat Dress £79.
Right - Orla Kiely Dress for People Tree SS12 Collection
People Tree Orla Kiely Stockist Number: 0207 042 8900 - peopletree.co.uk.
This bright coral orange coral dress has been made in the Fairtrade tradition.
§
Structured Peplums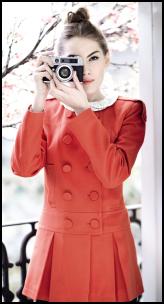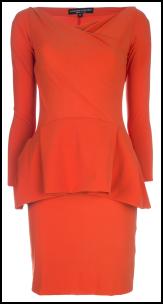 Left - Tangerine Coral Red Box Pleat Peplum Jacket - Various Items At TKMaxx SS12.
Right - LE PETITE ROBE DI CHIARA BONI Peplum Dress £324 - Farfetch.com.
Many fashion designers re-introduced peplums into their ranges, but in 2012 the peplum has a different look. It comes in many variations so for this season call it a modern peplum since fashion designers have given it a more architectural shape.
The modern peplum has greater volume, structure and padding to keep that architectural shape alive. It echoes much of the volume led fashions of the past decade
Phoebe Philo designer at Celine showed a big peplum belt that was a detachable accessory. Peter Pilotto, Osman, Thakoon, House of Dior, Dries van Noten, Jason Wu, Acne and high street store Zara all have peplum elements in their collections. Peplums were added not just to tops and jackets, but also to skirts and as waist highlighting to dresses.

Pantone SS2012 - Tangerine Tango 17-1463
Right - Pantone - Tangerine Tango 17-1463.
Bralets, Crop Tops & Sundress Bodices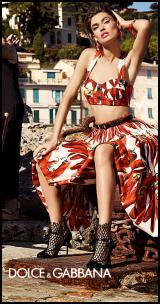 In Milan for Spring Summer 2012 Dolce & Gabbana showed fitted and flaring circle frocks with the inspiration clearly Italian. Continuing the 50s theme Dolce and Gabbana mixed high waist circle skirts with pin up girl corset bra crop top sun and swimwear.
4---------M4--------4
Yes - the crop top is back, but only for those with superb abs. If you have any flab forget this look unless you are prepared to spend hours in the gym or doing Pilates. Please don't show that muffin top as this look sits above high waisted trousers. It's not low slung, or on the hip, but firmly placed well above the waistline.


Left - River Island SS12 Printed Sun Bra Top & Pencil Skirt - Stockist Riverisland.com.
Right - River Island SS12 Tropical Flower Fifties Tie Halter Neck Dress.
This is a review of the tangerine orange fashion looks for the spring summer season of 2012. Tribal influences mean that colours are sometimes richer deeper and more burnt in hue - not quite rust. These are sun dried tones with a hint of Moroccan influence.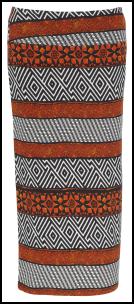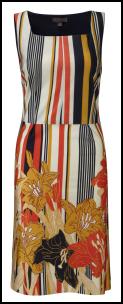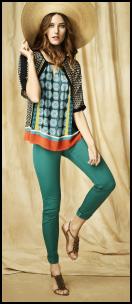 Left - Tribal Print Ziggy Maxi Skirt £20 River Island SS12 WW Clothing.
Stockist Number: 0208 991 4904 and Riverisland.com.
Centre - Sunset Pencil Dress, White, £59.99 Fever Designs Spring Summer 2012 - Fever Stockist Number: 020 7636 6326.
Techno Print Tunic £45/€70, Lucy Jeans £45/€70, Bakewell Sandal £40/€62 - Monsoon SS12 Stockist Number: 08448110068
Watch for Bold African Border Prints and Desert Sand or Moroccan Terracotta Dust Colours. Colourful beadwork in particular uses tangerine beads set against turquoise and black or brown bead for greatest tribal effects.
Maxi Dresses
Maxi Dresses have continued to attract fans as they are well suited to all day dressing for holidays. The loose flowing lines and gorgeous prints means that a wide range of body figure types feel happy and comfortable in a maxi dress.
Tropical Hothouse Flower Print Maxi Dresses
The maxi dress is especially suited to exotic prints that flow up the length of the skirt dress. Border prints and tiers of frill also utilise fabric cutting to show off the printed fabric to maximum effect. Hot tangerine features in many of the tropical prints used in maxi dresses.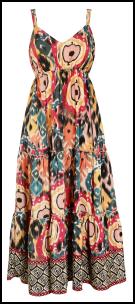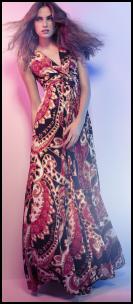 Left - BHS SS12 Multi Coloured Cotton Dress. TBC.
Centre - Wallis SS12 - Tropical Red Flower Animal Print Maxi Dress.
Right - Phase Eight SS12 - Marianne Tribal Colour Mix Paisley Maxi Dress £110.
...(v4r)
As it is intended for daywear a true maxi dress unlike an evening dress should hover at the ankle and allow the wearer to show off pretty sandals or shoes. Maxis are often yoked, empire line or halter necklines and as beachwear offer easy comfort for those who wish to go braless. Yummy mummies also find a maxi dress an attractive alternative to other maternity wear!
When white is added to a strong colour a softer tint, a pastel is produced. In the case of tangerine tango it produces a soft pastel pretty peach tone.
The new season fashion moods all acknowledge pastel colours are an important fashion element of the season. The delicacy of pastel tints combined with silks and suede all add extra luxury factors to the ownership of such garments.


Centre - Catwalk Fashion By Tibi - Peach Pastel Shorts/Jacket.
Far Right - SS12 Mint Velvet Peach Orange Dropped Waist Hip Yoke Summer Skirt - £59/€79. Mint Velvet SS12 Stockist Number: 0845 456 2200.
Twenties Hip Focus Dropped Waistlines
The 1920s look has dropped waists and very toned down light pastel tints of tangerine tango give us lovely peachy pastels that are sugar almond sweet.


Left & Right - SS12 Philosophy Catwalk - Pastel Peach Retro Twenties Dropped Waist Beaded Dresses.
Knitwear
Spring has brought new life to separates with statement knitwear. Buy one outstanding knit piece and wear it with similar toned, but contrasting texture pieces on the bottom half. Choose from matte or lustrous yarns, silk and cashmere mixes or cotton with rayon and linen for a cooler top.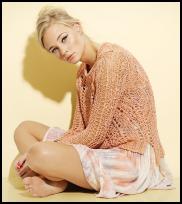 Right - Miss Selfridge SS12 Womenswear Separates.

Knitwear is set to make strong fashion statement for Autumn 2012 so get stocking up on all season quirky knitwear now.
Sports Follower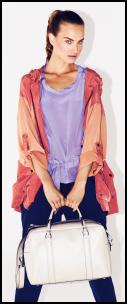 Luxe sportswear takes inspiration from the track or field. This look embraces techno fabrics. Look for silky track pants, tops with sheer mesh panels, racer backs, go faster stripes that define garment shapes on shoulders and leg seam lines.
At Max Mara Spring Summer 2012 Neoprene shell tops, pencil skirts, and tube dresses gave a slim line silhouette with an added sporty touch marked by elasticated wrists and collars. All ideal in an Olympic year.
MaxMara luxury label's collection uses a clean uncluttered sleek silhouette that uses high performance fabrics in desert sand colours as well as leather and organza.
Left - SS12 M&S Trackstar Limited Coral & Peach Colour Blocking Parka £65.
Colour blocking continues to be an important for fashion in 2012. Pantones' colours include tangerine tango a hot bright orange, but softer pastel more peach like tones are in line with the mood for pastel tints.
The Best Orange Lipsticks

Finally with so much tangerine, orange and coral fashionwear in the stores its time to rethink make-up and lipstick colours. The following are some of the best orange based lip colour options.
I am a fan of Max Factor Lipfinity lip wear and Maybelline 18 or 24 hour lip formats as I hate feather spread lips or stains on crockery. For tangerine tones try Max Factor Lipfinity 152 Burnished shown right. There is also an orange gloss for gloss lovers - Max Factor Max Effect Shade 10 Orange Smack.
Now manufacturers are working hard to produce better longer lasting, creamier lipsticks in a traditional twist up stick.
Tangerine, satsuma, clementine are all colours we associate within the citrus orange colour range. Rouge Prodige Lipstick by Clarins in Clementine costs £17.50. This is a very wearable orange red which is creamy and long lasting.
Boots have a winner with No. 7 Stay Perfect Lipstick in Gay Geranium. It costs £10 and has a creamy texture which moistures like a lip balm. It has incredible staying power and is rich geranium in colour.

But for stick lipstick fans top of my list is Mac Lipstick in Morange (left) priced at £13.50. This is a brilliant orange lipstick that achieves creamy orange moisturised lips beautifully.
Make sure you consider a new lip colour to team with orange and golden tones in women's wear. Its well worth investing now in a good orange/tangerine/coral lipstick as orange fashion will be with us for some time.
You are reading an original 2012 tangerine colour fashion trends article by Pauline Weston Thomas only for publication on www.fashion-era.com ©.
Copyright of images courtesy of Prshots.com, Dorothy Perkins, Debenhams, Fever, farfetch.com, Hobbs, House of Fraser, Isme, John Lewis, La Redoute, Long Tall Sally, Marks & Spencer, Matalan, Mint Velvet, Miss Selfridge, M&Co, missguided.co.uk, Monsoon, New Look, Oasis, peopletree.co.uk,Phase Eight, Primark, River Island, Swarovski, TKMaxx, very.co.uk, Wallis, Warehouse.
Date Added 24 Mar 2012 - Ref: P.881.
If you like this page then please share it with your friends
---
-------- Link Pink ---------
For more information on ladies and teens fashion trends go to:-
Archived Sections
Custom Search
About Fashion-Era.com
Fashion-Era.com looks at women's costume and fashion history and analyses the mood of an era. Changes in technology, leisure, work, cultural and moral values. Homelife and politics also contribute to lifestyle trends, which in turn influence the clothes we wear. These are the changes that make any era of society special in relation to the study of the costume of a period.

Fashion-Era.com can take no responsibility for any information on the site which may cause you error, loss or costs incurred from use of the information and links either directly or indirectly. This site is owned, designed, written and developed by author: Pauline Thomas and Guy Thomas. This site is designed to be viewed in 1024 X 768 or higher.
ALL RIGHTS RESERVED. Fashion-era.com reserves the right to add or delete information, graphics and links. Copyright © 2001-2014 on all content, text and images in Fashion-era.com. Images and text in this website may not be used on other websites.
Before you write to me for costume/fashion help or information please, please consult the extensive sitemap which lists all our pages. If you still cannot find the answer after searching the site, then before you email me, please consider if you are prepared to make a donation to the website.
Donations
Reader's donations help this site flourish, in particular donations encourage me to write more articles on fashion history as well as current trends. PayPal allows anyone with a credit card to donate easily and securely. You may donate any sum you feel appropriate.