Flapper & Sixties Retro Fashion Trends Summer 2012
This is a review of the retro twenties flapper and sixties fashion looks for the spring summer season of 2012. My article describes in detail the main styles in retro women's dresses. To read about original flapper fashion dress see my 1920s webpages.
Fashion Looks - The strongest fashion trend stories for Spring & Summer 2012 include Pretty Pastels, 60s A-line Silhouettes and 1920's Jazz Age Great Gatsby Retro - Plus made in softest pastels - peach and soft oyster pearl tones abound.
Orange Peach To Tangerine Tango Tones
Twenties Hip Focus Dropped Waistlines



Left & Right - SS12 Philosophy Catwalk - Pastel Peach Retro Twenties Dropped Waist Beaded Dresses.
Centre - P.A.R.O.S.H 1920s Decolletè Sequined Dress £419 - Farfetch.com.
Films that are influencing retro fashion silhouettes include W.E; the film depicting Marilyn Monroe's life, plus TV's Downton Abbey and Birdsong. The Great Gatsby effect highlights 1920s flapper looks and is often revitalised by designers. You are reading an original retro fashion trends for summer 2012 fashion article by Pauline Weston Thomas only for publication on www.fashion-era.com ©.
The High Street Tackles The Drop Waisted Dress
These two beaded dresses pick up on the retro twenties styles and the retro sixties silhouette. It is hard to say one is much different from the other because many sixties styles referenced the loose easy flowing boyish lines of the twenties.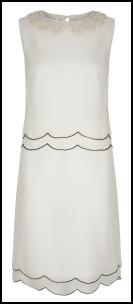 Left - Pastel Lemon Beaded Retro Twenties Flapper Dress From New Look.
Right - White Beaded Collar and Scallop Feature Dress.
Below twenties retro fashion silhouettes with a modern touch.


Left - Dress By A|Wear SS12.
Right - Burnt Orange Dress - John Lewis SS12.
At Max Mara lace, sequins and fabulous prints were the fabric mainstays of the showcase.
The use of rich pattern and textural passementerie can be found in garments, fabrics or add it yourself. Select brooches, pins and decorate necklines, hats, bags and scarves; try using clips on the corners of necklines for a real vintage retro touch.
Think of tasselled trims, feathers, rich lavish beading and dropped waist dresses that swish and swing. Elastication was also a feature at No. 21 where Alessandro Dell'Acqua used it the give a new look to hemlines. Peach, toffee, caramel, icy blue and silver were tints to tempt.
Alberta Ferretti collections always seem modern and fresh with spring/summer 2012 no exception. Colours included - peach, mustard brown and yellow, blue, cobalt and emerald. The looks varied from twenties drop waist lines in for example blocks of white with emerald, monochrome slip dresses, to jungle safari styling. You are reading an original retro fashion trends for summer 2012 fashion article by Pauline Weston Thomas only for publication on www.fashion-era.com ©. To



Left - SS12 Art Deco Twenties Black/Gold/White Catwalk Inspiration.
Centre - High street Interpretation By River Island 2012.
Geometric Aztec Beaded Fringe Ivie Dress £100 - riverisland.com.
Right - Pastel Contrast. Biba Pastel Nude Beaded Retro Flapper Dress £225/€257. Biba Ivory 'Faith' Clutch £145/€174. All at House of Fraser - Stockist Number: 020 7003 4000. Also shown in header.
Gucci's Frida Giannini also took inspiration from the early twentieth century with Art Deco inspired glamorous party wear. Art Deco was evident in the geometric prints and the bold use of striking statement making coloured lining flashes such as emerald or tangerine. Strong colours continued into high waisted silk trousers. Beaded, fringed and chevron patterned drop-waist styles added a Charleston vibe for the modern world.
Variations and spins on Art Deco pattern formations work so well in beaded dresses. The art deco styling of the black and gold dress above adds a retro touch to this beaded shift. This piano keys pattern beaded dress below and shown in nude/black has a twenties feel with its dropped waist and swishy fringe beaded skirt.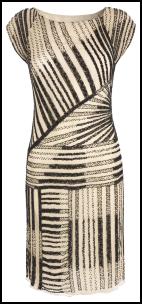 Left & Centre - Ben De Lisi Bead Embellished Dress £150/€232.
Debenhams Clothing - Stockist Number: 08445616161.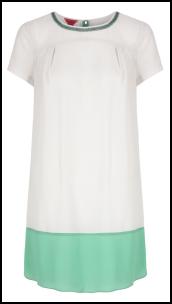 Left - Mint Green Hem Retro Sixties A-line Shift. Monsoon Kasper Dress £55/€85 - Due May - Stockist Number: 08448110068.
Centre - Ted Baker Black Taupe Dress SS12.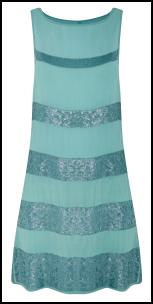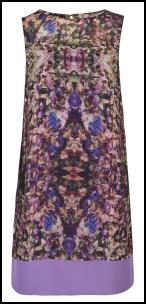 Right - Sea Green Beaded Shift Dress - Miss Selfridge.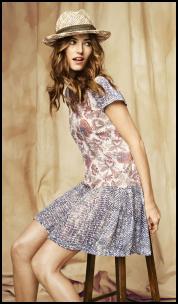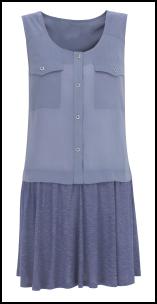 Left - Cleo Dress £49/€76 - Monsoon Stockist Number: 08448110068
Right - Marks & Spencer Blue Dropped Waist Dress.
You have been reading an original 2012 main retro flapper and retro sixties fashion trends article by Pauline Weston Thomas only for publication on www.fashion-era.com ©.
Copyright of images courtesy of Prshots.com, Swarovski, Marks & Spencer, Warehouse, Farfetch.com, John Lewis, House Of Fraser, Debenhams, Monsoon, Ted Baker, Evans, River Island, Miss Selfridge, A|Wear, Fever, Kaliko, New Look, River Island.
Date Added 24 Mar 2012 - Ref: P.880.
If you like this page then please share it with your friends
---
-------- Link Pink ---------
For more information on ladies and teens fashion trends go to:-
Archived Sections
Custom Search
About Fashion-Era.com
Fashion-Era.com looks at women's costume and fashion history and analyses the mood of an era. Changes in technology, leisure, work, cultural and moral values. Homelife and politics also contribute to lifestyle trends, which in turn influence the clothes we wear. These are the changes that make any era of society special in relation to the study of the costume of a period.

Fashion-Era.com can take no responsibility for any information on the site which may cause you error, loss or costs incurred from use of the information and links either directly or indirectly. This site is owned, designed, written and developed by author: Pauline Thomas and Guy Thomas. This site is designed to be viewed in 1024 X 768 or higher.
ALL RIGHTS RESERVED. Fashion-era.com reserves the right to add or delete information, graphics and links. Copyright © 2001-2014 on all content, text and images in Fashion-era.com. Images and text in this website may not be used on other websites.
Before you write to me for costume/fashion help or information please, please consult the extensive sitemap which lists all our pages. If you still cannot find the answer after searching the site, then before you email me, please consider if you are prepared to make a donation to the website.
Donations
Reader's donations help this site flourish, in particular donations encourage me to write more articles on fashion history as well as current trends. PayPal allows anyone with a credit card to donate easily and securely. You may donate any sum you feel appropriate.