Here is my review of the important fashion looks for Autumn 2011 and Winter 2012. An autumn wardrobe demands less exposure of flesh, than a summer collection; in 2011/12 we are seeing longer ladylike styles in jewel colours. The trend is for gracious looks and the freedom to select from so many styles to suit individual body shapes. Check that the proportions are correct for your own body silhouette.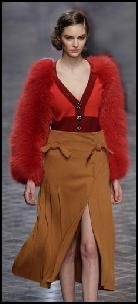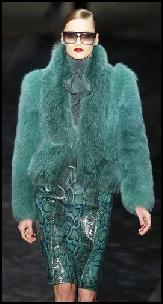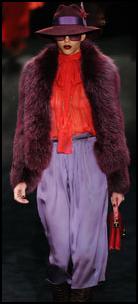 Images Courtesy IFTF. Left - Catwalk Fashions AW2011/12 Sonia Rykiel, Centre and Right Gucci.
For Autumn 2011 colours, note the vivid rich jewel colours of amethyst, sapphire, emerald, ruby pink and ruby red, citrine, amber and orange garnet. Vibrant orange colour has not had as much exposure since the real 1970s - an orange moment is here again. Expect to see this fashion colour in all areas of life from clothing to interiors.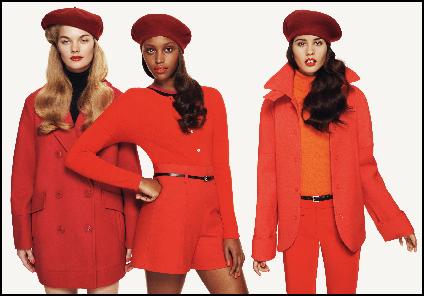 Image Courtesy of Benetton Autumn 2011/2012.
Earlier this year we saw how the silhouette was changing to one of longer dropped 1970s hemlines and wider fuller pants. Now skirt hemlines that began dropping in summer, have moved to midi lengths. For the fashion aware, skirt lengths are up to 10cms below the knee.
The feminine blouson peasant smock top of Spring 2011, with its ethereal dreamy quality, also continues as an Autumn 2011 high street fashion trend. Blouses of all types are big in both volume and 'it' factor. Huge balloon sleeves complement the latest slim line womanly pencil skirt fashion.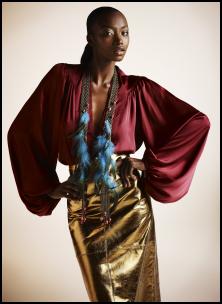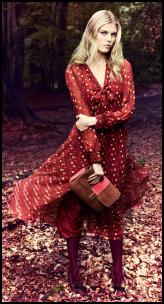 Left - River Island AW11 WW Campaign Images. Stockist Number: 0208 991 4904.
Right - Monsoon AW11 Campaign - Monsoon/Accessorize Stockist Number: 0844811006.
For 2011/12 some fashion designers have reworked styles from several specific decades of the 20th century. They've created so many fresh innovative looks enabling every woman to style her individual lifestyle new image and wardrobe.
This fashion trends article focuses on the Autumn Winter 2011/12 main styles and trends in women's coats, dresses, blouses and knitwear. Fashion trends in footwear, bags, jewellery and other women's fashion accessories always offer an easy way to rapidly achieve a fresh wardrobe update. Best of all the majority of accessories have minimal size restrictions whether you are a skinny size zero or a top end plus size. You are reading an original article about women's winter fashion styles for 2011-2012 by Pauline Weston Thomas, for publication only on www.fashion-era.com ©
The Top Women's Fashion Trends Autumn 2011
1) The Volume Look Autumn 2011- Cocoon Coats, Padded Fur Sleeves in coats and jackets. Sheer or Full Blouson Sleeves - these morph into cape shoulder styles and Capes.
2) The Leaner Look Autumn 2011 - Pencil Skirts and Narrow Tapered Lean Pants
3) The New Length Autumn 2011 - Longer Midi Lengths - Skirts/Dresses.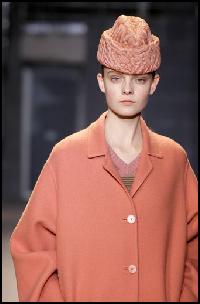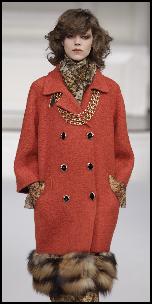 Left - Rochas Peach Cocoon Coat. Right - De La Renta Cinnamon Double Faced Alpaca Coat.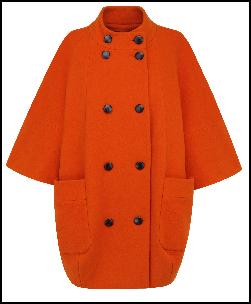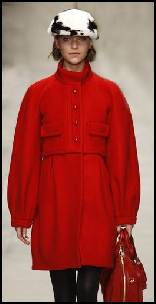 Left - Marks & Spencer Bright Orange Katy Cocoon Cape Coat £89.
Right - Burberry AW2011/12 - Red Wool Balloon Sleeve Coat, Baker Boy Fur Hat.
‡
Intense Jewel Colours - Ruby Red, Amethyst, Sapphire, Emerald, Malachite, Garnet, Amber, Carnelian, Lapis and Citrine add a rich zing of colour. Kingfisher blues, jade and raspberry reds vie with orange brights and rusty carnelian tones. In red hues think lipstick red, ruby red, geranium and hot fuchsia pink.
Colour Mixing - Mondrian Block Colour Mixing - Subtle Block Mixed Neutrals. Arctic Whites. Greens and orange are the new 'it' colours to enliven your clothes rail. Take a jewel toned blouse and team with a colourful midi skirt, and contrast hosiery.
Right - Monsoon/Accessorize AW11 Campaign Stockist Number: 08448110068.
Centre - Primark - Mustard Pussy Bow Blouse £10, Crimson Wool Pencil Skirt, Cobalt Belt £14, Loafers £16. Primark Autumn Winter 2011 - Primark Stockist Number: 0118 9606 300.
Left - Monsoon/Accessorize AW11 Kite Top 923171, Elm Skirt 923172, Tie Front Loafer 943086 , Regents Bangles 943080, Ash Clutch 943044 - Stockist Number: 08448110068.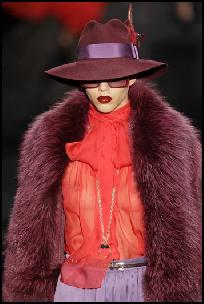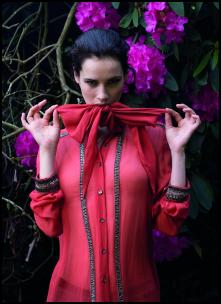 Left - Gucci Colour Blocking Catwalk Fashion AW2011/12.
Right - French Connection AW11 Ladies Red Pussy Bow Fashion Blouse - FC Stockist Tel: 020 7036 7200.
1960s - Chelsea Girls - 60s Mod Swing Coats, Teddy Bear/Chubby Coats. In dresses A-line Mod shifts and fitted shift dresses often with contrast white Peter Pan collars. Polo neck roll collars. Short and sharp 60's youth Mod inspired looks include the accessory Baker boy checked cap hats. The retro 1960s look references monochrome with black/white themes. This clean neutral palette is smart, easy to wear, buy, mix and match.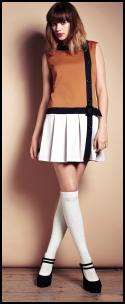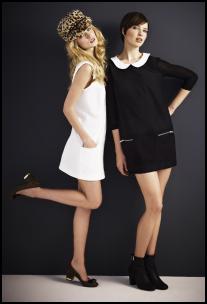 Left - Matalan AW11 - Modern Retro 60's Mods Block Print Pleat Dress £25, Mary Jane Shoes £20.
Centre - River Island AW11 WW Campaign. Stockist Number: 0208 991 4904.
Right - Oasis AW11 Womenswear Campaign.
§
1940s - Late 40s Hollywood Pin-up Glamour Girls and Grown Women Luxe Lady Elegance. Think Cinema Screen Sirens. Seen at Miu Miu, Jonathan Saunders, Louis Vuitton.
The 1970s - Seventies Divas - Wide Palazzo Pants. Military fitted hip coats. A look from Gucci in designs by Frida Gianni - 1970's smock dress silhouette; tunics to A-line shifts.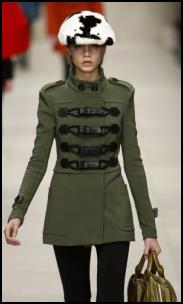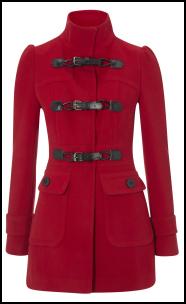 Left - Burberry Catwalk Coat AW11.
Right - Primark Red Military Duffle Coat £30 - Stockist Number: 0118 9606 300

The Cocktail Blouse - Emphasised shoulders and sleeves with extra neckline features make this a seasonal must-have. The ladylike outline this gives when teamed with a midi-pencil skirt is late 40s New Look silhouette style. This is not a 40's utility look.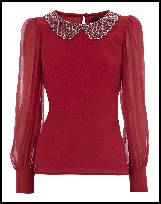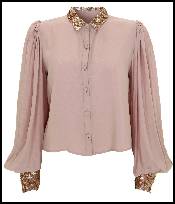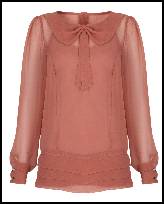 Left & Centre - Cocktail Blouses - Both Oasis AW2011/12.
Right - AW2011/12 Love Label Blouse - Very.co.uk.
Fetish Dominatrix to High Gothic. Luxe Lace Layers = sheer areas, cut out and torn fabrics, bands or tape lines of studs and often with patent or black leather. Team with over knee cuissarde boots and add a sultriness best kept for night times. Look out for gladiator shoe boots that trace an openwork boot pattern to mid-calf. Seen at Giles, Givenchy, McQueen, Christopher Kane and Dolce & Gabbana.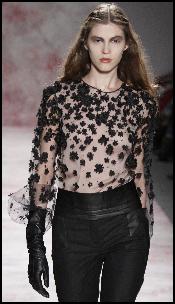 Above Left - Sisley Benetton AW2011/12 Catwalk Cuissarde Boots.
Centre - Prabal Gurung Catwalk Show AW2011/12.
Right - Marks & Spencer AW11 - Historical Romance
Autograph Dress £65, Necklace £19.50, Belt £18, Tights £6, Shoes £49.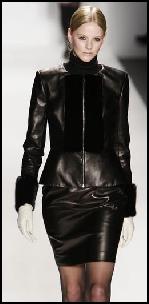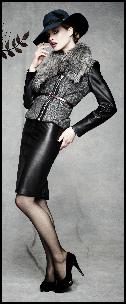 Above Left - Elene Cassis Leather Fashions.
Centre - Ralph Lauren Catwalk leather Looks AW2011/12.
Left - Marks & Spencer AW11 - Retro Glamour.
Hat £19.50, Limited Collection Jacket £120, Belt £5,
M&S Woman Skirt £99, Tights £3.50, Shoes £49.
...(v4r)
Androgyny - Tomboy Looks - A contrast to fetish fashions and homage to masculine items of dress. Tuxedo jackets give a formal air and make this look suited to business wear for those who dislike girly looks. Seen at Chanel, Paul Smith and Tommy Hilfiger.
Coats - The Cocoon Coat. Full volume on top and a tapering lower half. Think Balenciaga.
The Cape Cloak - Short and hip length capes. Sweeping floor capes for evening elegance.
Trousers - Pants are both wide and skinny. Add volume and opt for palazzo pants. Black pants are on trend again. Or choose tapered streamlined pants in leather or Lycra satin mix that hug the legs. Consider alternative jeans or pants in jewel rich colours or narrow cigarette pants in patterned materials.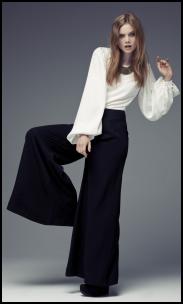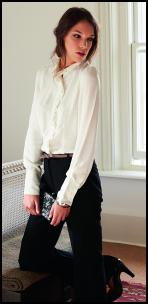 Above Left - Primark Winter Campaign Limited Edition Mermaid Blouse £17.
Primark Limited Edition Mermaid Palazzo Pants £19.
Primark Stockist Number: 0118 9606 300.
Centre - Great Plains AW11 Womenswear - Stockist greatplains.co.uk.
Right - Check Coat and Skinny Trousers - Oasis Womenswear Autumn 2011.
Shorts - Shorts continue into winter. Shorts utilise luxury materials in jewel colours or rich fabrics. Shorts look less risqué when teamed with coloured pantyhose tights, leggings or jeggings. For evening looks they adapt well to fetish fashion looks with a simple legwear change to sheer patterned tights.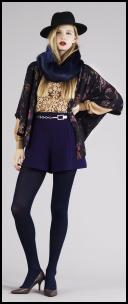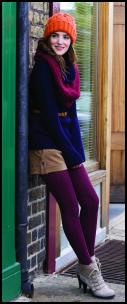 Above - Warehouse AW11/12 Smart Shorts.
Centre - Warehouse Sequin Shorts £55. Warehouse Stockist : 0845 122 2251
Dunnes Stores Ladies Autumn 2011 - Everyday Heritage Cord Shorts and Knitwear.
Textures - Tactile Materials. Snakeskin texture and as flat surface print. Lace in many colours especially jewel hues. Chantilly lace plus lace appliqué is for night and day this year. Sequins add crunchy texture with shine. Laser cut leather. Pleats from superfine to box pleats add a new swish to fuller areas especially skirts and cape shoulder line sleeves. Crunch Tweed fabrics in the manner of materials by C20th Fabric Designer Bernat Klein. The coat below left from Oscar de La Renta looks like knit at first glance, but it is slub yarn woven fabric. This has an Alpine/Fair Isle knit look to it like the poncho far right from Warehouse AW11 Christmas range.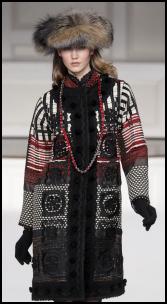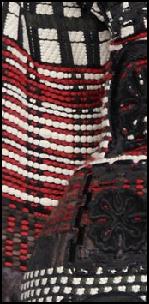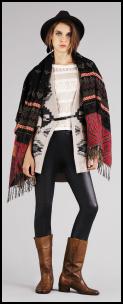 Fabrics - Liquid silks create fluid sleeves with massive gigot/leg-of-mutton proportions. This fluid silk look helps define cocktail blouses and adds late 1940s and 1970s glamour to swishing longer line skirts. Sequins and stars at Dolce & Gabbana.

Left - Dolce&Gabbana Catwalk Fashion AW11/12.
Right - Topshop AW11 Women's Evening Wear - Sequin Dress & Fur Coat.

Left - Oasis Womens Wear Shimmer Dress - Oasis AW11.
Right - Warehouse Autumn Winter Sequin Cut Out Dress £90, Grey Faux Fur Coat £70. Warehouse Stockist Number: 0845 122 2251.
Metallic Futurism - Sparkle and shimmer iridescence. Unusual silhouettes that have a space age feel are made more futuristic by fabrics that glimmer and sheen with metallic undertones.
Baroque Brocade Opulence - These utilise the traditional opulent baroque scrolling interlinking forms, further enhanced with use of shiny and dull metallic threads. Intricate embroideries.

...(v4r)
Prints and Patterns for Autumn / Winter 2011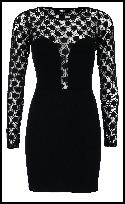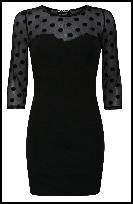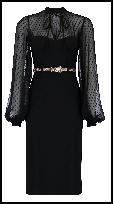 Left - Debenhams LBD - Debenhams Stockist Number: 08445616161
Centre - Black Polka Dot Lace Shoulder/Sleeve Dress £17.99 From Pilot.
Pilot Stockist Number: +44 24 7671 8834.
Right - Star by Julien MacDonald Dobby Spot Little Black Dress, £60/€90 - Debenhams.
Knitwear and Heritage Trends for Autumn 2011
Heritage - Tweeds, Plaids and Checks. Burberry used red and black checks in rich wools. Hound and dogtooth checks, blanket plaids and tablecloth checks give a cosy air to winter throws, wraps, ponchos and capes. Tailored jackets also suit the good quality British wool theme. Heritage was seen at Fendi, Rag & Bone, Tory Burch, Burberry.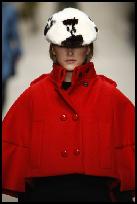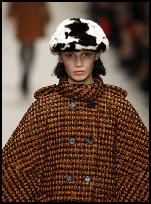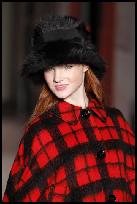 Above Left & Centre - AW11/12 Burberry Celebrates British Wool With 2 Cape Coats.
Right - Moschino Cheap & Chic Checks. All looks copied in mass fashion wear.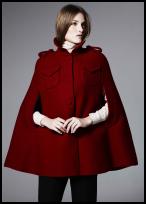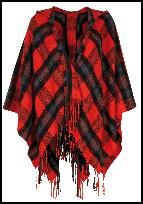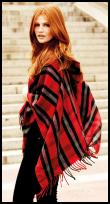 Above Left - Modernist at House of Fraser.
Boutique by Jaeger Red Cape Coat £330.
Pied a Terre Cream Roll Neck Jumper £70/€91.
HOF Stockist Number: 020 7003 4000
Centre & Right - NEXT AW11/12 Check Cape £28/€38.
Skinny Jeans £22/€29 - NEXT Stockist 0844 844 8000.
Urban warrior studs add texture as do feathers and fringe. Studs decorated sleeves so thickly at Burberry the sleeves became a new fabric. Fringe is an integral part of many ponchos or capes.
Knitwear - Knit Texture - Cable and bramble stitch or Fair Isle add contrast to plain knit. Warm tones of rust, coral peach, cinnamon and plum add new chic. Scandinavian felted fuzz materials add a natural handmade edginess. 1970s Missoni zig zag patterns in both knit and fabric feature this autumn 2011 as retro 1970s looks. Crochet patterning gets a boost from designer Christopher Kane, but at high street level just check it's well crafted. Gilets work in any of these textures.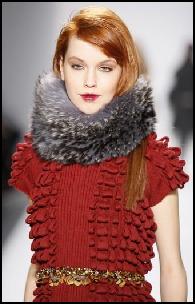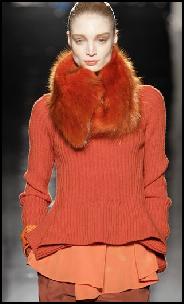 Above Left - Cynthia Steffe Knitwear - Ready to Wear Fashion AW11/12.
Centre - Sportmax Catwalk Fashion Knitwear AW11.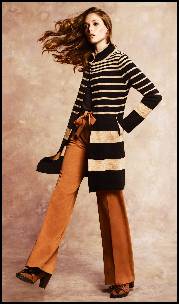 Left - A|wear -70's Paisley Frill Blouse, €35/£30; Peach Pleated Palazzo Pants, €50/£45.
Heritage Tweed Blazer, €60/£55; Brown Satchel, €30 £25; Tan Belt, €8/£4.
All A|wear Jet Set Autumn 2011 Womenswear. Stockist Number: 00 353 1 4724900.
Right - Monsoon/Accessorize - Samantha Stripe Knit Coat.
Camel Trouser - Monsoon Stockist Number: 08448110068.
-------v6-------
Bags - The Satchel Bag, Hug/Hold Mini Bags and Bejewelled Bags. At Miu Miu the shoulder details were exaggerated. Miu Miu also polished the clutch by making them super-size clutch bags. Roberto Cavalli's tasselled handbag and the chic Vespa bag from Bally (£1295) all fight for 'it bag' positions.
Winter Warming Hats - The Fedora, The Cloche, The Cap, The Trapper - Felted or Knitted. The Wool knit cable hat and the hooded cowl hat are easy roll up winter headwear.
Footwear - Stiletto Court Shoes. Say goodbye to platforms for the hottest footwear fashion look and trot out for some sleek pointy toe flat soled stiletto heels. Jewelled shoes add luxury glamour. Boots Footwear Styling - Choose knee high boots, Cuissarde (over knee) styles and tasselled boots. Low brogues, chunky block heels, coloured shoes with colourful clothes are alternatives.
Jewellery - The short choker necklace in jewellery or fur is an Autumn 2011 accessory. Chunky necklaces in semi-precious stones or metal nuts and bolts style.
Timeless Jewellery - Diamonds, Coral and Pave. Chanel Boucle de Camélia ring in white gold and diamonds and the Dior Bois de Rose collections are trendsetters in floral form jewellery. Try Braybrook & Britten for less costly alternatives. Brooches make a come-back. Ceramic wrist watch bands in black or white that imitate the famous black or white Dior watch styles of recent years, are now available as high street versions.
Gloves - The easiest colour accessory is an interesting pair of gloves - above wrist long or short. Add instant new colour with gloves in plain or complex designs with laser cut leatherwork.
Hair and Make Up - Bigger Hair, Fuller Chignons, Ponytail variations, Halo Braid Plaits. Quiff hairstyles - long or short and with an 80s touch return. In make-up rich intense lipstick is back as gloss loses its glisten. The Twiggy style banana socket line adds eye emphasis depth. 1920s style headbands or hair ornaments and fake hair extension ponytails draw attention to hairstyles. You may wish to give the thumbs down to feathered hair extensions.
Trims - Big buttons, leather bound buttonholes and leather trimmed sleeve edges add a dual touch of sixties finish and heritage look. You are reading an original article about the latest women's autumn and winter fashion for 2011-2012 by Pauline Weston Thomas, only for publication on www.fashion-era.com ©
Key Fashion Trends Autumn 2011
The key elements of fashion trends for autumn 2011, winter 2012 depend on longer lengths and bold rich vibrant colours in contrast textures and luxury fabrics. The silhouette pays homage to forties, sixties and seventies decades of style fashions.
One of most commercial fashion trends in UK in 2011 has been the new retro 1970s. Now for autumn this trend continues, but is joined by the late forties look along with a favourite retro fashion of recent years sixties Mod. Fashion styles for autumn 2011 and winter 2012 focus on mixes of zinging jewel colours.
These are the key looks of fall 2011, winter 2012. We enter a fashion era offering an individual take where the melting pot of texture and tone take you into self-styling fashion with renewed confidence. Find your best look and focus on painting a clothing picture that expresses the true you. Looking like you is more original and possibly more achievable than looking like the latest celeb.
The focus for autumn 2011 is on jewel colours, a major trend carrying on from spring brights and colour blocking trends. One cannot over emphasise the richness and boldness of these colours. For example the blue range grows in popularity. Cobalt, lapis, violet and sapphire blue have a sparkling and stunning electricity about them. More subtle colour blocking combines rich blue with a neutral such as black.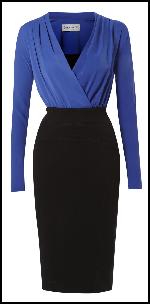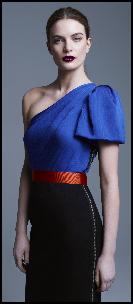 Left - Mary & House of Fraser - Antonio Cobalt Blue Dress £200 Mary Portas.
HOF Stockist Number: 020 7003 4000.
Right - Roksanda Iilinic Collection Debenhams - Staying Power of One Shoulder Trend.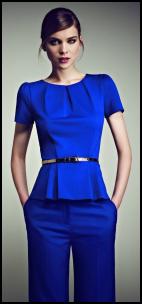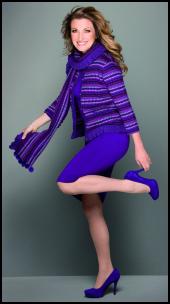 Above Left - Oasis Autumn 2011/2012 True Blue Top & Trousers.
Right - CC AW11 Jane Seymour in Petite Fashions - www.ccfashion.co.uk
The red, cerise, honeysuckle pink and tangerine orange range of harmonious colours are equally stunning colour choices.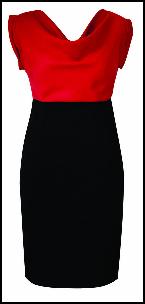 Above Left - Oasis Lady in Red AW11/12.
Centre - Colour Block Red Black Dress - Dunnes Stores AW"011/12 - Dress €25/£21.
Print fabric and check plaids are also important. Floral fabrics have delicate eastern oriental blooms and the contrast with reworked animal and especially reptilian snakeskin print can be interesting. Contrasting soft dusty ballet and nude tone colours remain. These give the contrast of wispy ethereal looks which now meet the edgier more aggressive fetish fashions of darker winter months.
Ladylike styling has competition from contrasting gothic fetish black looks which need control to ensure the look is not taken overboard. This season exposure has to be subtle. Rarely has there been a season where more is best - more cover that is! Modesty is the reality check buzz word of 2011-2012 when it comes to grown up ladylike dressing. Don't let it all hang out or you will look so passé that your friends may be embarrassed. Catch up now with the new decorum in dress.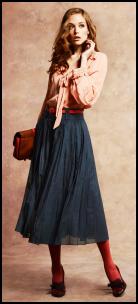 Left - F&F at Tesco Autumn/Winter 2011 Womenswear - Jumper £10, Skirt £16, Bag £10, Beret £8, Gloves £6, Tights £3.75, Shoes £19.50. www.tesco.com/clothing.
Centre - 70's Fringed Zip Cardigan £28, Pleat Front Midi Skirt £20.
All Matalan AW11.
Right - Monsoon/Accessorize AW11 - Cagney Blouse, Bleeker Skirt,
Tie Front Loafer, Hawthorn Bag 943039 - Monsoon Stockist Tel: 08448110068.
...(v4r)
The silhouette is mostly longer and the newest skirt is the longer pencil skirt. The pencil skirt's up-to-the-minute element is the drop to well below knee. The pencil skirt should be worn at least at the base of the knee or even midi length. So for length think one to four inches below the knee.
The below knee 1970s skirt is A-line and sometimes buttoned through. This style is suited to fine woollen cloth, corduroy, velvet or denim. It looks good as a midi with late 1940s 'New Look' styling. It can also be of 1970s midi styling as a fuller swirling skirt made up in winter weight fine tweed or worsted/woollen cloths. Full prom skirts also look novel when cut to a longer length. Shorter prom skirts are best for the very youthful only - know your limitations and avoid mutton moments by overdoing 60s/70s retro minis.
Retro Influences
Ladylike versions from several decades including the forties, the sixties, the seventies and even sometimes the eighties mean the main looks are groomed and precise. Bigger hair and true lipstick coated lips is complimentary to this clothing. Polka dot spots and Prince of Wales checks add a graphic touch.



Left - Hobbs London Audrey Coat, £239/€275. Hobbs London Eton Shirt, £69/€80. 30th Anniversary Richmond Mary Janes, £169/€195.
Stockist Number: 0845 313 3130 or hobbs.co.uk
Centre - Topshop Unique Catwalk Fashion AW11/12.
Right - Very.co.uk Coat and Spot Tights.
Structured dresses especially structured retro sixties shift styles highlight button bands, contrast Peter Pan collars, box pleats and dropped waistlines. Louder checks utilise the vibrant colours of the season and are usually blended with more neutral grey, black, brown or navy to mute the effect. Navy has been slowly creeping back onto fashion rails especially as navy lace or darkest sapphire lace over a black lining.
You are reading an original article about women's winter fashion trends for 2011-2012 by Pauline Weston Thomas only for publication on www.fashion-era.com ©
Lace made a welcome return some seasons ago, but its desirability increased a hundred times after Catherine Middleton wore a beautiful lace gown for her wedding in summer 2011.
And one the edge of lovely lady looks is black lace left and centre or the look of dimity /devore burnout spotted sheer fabrics as shown in the glamorous little black dress far left below.
Black is always popular for lace dresses, producing the ideal little black dress. But the LBD has morphed into the LCD - the little coloured dress.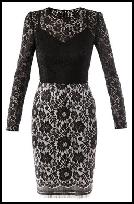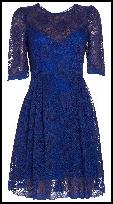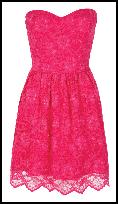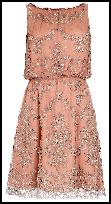 Left - Dolce & Gabbana Black Lace Cocktail Evening Dress at matchesfashion.com.
Centre Left - Fusion Monsoon/Accessorize - Diadem Lace Dress, £80/€125.
Centre Right - Pink Lace Party Prom Bustier Dress - very.co.uk
Right - Monsoon/Accessorize - Etienne Lace Dress - £140/€222.
Monsoon Stockist Number: 08448110068
Coloured lace, especially sapphire blues, emerald, ballet pink or red add a welcome alternative to the black lace used for sleeves and shoulder insets in Goth fetish fashions. The black lace used in many of these dresses and blouses is a very sophisticated stand-alone look. This can be taken into fetish themes as long as you select footwear and jewellery appropriate to your end fashion goal
Cobwebby skirts, high necklines in early Edwardian Downton style and jet beading add a prettiness to Goth not seen before. Reptilian snakeskin, alligator and crocodile surface prints add character to materials from finest chiffon georgette to hardest leather.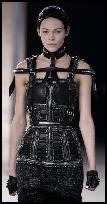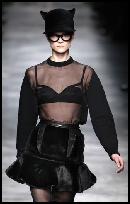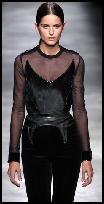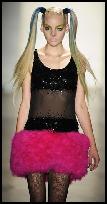 Above - Catwalk fashions from McQueen, Givenchy and Jeremy Scott.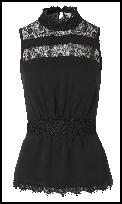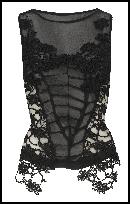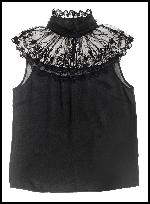 High street black tops to help work this look.
Left - Debenhams.
Centre - M&S - Per Una Speziale Dita Shell Top £45.
Right - Sisley Benetton Lace Yoke Black Overblouse.
These two styles of Goth and Fetish fashion intermix very easily. Fetish fashion is a fun look for empowered women strong enough to cope with showing her more public daring figure to friends and colleagues.
Get some Spanx or similar Goth bustier corsetry to define that body into the whittled waistline. The narrow waist is required of the new fetishist fashion trend, where the norm for perfecting dominatrix vixen garb is an hour glass silhouette. Those Edwardian women knew how to enhance their curvaceous features despite being swaddled in layers of clothing.
Autumn is the season of parties and special outfits, so metallic fabrics and fish scale or huge paillettes sequins add glamour to 2011 fabrics. Sequins in particular modernize pencil skirts that have more length than we have been used to expecting.
You are reading an original article about autumn and winter fashion trends for 2011-2012 by Pauline Weston Thomas only for publication on www.fashion-era.com ©
-------v6-------
This review features the most important women's fashion looks for the autumn 2011 and Winter 2012. This original article reviews the main looks in dresses, footwear, bags jewellery and other fashion accessories only for publication on www.fashion-era.com ©
Free delivery on orders over £200 with Bhs!
Copyright of images courtesy of Prshots.com, Swarovski, Marks & Spencer, Hobbs, House of Fraser, Primark, Oasis, Debenhams, River Island, Accessorize Monsoon, Matalan, Benetton, Warehouse, Jaeger, Ralph Lauren, CC, Dolce & Gabbana, Next, very.co.uk, French Connection, A|wear, IFTF, Topshop, F&F Tesco, Pilot, Dunnes Stores, Great Plains.
Date Added 21 Sept 2011 - Ref: P.843.
If you like this page then please share it with your friends
---
--Link--
For more information on ladies and teens fashion trends go to:-
Archived Sections
Custom Search
About Fashion-Era.com
Fashion-Era.com looks at women's costume and fashion history and analyses the mood of an era. Changes in technology, leisure, work, cultural and moral values. Homelife and politics also contribute to lifestyle trends, which in turn influence the clothes we wear. These are the changes that make any era of society special in relation to the study of the costume of a period.

Fashion-Era.com can take no responsibility for any information on the site which may cause you error, loss or costs incurred from use of the information and links either directly or indirectly. This site is owned, designed, written and developed by author: Pauline Thomas and Guy Thomas. This site is designed to be viewed in 1024 X 768 or higher.
ALL RIGHTS RESERVED. Fashion-era.com reserves the right to add or delete information, graphics and links. Copyright © 2001-2014 on all content, text and images in Fashion-era.com. Images and text in this website may not be used on other websites.
Before you write to me for costume/fashion help or information please, please consult the extensive sitemap which lists all our pages. If you still cannot find the answer after searching the site, then before you email me, please consider if you are prepared to make a donation to the website.
Donations
Reader's donations help this site flourish, in particular donations encourage me to write more articles on fashion history as well as current trends. PayPal allows anyone with a credit card to donate easily and securely. You may donate any sum you feel appropriate.