Sequin Pailette Beaded Fashion Styles for 2012
Womens Shiny, Glitter, Sequin, Pailette, Beaded & Fluid, Fabrics
Designers used oversized sequin Pailettes, Swarovski crystals, sequins, beads and studs to create outstanding crusted embellishments. The use of rich pattern and textural passementerie creates simply fabulous dresses. Fashion designers chose glistening, glittering, glimmering materials with superb tactile qualities, slinkiness and shininess.
The trend is for Metallic Futurism with unusual silhouettes that have a space age feel. These garments are made more futuristic by fabrics that glimmer and sheen with metallic undertones. Simple shapes that echo retro sixties silhouettes are perfect to show off luxury fabrics that can take a simple design shape. Prada showed stunning pieces intended to be worn for either day or evening wear.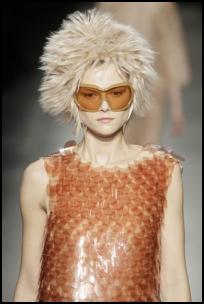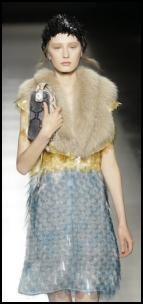 Prada Pailette Sequins In AW11 Women's Catwalk Outfits.
These two dresses below use two of autumns hottest colours - teal and orange.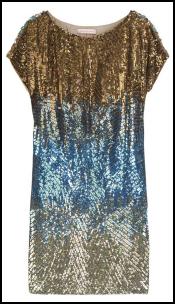 Left & Right - Matthew Williamson Burnt Out But Opulent - Sequin Embellished Mini Dress £465. Plus Fabric Detail - Stockist Number: 07951 253052.
‡‡
Texture is always important for womenswear clothing for the festive season. Sequins were suggested by designers for anytime wear, making them suited to garments designed for casual or red carpet events. So note any racks of apparel with big sequinned skirts or glitter trousers, and give them a good browse.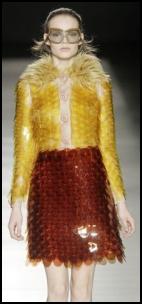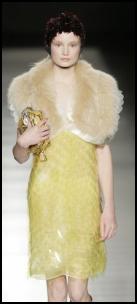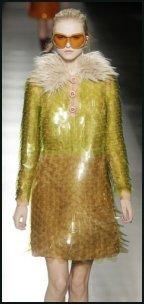 Above Prada Catwalk Pailette Sequin Garments AW11.
Massive sequin Paillettes are supersized this year. Prada served up fish-scale dresses, and Christopher Kane scattered sheer dresses with clear sequins. The look is delicate and wispy rather than glitzy bling.
Always at the forefront of trends, TopShop follows this texture with their blue Pailette shorts. They are in store for the Christmas AW11 season.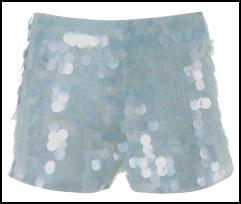 Topshop - Huge Blue Sequin Pailettes on Shorts - AW11.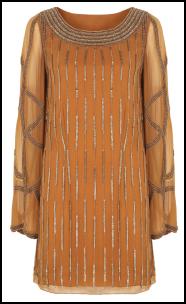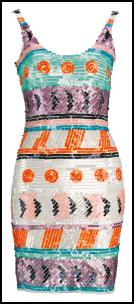 Left - Love Label at Very.co.uk. Orange Bead Sixties Tunic Dress - £75.
Centre - Sequin Colour Block Patterned Mini Dress £99 - Very.co.uk.
Right - Dress Detail.
Many styles this year are based on sixties shift lines of the sheath or swing A-line silhouette. The simple silhouette shows the sequins to perfection. Overall, dresses are more modest and the trend is for sequin gowns to have sleeves or normal armholes. But there are still ultra-glamorous cutaway bodice and bustier prom styles to be bought.
§
With its glittering appliqués, this short bustier dress looks sexy and elegant at the same time. The unusual pleating emphasises the silhouette and the shoulder-line.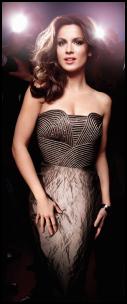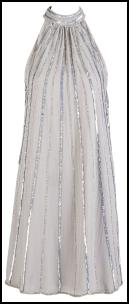 Left - Vera Mont Dress UK ₤ 350, IRL€ 410.
Vera Mont Autumn Winter 2011 Stockist Number: 020 7411 0322.
Right - Oli Premium Silver Sequin Spray Halter Dress - £75. AW11 Clothing Stockist Number: 0871 987 1030.
Look at the pretty linear detail in this hand embellished halter neck chiffon dress from Oli. Perfect for cocktail parties, the understated sequin detail of this dress should be teamed with striking accessories.
You are reading an original Sequins Dress 2012 fashion article by Pauline Weston Thomas only for publication on www.fashion-era.com ©.
From pastel patterns to black bugle bead mixes the beaded sequin embellished dress is a seasonal must have. Topshop has some wonderful bold bright sequin dresses.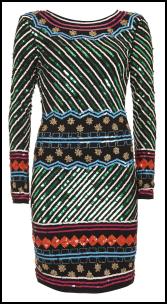 Multi Coloured Sequin Cocktail Evening Dress From TopShop.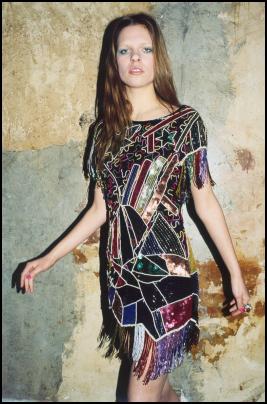 Centre - Multi-coloured Sequin Cocktail Evening Dress From TopShop.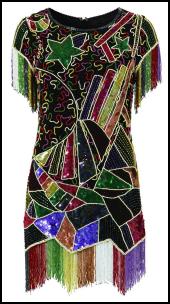 Multi-coloured Sequin Cocktail Evening Dress From TopShop.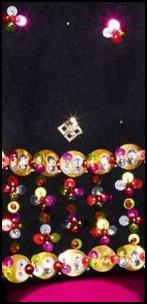 Left - Monsoon/Accessorize Fusion AW11 - Stockist Number: 08448110068.
-------v6-------



Left & Centre - Rodarte Sequin Pailette Dress.
Right - Teatro Velvet Tunic Big Sequin Dress - €134 - Littlewoods Ireland - Occasion Wear. Littlewoods Ireland Stockist Number: 01811 2222.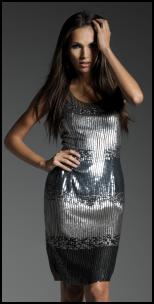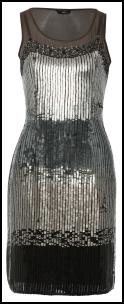 Left & Right - Striped Sequin Dress £99 - M&Co Xmas 11 Womenswear - Stockist Number: 0800 0317 200.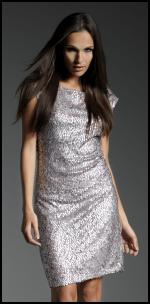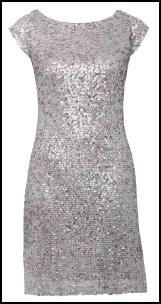 Left & Centre - Silver Sequin Shift Dress £69 - M&Co Xmas 11 Womenswear.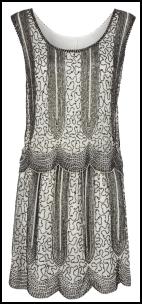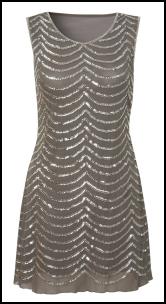 Left & Centre - NEXT Embellished Dress £120/€159- Stockist Number: 0844 844 8000.
Right - Silver Embellished Sequin Dress, £26 - Apricot AW11.
Retro 1920s/1980s Dresses
Dropped Shoulder Sequin Shift Styles
As well as sixties shifts there are other silhouettes that take inspiration from the dropped shoulder kimono lines of 1920s and 1980s tops and dresses. These styles are always wonderful for plus size women as they accommodate a fuller bust and just as easily look good on a skinny woman flowing over a flat chest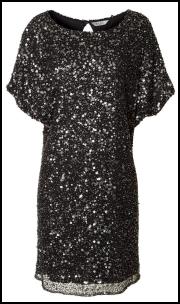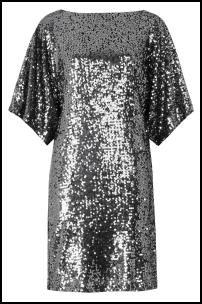 Perfect easy wear luxury black Beaded Christmas dress. These are premium embellished black and silver sequin occasion party wear dresses.
Left - EAST Boutique Neemrana Black/Silver Sequin Dress £160.
EAST Boutique AW11 - Stockist Number: 0208 877 6543.
Right - This Luxury Silver Sequin Dress £49.99/€69.99 - TK Maxx AW11.
Stockist Number: 01923 473 3000.
‡
The focus for autumn 2011 is on jewel colours, a major trend carrying on from spring brights and colour blocking trends. One cannot over emphasise the richness and boldness of these colours. In the jewel colour range vivid strong bright blue for example continues to grow in popularity, but ballet pink with black is still available in all types of garments. But many will still prefer to invest in a classic Little black dress.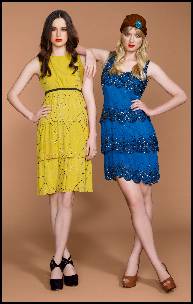 Left - Holly - Deco Beaded Line Dress £79.99/€99.99, Ribbon Tie Heels £27.99/€34.99.
Centre - Yulia - Scallop Hem Beaded Dress £74.99/€99.99, Patent Peep Toe Heels £24.99/€32.99. New Look Limited Edition - Stockist Newlook.com.
Right - Pink & Black Teatro Beaded Sequin Dress - Littlewoods.
Far Right - Teatro Black Sequin Dress.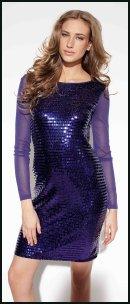 Sequin Dress - £160, Gilded Lillies Collection - EAST Autumn/Winter 2011 Clothing Stockist Number: 0208 877 6543.
Right - Slinky Sleeved Purple Sequin Dress - Littlewoods Ireland Autumn Winter 2011.
For evening lace shorts, velvet shorts and jewel colour options worn with sheer hosiery add grown up glamour for the sartorially brave.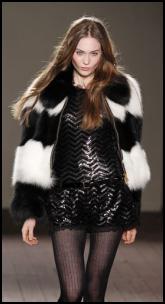 Left - Warehouse Christmas 2011 - Sequin Playsuit Shorts £90, Bag £30, Belt £28. Warehouse Stockist Tel: 0845 122 2251.
Right - Moschino Cheap and Chic AW11 Catwalk Sequin Shorts.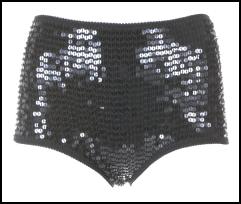 If you seek a pair of shorts as shown at Louis Vuitton then look no further than Topshop who have these black sequin briefs above.
Or if this footwear is not to your liking, look for another accessory such as a detachable black sequin collar with stud ties. Add this to a plain sheer top or bustier, then let the boss in you out, and everyone will know you are not to be messed with.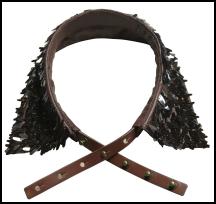 Hobbs Sequin Collar Made Of Dulled Sequins.
Years ago a beaded or sequined dress would have cost so much you would have been out of pocket. But now these dresses cost a fraction of the price they might have been twenty five years ago.
If your budget this year is such that you cannot stretch to buying a new sequin dress consider how you might update an older garment with a pair of glitter shoes or a new modern beaded clutch bag.
Some colour combinations such as teal look wonderful with purple. This pretty beaded clutch bag is from Marks & Spencers, and would be superb with a sequin party dress.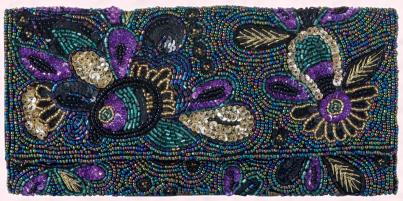 Conclusion of Sequin Party Dresses
The 2011 catwalks often made use of glamorous sequin, pailette, beaded and partywear collections. As well as clothing, other fashion accessories such as bags and shoes got the sequin glitter treatment. You have been reading an original sequin paillette partywear fashion article by Pauline Weston Thomas only for publication on www.fashion-era.com ©.
Copyright of images courtesy of Prshots.com, Swarovski, Marks & Spencer, Hobbs, NEXT, Apricot, Monsoon, Warehouse, New Look, very.co.uk, IFTF, Topshop, EAST, Vera Mont, Littlewoods Ireland, &Co, Burnt out But Opulent.
Date Added 4 Dec 2011 - Ref: P.871.
If you like this page then please share it with your friends
---
--Link--
For more information on ladies and teens fashion trends go to:-
Archived Sections
Custom Search
About Fashion-Era.com
Fashion-Era.com looks at women's costume and fashion history and analyses the mood of an era. Changes in technology, leisure, work, cultural and moral values. Homelife and politics also contribute to lifestyle trends, which in turn influence the clothes we wear. These are the changes that make any era of society special in relation to the study of the costume of a period.

Fashion-Era.com can take no responsibility for any information on the site which may cause you error, loss or costs incurred from use of the information and links either directly or indirectly. This site is owned, designed, written and developed by author: Pauline Thomas and Guy Thomas. This site is designed to be viewed in 1024 X 768 or higher.
ALL RIGHTS RESERVED. Fashion-era.com reserves the right to add or delete information, graphics and links. Copyright © 2001-2014 on all content, text and images in Fashion-era.com. Images and text in this website may not be used on other websites.
Before you write to me for costume/fashion help or information please, please consult the extensive sitemap which lists all our pages. If you still cannot find the answer after searching the site, then before you email me, please consider if you are prepared to make a donation to the website.
Donations
Reader's donations help this site flourish, in particular donations encourage me to write more articles on fashion history as well as current trends. PayPal allows anyone with a credit card to donate easily and securely. You may donate any sum you feel appropriate.