Winter 2013 Silhouette Fashion Trends in Women's Clothes
Here are coats, skirts and pants that illustrate the latest silhouettes in women's fashion. They give you an idea of what to look for if you want to be fashionable in 2013.
See how the pattern flows onto coats, and how colours are bright and statement making.
Silhouette - Oversize Volume - Cocoon Coats, Billowing Pants, Drop Shoulder Chunky Banana and Pillow Sleeves, Blousy/Bouffant Skirts - all are part of the latest focus on oversized volume.
Wear this look by contrasting pieces which are super slim line and which emphasise the volume differences. The cocoon coat is the season's hottest shape. Max Mara do this silhouette so well, but if not your style try a simple puffa jacket.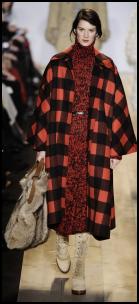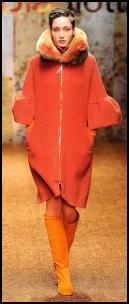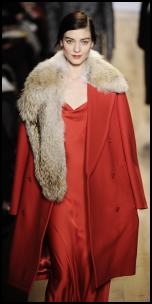 Above - Catwalk Coats AW12/13.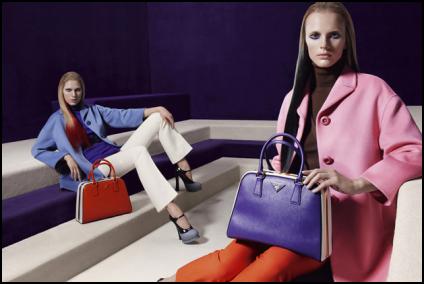 Prada opted for bright clear colours for coats such as these from her AW12/13 Collections.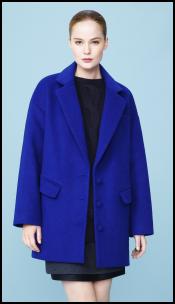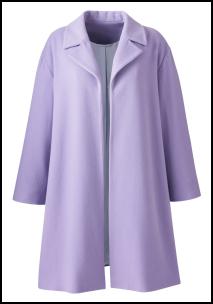 The high street responded with these coats.
Left - Cobalt Blue Oversized Coat £235/€299 Pied a Terre, Grey 'Reve' Knit Jumper £150 Twenty8Twelve, Grey 'Kenora' Skirt £55/€72 Label Lab - All at House of Fraser.
Right - Loose Lavender Coat By Simply Be.
Volume is easy and simple, often little more than a tube shape teamed with a large collar.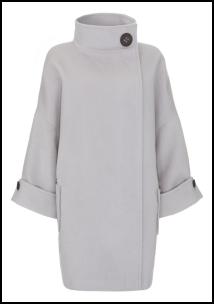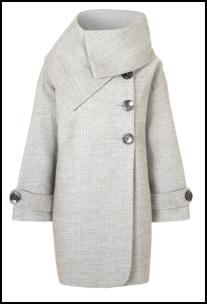 Oversized Volume Cowl Collar Coats By Mint Velvet - AW12/13.


Coats at - Louis Vuitton AW12/13.
The large lapels shown in these coats above were especially popular in the 1970s.
This look along with oversized buttons and buttonholes is long due for a real mass revival. This Louis Vuitton catwalk piece has translated so well at high street level.
Regardless of the many alternatives, baroque splendour is in every shop and it is up to you how you work this look, one so perfect for the party season Autumn/Winter 2012/13.
§
Catwalk Capes 2013
Volume on the catwalk was illustrated too by capes and ponchos often styled with fur and knitted cowl collars.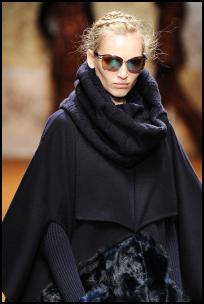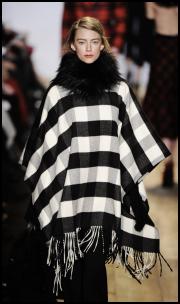 Left - Cape with Cowl neckline knitwear by Biagiotti.
Right - Black and White Blanket Check Poncho Cape By Kors.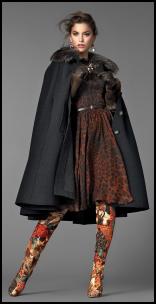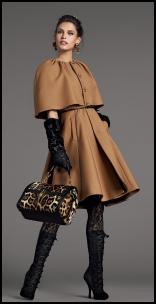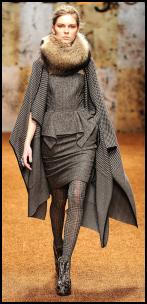 Left - Floral Boots & Cape Cloak By Dolce & Gabbana.
Centre - Dolce & Gabbana Capelet with Emphasised Waistline.
Right - Biagiotti Loose Cape Coat and Peplum Dress.
In contrast to volume there is emphasis on the cinched waistline as shown in the waisted peplum red dress below by Biagiotti.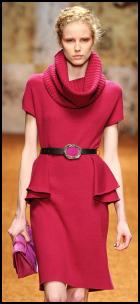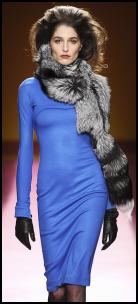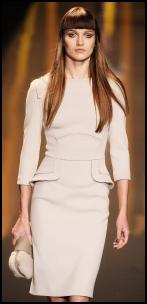 Right - Red Cowl Neckline Peplum Dress.
Centre - Figure Hugging Blue Dress By Chadwick.
Right - Creamy Peplum Dress By Chadwick.
‡‡
Silhouette - The Lady Dress & Winter Waistlines. The lady dress continues to be popular and is a mainstay of a woman's wardrobe especially dresses with inner secret support and figure whittling contrast colour princess seam side panels.
Winter's waistline is curved with a peplum, refined seaming, or softly cinched with a beautiful belt skinny slim or supersized. Or perhaps a fashion designer highlights this area with an extra deep Obi style cummerbund. Bows and buttons replace traditional clasps.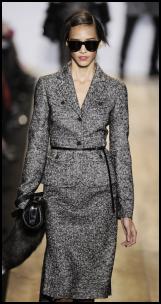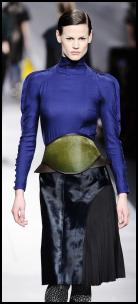 Left - Ladylike Grey Tweed Fitted Waist Skirt Suit By Kors AW12/13.
Centre - Waist Cinching Fendi Green Belt.
Right - Biagiotti Skinny Belt.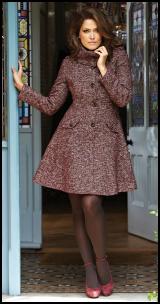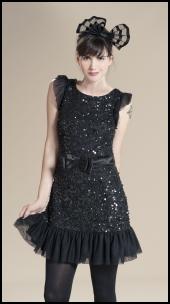 Two fashion looks of winter focusing on the waist - Tweeds and Goth Glamour.
Above Left - Coat By Simply Be.
Right - Frill Hem Beaded & Satin Bow Black Dress Ruby Ray.
Minimalist - Frill free, simple plain, spare, but well cut pieces - especially coats (Balenciaga, Celine) jackets and trousers all in neutral, subtle, expensive tones that flow from season to season. Look for pastel pink nude coats, milky coffee, severe pinstripes, sleek silhouettes and dusted colours. The lines are spare and the fabric makes the statement. Note how simple shapes also take on brighter colours whilst remaining minimal in line. Tailored Crombie coats make this classic look a safe reliable winning wearable trend year after year.


Left - Alberta Ferretti Minimalist Black Suit.
Right - Streamlined Coat by Warehouse.
§
Women need trousers in their lives as much as they need dresses. Each piece suits a particluar mood and never more so than when several pant leg styles are on offer.
Silhouette - Tomboy Trouser Suits Are Back. Trousers come in 3 shapes of leg line. Select from shorter cropped cigarette trousers that can be layered under skirts (as seen at Prada), or just easily worn under tunics and dresses.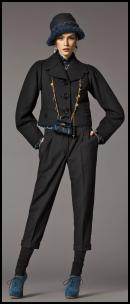 Left - Dolce & Gabbana Narrow Slim Cropped Pants & Jacket.
Centre - Dolce & Gabbana Ankle Cropped Pants & Tweed Jacket.
Right - Louis Vuitton Pink Wide Collared Jacket and Trousers, Pants Suit.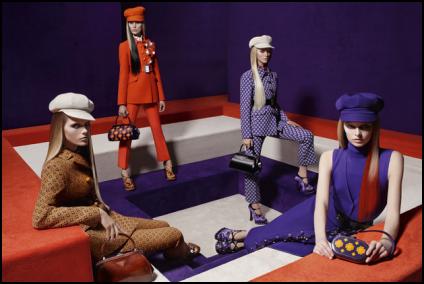 Trouser Suit Fashions From Prada AW12/13.
Alternatively choose kiss the floor super wide billow pants and bright coloured or textured trousers where colour or texture is the main event. All these trousers use luxury fabrics however boyish the cut. Satin, velvet, brocade and leather challenge digital lace printed and floral fabrics used in trousers.
Conclusion of Fashion Silhouettes for Winter 2013
Look out for Cocoon Coats, Billowing Pants, Drop Shoulder Chunky Banana and Pillow Sleeves, Blousy/Bouffant Skirts because the all are part of the interesting trend to oversized volume in women's clothes.
You can master this look by contrasting pieces which are super slim line, and emphasise the volume differences. Actually, it's the cocoon coat which is the season's hottest shape.
You have been reading an original silhouttes fashion trends AW12/13 article by Pauline Weston Thomas only for publication on www.fashion-era.com ©.
Copyright of images courtesy of Prshots.com, IFTF, BHS, A|wear, Accessorize Monsoon, Betty Barclay, Prada, Sainsburys, Misguided, Pied a Terre, Mint Velvet, Warehouse, Kaliko, Yumi, Marks & Spencer, Hobbs, House of Fraser, Oasis, Debenhams, Next, very.co.uk, Miss Selfridge, East, Dorothy Perkins, Pilot, Ted Baker, Simply Be, River Island. Header Image - Louise Vuitton Pink Coat and Hat.
Date added 20 Nov 2012 - Ref: P.886.
If you like this page then please share it with your friends
---
-------- Link Pink ---------
For more information on ladies and teens fashion trends go to:-
Archived Sections
Custom Search
About Fashion-Era.com
Fashion-Era.com looks at women's costume and fashion history and analyses the mood of an era. Changes in technology, leisure, work, cultural and moral values. Homelife and politics also contribute to lifestyle trends, which in turn influence the clothes we wear. These are the changes that make any era of society special in relation to the study of the costume of a period.

Fashion-Era.com can take no responsibility for any information on the site which may cause you error, loss or costs incurred from use of the information and links either directly or indirectly. This site is owned, designed, written and developed by author: Pauline Thomas and Guy Thomas. This site is designed to be viewed in 1024 X 768 or higher.
ALL RIGHTS RESERVED. Fashion-era.com reserves the right to add or delete information, graphics and links. Copyright © 2001-2014 on all content, text and images in Fashion-era.com. Images and text in this website may not be used on other websites.
Before you write to me for costume/fashion help or information please, please consult the extensive sitemap which lists all our pages. If you still cannot find the answer after searching the site, then before you email me, please consider if you are prepared to make a donation to the website.
Donations
Reader's donations help this site flourish, in particular donations encourage me to write more articles on fashion history as well as current trends. PayPal allows anyone with a credit card to donate easily and securely. You may donate any sum you feel appropriate.