Women's Goth Fashion for Winter 2013
Here are the 2013 trends in women's Goth clothes. In this season we see a marked trend for glamour in the form of lace, and rich velvet. As ever with Goth, there is plenty of shiny leather.
Gorgeous Goth Glamour - Slivers of iridescent organza melt against the richness of darkest black velvet for a softer more romantic, sensual Goth where just a nod toward the trend makes you look less teenager experiment more grown woman who knows how to bend new fashion looks to her ways.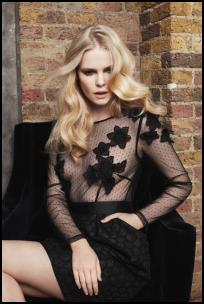 Left - Miss Selfridge Lace Appliqué Top.
Right - Dunnes Stores Feather Skirt Dress.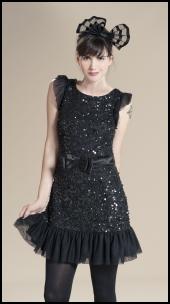 Right - Black Mesh & Sequin Dress Ruby Ray £170.
Lace layers and lacy overlays turn this Goth look from Morticia to interesting lady with the addition of extra touches such as lace gloves, Victorian style boots or chokers. These add instant Goth accessorising whilst retaining a sophisticated yet delicate air.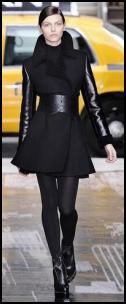 Leather is an obvious choice for the girl who likes to work some Goth into her wardrobe planning. This Givenchy leather dress is not only figure hugging, but stunning too.
Leather Ladies - Über Sleek Edgy & Functional Napa Leather - The ladylike cuts sit next to more decadent fetishist chain, studded and cutwork leather styles. Slim line pencil and longer gaucho skirts or boxy jackets are investment pieces. Leather cuffs or collars fast track this fashion trend without overdoing the vixen woman. Buy black or blue navy if you prefer to be ahead of the pack.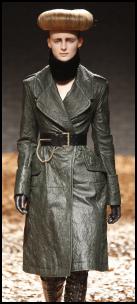 Catwalk Leather Fashion Trends.
Left and Centre - Fashions by McQueen.
Right - Givenchy Leather Skirt .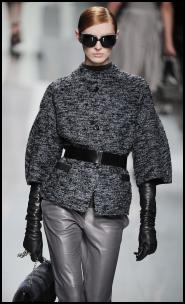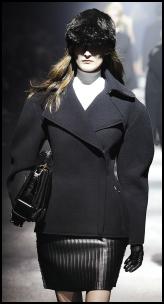 Left - Dior Grey leather Trousers.
Right - Lanvin Black Leather Skirt.
‡‡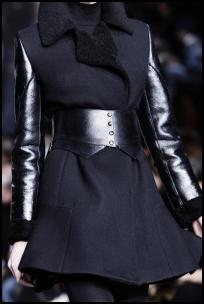 Right - Belted Mini Coat by DKNY - AW12/13.
The cinched waistline follows through on fitted coats which are so opposite in line to the volume oversized versions of some designers. McQueen 's coats show this so well and also combine reference to both military and heritage fashion trends.
Military Mania - Key investment pieces are military inspired. Coats, cardigans and jackets with buttons, epaulets or military collars and colours are functional and great winter wear. Pea coats offer the sort version with less dating detail.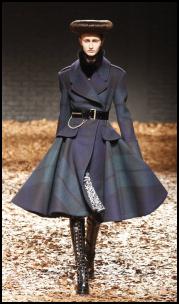 Note in particular the massive military collars that could truly button up and double wrap across the bronchus in extreme weather in true Dr Zhivago style. These large collars have been seen across many fashion shows.
§
Autumn 2012 Winter 2013 Minimalist Look
Minimalist - Frill free, simple plain, spare, but well cut pieces - especially coats (Balenciaga, Celine) jackets and trousers all in neutral, subtle, expensive tones that flow from season to season. Look for pastel pink nude coats, milky coffee, severe pinstripes, sleek silhouettes and dusted colours. The lines are spare and the fabric makes the statement. Note how simple shapes also take on brighter colours whilst remaining minimal in line. Tailored Crombie coats make this classic look a safe reliable winning wearable trend year after year.
Trousers Suits/ Pants Suits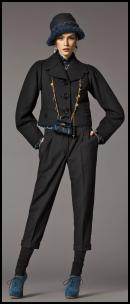 Left - Alberta Ferretti Minimalist Black Suit.
Centre - Dolce & Gabbana Narrow Slim Cropped Pants & Jacket.
Right - Dolce & Gabbana Ankle Cropped Pants & Tweed Jacket.

Women need trousers in their lives as much as they need dresses. Each piece suits a particular mood and never more so than when several pant leg styles are on offer.
Silhouette - Tomboy Trouser Suits Are Back. Trousers come in 3 shapes of leg line. Select from shorter cropped cigarette trousers that can be layered under skirts (as seen at Prada), or just easily worn under tunics and dresses.
Floral Bloom Fabrics - Flower Power Patterns
Edgy Winter Floral Bloom Fabrics - Flocked Fabrics, Bold Florals and Jacquards (Dolce&Gabbana). These are not soft wispy florals, but powerful prints with an edgy, luxurious gilded touch that adds a new twist to winter 2012/13 fashion trends. Mix all the different textures and contrasting luxury fabrics together. Michael Kors gold lace skirt worn with a chunky Aran style knit highlight the contrasting textures you can mix.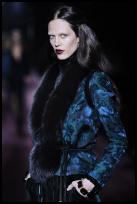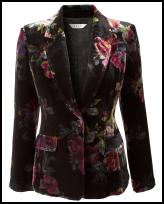 Left - Floral Evening Jacket From Gucci AW12/13.
Right - Flower Printed Velvet Jacket by East.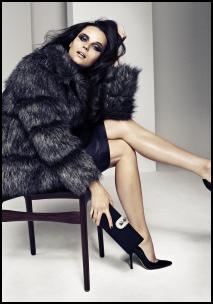 Left - BHS A/W12/13 Fake Fur Coat.
Waisted coats vie for attention with more loose unstructured slouchier cocoon shapes.
The 1970s revival continues with 1970s wide lapel collar coats with flared skirts at Louis Vuitton. Trends to watch include large feature buttonholes as wide slits in the style of bound welts so large they are usually reserved for pocket openings. Large buttons were used in the 1950s and 60s, but it's about 200+ years since wide buttonholes were used on garments. Check out my page on Men's Coats in the Georgian Era here.
Conclusion of Glamorous Goth Fashion Winter 2013
The trend with Gorgeous Goth Glamour is less teenager experiment, more grown woman who knows how to bend new fashion looks to her ways.
You have been reading an original Goth fashion trends AW12/13 article by Pauline Weston Thomas only for publication on www.fashion-era.com ©.
Copyright of images courtesy of Prshots.com, IFTF, BHS, A|wear, Accessorize Monsoon, Betty Barclay, Prada, Sainsburys, Misguided, Pied a Terre, Mint Velvet, Warehouse, Kaliko, Yumi, Marks & Spencer, Hobbs, House of Fraser, Oasis, Debenhams, Next, very.co.uk, Ruby Ray, Dunnes, Miss Selfridge, East, Dorothy Perkins, Pilot, Ted Baker, Simply Be, River Island. Header Image - M&Co Pink Coat and Red Hat.
Date added 20 Nov 2012 - Ref: P.890.
If you like this page then please share it with your friends
---
-------- Link Pink ---------
For more information on ladies and teens fashion trends go to:-
Archived Sections
Custom Search
About Fashion-Era.com
Fashion-Era.com looks at women's costume and fashion history and analyses the mood of an era. Changes in technology, leisure, work, cultural and moral values. Homelife and politics also contribute to lifestyle trends, which in turn influence the clothes we wear. These are the changes that make any era of society special in relation to the study of the costume of a period.

Fashion-Era.com can take no responsibility for any information on the site which may cause you error, loss or costs incurred from use of the information and links either directly or indirectly. This site is owned, designed, written and developed by author: Pauline Thomas and Guy Thomas. This site is designed to be viewed in 1024 X 768 or higher.
ALL RIGHTS RESERVED. Fashion-era.com reserves the right to add or delete information, graphics and links. Copyright © 2001-2014 on all content, text and images in Fashion-era.com. Images and text in this website may not be used on other websites.
Before you write to me for costume/fashion help or information please, please consult the extensive sitemap which lists all our pages. If you still cannot find the answer after searching the site, then before you email me, please consider if you are prepared to make a donation to the website.
Donations
Reader's donations help this site flourish, in particular donations encourage me to write more articles on fashion history as well as current trends. PayPal allows anyone with a credit card to donate easily and securely. You may donate any sum you feel appropriate.