Women's Tweed and Heritage Fashion for 2013
This page covers women's tweed fashion in 2013. It also reviews knitwear, especially textured Fair Isle sweates. Perhaps it's the T.V. series Downton that has inspired these stylish country looks.
Heritage Country Tweeds/Shooting Party/Downton Days - Simply Shaped Textural Knitwear and Multicoloured Fair Isle Knitwear - This is the mainstay of this look in high street terms.
Add corduroy, large or small check houndstooths or dogstooth tweeds in earth tones for jackets, coats and pants and a country weekend equestrian horsey look emerges. This is a trend (Ralph Lauren, Tommy Hilfiger) that concentrates on traditional tailoring with earthy check wool materials and down well soon meets military outdoor khaki toned coat. To top off this look consider a leather saddle bag or tweed cap or feather riding hat.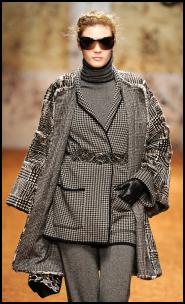 Above - Three Tailored Trouser Suits By Biagiotti.
For everyday wear easy check skirts or plaid longer shorts add a countrified twist when worn with thick or opaque and lacy tights or corduroy velvet treggings and boots.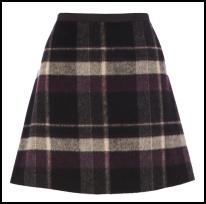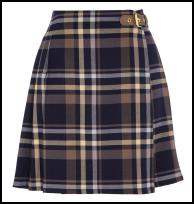 Tweed also merges with traditional tartans to create check skirts, shorts and pants. Everyday check skirts with simple silhouettes as these two from Oasis are so easy to wear with contrast thick tights or close fitting treggings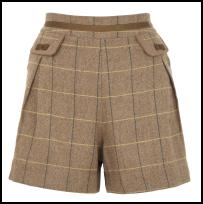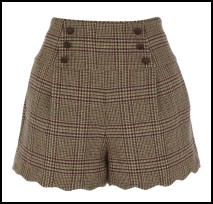 Left - Check Tweed Shorts By Yumi.
Right - Scallop Check Shorts By Oasis AW12/13.
Handbags also get the country look with tweeds and checks offering sturdy hardwearing fabrics which look terrific teamed with plainer coats and trousers.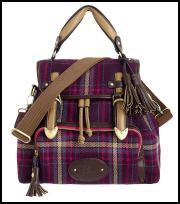 Tweed Tartan Handbag From Debenhams AW12/13.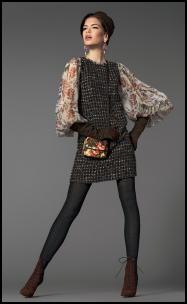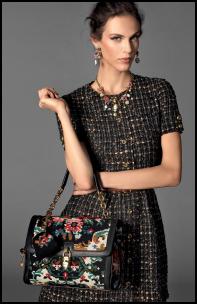 Above - Dolce & Gabbana - Tweed Dresses, Floral Trims. AW12/13.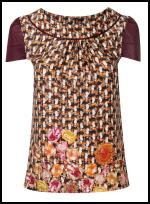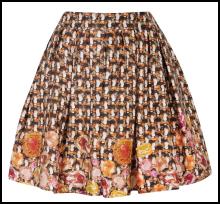 Left & Right Above - Tweed Top & Skirt - Dorothy Perkins AW12/13.
§
Optical Prints - Bold Precise Geometric Shape Repeat Patterns - These replace digital flow scenes. To catch the mood of digital artwork in fabrics think of traditional Welsh Tapestry Blanket/Quilt/Throw 1960s repeat patterns and you have a sense of the look of modern tweed, that hints at 60's retro and traditional William Morris inspired and Liberty print archive patterns.



Left - Catwalk Designer Fashions From Miu Miu & Detail Of Tweed Materials.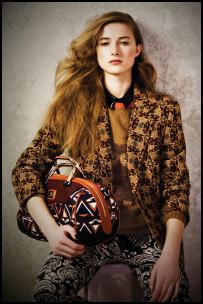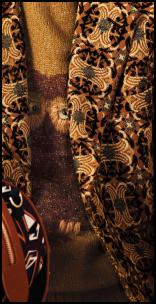 River Island Patterned Jacket & Detail AW12/13.
This focus on retro patterns extends to fabrics with similar motifs being made in metallic yarns, so that the whole baroque floral paisley trend comes full circle.
Knitwear - Chunky Jumpers, Textured Tops, Fair Isle Yokes and Intarsia Knits - all these bring the sweater back into serious fashion play. Dogtooth jacquard knit tunics with cowl collars, batwing tunics, pocketed tunics and boiled wool pieces contrast with cable knits and traditional fair isle and machine knitted reversed fair isle knitwear.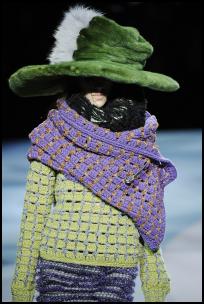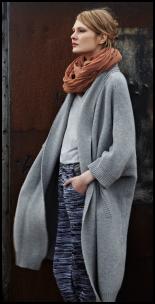 Left - Marc Jacobs Sweater.
Right - Minimalist Oversized Long Grey Coatigan by Plumo.
Big knits like these will keep you warm when the snow flurries and there are draughts everywhere.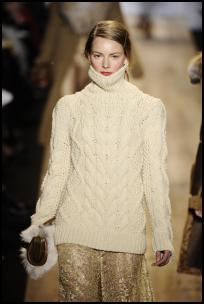 Left - Issa Navy Chunky Knit Cape Cable Sweater.
Right - Kors Cable Cream Heavy Chunky Sweater.
‡‡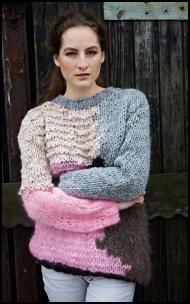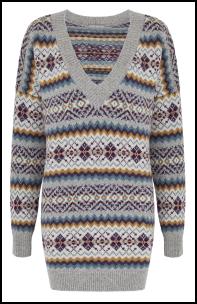 Left - Plumo Patchwork Faroe Sweater £329.
Right - Traditional Fair Isle Tunic Long Line Sweater - M&S £55.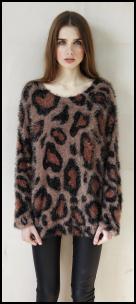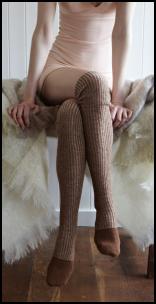 Left - Sweater By Plumo.
Right - Hosiery from Plumo.
Good winter weight hosiery completes the look.
Minimalist - Frill free, simple plain, spare, but well cut pieces - especially coats (Balenciaga, Celine) jackets and trousers all in neutral, subtle, expensive tones that flow from season to season. Look for pastel pink nude coats, milky coffee, severe pinstripes, sleek silhouettes and dusted colours. The lines are spare and the fabric makes the statement. Note how simple shapes also take on brighter colours whilst remaining minimal in line. Tailored Crombie coats make this classic look a safe reliable winning wearable trend year after year.


Left - Alberta Ferretti Minimalist Black Suit.
Right - Streamlined Coat by Warehouse.
Conclusion of Women's Tweed and Heritage Fashion for 2013
I have reviewed women's tweed fashion, and also outlined the trends in knitwear, especially Fair Isle. Inspired by the Downton UK television series, there is a new range of country garments.
You have been reading an original tweed fashion trends AW12/13 article by Pauline Weston Thomas only for publication on www.fashion-era.com ©.
Copyright of images courtesy of Prshots.com, IFTF, BHS, A|wear, Accessorize Monsoon, Betty Barclay, Prada, Sainsburys, Misguided, Pied a Terre, Mint Velvet, Warehouse, Kaliko, Yumi, Marks & Spencer, Hobbs, House of Fraser, Oasis, Debenhams, Next, very.co.uk, Miss Selfridge, East, Dorothy Perkins, Pilot, Ted Baker, Simply Be, River Island. Header Image - Tweeds By River Island.
Date added 20 Nov 2012 - Ref: P.889.
If you like this page then please share it with your friends
---
-------- Link Pink ---------
For more information on ladies and teens fashion trends go to:-
Archived Sections
Custom Search
About Fashion-Era.com
Fashion-Era.com looks at women's costume and fashion history and analyses the mood of an era. Changes in technology, leisure, work, cultural and moral values. Homelife and politics also contribute to lifestyle trends, which in turn influence the clothes we wear. These are the changes that make any era of society special in relation to the study of the costume of a period.

Fashion-Era.com can take no responsibility for any information on the site which may cause you error, loss or costs incurred from use of the information and links either directly or indirectly. This site is owned, designed, written and developed by author: Pauline Thomas and Guy Thomas. This site is designed to be viewed in 1024 X 768 or higher.
ALL RIGHTS RESERVED. Fashion-era.com reserves the right to add or delete information, graphics and links. Copyright © 2001-2014 on all content, text and images in Fashion-era.com. Images and text in this website may not be used on other websites.
Before you write to me for costume/fashion help or information please, please consult the extensive sitemap which lists all our pages. If you still cannot find the answer after searching the site, then before you email me, please consider if you are prepared to make a donation to the website.
Donations
Reader's donations help this site flourish, in particular donations encourage me to write more articles on fashion history as well as current trends. PayPal allows anyone with a credit card to donate easily and securely. You may donate any sum you feel appropriate.