Special Invisible Bra Support - The Silicone Bra
As international trade barriers have become more flexible, China, along with India will rapidly move toward being major players in the supply of textiles to the western world by 2010. The internet has opened up a new global market enabling eastern companies to more easily spread information about fashion and textile products all competitively produced and supplied quickly and at low cost. Recently a Taiwan manufacturer wrote to me about their trading company which makes silicone bras, plastic bra straps and other TPU products for the western market.
The Silicone Bra
Bra examples below are manufactured by Armo Plastic Product Co. Ltd in factories in Guangzhou, China. Images courtesy of Armo.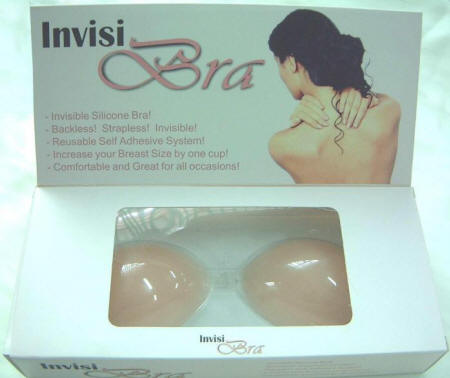 Celia of Armo wanted to tell me more about their manufacture of silicone bras also known for example by trade names such as Invisi bra, Magic bra and Skin bra. All are the same basic silicone bra. Whilst many women are already familiar with the latest bra support of this type, just as many will be wondering how red carpet celebrities keep their assets under control! This is often just how they achieve that uplift!
Many women hit a stumbling block when searching for breast support that will remain invisible when worn with a special dress that has a low back, or wide off set shoulders, or is cut to reveal far more underarm and shoulder than the everyday bra can accommodate without revealing unsightly straps.
Some will opt for the special tape bra departments sell, others will choose uplifting, waist nipping basques and others will try bras like the silicone bra in the picture above.
‡
Women worldwide have welcomed the silicone bra, a special type of fashion bra. This type of silicone bra support is used in a different way to a normal bra. Do remember this is a fashion bra and it DOES offer a solution for cutaway revealing clothes. In my opinion for repeated everyday wear most women will need a structured bra with straps. But for revealing club wear and high fashion wear this silicone bra may well be the support you've been seeking.
Self Adhesive Bra Cups - The Magic Bra
At first I could not understand why there was no mention of an actual bra size, but Celia explained this special silicone bra, functions in a different way to a normal bra. It is different in that it has no starting or finishing size in the normal way individuals buy bras.
Instead it comes in four different cup sizes from cup A, cup B, cup C to cup D. It means that people can choose their suitable size among the four cups according to their bust cup fullness. It is not the same as a traditional bra, which has sizes such as 34B, 38C, 42D. This is because the silicone bra cups are flexible.
For example, when people choose a traditional cotton knit or woven bra with shoulder straps they choose according to standard bra measuring techniques used in bra departments within shops. If the size chosen was too small then it would bind the bust and be uncomfortable and if chosen too large, the straps would slide off and the cup would have folds and wrinkles of excess fabric that are unsightly under tops.
This kind of silicone magic bra works in a different way. It has no straps and because it is flexible it just sticks tightly and conforms to a woman's bust with its self adhesive coating. I must point out I have not tried this bra type I am just reporting facts about the product and showing you images of it. But I am aware that from site visitors that others have found this type of bra satisfactory for flesh exposing top garments.
Celia tells me though that it is very convenient, comfortable and suitable for whatever kind of garments women wear. It is also easy to clean and maintain. To choose a size a woman chooses her normal cup size and the magic silicone cups mould around each breast and stay in position with the self adhesive.
Here are some fact about these Self Supporting Silicone Bras
It is made from high quality silicone gel and TPU green material which has no side effects.

Easy washing - just wash with soap, dry and use again.

No bra-straps, nor back-buckle, and no trace left on the skin.

Sizes: A cup, B cup, C cup, D cup.

Colour - Skin tone, white, yellow, black, pink, light blue, light green.

Life of product - The silicone bra can be reused many times after laundering with water washing as per the washing instructions.
Characteristics of the Silicone Bra:
Strapless and backless.

Self Adhesive and Self Supportive.

Made of a specially developed silicone gel that looks, feels and bounces like real breasts.

Completely undetectable and so comfortable you will completely forget you have them on.

Create different degrees of cleavage by positioning the bra cups closer or farther away. Washable and reusable for continuous wear.

The safe, natural and inexpensive way to a perfect bustline.
TPU Products - Clear Bra Straps and Inner Clothing Support Tapes
You may already have also noticed that some everyday bras now also have clear straps and some have a strip of a fine clear plastic grip product at the top of the cup which helps the bra to stop gaping, helping the bra cup to cling more firmly to the body creating a better fit.
Here are photos below showing some of their fashion design shoulder straps and TPU tapes. More and more such tapes inside garments such as around armholes are replacing traditional methods of sewing construction, where woven stay tapes were once used. The benefit of using a TPU plastic product is safer laundering as the traditional woven stay tape sometimes shrank and distorted a garment shape. Sometimes its use made an otherwise washable garment 'dry clean' only. You can see more of these TPU product uses at the ARMO homepage at http://www.yeajwu.com
Clear Fashion Design or Decorative Shoulder Straps from Armo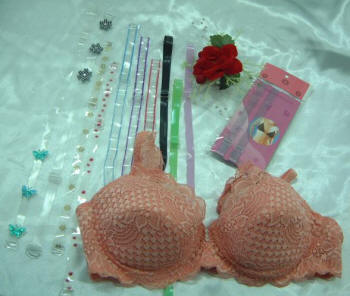 TPU Products - Inner Clothing Support Tapes
The TPU elastic products are made from environmentally friendly material and are certified as such by ITS international inspection and European OKO standard. The TPU elastic tape is a semi-finished product which can be sewn in the garments at stress areas such as the waist, sleeves, neckline, shoulder. Both plastic items come from the same material and production procedure and can be used to make TPU elastic tapes, TPU bra straps with fashion designs, silicone bras, PVC shoe strips, waist belts for garments etc.
TPU Products - Inner Clothing Support Tapes.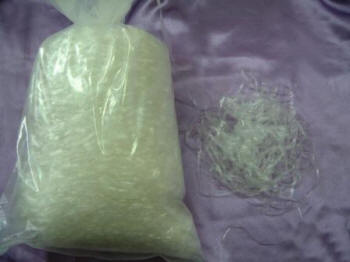 Characteristics of Armo TPU elastic tapes:-
It can be decomposed, no pollution, no toxicity.
Good stretch from 2-6 times with endurance and elasticity. (Stretch according to the thickness.)
Light, thin, soft, invisible, making it suitable for all kinds of garments.
Useful for all temperatures from the tropics to frigid zones, The elasticity keeps in normal condition from +70 centigrade to -35 centigrade.
Free from injurious substances, bringing no feel of itch, irritation or pinch to the skin.
Armo TPU products have certificates of ITS international inspection and European OKO standard.
Image courtesy of Armo Plastic Product Co. Ltd
All their elastic tapes are very suitable for underwear, bras, swimwear, sportswear, T-shirts, leotards, caps, hats, briefs, socks, infant wear, pyjamas, children's wear, pants, lingerie, bed covers, seat covers and so on. Their TPU elastic tapes are very soft, thin, slim and with good elasticity easily competing with the Japanese Mobilon products.
‡
You can see a variety of pictures showing the TPU tape use at the ARMO web pages at http://www.yeajwu.com
Bra support has come a long way even since 2000. So if you are a lingerie fashion buyer looking for a silicone bra and TPU manufacturer, Armo may well be able to work with you to produce a product that suits your company.
If you are an ordinary consumer a visit to any internet lingerie site like Figleaves will show you the latest virtually invisible bras, basques, tapes and other bridal lingerie items. Figleaves is a a good reliable online retailer and I have purchased from them many times myself. They cater for all sizes and have over 200 bra types including fashion and made to be seen bras. Their range includes bras for difficult to wear fashions or occasion clothing and even red carpet dresses, where virtually invisible bras or hidden bust support is almost always needed.
Page added 5 June 2005
Fashion-Era.com can take no responsibility for any loss you may incur from the information found here.
Go Back to Bras and Girdle History Before 1950
If you like this page then please share it with your friends
---
For specific eras about shape and body manipulation click below:-
Custom Search
About Fashion-Era.com
Fashion-Era.com looks at women's costume and fashion history and analyses the mood of an era. Changes in technology, leisure, work, cultural and moral values. Homelife and politics also contribute to lifestyle trends, which in turn influence the clothes we wear. These are the changes that make any era of society special in relation to the study of the costume of a period.

Fashion-Era.com can take no responsibility for any information on the site which may cause you error, loss or costs incurred from use of the information and links either directly or indirectly. This site is owned, designed, written and developed by author: Pauline Thomas and Guy Thomas. This site is designed to be viewed in 1024 X 768 or higher.
ALL RIGHTS RESERVED. Fashion-era.com reserves the right to add or delete information, graphics and links. Copyright © 2001-2014 on all content, text and images in Fashion-era.com. Images and text in this website may not be used on other websites.
Before you write to me for costume/fashion help or information please, please consult the extensive sitemap which lists all our pages. If you still cannot find the answer after searching the site, then before you email me, please consider if you are prepared to make a donation to the website.
Donations
Reader's donations help this site flourish, in particular donations encourage me to write more articles on fashion history as well as current trends. PayPal allows anyone with a credit card to donate easily and securely. You may donate any sum you feel appropriate.
Ω
---
---
For superb Victorian or Edwardian
re-enactment costumes in USA, try the reproduction costume range at:
recollections.biz
---
G