Fashion Fabrics
Velvet in Fashion 2005-2006
Velvet in Fashion 2005-2006
Velvet has been big fashion news since autumn winter 2005/6 and you can expect to see more it for autumn winter 2006/7. This picture is typical of a high street fashion evening gown from Dorothy Perkins autumn 2005 collection and using velvet. You can read more about the weave structure of velvet and pile fabrics and how to care for velvet below.
Velvet Evening Gown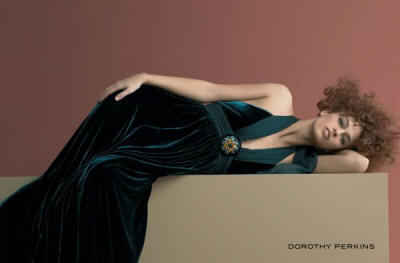 This fabulous velvet gown from Dorothy Perkins was part of their autumn 2005 range and the thumbnail image is courtesy of Arcadia.
Firstly recognise that velvet is often confused with velveteen, panne velvet and corduroy. To these names you can also add finishing processes known as devore and burnout velvet or flock and embossed velvet which can confuse even more.
Basically velvet, velveteen, velveteen, panne velvet, and corduroy are all pile fabrics that stand up from the back of the cloth. The surface of the fabric is a series of loops which can be cut or left uncut dependant on method of manufacture or end product. An uncut pile fabric will have a pile surface whereas a cut pile fabric will have a nap surface.
Pile fabrics can be made by weaving, knitting or tufting. Similar techniques are used in carpet construction and towelling can be made from cut or uncut (loop) warp pile.
You can read more about the weave structure, nap, care, steaming and pressing of these pile fabrics below.
Velvet has a very close and dense pile. There are several methods of weaving it, but for centuries it has often been woven as a double cloth. In this method the warp yarns are specially woven as shown in the picture below. The warp loops are formed over wire rods. Next the loops are cut during the weaving process. The double cloth is then separated and processes begin which help the bloom of the velvet to develop. After dyeing it is sheared or cropped even further to make it level. Then it is brushed so the cut threads splay out and stand up from the surface backing. Steaming gives the velvet the bloom that makes the fabric so appealing. The finished dense piled cut fabric is called velvet. People either love or hate the texture of velvet. Men often find the texture of velvet on a woman very alluring.
Face to face (back) method of weaving cloth, where the knife cuts through the middle during weaving to produce 2 separate layers of velvet cloth.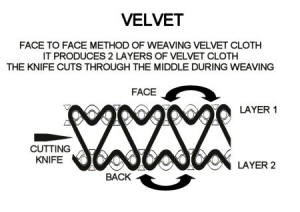 Velvet can be made from silk, rayon, nylon, polyester or cotton. I like silk, silk with viscose and cotton velvet the most. Silk or silk viscose mixes are usually luxurious, soft and flowing and very suitable for evening wear as they drape exceptionally well. They are though slippery to handle and more difficult to sew than cotton velvet or velveteen, so read my tips for sewing and pressing velvet.
Cotton velvet is hard wearing and tailors well for daywear. Velvet is best dry cleaned. Pile velvet, corduroy and velveteen should never be pressed in the normal way of ironing. They are all are best carefully teased and steamed with a velvet board, kettle and special pressing instructions as stated below.
A cut pile fabric is said to have a nap surface. This nap surface is one factor which makes construction of velvet items more difficult in both industry and at home. An item needs all the pieces to be cut in one direction. If you cut with the nap the item will feel smooth in wear as you run your hands down a garment. Cut against the nap and the colour will be deeper, richer and more luxuriant in appearance. The most important point is that every piece of a particular garment runs in the same direction.
When shopping for velvet items watch out that every section of the garment runs in the same direction. Heavily reduced items early in the season and in seconds shops often have one sleeve or skirt panel put in in the wrong nap direction causing a shading difference.
Velveteen is mostly made from cotton and the weft pile loops are cut short. It is not so expensive as good velvets, but quality velveteen can be quite luxurious and even hardwearing. After weaving and brushing and cropping dye is applied by brushes which all help add the lustre and bloom peculiar to this cloth. Velveteen looks like velvet, but lies much flatter, but all of the pieces of one complete outfit must still be cut in one direction.
Velveteen has similar effect to velvet in appearance and can make the wearer look slimmer than when wearing velvet. However velvet usually looks much more expensive. For sewing, velveteen also has a little more body so is much easier to sew. Velveteen is also easy to launder and can be washed at home and given a short spin. It dries very well in front of a gas fire or radiator which can bring up the pile.
Velveteen is mostly made from cotton with weft pile loops are cropped very short to no more than 2mm.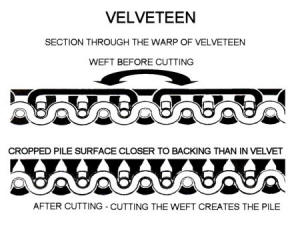 Corduroy is made mostly from cotton. Long wefts span several warp and when the weft is cut it creates the familiar high raised lines or cords with fine backing fabric lines between. The cords lines run the length of the warp. Like velvet, corduroy should be cut in one direction only when making a garment or using heavier elephant cords in upholstery.
This material is used to produce casual wear such as trousers, jeans, caps and jackets. It often has other names such as corded velveteen, elephant cord, pin cord, Manchester cloth as it was produced as a Manchester cotton textile and worn originally by poorer workers in the same way that fustian was used. Manchester cloth was very good quality with dense pile but is virtually impossible to obtain today. Cotton corduroy today is often mixed with Lycra to make the fabric easier to wear and retain shape.
Devoré velvet or burnout style used to be called broderie chimique and is best pressed with the pile sinking into that special pressing velvet cloth described above. Needle boards can damage the sheer elements of devoré fabric and snag and create pin holes. Always try out pressing techniques on inexpensive items that you have no love for. Velvet boards can be obtained at internet haberdashery supplies stores. Note - sometimes this is also called voided velvet.
Purple Velvet Jacket - With satin tie fastening. £64.99, 82% viscose 18% silk. Lining 100% polyester. Dry clean. Sizes 6 - 20 Length 22"/56cm. (951-014-X36)

Purple Velvet Devoré Skirt £44.99, 82% viscose 18% silk. Lining 100% polyester. Dry clean. Sizes 6 - 20 Length 27"/68.5cm (957-680-X36)

All items available from NEXT stores in UK nationwide & NEXT Directory on 0845 600 7000 and online until Dec 2005 @ www.next.co.uk

Garments only available until end December 2005.

These thumbnail images are all courtesy of Next
Panne velvet and panne velour are a knit velour velvet fabric in which the surface pile is directionally flattened. On occasion it comes into fashion, but is often used to portray vamps in dramatic productions as it has cheaper look to it. It is very comfortable to wear as it is knit fabric and has incredible drape for cowl and bias cut dresses.
Velvet picks up fluff, lint, dandruff, threads. So often it is black, navy, plum purple or darkest green and all these bits show to the detriment of the fabric. Velvet is beautiful when the appearance is pristine and plush.
Garments can be gently and lightly vacuumed with the special upholstery brush provided with your cleaner. You can also cover the nozzle end with some pantyhose leg and use that if you have no special attachments. Finally either use a special lint remover, a band of hooked Velcro or wrap scotch or Sellotape around your hand generously and carefully run the tape down the garment to drag off stubborn fluff. If you use the hand method be generous with the tape and throw away and renew it to get efficiency and a clean lint free surface.
Velvet likes a steamy atmosphere best of all and should never be pressed unless you have a purpose designed velvet needle board or a piece of plush velvet kept solely for the purpose of pressing other velvets. A needle board prevents the pile of velvet or velveteen from being crushed. They can be bought from good haberdashers and usually cost at least £25. I've always preferred those on a soft back that can also be rolled up and used in awkward parts of the garment. Or you can use my tailor's ham pattern here to make a velvet tailor's ham. A wooden clapper can be effective too to beat a seam open.
The cheaper alternative is to keep a piece of velvet fabric, preferably overlocked or bias bound to prevent velvet fibres coming out. Place it on your ironing board and press the garment velvet pile into the piece of loose velvet, so that the two layers press pile into pile. When you press the seams open place the velvet fabric onto your needle board or spare velvet fabric piece and place pieces of A4 typing paper under the seams. This is an extra aid to stop seam edge impressions too. You can also make a velvet seam roll using a smooth wooden rolling pin or cardboard tubing from a fabric roll that you have covered with padding and cotton and finally covered with a layer of velvet.
A jacket will be much harder to press than a dress with a loose lining. If in doubt, take the garment to be professionally steamed at a cleaners or first try hanging it in a steamy shower room. Affix a hook to the back of your bathroom door, run a hot bath and leave the garment in the steamy atmosphere.
If you make a mess of pressing velvet and flatten the pile you have usually caused shine and pile damage that is permanent. You may be able to revive it which lots of steam and with brushing the pile gently to raise it again. But once the damage is done it is most unlikely it will ever regain its former glory and new sheen may always exist where the over pressing occurred.
Under rather than over press velvet whether constructing or valeting an item. Try also the freely steaming kettle minus lid method which can be used with a garment on a firm hanger and just let the steam penetrate it. This works very well too when trying to revive a velvet item when staying in hotel rooms. Or use a travel steamer iron and just hover with steam a few centimetres from the fabric surface without touching the actual velvet. The main thing is to avoid touching the fabric with the iron when applying steam. You can also use your fingers to manipulate flatness when there is steam in the velvet.
Sewing velvet is discussed on the Sewing Velvet Tips page
Flaws in velvet - never buy a velvet item with a flaw thinking you'll be able to repair the flaw. Flawed velvet is flawed. It is impossible to weave velvet without flaws and unlike tweeds, flaws in velvet cannot be made good. If the flaw is in a spot where you might add a brooch or a decorative element like Swarovski crystal transfer then you may be in luck with a bargain. But most flaws in velvet will simply look worse if you try to fix them.
Page Date 5 August 2005, updated Sept 2006.
If you like this page then please share it with your friends
---
For more information on women's and teens fashion trends go to:-
Custom Search
About Fashion-Era.com
Fashion-Era.com looks at women's costume and fashion history and analyses the mood of an era. Changes in technology, leisure, work, cultural and moral values. Homelife and politics also contribute to lifestyle trends, which in turn influence the clothes we wear. These are the changes that make any era of society special in relation to the study of the costume of a period.

Fashion-Era.com can take no responsibility for any information on the site which may cause you error, loss or costs incurred from use of the information and links either directly or indirectly. This site is owned, designed, written and developed by author: Pauline Thomas and Guy Thomas. This site is designed to be viewed in 1024 X 768 or higher.
ALL RIGHTS RESERVED. Fashion-era.com reserves the right to add or delete information, graphics and links. Copyright © 2001-2014 on all content, text and images in Fashion-era.com. Images and text in this website may not be used on other websites.
Before you write to me for costume/fashion help or information please, please consult the extensive sitemap which lists all our pages. If you still cannot find the answer after searching the site, then before you email me, please consider if you are prepared to make a donation to the website.
Donations
Reader's donations help this site flourish, in particular donations encourage me to write more articles on fashion history as well as current trends. PayPal allows anyone with a credit card to donate easily and securely. You may donate any sum you feel appropriate.