What's in a Name - Fashion History of Famous Brand Names
History of Famous Names
Many items we wear today have fashion names that have origins in fashion history long since forgotten. Here are some familiar names such as Macintosh and the Mackintosh or mac, Raglan and the raglan sleeve, Cardigan and the cardigan, Jaeger, Burberry, Spencer and the spencer jacket, and Barbour. More names of specific clothes will be added in the near future.

In 1817 James Syne discovered a coal tar extract that had the property of dissolving India rubber. He passed the formula to the Glaswegian firm of Charles Macintosh. It took Macintosh until 1823 and further trials to patent a method of layering naphtha softened rubber between a sandwich of woven woollen cloth.

Factory works in Manchester carried out the invention and in 1830 Thomas Hancock who was a competitor in waterproofed goods became a partner. Hancock patented his vulcanization process in 1843. It made a more malleable single layer of rubber and cloth which did not go hard in cold weather and did not grow sticky in warm weather.

Tailors hadn't liked working with the rubber layered materials so the partners manufactured their own garments called mackintoshes using a different spelling of the word. Early mackintoshes were drab green neck to floor affairs and quite voluminous and unwieldy. Because they were non porous the wearer became drenched in sweat in warm weather.

Mackintoshes gave off an odour that could be smelt way across the street in stormy times. Although odour free variations were launched after an improvement by Joseph Mandleberg it took many years to produce a truly low odour fabric with a really good handle. Despite all the problems mackintoshes were quite popular in the 19th and 20th centuries. Today the mackintosh has adapted and moved with the times developing into the trenchcoat and the raincoat. You are reading an original Fashion Names article by Pauline Weston Thomas at www.fashion-era.com ©

‡‡

Thomas Burberry started his business in Basingstoke in Hampshire in 1856. Burberry considered the problem of waterproofing from the agricultural point of view. Most of his customers were farmers and

agricultural workers. They normally wore closely woven smocks of tightly packed gathered material with a double yoke that kept the wearer surprisingly dry. Burberry grasped that keeping out drizzling rain depended on a close weave and voluminous fashioning.

He began experiments on fabric with a cotton mill owner. He produced long staple Egyptian cotton, proofed in the yarn before weaving. The resultant woven gabardine twill cloth used no rubber.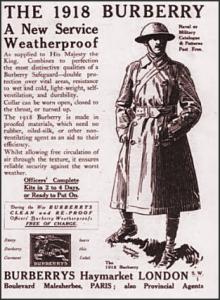 The closely woven twill construction contributed to its waterproof nature as the diagonal twill wales aided the facility of surface tension. Water droplets first rested on the surface of the compact twill weave gabardine forming tight drops. Then the drops ran off rather than spreading between the interstices of the fibres as they might on a basic plain weave fabric. The weatherproof material he produced relied in part on the surface tension properties of the twilled surface. Burberry fabric was initially untearable and it didn't obstruct air.
Burberry patented this cloth called gabardine in 1879. He then began making all types of gabardine clothes for field sports and items that are today country classics. He opened a shop in London in 1891 and then the firm spread to Paris, Berlin and New York. It has had the royal seal of approval for over a century and Princes, Princesses, Kings and Queens, cult film stars and celebrities, have all owned Burberrys.
In its original form the trench coat was part of First World War airmen's military uniform. Today it is a classic garment. Throughout the 1990s the House Of Burberry has employed various well known international designers to update its image globally.
You are reading an original Fashion Names article by Pauline Weston Thomas at www.fashion-era.com ©
Aquascutum started as a tailoring firm called Box and Co., and established itself as Aquascutum in 1851 in London. The company invented a shower proof wool coat tailored with some style. The Prince of Wales, Edward VII was a trend setter and soon had a range of informal and formal sporting clothes made by Aquascutum.
In the First World War soldiers in the trenches wore ankle length Aquascutum coats that had military design features with epaulets and pockets. Aquascutum continued to make military coats between the wars and they also supplied fashion rainwear. Naturally some of the military influence crept into the fashion designs and the trench-coat became a fashion garment.
As the 20th century developed with new textile technology so did new fabrics. Aquascutum has made use of them producing lively bright rainwear including some in iridescent fabrics, satin lined garments and shorter knee length versions of the original ankle garments.
Their famous check initially launched as a lining for men's raincoats has appeared in numerous fashion items and accessories such as umbrellas and bags, an has gained a captive audience.
...(v4r)
Since 1894 John Barbour & Sons has made Barbour clothing in Newcastle, Northern England and the Scottish borders. Raised on a farm in Scotland John Barbour knew the kind of outdoor protection required to keep the elements at bay. After first opening a drapers shop he married and then developed his Barbour idea making oilskins and stormy weather outdoor garments.
Barbour jackets are very durable and seem to last for ever. Like Thomas Burberry and other makers of good quality outdoor wear the firm uses high quality long staple Egyptian cotton, strong metal zips and brass studs with seams constructed to be waterproof. The variety of cosy pockets inside and out have arisen after years of customer's preferences being taken into account.
In the 1980s the Barbour was a feature of Sloane and Yuppie dressing and worn by Diana, Princess of Wales as shown in the header. They are still well liked by country lovers.
When Barbour coats are worn for a long time they become cherished and faithful softened friends that their owners hate being parted from. When garments need total rewaxxing or repair they can be returned to the Barbour's factory and have the treatment they require to make them serviceable again. When people first have their Barbours they are somewhat stiff and sometimes they hit them against a wall to soften them to make them appear less nouveau.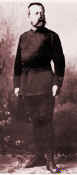 In 1884 Dr. Gustav Jaeger promoted the idea of scientific theories about the wearing of hygienic wool next to the skin.
The health culture known as Dr. Jaeger's Sanitary Woollen System sought to encourage people to use wool fibres in all domestic textile uses from clothing to bedding.
Dr. Jaeger and an advertisement for the "Pauline" a pure wool corset.
Jaeger sold his brand name to an Englishman Lewis Tomalin. Jaeger shops selling quality men and women's clothes exist today in main towns in UK.
You can read more about Dr. Jaeger in the section on Rational Dress. You are reading an original Fashion Names article by Pauline Weston Thomas at www.fashion-era.com ©
‡
The 7th Earl of Cardigan 1797-1868 led the Charge of the Light Brigade into battle. The long sleeved knitted worsted military jacket his army officers wore was trimmed with fur or braid down the front. Later it was a garment knitted at home with a buttoned band and long sleeves.
In the 1950s twin sets worn with pearls were in every woman's wardrobe. The fully fashioned, classic cardigan, also doubled as a jumper when worn back to front. Natural merino botany wool fibres were soon replaced by versions made of Bri-nylon and later in the acrylics then called Orlon or Acrilan.
In the 1970s the French company Phildar put a shop in most UK high streets and popularised a wide range of textured looped yarns. The knit patterns demanded little more than plain stocking stitch or garter stitch to assure the home knitter success. The textured yarns covered any irregularity in the hand knitting techniques of inexperienced knitters.
In the 1980s drop shouldered highly colour blended wool, silk or cotton cardigans with multi coloured fair isle patterns and pictorial scenes were produced on domestic knitting machines. Small cottage industries produced many of the styles.
The famous white sheep with one black sheep sweater worn by Diana Princess of Wales helped create the fad for picture knits and intarsia sweaters. Commercially made Penny Plain, Laura Ashley or Jumpers knits often hand loomed by low paid domestic workers, were all the rage. One style by Penny Plain knitwear had been worn by Prince Charles when he told a Jackanory story on children's television. Soon after copies of similar fair isle sweaters were everywhere.
Hand knitting also had a surge of popularity in the late 1970s and early 1980s when Kaffe Fassett promoted the use of multi coloured Rowan yarns, including silk and chenille yarns.
Simply shaped dropped shoulder styles were very suited to a shoulder pad and pads were worn in cardigans for about ten years. I cannot help but wonder that the fashion lasted so long because the shoulder pad gave such great support on the hanger for the soft knit fabric!
By the mid 1990s patterned knitting was superceded by the short, almost shrunken, fully fashioned, body shaped shoulder hugging cardigan in cashmere or cashmere and silk mixes. Worn with dainty strapped dresses it was an attractive fashion particularly on younger girls, but made grown women look somewhat too girlish and too childlike. One very attractive fashion in cardigans in the late 1990s were the various beaded cashmere or embroidered versions which were available very reasonably as products came out of a more commercial China.
Today the cardigan is produced in a wide range of knitting yarns, especially luxury fibre yarns and ribbon yarns. It is also popular when made in sweat shirting fabric, other jerseys and in fleece. All these fabrics lend themselves to the simple cut and the simple cut in turn, lends itself to motif embroidery.
...(v4r)
Lord Raglan lost an arm in the Crimean War. To make dressing easier his tailor made a short coat with a simple diagonal sleeve seam setting that extended from the neck to the underarm. It allowed much more mobility for Lord Raglan and so was called after him.
With its relaxed fit it is a favourite sleeve for the less able bodied and those with fuller chests or busts. The easy to shrug on sleeve style is used frequently on sportswear, jersey wear, knit cardigans and full length coats. Used on baby garments, stretch babygros and vests makes it easier to dress a small baby. You are reading an original Fashion Names article by Pauline Weston Thomas at www.fashion-era.com ©
Read about Earl Spencer in the section on Regency Fashion.
Gradually social taboos about the restrictive rules of wearing clothing were being eroded and the real reform came after the First World War when simpler garments became acceptable and filtered into sportswear. Early 20th century sports clothing for both sexes often seems clumsy and restricting to our eyes, but to generations previously hampered by trained skirts, corsets or tight armholes it was more practical and gave some freedom of movement. You have been reading an original Fashion Names article by Pauline Weston Thomas at www.fashion-era.com ©
Sports dress can be seen in Swimwear, Sports Fashion Until 1960 and Fitness Fashion.
If you like this page then please share it with your friends
---
Sellers of re-enactment pieces who sell Edwardian Gibson Girls, Victorian styled Crinoline, bustle dresses and Leg o' Mutton 1890's items include the reputable website at recollections.biz. Recollections make washable garments to fit modern measurements, as well as being wholesale dealers of re-enactment items.
--Link--
For more about the Edwardian Era 1890-1901 click on the title you need:-