Wedding Photos 1945 - War Brides
WWII Wedding Groups and a Bridal Couple
These wedding photos and site text content must not be published/used elsewhere -
© Copyright www.fashion-era.com 2006-8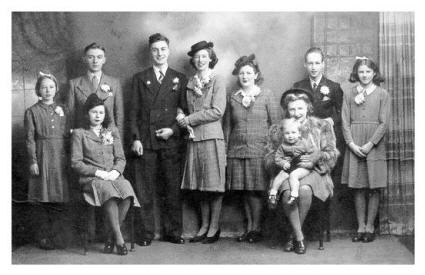 1940s history is rife with romance amid pain and suffering. During World War II many women arranged wartime weddings within a few days. This was to accommodate a boyfriend coming home on 24 or 48 hours short notice leave, before being sent to some far flung posting. Frequently there was no time to get a special dress and often women could not have afforded the clothing coupons needed for a 1940s wedding dress.
1940s history suggests that jolly weddings still took place, with family members often donating small amounts of staple produce like sugar, flour and eggs so that the war bride could bake a celebration wedding cake.
Hats were borrowed, gardens raided for flowers and wedding dresses loaned. Bridesmaids reused dresses worn to other weddings and this clearly gives a mix and match look peculiar to British bridal group photographs of the 1940s.
‡
I have very little information about this old civilian utility dress wedding photo above, other than it was a family wedding group photo taken in 1945 in the North of England, UK. The bride and maid of honour are both wearing what are quite clearly utility suits typical of the Second World War era. This photo illustrates wartime austerity in every outfit.
Despite the sober utility suits and I'd bet they were greyed blues, beiges, subdued greens or other neutral tones, the bride looks very stylish. In part this is due to her good looks and trim figure, probably a result of the meagre wartime food rations. Valuable clothing coupons, which were also rationed, would have been used to buy these suits, so they also needed to be useful after the special occasion of a wedding event. Notice there are no fancy designer 'it' bags or fancy footwear, everything can be used and worn again.
However dour the style may be, fashion always favours the young and trim, and I think this bride looks terrific. It's amazing how happy brides always look whatever they wear. I'm positive this bride was as happy, if not happier than any bride wearing a £5000 dress today. There is no doubt in my mind that she was a happy bride, thrilled that her loved one was not lost fighting in the war.
Ever mindful of clothes rationing, the two young girls are wearing dresses that have plenty of room for their future physical 'development'.
It's quite possible that this 1945 wedding photo above was taken on a day in the week after the wedding ceremony. Indeed, my own mother had a small set of wedding photographs taken one week later at a local photography studio and that was just a couple of years before the war.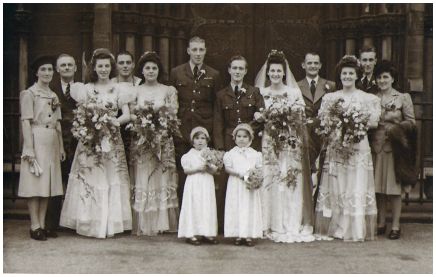 During and after the war it was quite usual for men serving in the navy, air or armed forces to marry in their uniform or dress mess. War brides just accepted this as a matter of course.
This old RAF photo was taken in July 1945. It is of Sid and his bride and was sent to me by my father-in-law, the RAF pilot and who acted as the best man.
Alan Thomas wrote:-
'Sid was my tail gunner; Bill, the other RAF man in the photo was my wireless operator and we were on embarkation leave. We were destined for the Far East, first of all converting onto 4-engined bombers in the Middle East.'
This picture is interesting. Look closely and to the left and note the sailor with his head peeping between two bridesmaids. It is possible to just see the suggestion of his sailor collar.
Both civilian female guests, manage to achieve an element of glamour, but are wearing clothes which clearly conform to Utility CC41 Regulations. The lavish fox fur stole, complete with head may well be a treasured possession from the 1930s.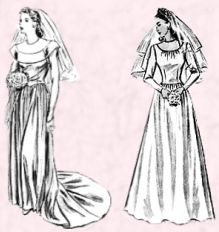 §
The general line of wedding gowns worn by brides in the mid 1940s are similar to these two bridal pattern styles shown right. The silhouettes are from 1944 and far right 1945. These bridal gowns both feature round necklines and lace or sheer neckline in-fills. V-necklines, square and heart necklines were all seen during the era.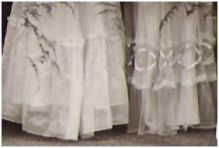 Something peculiar to weddings in the 1940's utility era weddings, is the variation within bridesmaid's dresses at the same wedding. Often 1940's bridesmaids dresses are mismatched and this suggests that if a person already owned a perfectly acceptable bridesmaid dress then it was put to good use again, rather than waste coupons on a new gown.
Bridesmaids dresses of the 1940s also appear to have substantial lower skirt and hemline interest as these two skirts right show. In the photo above notice the two little flower girls. Flower girls or page boys are very usual in 1940s weddings and one wonders if this was one of the few ways to give them a special treat in an other wise drab world. Of course a page boy outfit is often a classic garment that simply sits in a cupboard unused. It's easy to imagine everyone rallying around, loaning an outfit, a dress, a page boy kilt, velvet knickerbocker pants, or a hat for such an event.
The bride is wearing her hair very high on top of her head in a waved roll. She does appear to have abundant hair, but lack of it did not stop women from adopting the style. Ever resourceful, they used old stockings rolled up to create foundations to be covered in their hair, in much the same way as Edwardian women had used purpose made hair supports.
This style became popular among women of the forties since it offered a measure of glamour lacking in all other areas of wartime life. The look is very film star glam and the tiara is secondary to the importance of elevated hairdos through the 1940s fashion era.
These two photos are of the 1945 wedding of Sylvia Gillard. The wedding picture below left is of Sylvia and her father in the church grounds.
On 1st November 1945, Sylvia married Bill Porter who as you can see wore his service suit. This wedding took place in England. The bride carries a bouquet of chrysanthemums a flower typically carried by war brides of the 1940s.
In this picture of the bride and groom right, you can see the wedding veil more clearly. The trend was growing for longer veils.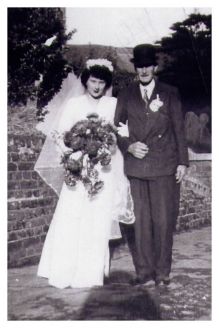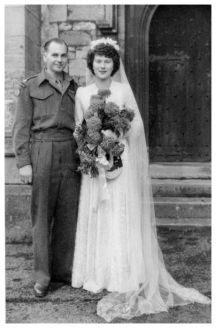 ----¥----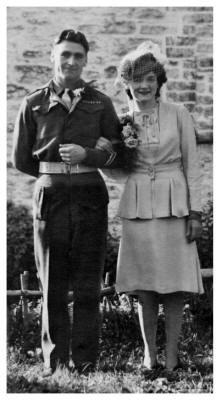 Connie and Jim were married in 1945 when Jim came home from the war in Europe. My aunt Connie had known Jim before he went to war. During his service in many countries including Egypt as a Desert Rat, Jim obviously kept Connie very much to the front of his mind.
One day after the war he turned up at my grandmother's house and asked to see Connie. Connie had been cleaning the house and apparently was filthy dirty about to get into a bath. Her bedraggled appearance did not put Jim off, because he had known her long before. When Connie came to the front door, Jim just said he had come to ask her to marry him. She said - 'Yes'.
It was a fortuitous moment for them both. At the instant he had knocked the door Connie had been holding her sister's baby, but fortunately she had handed the baby back to its mother.
She had agreed to marry Jim, but had a little problem to deal with first. Connie was already engaged to someone else. She soon sorted that matter out and Connie and Jim were married shortly afterwards at St. Martin's Church in Caerphilly. She wore a powder blue silk and wool crepe two-piece outfit which has a real 1940s look to it.
Two weeks before she died unexpectedly in the 1980s, I recall they both came to my birthday party. They talked about how happy their marriage had been and how they had never had a cross word. Looking back it is wonderful to recall their commitment to each other for 40 years and their obvious recognition that they had a happy marriage.
Jim celebrated his 90th birthday in 2007.
After the wedding ceremony, a wedding breakfast was held in the front room and the photo above was taken outside the house. Lorraine who is in the pastel dress far left, also has her wedding photo on site in the original 1940s wedding photo page. Pat, Lorraine's daughter, the little girl to the left, has her wedding on the 1965 page.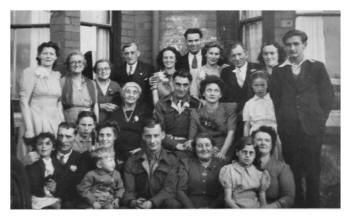 You can read much more about clothes' rationing and food rationing on the Utility page.
See more 1940s wedding photos.
My sincere thanks to Norman Dunn for the top wartime photograph. You can see more old photos at Norman Dunn's website here. Thanks also to Joan Gillard who has sent me several great wedding photos.
This page added 20 September 2006. Revised 26 April 2008.
If you like this page then please share it with your friends
---
These wedding photos must not be published or used elsewhere - © Copyright www.fashion-era.com 2000-2010.
For more information about Wedding Photos click below:-
--Link--
Old photos can be useful when tracing family members and narrowing down search dates. These photo pages may help you put an era to your undated images. If you have old wedding photos please send them to me and if suitable I will add them to this pictorial section of social history.
OLD WEDDING PHOTOS
RE-ENACTMENT
Custom Search
About Fashion-Era.com
Fashion-Era.com looks at women's costume and fashion history and analyses the mood of an era. Changes in technology, leisure, work, cultural and moral values. Homelife and politics also contribute to lifestyle trends, which in turn influence the clothes we wear. These are the changes that make any era of society special in relation to the study of the costume of a period.

Fashion-Era.com can take no responsibility for any information on the site which may cause you error, loss or costs incurred from use of the information and links either directly or indirectly. This site is owned, designed, written and developed by author: Pauline Thomas and Guy Thomas. This site is designed to be viewed in 1024 X 768 or higher.
ALL RIGHTS RESERVED. Fashion-era.com reserves the right to add or delete information, graphics and links. Copyright © 2001-2014 on all content, text and images in Fashion-era.com. Images and text in this website may not be used on other websites.
Before you write to me for costume/fashion help or information please, please consult the extensive sitemap which lists all our pages. If you still cannot find the answer after searching the site, then before you email me, please consider if you are prepared to make a donation to the website.
Donations
Reader's donations help this site flourish, in particular donations encourage me to write more articles on fashion history as well as current trends. PayPal allows anyone with a credit card to donate easily and securely. You may donate any sum you feel appropriate.