1940s Wedding Dresses - Fashion History
These original vintage wedding photos are mostly from my family from 1939 to 1948. They show how some people in 1940's Great Britain still managed to have a white wedding in the face of rationing. Later as rationing seemed never ending, women chose to spend their coupons on garments that would be more useful after the wedding day. Men often married in their service uniform and women frequently dressed in similar style suits with a military air. These photos are compared to one unknown undated photo.
These photographs should not be downloaded or used without permission from Fashion-era.com.
Lorraine and Evan married in November 1939 in South Wales, just 2 months after the start of World War II. Lorraine's dress cost one guinea from Etams and was made of white satin. Her hip-length scalloped veil was a Cornelli and ribbon embroidered net square, the size of a large headscarf. It was later used in christening ceremonies.
The bride didn't need clothing coupons to buy the wedding dress as the CC41 coupons restrictions were not introduced until June 1941. Her veil is interesting since in the 1930s veil fashions could also be short styles. Further down this page, just a few years later, note how the same style of veil has become a bit longer.
With the start of war so close, it meant that the church wedding was arranged on the basis of the Church being available that day. The couple had courted for some years and were already engaged, so they made a decision to get married sooner rather than later.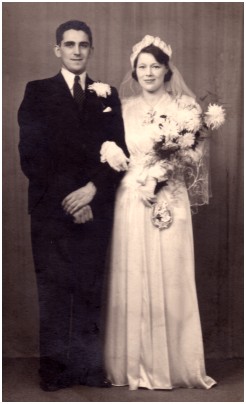 The Second World War was at the forefront of everyone's thoughts. This wedding was held after an armistice remembrance ceremony on the actual Armistice date, November 11, in 1939, that was a Saturday. Whilst this did give a sombre outlook to the day in the face of war, people were probably delighted to celebrate the optimism of marriage against the destruction of war. Lorraine had lost two uncles in the Battle of the Somme in the Great War, and her grandfather had died of despair and grief at the loss of two of his many sons. There were few at the wedding who had not been touched by the First World War. 'Seize the day' became a phrase for a generation.
Because of the Armistice service, Lorraine told me the church was full of flowers for the occasion. After the wedding, family and friends enjoyed a celebration meal at the parental house. This seems to have consisted of home cooked ham with salads and trifle. In the evening a crowd went to the local pub for a few drinks and a sing song. There was no fancy honeymoon as money was short, hence Lorraine's delight at the unexpected abundant floral decorations in the church. After the wedding they simply got on with their lives.
The bridesmaids wore purple velvet dresses and matching muffs. Deft with a needle, Lorraine made the bridesmaid's headdresses herself. Interestingly, the photograph was taken in a studio one week after the wedding ceremony when they realised it would be nice to have a formal record of the event.
At her wedding the week previously Lorraine had carried Arum Lilies. Arum Lilies were an expensive purchase then as now, but they were the flowers she wanted. However, for the hastily arranged photo session a week later, chrysanthemums were substituted. You are reading an original 1940's wedding dress article by Pauline Weston Thomas at www.fashion-era.com ©
‡‡
Lorraine's fashion style of wedding dress above has a modest short V shape neckline with the bust and waistline emphasised by soft shoulder gathers. You can also see gathers tapering to a fitted waist panel. The satin dress also had tiny covered buttons. Lorraine wore white gloves, which would have been considered good form for a church wedding.
Lorraine's wedding dress had Gibson sleeves like the drawing, and they are shown more clearly in the old photograph of her sister right.
By 1939/40 excess sleeve head fullness seen in the early thirties had waned.
So these sleeves were a refined Gibson style, a fashion style sleeve named after Gibson Girls and which is a narrow leg of mutton sleeve shape, but with much reduced sleeve head fullness. The lower part of the sleeve narrows, but often has a shirred look. You can see the sleeve shape in this photo of sister Florrie wearing the same dress and veil.
It is clear this style of dress was fashionable for the fashion-era from 1939-1942.
Lorraine told me the sleeves to her wedding gown had wrist point features. They were point sleeves, often a design element used when a dress also has a V-neckline. Many brides then and now have worn full length wedding sleeves which might be finished with a wrist point. The point sleeve draws attention to the hands, elongating the hand and brings focus to the wedding ring.
Pointed bridal sleeves are sometime extra long and kept taut in a V-point shape by means of a loop, which slips onto the middle finger. Sometimes the sleeves are made of sheer fabrics or lace fabrics which often finish with the scallop of the lace.
When dating old photos, the best technique is to compare your photo with a photo of a known date, such as these bridal pictures. You are reading an original 1940's Old Wedding Photo article by Pauline Weston Thomas at www.fashion-era.com ©
Left - Florence, Lorraine's sister in 1942 with her new husband Tom, a seaman.
Lorraine's sister wore the altered wedding dress and the exact same veil a few years later in 1942, remember this was a time when rationing had begun to dig in.
"Make do and mend" was a philosophy to be taken seriously.
The dress was worn for a third time by another bride and then later Lorraine made the dress into much needed new petticoats and underwear.
As with many weddings of servicemen this wedding took place a day later than expected. Tom took longer to get home and Florrie was not even sure he would arrive for the event! There had been several dates set which never materialised because Tom's shore leave was cancelled.
After a whip around among relatives for offerings of rations, a chocolate coated cake had been made. But Tom was a few weeks past his first arrival date and the family were worried the inside of the cake might be past its best once cut, or worse mouldy!
Even when Tom did arrive he was still a day late and the wedding took place on a Sunday.
‡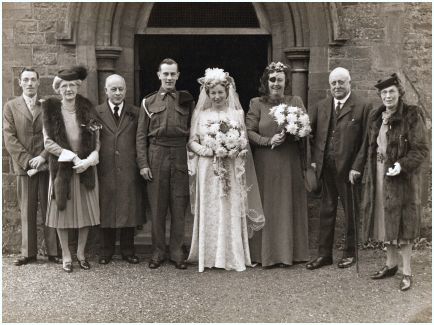 This unknown wedding photo was sent to me by Patrick Gariepy a USA collector and Ebay seller of military memorabilia. Our common interest is in old military vintage wedding photographs.
Neither of us knows who the people are in this British wedding, but Patrick wrote to me :-
'The photo is of a British Army wedding, I THINK a tanker, c.1941-3. The beret appears to be black (meaning a member of an armoured unit), but I don't recognize the collar dogs. He is wearing P37 battledress.'
When attempting to date old photographs elements like service uniforms, or youthful hairstyles can provide clues that can help identification.
I think Patrick is correct about the time frame. When clothes are in short supply the one thing a woman can do to make herself look different, is vary her hairstyle. Thus to keep morale high women were bombarded with new ideas to make their hair look different.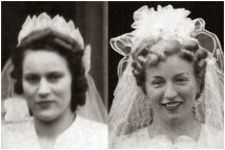 Take a close look at Florrie's hair again in this picture alongside the unknown bride. Both have unusual rolls of hair, which almost look like rollers have been carefully removed and the roll shape maintained. The brides could have achieved this style by holding the locks of hair in place with a flat Kirby hair grip.
Several factors lead me to estimate this vintage photograph as being 1943. Note the slightly later neckline on the unknown bride's dress. This is the first stage of a scallop/ sweetheart variation. Observe the embroidery similarity and increased length of her veil compared to Lorraine's hip length veil above. Note the smaller hat styles the female guests wear, and it's not hard to deduce the most likely timeframe is 1943/44. Since Patrick also mentioned 1943, this is the date I have given to the photo.
When dating old photographs, remember that it is perfectly acceptable to be within a 5 year time frame either side of a suggested date. Fashions fade and linger so nothing is for certain when guesstimating the date on an undated photo. You are reading an original 1940's Old Wedding Photo article by Pauline Weston Thomas at www.fashion-era.com ©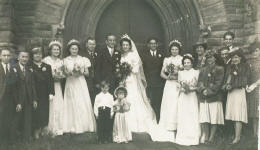 Phyllis and John married in 1947. Phyllis's wedding dress follows similar lines of the Princess Elizabeth's wedding dress and has a sweetheart neckline and "A" line skirt and tiara with long net veil.
The dress pattern shown far right is from 1947 and clearly shows the defined sweetheart neckline with an almost scallop like quality.
In these pictures there appear to be 2 sets of bridesmaids. I am endeavouring to find out if they were different dresses for reasons of economy or reuse of previously worn dresses. However the guests do appear to be affluent enough to afford fur jackets.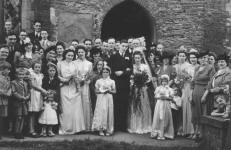 John and Violet also married in 1947 and below them is a picture of one of the adult bridesmaids. Click the thumbnail and you will see that none of the dresses actually match fully apart from those of the children. The dress below has a padded hem. None of the others do.
This was "make do and mend" at its height as rationing continued well after the war.
The enlarged picture will also reveal close up detail of the female guest on the left wearing a large Gainsborough style hat and wide supported shoulders on a par with those seen in the power dressed 1980s. See this 1947 wedding in detail here.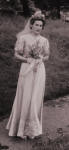 Children were made very welcome at weddings in the 1940s as any celebration was inclusive rather than exclusive.
Right - Sylvia, Lorraine's younger sister as the Matron of Honour, 1947.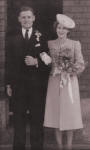 Sylvia the bridesmaid above right, wore a smart new coat to her civil wedding ceremony in 1942 with a fashionable hat. She was 17 at the time of the wedding - life was too short to wait around planning the event.
Her edge to edge coat strictly follows Utility clothing rules, but manages to be very smart in a classic simple way. You could wear this item today it's so classic in cut.
You are reading an original 1940's Old Wedding Photo article by Pauline Weston Thomas at www.fashion-era.com ©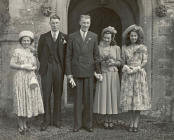 Alan and Elgiva met after the war. They were married in St. Hilary Church in June 1948.
Elgiva chose an exceptionally fashionable, longer length, French beige, fine wool crepe, "New Look" dress and matching jacket from the exclusive Madame shop of Potter Gilmore in St. Mary Street, Cardiff.
Like Sylvia's outfit above, this is still amazingly classic, and in the right circumstances could be worn today. Elgiva and Alan celebrated their Diamond Wedding anniversary of 60 years happy marriage in June 2008.

No page on 1940's wedding dresses would be complete without a picture of the young Princess Elizabeth who later became Her Majesty The Queen, with Prince Philip on their wedding day in 1947. Read more about 1940s weddings here.
The design of the Queen's wedding dress is discussed fully in the page called The Queen's Robes - The Wedding Dress of Queen Elizabeth II.
You have been reading an original 1940's Old Wedding Photo article by Pauline Weston Thomas at www.fashion-era.com ©
-------v6-------
Page updated 27 April 2008
If you like this page then please share it with your friends
---
For more information about the Era 1930-1949 click below:-
--Link--
Also
More Eras
Custom Search
About Fashion-Era.com
Fashion-Era.com looks at women's costume and fashion history and analyses the mood of an era. Changes in technology, leisure, work, cultural and moral values. Homelife and politics also contribute to lifestyle trends, which in turn influence the clothes we wear. These are the changes that make any era of society special in relation to the study of the costume of a period.

Fashion-Era.com can take no responsibility for any information on the site which may cause you error, loss or costs incurred from use of the information and links either directly or indirectly. This site is owned, designed, written and developed by author: Pauline Thomas and Guy Thomas. This site is designed to be viewed in 1024 X 768 or higher.
ALL RIGHTS RESERVED. Fashion-era.com reserves the right to add or delete information, graphics and links. Copyright © 2001-2014 on all content, text and images in Fashion-era.com. Images and text in this website may not be used on other websites.
Before you write to me for costume/fashion help or information please, please consult the extensive sitemap which lists all our pages. If you still cannot find the answer after searching the site, then before you email me, please consider if you are prepared to make a donation to the website.
Donations
Reader's donations help this site flourish, in particular donations encourage me to write more articles on fashion history as well as current trends. PayPal allows anyone with a credit card to donate easily and securely. You may donate any sum you feel appropriate.