C20th Fashion History 1947 Wedding Photos
Late 1940s Post WWII Wedding Group and a Bridal Couple 1947
This 1947 photo shoes the Bridal Party leaving the Church. This wedding took place in South Wales UK. 1947 was the year that the young Princes Elizabeth, later Her Majesty the Queen, married Prince Philip. You can read more about the Queen's wedding dress here.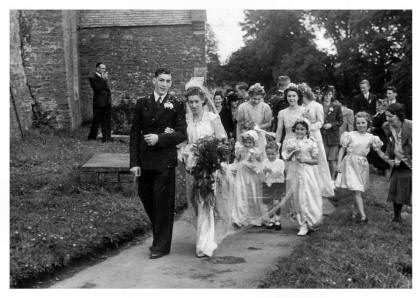 This wedding was a large family wedding and all the bridesmaids are nieces or fully grown sisters of the groom or the bride. All the bridal party, apart from the groom, wear clothes made from satin. The bridesmaids dresses are of different styles, therefore it is possible they were reused from different earlier weddings. If you examine the pictures you can distinguish four pairs of matching bridesmaids.
John and Violet pose for the traditional wedding shot of new husband possessively holding his wife. His body language speaks volumes. In the wedding photo beside them is Sylvia, John's adult married sister. Sylvia was married at 17 in 1942 here.
‡‡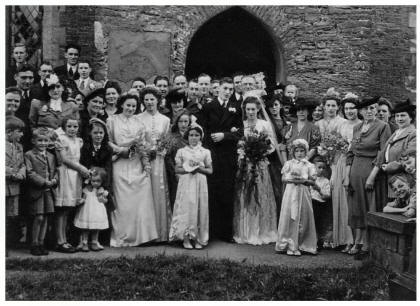 In this picture the lady almost far left, wearing a hat with a large white flower is Connie, who was married to Jim in 1945. Her wedding is featured on the 1945 page. The 7 year old bridesmaid next to the groom is Pat who married in 1965 - her 1960s wedding is here. The young teen girl stood just behind Pat, is Gloria, whose 1956 wedding is shown on the same page as that of Princess Grace.
These wedding photos and site text content must not be published/used elsewhere -
© Copyright www.fashion-era.com 2006
§
This page added 10 October 2006.
If you like this page then please share it with your friends
---
These wedding photos must not be published or used elsewhere - © Copyright www.fashion-era.com 2000-2010.
For more information about Wedding Photos click below:-
--Link--
Old photos can be useful when tracing family members and narrowing down search dates. These photo pages may help you put an era to your undated images. If you have old wedding photos please send them to me and if suitable I will add them to this pictorial section of social history.
OLD WEDDING PHOTOS
RE-ENACTMENT
Custom Search
About Fashion-Era.com
Fashion-Era.com looks at women's costume and fashion history and analyses the mood of an era. Changes in technology, leisure, work, cultural and moral values. Homelife and politics also contribute to lifestyle trends, which in turn influence the clothes we wear. These are the changes that make any era of society special in relation to the study of the costume of a period.

Fashion-Era.com can take no responsibility for any information on the site which may cause you error, loss or costs incurred from use of the information and links either directly or indirectly. This site is owned, designed, written and developed by author: Pauline Thomas and Guy Thomas. This site is designed to be viewed in 1024 X 768 or higher.
ALL RIGHTS RESERVED. Fashion-era.com reserves the right to add or delete information, graphics and links. Copyright © 2001-2014 on all content, text and images in Fashion-era.com. Images and text in this website may not be used on other websites.
Before you write to me for costume/fashion help or information please, please consult the extensive sitemap which lists all our pages. If you still cannot find the answer after searching the site, then before you email me, please consider if you are prepared to make a donation to the website.
Donations
Reader's donations help this site flourish, in particular donations encourage me to write more articles on fashion history as well as current trends. PayPal allows anyone with a credit card to donate easily and securely. You may donate any sum you feel appropriate.