Roman Costume History
Roman Women - Hairstyles and Dress
As ever, Roman women's dresses were a little different from the men's tunics. For example, they were often pale rose, or aqua.
The female equivalent of the male Subacula (under tunic), was the Intusium, a sleeveless under-tunic. Women also wore a bust bodice called strophium (much like a sari bodice).
The stola was worn by married women. It was a full-length, tunic worn by the women from their wedding day onwards. This was not a fashionable garment, more an everyday dress, which signified that the woman was married. Being full in length, the stola covered the feet, and had a lower border called the instita. Fashion changes in female Roman dress came in the form of a change of coloured Stola, and many a stola had a fancy border on the hem. Even Roman women loved to ring the changes! There were also accessories such as brooches.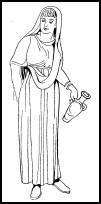 As well as being fashion conscious, it seems that the Roman women were practical and wore several layers of tunic in the colder weather. For going out of doors a woman covered up with a long cloak and this made her appear more modest. The cloak was a simple long length of cloth that could be wrapped as she liked.
The costume plate shown above right illustrates a Romanised British lady in a stola and cloak wrap and to the centre is a Romanised British woman. The lady has an ornate trim around her cloak wrap, wears a snake bangle cuff piece of jewellery on her arm and holds bronze mirror or fan. Her hairstyle is similar to those shown below. Raid grandma's jewellery box for a large distinctive brooch to use as a cloak clasp.
This page is an original Roman Costume History and Fancy Dress Tips article by Pauline Weston Thomas 2008 © - Copyright www.fashion-era.com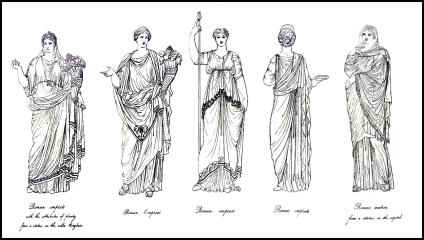 ‡‡
This page is an original Roman Women Hair styles and dresses article by Pauline Weston Thomas 2008 © - Copyright www.fashion-era.com
The illustrations on this page should give you a better understanding of the costume and dress required for a drama production, carnival float or a fancy dress costume. Note the many variations on drapery in this image of Roman Empresses and Roman ladies above and below.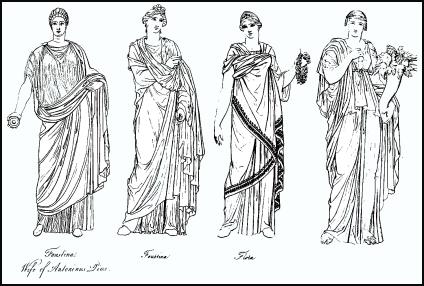 The fashionable draped costume of Roman ladies. Next look at the Roman braided hairstyles and intricate headdresses below, to truly capture the look of a Roman woman.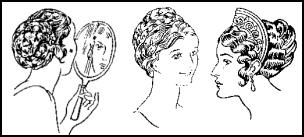 The hair of a Roman woman or lady was dressed in plaited braids and worn at the back of the head as shown right. Also see more Roman Women's hair styles the 3 plates below.
In Roman times the mirror would have been made from polished bronze, so a bronze metallic paint applied to a plastic mirror would create the right accessory for drama productions.
Roman women also wore headdresses especially if they had an important position in society. The first image shows the headdresses worn by Roman empresses.
The unadorned simply arranged their hair is shown in the last picture.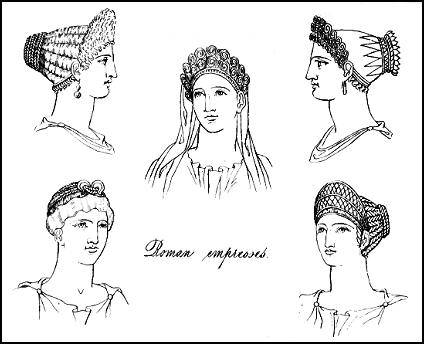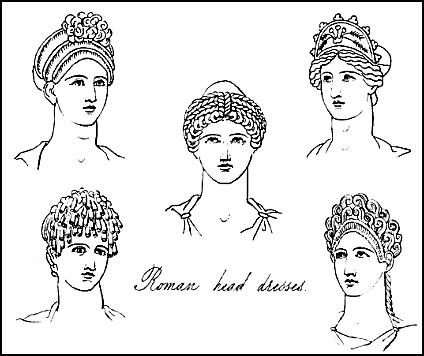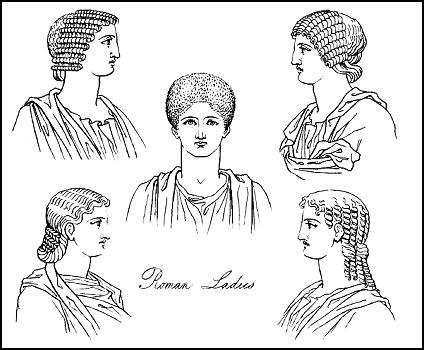 §
476AD saw the end of the Western Roman Empire. At that time the fashionable Roman dress of 'New Rome' had adopted oriental elements which culminated in Byzantine styles as shown in the image of Empress Theodora in 547AD below. Read about Byzantine costume for the era here.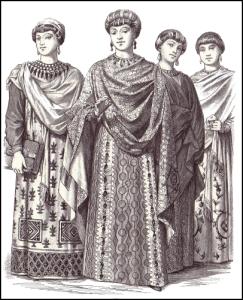 Simple Celtic costume from the period 600BC to 100 AD and before the Roman British fashion era is illustrated on the Celtic Costume page.
Dress after the Roman British Period and of the Sixth Century to 1066 is shown on its own page too.
This page is an original Roman women hair styles and headdresses article by Pauline Weston Thomas 2008 © - Copyright www.fashion-era.com
‡
Page added 12 October 2008 Ref: P706
If you like this page then please share it with your friends
---
--Link--
For more information about Ancient Costume
see these pages:
Also more detailed information on Ancient Egyptian Costume
Custom Search
About Fashion-Era.com
Fashion-Era.com looks at women's costume and fashion history and analyses the mood of an era. Changes in technology, leisure, work, cultural and moral values. Homelife and politics also contribute to lifestyle trends, which in turn influence the clothes we wear. These are the changes that make any era of society special in relation to the study of the costume of a period.

Fashion-Era.com can take no responsibility for any information on the site which may cause you error, loss or costs incurred from use of the information and links either directly or indirectly. This site is owned, designed, written and developed by author: Pauline Thomas and Guy Thomas. This site is designed to be viewed in 1024 X 768 or higher.
ALL RIGHTS RESERVED. Fashion-era.com reserves the right to add or delete information, graphics and links. Copyright © 2001-2014 on all content, text and images in Fashion-era.com. Images and text in this website may not be used on other websites.
Before you write to me for costume/fashion help or information please, please consult the extensive sitemap which lists all our pages. If you still cannot find the answer after searching the site, then before you email me, please consider if you are prepared to make a donation to the website.
Donations
Reader's donations help this site flourish, in particular donations encourage me to write more articles on fashion history as well as current trends. PayPal allows anyone with a credit card to donate easily and securely. You may donate any sum you feel appropriate.