Crinolines Fashion History
The Horsehair Crinoline Petticoat of 1830s
In the 1830s a linen material woven with horsehair called crinoline was first used for cloth petticoats. The word crinoline comes from the French for 'crin' and 'lin', meaning horsehair and linen respectively. This version of a petticoat was the original crinoline and later the name continued in use incorrectly, but universally for the caged or hooped underskirt frames.
In the 1840s flounces were added to the full skirts and these gave an illusion of extra skirt width.
The new skirt style which emerged in 1841 was achieved by a method of gauging fabric into organ or cartridge pleats which introduced yet more fullness. This was abandoned in 1846 for flat pleating which gave even more width. After 1845 double flounced skirts helped push the shape out, making the skirt look even broader.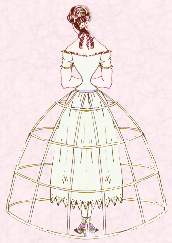 As the decade progressed, more and more petticoats were added until the skirts were very full. For decency as well as fashion a minimum of six petticoats was considered essential. They became very heavy and unbearable in summer heat.
At last in 1856 the cage crinoline petticoat or artificial crinoline was introduced. With this support, ladies had to wear just one petticoat to soften the cage ridges. Of course as gusts of wind often blew the crinolines sideways, long drawers became essential underwear.
Right - Image of basic frame crinoline giving domed appearance.
‡‡
The American W. S. Thomson patented the metal cage crinoline in the USA, France and Britain in 1856. Marketed in these three countries it soon became a huge hit. The crinoline knew no class differences and it was the first fashion to be adopted in England and America by all classes, even if the quality of the crinoline was doubtful the cheaper it got. Illustrations of working women wearing cheaper versions of the cage show ugly ridges of steel bands.
Women loved the cage crinoline. At the height of its popularity enough steel was produced in Sheffield to make half a million hoops in one week. Ladies were freed from the heavy petticoats that had begun to weigh them down and they were able to move their legs very freely beneath the cage.
The cage crinoline could be awkward in wear and could cause damage to objects, knocking them with a swish in the wrong direction. Even so, it was a welcome alternative to restrictive petticoat layers. Pottery workers found crinolines difficult to work in, but they persisted in wearing them despite causing breakages. The fashion was everywhere and reached small towns quicker than ever before after the railway spread ideas more rapidly from town to country.
At its peak the cage crinoline gave skirts a full rounded domed contour like a round teapot cover. Various styles were fashionable each year and some are listed below.
The Duchess Skirt-Draper of 1855
The Parisien (sic), Tournure petticoat of 1857
The Tavernier Underskirt of 1857
The Duchâteau Underskirt of 1858
The Over-Petticoat of 1860
The American Thomson Cage of 1862
The Patent Medicis Underskirt of 1865

The skirt reached its maximum width in 1860 when the emphasis began to slope toward the back of the skirt.

This gave the skirt a more pyramid shape which was frequently achieved when skirts were made of several panels. Fullness was reduced at the waist and hips making the skirt lie smooth over the stomach and the fan like shaped panels spread out at floor level.

Pictures - Crinolines of 1858 (left) and 1863 (right)

...(v4r)

The back began to develop an almost train like quality. Eventually the front flattened and the fullness swept even further to the back of the skirt. By 1864 the support of a crinoline frame was decreasing in use. The double skirt became fashionable again.

Most women were wearing a modified form of the crinoline without upper hoop rings by 1867. Just a few steel hoops were left at the bottom, but now at least two petticoats were needed to stop hollows appearing in the silhouette. As had happened a century before with double skirt styles, it was not long before the skirts were being looped and drawn up into a puffed effect similar to the polonaise of the eighteenth century.

1863 1867 1869 1873 1875

Crinolines were still worn, but they simply changed their shape. By 1869 the flounce frilled horsehair tournure dress improver or bustle was the undergarment to own to achieve the fashionable silhouette of the day.
Right - The Tournure 1872.
Buy my latest ebook and learn how to recognise changes between Paniers, crinolines, bustles, bras and corsets and the affect this has on the outer silhouette of female costume

My How to Recognise Undergarments in Fashion History e-book has 12 chapters about the changes in under foundations in costume history found in various articles on this website. It also has a new chapter on the history of drawers and knickers and one covering the chemise and petticoats. This ebook enables you to read, print and copy from various web pages of fashion-era.com all in one go.

The Undergarments ebook includes information from my articles on early corsetry, C18th Paniers and the sack dress, stays to corsets, crinoline styles from 1830s to 1860s, bustle styles of 1870s & 1883/5, Edwardian corsetry, bras and girdles before and after 1950, and a new chapter on drawers, pantaloons, knickers to panties. A look at Rational Dress Reform, the contribution of Mrs. Bloomer and Dr. Jaeger to the resultant cycling and swimming dress. For more information on the contents of Undergarments click here.

A Printer Friendly Version allows the ebook to be printed as single chapters or as a whole book without clipped text at the sides and can also be copied into Word for ease of use when writing handouts. Don't know what an ebook is? Click here
If you like this page then please share it with your friends
---
For specific eras about shape and body manipulation click below:-
--Link--
Home TO TOP OF PAGE To Next Page
Custom Search
About Fashion-Era.com
Fashion-Era.com looks at women's costume and fashion history and analyses the mood of an era. Changes in technology, leisure, work, cultural and moral values. Homelife and politics also contribute to lifestyle trends, which in turn influence the clothes we wear. These are the changes that make any era of society special in relation to the study of the costume of a period.

Fashion-Era.com can take no responsibility for any information on the site which may cause you error, loss or costs incurred from use of the information and links either directly or indirectly. This site is owned, designed, written and developed by author: Pauline Thomas and Guy Thomas. This site is designed to be viewed in 1024 X 768 or higher.
ALL RIGHTS RESERVED. Fashion-era.com reserves the right to add or delete information, graphics and links. Copyright © 2001-2014 on all content, text and images in Fashion-era.com. Images and text in this website may not be used on other websites.
Before you write to me for costume/fashion help or information please, please consult the extensive sitemap which lists all our pages. If you still cannot find the answer after searching the site, then before you email me, please consider if you are prepared to make a donation to the website.
Donations
Reader's donations help this site flourish, in particular donations encourage me to write more articles on fashion history as well as current trends. PayPal allows anyone with a credit card to donate easily and securely. You may donate any sum you feel appropriate.