Fashion Solutions - Ideas for Gifts for Christmas 2005/6
Bags, The Minaudière, & Wider Calf Boots
Christmas is a time when people are looking for Xmas gift ideas not only for others, but the fulfilment of ideas for themselves for their perfect and complete Christmas. When you know someone loves fashion and accessories, just go fashion shopping. Everyday bags are always useful, but if you want to buy an item your loved one will keep forever as a keepsake choose a minaudière. That way you will bridge the gap between a practical solution and a piece as beautiful as jewellery.
The beauty of bags is that although you should try to get it right the fit is less important. Fit can be a problem for women with wider calves - so I look at winter boots with variable width calves from narrow to full below.
My husband mentioned a designer handbag for Christmas and my eyes went misty. If only I really could get my hands on a red Novak from Alexander McQueen I'd be a happy woman!! Yes he said you can have one. Trouble is he really isn't clued into waitlists and the like. I want one because it really is beautifully designed and the tone of red so lovely.
Instead, like you, I may find myself choosing a new leather bag from the high street. Fancy a value for money leather handbag smart enough to be sold with a dust bag and which follows current trends? Then check out Monsoon/Accessorize for a great selection of more upmarket leather handbags than they usually stock. They have a new boutique range with bags that go up to £140. River Island also has a value for money selection of modern bags and many feature hardware buckles and studs or pockets, elements much favoured in bags from top designers.

You may also be after or lusting after a real Chloé Paddington or a Mulberry Roxanne handbag. As Xmas nears you may not be able to run to the price or even be able to get hold of the real thing. If the real thing is not that important to you and you are just after the general look and hardware, you would do well to visit Karen Millen. Karen Millen stocks a great similar, rather than identical looking bag. At £135 the bag is a real tribute to the Paddington and Roxanne bags.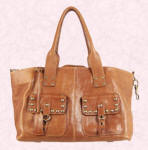 Russell and Bromley's website also shows an all purpose great leather 'Vintage' studded holdall in black, brown or metallic leather. It's shown right and is priced at £225 for the leather versions. The Russell and Bromley website does not offer a shopping cart online yet, but the bag can be ordered directly in person or by telephone from branches. Staff will post bags shown on their website for a small shipping fee. 24 hour delivery U.K. Mainland - £6.50 or 48 hour delivery U.K. Mainland - £5.50. Branches also carry a suede version at £199.
With a moderate amount of hardware, the R&B 'Vintage' is a great tote bag that comes in several colours. Be warned when I saw this bag in my local Russell and Bromley store I realised it was much larger than it appears on their site. It is almost a shopper, making it a perfect workbag to carry a magazine, a packed lunch, a bottle of water plus hairbrush and cosmetics. This adaptable go anywhere tan colour bag, above right will take you into everyday fashion next year with ease.
Of course the internet is a great place to shop for handbags and you don't need to be model slim for a designer handbag. I love Italian leather handbags and its so easy to surf and order from FORZIERI.com Pure Designs from Italy
including those of top design houses such as Dolce&Gabbana and Gucci.
Gucci have some beautiful capacious gold leather bags that are ideal for the festive season and will carry on as cruise wear and then into a glitzy brighter summer. Golds, beiges and metallics are already in fashion and are set to be just as popular a trend next year, so invest early in neutral tans and golds so you get maximum wear from the trend. The Gucci bags are around £600, but are outstanding and the gold leather a richly burnished deep gold finish that is very superior to anything on the high street.
Right is a low cost metallic look alternative marrying hardware features with a gold colour finish. It's by next.co.uk and costs under £20.

Tan and red bags are out in force this year as you can see from this 100% Tan Leather Underarm Bag shown left and easy to purchase from next.co.uk. It has toggle detail, front pockets and zip fastening at £34.99. Size is 24 x 12 x 9cm, Product number 944-049-X36.
You could also check out the Floto bags on my Floto webpage review here. Floto sell a range of capacious leather bags and travel luggage that is made in Italy. Floto colours include a wonderful red.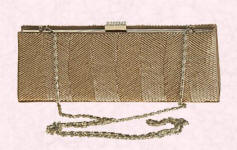 Need an evening bag? You might like this one from Marks and Spencer's Autograph Collection. I ordered it earlier in November, but sadly had to return it.
At £45 it really is a beautiful long evening bag and I do recommend it to you as it is finely made. But be warned the colour is an expensive looking khaki taupe and is not as yellow rich a gold as it appears at first sight in the photograph. But my loss may be your gain, as many of the sludgy khaki shades of clothes this winter will tone well with this particular evening bag.
If you would like a more expensive satin evening bag, try the V.B.H satin clutch bag at £485.00, or perhaps a Glorinha Paranagua satin clutch bag with crystal tassel and crystal button closing at £170.00. Both are available from Browns of Molton Street, London.
One of the best places to buy from a wide selection of cute evening bags is Monsoon and Accessorize where you can make a personal selection from a good affordable price range. Their site shows all the same evening bags available at their high street shops.
Minaudière is pronounced Mee-no-dare. This word is not much used in the UK so you may wish to know a minaudière is a small ornamental case for personal items and is often carried as an evening bag. They can also be a compact for make up or similar items.
Generally this type of evening bag has a hard case of metal and can be encrusted with beads or crystals or enamelled. They are often really extensions of jewellery. These minaudière pieces really do 'snap' shut sharply as they are precision made almost in the way of a large locket. They can be clever pieces of art and may take the form of animals such as cats curled up, or as butterflies or bugs. Others look like a fancy hard gold or silver spectacle case.
Net a porter has some evening bags which are minaudière style, but they call them rigid box or rigid clutch evening bags I particularly like the Judith Leiber Silver Swarovski rigid roll-shaped clutch with detachable silver chain they have on show there at the time of writing. It really is beautiful, as are all Judith Leiber pieces and it is a very classic piece that would never really date. That minaudière is over £1300. You can see more of her minaudière pieces on eBay, just be sure they are not fake replicas.
Gucci.com sell the most beautiful gold minaudière with a dragonfly and at £510 it is a work of art. The dragonflies come in several colours, but these rigid bags really are small at about 10cm wide. They are just large enough for money or a credit card, a lipstick, an ultra thin mini mobile phone or ipod. Such a bag can be worn several ways and can be worn across the body like jewellery. When a minaudière comes from a top design house like Gucci and is authentic, there is no doubt they become vintage collector pieces. This Gucci dragonfly minaudière is destined to be an antique of the future and will become as collectable as vintage compacts or reticules.
Other designers of wonderful evening bags include Philip Treacy and Lulu Guinness. They may still be within your price range and start from around £70. High street shops like Jigsaw and Karen Millen also have delightful bags.
By contrast I mention here a place to try for truly low cost evening bags. Check out New Look, they have a wide range of evening purses from £5. They are not large, but they are almost a throwaway price and would hold a mobile phone, short comb, lipstick, and some cash. Many can simply be hung onto the wrist. What more do you need if you plan to dance the night away?
You can also try the Cancer Research UK shops found on most high streets. Recently I was rushing down my local high street and passed the Cancer Research Shop. Hanging up inside I noticed just one lone brand new beaded evening bag in black with some jet, fuchsia pink and mixed coloured beads hanging from it.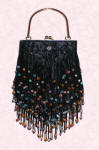 As you can see from the picture left, this beaded evening bag has a vintage look with its waterfall of black jet and crystal bead fringe. The Cancer Shop was selling it at just £14.99. So if you see an evening bag that looks right, don't hesitate - snap it up. If it's wrong you can usually take the bag back if it still has the tags. Or keep it as an emergency gift suitable for any young miss from 10 to 100. Even women who never have need of such a bag like them just to keep old love letters or treasured items.
§
This season every girl and woman must have a pair of fashionable boots as an instant update to get the 'look'. But we all come in different sizes and boots for ladies with larger calves can be a nightmare to find. Check out www.bucklesandbows.co.uk who make boots to fit fatter calves. The sizes range from size 3 to 8 and the calf width goes up in 5 widths from a slimline 31 cm to 44cm for sizes 3 and 4. Sizes 5 and 6 go from 32cm to 45 cm calf width, whilst sizes 7 and 8 from 33cm to a generous 46 cm.
Buckles and Bows cover slimmer and thinner calves than average, as well as fuller or more muscled calves. You may also find that this is the winter that you can indeed find boots on the high street that do fit you. Many boots I have tried on this winter have actually been much too large for my 34cm calves. Lots of boots have been cut to accommodate tucking in skinny trousers. This was certainly the case when I tried on boots at Marks and Spencers.
The closest fitting boots I tried on this autumn so far were a pair with mock Victorian lacing at the centre front and a close fitting side zip. If you have full calves, you may be best avoiding such styles as they are designed to look as if they have been sprayed on the leg in true laced Victorian or Edwardian fashion!
The wider or narrower fit boots from Buckles and Bows come in half a dozen basic, but wearable styles. They will suit plus sizes and those with plenty of muscle or plus size calves. They may well accommodate petites and those with skinny thin calves too. Prices range up to £135. Checking their web site is the next step if you want more info. So even those with fuller calves can have warm fashionable legs this winter.
You may also get a few more ideas from my Xmas ideas page related to nativity and re-enactment or fancy dress sewing patterns, kid's fancy dress in stores, paper dolls here, xmas books, or about beauty here. For fashion trend ideas see my index page here.
Page Added 19 November 2005
See Topics Below for More Ideas on Christmas Traditions, Customs, and Recipes
--Link--
Christmas Crafts

Seasonal Humour

Christmas Traditions
Custom Search
About Fashion-Era.com
Fashion-Era.com looks at women's costume and fashion history and analyses the mood of an era. Changes in technology, leisure, work, cultural and moral values. Homelife and politics also contribute to lifestyle trends, which in turn influence the clothes we wear. These are the changes that make any era of society special in relation to the study of the costume of a period.

Fashion-Era.com can take no responsibility for any information on the site which may cause you error, loss or costs incurred from use of the information and links either directly or indirectly. This site is owned, designed, written and developed by author: Pauline Thomas and Guy Thomas. This site is designed to be viewed in 1024 X 768 or higher.
ALL RIGHTS RESERVED. Fashion-era.com reserves the right to add or delete information, graphics and links. Copyright © 2001-2014 on all content, text and images in Fashion-era.com. Images and text in this website may not be used on other websites.
Before you write to me for costume/fashion help or information please, please consult the extensive sitemap which lists all our pages. If you still cannot find the answer after searching the site, then before you email me, please consider if you are prepared to make a donation to the website.
Donations
Reader's donations help this site flourish, in particular donations encourage me to write more articles on fashion history as well as current trends. PayPal allows anyone with a credit card to donate easily and securely. You may donate any sum you feel appropriate.