Leopard Print Clothes and Accessories
Latest Fashion Trends for Fall 2008 and Winter 2009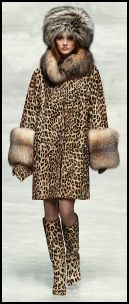 Leopard print clothing is a fashion trend that has steadily grown this summer, and will continue to be prominent through the autumn and winter. One way that the animal print trend is developing is that it now includes other animal skins, for example, zebra, cheetah, ocelot, jaguar, cow, giraffe and tiger. Another way that this trend is growing in momentum is that more and more accessories have animal print textures.
The secret of wearing an animal based pattern fashion trend successfully, is to relate the volume of pattern to your personality. If you are normally an understated dresser, then select just a small leopard print item. It may be as small as a money clutch purse like the Blumarine model left is holding. Or, it could be as lavish as the Blumarine designer coat or boots she is wearing.
If the full-on glamour look of Catwoman, with shades of the legendary Eartha Kitt at her most feline, is not for you, then leopard print shoes or bag can be the perfect answer.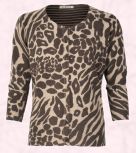 In fact you'll be amazed how many items in your wardrobe can appear instantly updated with an animal print clutch, or given an instant lift with some snazzy footwear.
If you prefer just to flirt with animal prints as a passing fashion fad, then pop this inexpensive little cardigan into your weekly shopping trolley at Asda. It would swiftly uplift basic trousers, skirt or shift dress into Autumn 2008.
Right - Animal print cardigan £16 from Moda at George at ASDA.
Bolder, fashion forward, women will opt for a leopard coat or thigh high boots, or a body hugging animal print shift dress. The latter will all draw attention to you, just be sure you want that attention! You are reading an original fashion article by Pauline Weston Thomas at www.fashion-era.com ©
Interestingly the Blumarine coat and boots by Anna Molinari are made from stencilled goat and then trimmed with a silver fox fur trim. If not an expert or wearer of real fur, it is hard to tell if the regular pattern of the animal print is leopard, ocelot, jaguar or cheetah. Unless you have skin references from real animal images then animal prints can be confusing. In the animal world there are different breeds and the skin markings vary. Fake furs today and stencilled skins of domestic animals offer a sustainable alternative to the killing of such beautiful animals.
So to help you choose your fake fur or print, I have made a chart of real animal skin types.

At a first glance you might think these are all leopard patterns, but only two are leopard. From left to right there is leopard, which has both open and closed small spots, next is jaguar (with a more open paw like spot); at the centre is cheetah (with a much smaller compact spot). The ocelot has both curvy spots and short striped areas. Finally the last image right is snow leopard, which is much paler in tone and has open and closed spots.

Above we have a chart showing tiger patterns. While no two tigers have the exact same pattern, there are similarities. However different breeds such as Bengal tiger and Sumatran tiger show striation and colour differences. Patterns on the animal's head have the shorter stripes, such as the picture centre left. The pattern to the centre right is from the animal back. Finally, the last two paler tiger patterns on the far right, are of white tiger skins.
In the last few years we have seen more variety emerging in animal prints, and manufacturers produce yet more patterns by scaling them up or down in size. From left to right the first two types are different giraffe skins, then a mottled Whitehorn cow, a spotted Friesian cow and the last two skins are Zebra. The black and white Zebra is what we all expect of this skin, but there are other colourations in mountain zebras which often have sandier skin with black or brown stripes. So don't be surprised to see lots of colour variations in animal prints.
‡‡
Animal Print Accessories


The easiest way to adopt the animal theme is to buy a piece of jewellery or a bag. An animal styled ring, cuff or snakeskin style bangle is a fashion trend in itself.

Near Right - Idol London Jewellery 2008 - Razor Thin - diamond set ring; a unisex silver ring, pave set with treated black diamonds, with a heavy black rhodium and yellow gold plated finish.
Idol Male ring: £690.
Idol Female ring : £650.
Idol London Jewellery is available at Jess James London.
Far right - Animal inspired ring from Dior.
Ring Dior "Mitza", yellow gold, citrine, brown lacquer cheetah markings.
Above left - Accessorize Snakeskin Bangle - £5/€7.90 - Accessorize Autumn 2008 Jewellery.
Here we have two similar styles of leopard/cheetah hand bags, but two very different price ranges, so look to save or to splash.
Each bag is capacious enough to hold a pair of ballerinas whilst you totter about on your statement heels. Note the similarity of styling elements in the reinforced corners.
Far left - Designers at Debenhams Star by Julien Macdonald - Bag £50/€78 from the Autumn/Winter 2008 Accessories Range at Debenhams.
Above right - Designer bag from Celine - 'Les Cuirs Sulky' Leopard Orlov bag €1450.
While leopard has been the most frequently used animal print, now in the Autumn of 2008 tiger, spotted cow, and particularly, zebra print handbags are growing in popularity. As with the bags shown above the tan/beige colouration combination will vary.
For handbags, black and white zebra can be particularly striking when teamed with bold single colours such as red, mustard yellow or emerald green. The ballerinas below illustrate this, as does this zebra bag and zebra print red trimmed court shoe from Moda in Pella.
The style is from their Moda in Pella Autumn 2008 fashion collection and is the Cici shoes and bag.
You are reading an original fashion article by Pauline Weston Thomas at www.fashion-era.com ©
§
Ballerina flats are now a classic feminine, yet practical flat shoe that most women love. These ballerinas in animal and snakeskin materials are from the company prettyballerinas.com. Other styles they stock include contrast colourful bows, piping, buckles and squarer toes.

They also have a selection of beaded ballerinas and in fashionable autumn colours such as purple.
Top left -Rita black and beige tiger animal print.
Top right - Red buckle and Zebra print ballerina.
Bottom left - Rosario patent to black and white animal print.
Bottom right - Rosario bronze snake print.
Yes shoe suppliers everywhere have gone wild with the variety of animal prints in footwear.
Now we are just as excited by animal print court shoes, with their statement heels of literally staggering stature.

But be sure to pack those folding flats since the heel height of many autumnal styles is vertiginous.

This selection of animal print court shoes is from Moda in Pella which can be bought on the high street or at their online store.
Left - Moda in Pella Chi leopard court shoes -£90.00.
These versatile bronze and leopard print stiletto 100mm court shoes with stud detailing are perfect day or night. They would look great with jeans or a dress, or both.
The red trim and heel (right) is especially attractive and hints at Christian Louboutin influence.
Right - Moda in Pella CARIAH court shoes - £85.00.


Made up in Zebra and Leopard print, these bold 115mm stilettos revamp classic glamour.
Available by end of August or pre-order at Moda in Pelle.
You might be attracted to this slightly lower stiletto left from Freemans.

It's less of a statement heel, but it is probably oh so very wearable. The animal print looks Giraffe based.
Left - Court shoes from Freemans.
Or, if you prefer snakeskin effects, then these Gladiator high heeled sandals by Dior should see you through the evening festivities of Autumn 2008.


Far right - Dior Platform sandal in gold-tone python finish calfskin with a 12cm heel.

If the black and tan animal theme is not your favourite colour combination, then this year try instead animal inspired material in grey, charcoal or black with white tones.
This grey shoe from Moda in Pelle has several trends in one shoe.
It has a patent heel, reptile skin upper, platform sole and buckle strap.
Basically this shoe is an updated 2008 Millennium Mary Jane.
Above right - Moda in Pelle Autumn/Winter 2008 - Candlelit, Grey/black patent/snakeskin court shoe with platform.
You are reading an original fashion article by Pauline Weston Thomas at www.fashion-era.com ©
A key fashion trend this winter is that of the leopard or ocelot print coat, either faux or real fur.
If a shorter jacket is more your style then this jacket from River Island Clothing Co. Ltd, Autumn Winter 2008/9 Womenswear, could easily fit the bill. It's very glamorous, perfect for evening wear, or to be worn as a short snappy everyday winter jacket with jeans. Leopard print fur is a great alternative to the biker look.
The majority of main high street shops are stocking leopard print or cheetah in faux fur, therefore, finding a coat to suit you should be easy and the prices are all well under £100. However, do look closely at each one, because the quality of finish, length, the colouration, texture and print vary from one garment to the next.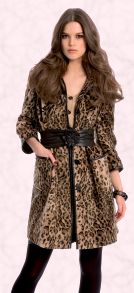 Since investment dressing is becoming more important, always favour buying the quality coat rather than the cheaper option.
Younger fashion fans and some older ones too, love to browse Miss Selfridge because they are hot on the latest fashion trends with affordable prices to match.
To the left is a faux fur coat from the Miss Selfridge Autumn/Winter 2008 range.
Miss Selfridge Leopard print coat £80/€100.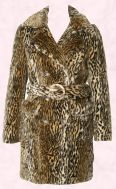 This cut out shot - right, is a Star by Julien Macdonald fake fur coat from the Womenswear Autumn/Winter 2008 Designers at Debenhams - £80/€120.
These faux fur coats are all simple in line, but can be worn loose or belted for that autumn 2008 styling.
Faux fur fabrics are made from similar man made material as fake hair extensions, and thus can be damaged in the exact same way, so be careful when wearing a leopard print fur coat not to let the fur too near very hot surfaces.
Below left - ASOS.com Womenswear Autumn/Winter 2008 - Leopard print fake fur coat £65, black satin dress with lace insert £35, black patent studded clutch £18, diamond look necklace £16, grey ankle socks £3, blue shoes £25.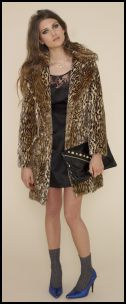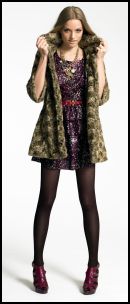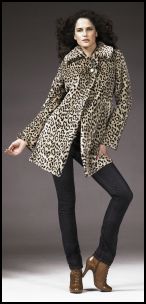 Centre - Leopard fur swing coat £64.99, Louis print dress £59.99, flamingo charm necklace £24.99, skinny patent belt £12.99. Autumn/Winter 2008 Women's River Island Clothing Co. Ltd.
Above right - Faux Fur Coat £69 Autumn Winter 2008 - Womenswear BHS. You are reading an original fashion article by Pauline Weston Thomas at www.fashion-era.com ©
‡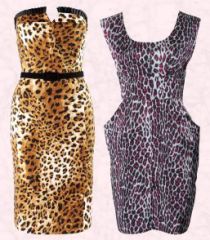 Maxi dresses have been such a hit in summer 2008 that there is a strong trend in the autumn for the return of full length evening glamour. But, a more viable alternative for many women is a short evening or cocktail dress and furthermore, the glamour is doubled if it is made in leopard print fabric.
Near right - Womenswear at Debenhams - Autumn/Winter 2008/9 - Star by Julien Macdonald tan and black leopard dress £50/€78.
Far right - Womenswear at Debenhams - Autumn/Winter 2008/9 - Pink satin leopard print dress £38.
If you seek a short glamorous dress look no further than these two leopard print dresses from the high street. They are both a figure hugging fit and will show off the body emphasising a great neckline, a good waistline and hip curves. The first is in a traditional colourway to real leopard and the second dress uses pink and grey and is on trend with that tulip top skirt.
Finally on the animal theme, some of the prettiest fashion items I have seen for Autumn 2008/Winter 2009 are separates. Some are in traditional tan/black tones and others are in novel, non obvious colourways for animal patterns.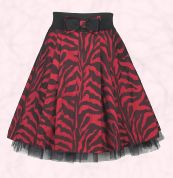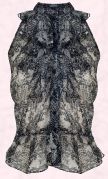 Notice this Dorothy Perkins soft feminine blouse with ruffle frills in a grey tone snakeskin design.
Dorothy Perkins Autumn/Winter 2008 - Animal print top £28 €42.
Look at this lovely full dirndl red and black zebra print skirt from River Island with its contrast net underskirt. It's a long way from any original thought of animal prints at the start of this web article.
Far left - River Island Zebra red and black print prom skirt £36.99 Product number 566065 in sizes 8-18 and also available in black and white zebra print. This skirt would look terrific teamed with any number of options, including a cropped velvet, sequin, military or biker jacket.
River Island has huge range of animal print products including leopard pendant and heart motif hair grips, scarves and slippers. Boden has wonderful ballet flats in animal and zebra prints.
Look out for animal prints sold under the guise of tribal fashion; indeed it is even possible to buy beauty gimmicks such as leopard print hair extensions. But maybe you don't follow hair trends that slavishly, perhaps like me you prefer to keep your fashion fads for your clothing or accessories. There really is an animal print for everyone.
This page has been about some of the new animal based fashion trends for Fashion Trends Autumn 2008, Winter 2009.
You have been reading an original fashion article by Pauline Weston Thomas at www.fashion-era.com ©
Images courtesy of IFTF, Moda in Pelle, River Island Clothing Co. Ltd., Dorothy Perkins, Debenhams, Miss Selfridge, ASOS, BHS, Idol, Freemans, Accessorize, ASDA, www.prettyballerinas.com , Celine and Dior. Thanks to prshots for assistance.
Date added 28 July 2008 - Ref:P694.
If you like this page then please share it with your friends
---
--Link--
For more information on ladies and teens fashion trends go to:-
* AW (Autumn Winter)
Archived Sections
Custom Search
About Fashion-Era.com
Fashion-Era.com looks at women's costume and fashion history and analyses the mood of an era. Changes in technology, leisure, work, cultural and moral values. Homelife and politics also contribute to lifestyle trends, which in turn influence the clothes we wear. These are the changes that make any era of society special in relation to the study of the costume of a period.

Fashion-Era.com can take no responsibility for any information on the site which may cause you error, loss or costs incurred from use of the information and links either directly or indirectly. This site is owned, designed, written and developed by author: Pauline Thomas and Guy Thomas. This site is designed to be viewed in 1024 X 768 or higher.
ALL RIGHTS RESERVED. Fashion-era.com reserves the right to add or delete information, graphics and links. Copyright © 2001-2014 on all content, text and images in Fashion-era.com. Images and text in this website may not be used on other websites.
Before you write to me for costume/fashion help or information please, please consult the extensive sitemap which lists all our pages. If you still cannot find the answer after searching the site, then before you email me, please consider if you are prepared to make a donation to the website.
Donations
Reader's donations help this site flourish, in particular donations encourage me to write more articles on fashion history as well as current trends. PayPal allows anyone with a credit card to donate easily and securely. You may donate any sum you feel appropriate.