Jewellery Fashion Trends 2007
Swarovski Crystal Jewellery & CRYSTALLIZEDTM Looks 2007/8
This year you will notice massive Swarovski® crystals used on garments, accessories and jewellery pieces. They certainly make a statement. But you will also see fine Swarovski crystals as delicate embellishment on lingerie.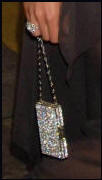 Today laboratory produced gems such as Cubic Zirconia worked with gold or precious metals, help manufacturers achieve higher end fashion jewellery looks. Now that the ordinary consumer has become more demanding, top quality laboratory made gems and crystal are order of the day. Frequently the name Swarovski is mentioned along with the stone type, as an indication of the highest quality of man made jewellery stones.
Jewelled necklines, bodice yokes, cuffs, belts and hems make use of bold cabochons and glittering crystals. Evening bags and shoes drip with bold beads and crystals. No wonder women adore Manolo Blahnik shoes. Swarovski crystal makes satin Manolos sparkle with energy. Notice how a perfect dainty bejewelled CRYSTALLIZED™ minaudičre as shown left, won't hold much, but who needs a necklace when you have such a sparkling accessory to hide a girl's must-have essentials.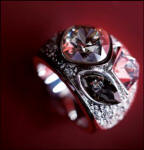 The contemporary design world is in love with Swarovski crystal. Its forward approach to research and development is well suited to a progressive world.
Suddenly there is a noticeable trend to state that the crystal used in an item is Swarovski. This crystal ring right is from Marks and Spencer and uses Swarovski crystal. The retailer makes a feature of informing the consumer that the crystal in the ring is sourced from Swarovski. Once the phrase crystal or Austrian crystal would have sufficed; now consumers want to know it's top quality crystal and made by one group only - that brand is Swarovski. Logos on products may have waned, but brand naming is alive and kicking.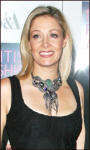 Swarovski is a 3 billion dollar company. In recent years they have risen to face the challenge of competition from the booming nations of Chindia (China and India).
Left - Nadja Swarovski, vice chairman of international communications at Swarovski is is responsible for the current revival of Swarovski and the latest partnership of art, commerce and design.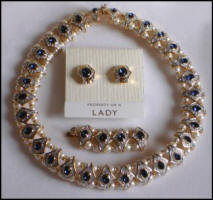 She is one of the family team at Swarovski, working to ensure the brand stays ahead of other newcomers to the market. Blessed with both brains and beauty, she is the perfect ambassador for promoting the product. The bold necklace she wear is a forward looking design. New design ideas like this and innovative stones are giving Swarovski the global edge in crystal bead production. Earlier Swarovski crystal jewellery like this luxurious crystal and faux pearl collar right is equally stunning and pretty
Think about this - have you ever heard the word crystal mentioned with any other brand name? You may have heard the term Austrian, or Czech/Bohemian with crystal, but hear the word Swarovski and instantly you know it refers to precision cut brilliant crystal. Top quality crystal at that.
Image above left is courtesy of Swarovski.
Right - Property of a Lady Swarovski crystal and faux pearl collar with extender for lengthening plus earrings and which I bought years ago. Good quality costume jewellery lasts when stored correctly and always comes back into fashion.
‡‡
The original founder Daniel Swarovski a Bohemian inventor, moved to Austria over a century ago. Daniel Swarovski had an innovative and valuable crystal cutting technique. Swarovski wanted to safeguard his visionary invention and he used it to fend off competition from other Bohemian crystal makers. He moved to the Tyrolean Alps town of Wattens in 1895, where he built his crystal empire with family and local craftsmen.
According to Swarovski, the company today has 20,000 employees and is run by 4th and 5th generation family members. In 2006 the global turnover was 2.33 billion Euros. The two major divisions consist of the manufacture of loose Swarovski crystals and the second division selling designer driven finished products.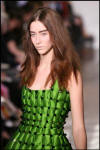 Other Swarovski industrial brands are related to optical instruments, but of particular note is the Signity brand of laboratory created and genuine gemstones. The Swarovski brand products such as their branded Strass crystal chandeliers, both traditional and modern, are highly regarded across the world. Read the amazing statistics about the Swarovski crystal chandelier in the film The Phantom of the Opera in my review of the film.
The Swarovski company continues to work on new concepts to improve the products. They work relentlessly to maintain their superior position against Chinese and Czech rival companies. Little wonder we have come to regard Swarovski crystal as the finest in the world.
Right - a Giles Deacon dress that has been CRYSTALLIZED™ the trademarked buzzword for Swarovski embellished designer goods internationally.
You are reading an original jewellery article by Pauline Weston Thomas from www.fashion-era.com
In the last few years Swarovski have given designers the opportunity to work with Swarovski crystals. A series of fashion shows, called Fashion Rocks, is the catwalk showcase for innovative use of Swarovski crystals in dress and accessories.
It's easy for consumers to understand how crystal can be incorporated into styles with easily detachable items, such as buckles on belts, or collar necklines as shown directly left and below left on the Christopher Kane design. Medieval and gothic elements in fashion give a grand flavour to oversized stones when used in a bold manner.
However, it's harder to comprehend how a dress fabric that is CRYSTALLIZED™ can create a totally new fashion look, since the fabric drape is altered by the crystal weight.
Above right and below right Swarovski encrusted belt from Lacroix.
Images right courtesy IFTF.
Nadja Swarovski has worked to promote Swarovski among fashion designers by supplying them generous amounts of prepared crystal material to experiment with and let their creativity run wild.
§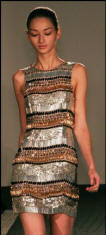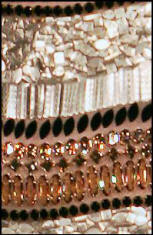 All the major fashion names have been provided with Swarovski crystals and synthetic gems to help conceptualise novel end uses for Swarovski crystal/gem materials.
Designers and design houses all approach the materials differently creating and innovating in their own style. Some are lavish with their use of crystals totally embellishing the fabric. Others sprinkle the crystals lightly, or singly as above.
The designers have been using stones and building them in arrangements which are totem like in their architecture.
Left - Swarovski CRYSTALLIZED™ dress from Sinha Stanic.
Right - Close up detail of the Sinha Stanic embellishment.
Below left - Flor Vaquero, Centre 2, Masha Verrier, far right Alexander McQueen. Notice the different type of decorative bead Swarovski produces with pearl effects probably surprising you. The designers use the natural elements of a garment - cuffs, collars, sleeves and hipline focus as areas for with Swarovski crystal encrustation. Voila - the garments have been Swarovski CRYSTALLIZED™.
‡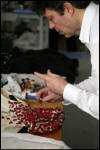 Chanel, Prada, Alexander McQueen, Dolce and Gabbana, Julian Macdonald and also Christopher Bailey at Burberry Prorsum have all incorporated Swarovski into their designs with gusto. Each has imaginatively produced garments of a calibre which can now be labelled CRYSTALLIZED™.
With an eye to the future, Swarovski have created some new trademarks. One that will especially interest fashion clothing consumers is the Swarovski trademark of CRYSTALLIZED™ - Swarovski Elements. Swarovski have trademarked this term so that when you see a fashion item with the CRYSTALLIZED™ label you know that the embellishment is with top quality, precision cut, Swarovski crystal or stones.
Right - Backstage finishing of garment, a Giambattista Valli fashion design with Swarovski crystals.
CRYSTALLIZED™ embellished designer goods are now available internationally. The term can relate not only to fashion and accessories, but also to areas of home decor and even Swarovski crystal decorative body transfers.
These images are all courtesy of Swarovski.
Swarovski jewellery elements are a part of high fashion collections at the very best design houses. These design houses also include Gucci, Dior, Schiaparelli and Versace.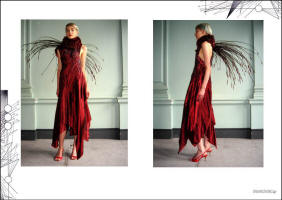 In recent years they have worked with an even wider cache of world class design houses such as Alexander McQueen to create catwalk fashion looks, that combine jewellery with the mood of the moment.
And it's not just the established designers that Swarovski have given their support. This beautiful Lady in Red dress thumbnail image, is courtesy of young designer Christopher Raeburn. Christopher gained his MA from the Royal College of Art in 2006. This red dress left, is one he designed for a Swarovski competition in 2004. The enlarged view, gives a clearer view of the Swarovski crystal work. This design is very different from Christopher's current work which is more urban. You can see some more Raeburn Designs on Christopher's website where he is showing his latest designs from his partnership with his brother Graeme Raeburn.
The CRYSTALLIZED™ - Swarovski Elements message, was unveiled at their platform at the Hong Kong Fashion Jewellery and Accessories Fair for Asia in June 2007.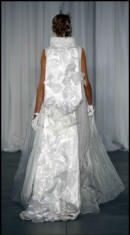 Along with the CRYSTALLIZED™ concept of Swarovski Elements, comes a visual image of a crystallized eye now frequently seen in glossy magazines.
You are reading an original jewellery article by Pauline Weston Thomas from www.fashion-era.com
Swarovski is the world's largest producer of cut crystal and they continue to work on other aspects of design. This varies from liaising with the designers and planners of wedding gowns to those of table objects and ornaments used at weddings.
Crystal has been used in bridal wear for years as it gives that fairytale magical flourish to a gown or hair ornament. The perfect wedding dress always has an interesting back!
Right - Swarovski white dress by Ir Rodarte.
In recent years wearing hair ornaments has gained a new following. You can buy crystal tiaras from a wide range of sources and with a wide price range. Beware, not all will be the genuine Swarovski article. Make sure your crystal tiara for your special day is made from Swarovski crystal for extra sparkle. There is a wide range of tiaras available, alternatively you can commission a one of a kind design from an independent designer.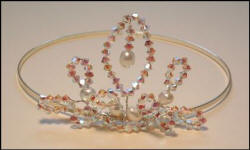 Marilyn Jones of Pearls Plus makes handcrafted jewellery, bridal hair ornaments, combs and decorated hair pins using freshwater pearls and Swarovski crystal. This dainty bridal tiara is one of her Pearls Plus designs using Swarovski crystal.
One reason Marilyn likes to use Swarovski crystal, is quite simply that the beads have greater brilliance than other brands. Also the range of colours in Swarovski crystals is enormous. The very best crystals set off the richly nacre coated freshwater pearls Marilyn uses. The selected Swarovski crystals in this tiara have an aurora borealis finish. The Swarovski aurora borealis finish is renowned for catching the light and picks up nearby colours. In this case the peach background is reflected in the crystals. If the background were blue, the reflection would pick up blue tones. Just about any colour combination would be possible that you request, to match the modern trend for coloured wedding dresses.
Of course the modern bride should check out Swarovski Crystal Headphones available at Harrods on the Techellery page here. Phillips renowned for electrical products, have worked with Swarovski to create Active Crystals - innovative wearable technology.
...(v4r)
Swarovski's team are consistently working to create new crystals and other Swarovski stones. They create new colourations and finishes for new stones that also work well with the latest textiles.
Swarovski's new generation of crystals are the Xilion crystals. The new XILION cut, has a complex geometry that gives a multi-layer cut look crystal. Xilion crystals are cut with 14 alternating facets instead of 8. These alternating facets of different sizes produce perfect refraction and particularly intense light distribution. The sparkle of this new Xilion crystal is unsurpassed in the world of man made crystals.
Swarovski also experiment with metallic and pearl coatings. Innovations in crystals include the production of milkier toned crystals with an opaline, alabaster or moonstone shimmer to them. For a few years now Swarovski have been introducing their new line of Opalescent beads. These crystals have a softer more minimal look and are easier for day looks. This opaline effect stone is very attractive and I expect opaline looks to become hugely popular.
Modern day competitors to Swarovski include for example www.lianhk.com of Lian Industrial Co. Ltd, a Chinese crystal rhinestone manufacturer since the 1980s. Every week I get letters from competitive Chinese crystal and synthetic gem manufacturers, all in competition with Swarovski. They all have a lot of catching up to do. As consumers this may actually benefit us all, as each company strives for a higher quality to maintain standards that a discerning clientele demand.
Finally when and wherever you buy Swarovski® crystal make sure that to get the real thing that the name is spelt correctly. Swarovski® is the correct name spelling, not svroski, swroski, svaroski, soroski, svarosky, swarski, swavorski, swarosky or swarozski.
You have been reading an original jewellery article by Pauline Weston Thomas from www.fashion-era.com
Images courtesy of Swarovski, Marks and Spencer, Pearls Plus, Sparkling Accessories and IFTF.
Read more about these colours and about fabrics on the Spring 2007 colour page.
Page Added 20 September 2007. Ref P642.
If you like this page then please share it with your friends
---
For more information on ladies and teens fashion trends go to:-
Jewellery Trends 2007
* AW (Autumn Winter)
Archived Sections
Custom Search
About Fashion-Era.com
Fashion-Era.com looks at women's costume and fashion history and analyses the mood of an era. Changes in technology, leisure, work, cultural and moral values. Homelife and politics also contribute to lifestyle trends, which in turn influence the clothes we wear. These are the changes that make any era of society special in relation to the study of the costume of a period.

Fashion-Era.com can take no responsibility for any information on the site which may cause you error, loss or costs incurred from use of the information and links either directly or indirectly. This site is owned, designed, written and developed by author: Pauline Thomas and Guy Thomas. This site is designed to be viewed in 1024 X 768 or higher.
ALL RIGHTS RESERVED. Fashion-era.com reserves the right to add or delete information, graphics and links. Copyright © 2001-2014 on all content, text and images in Fashion-era.com. Images and text in this website may not be used on other websites.
Before you write to me for costume/fashion help or information please, please consult the extensive sitemap which lists all our pages. If you still cannot find the answer after searching the site, then before you email me, please consider if you are prepared to make a donation to the website.
Donations
Reader's donations help this site flourish, in particular donations encourage me to write more articles on fashion history as well as current trends. PayPal allows anyone with a credit card to donate easily and securely. You may donate any sum you feel appropriate.