Latest Fashion Trends for Spring & Summer 2009
Key Trends & Looks, the Essence of Fashion
Even with world in recession, people still have to wear clothes, so why not choose fashionable garments? The secret of today's recessionista is to tune into the best fashion trends whilst keeping an eye on value and quality for money.
For many people, the 2009 fashion season will be one not of 'flaunt it', but of 'savour it.' Spring and Summer 2009 is a season for ownership of carefully selected fashion garments and accessories at a cost conscious price point, but where quality counts.
By all means have your garment, but do wear it. It is more important than ever to make sure that your purchase is right at the till point, as one more unworn 'brand new with tags' garment six months later, is not an option for a tightly pulled purse.
The subtle, but futuristic refinements that are emerging have given a fresh impetus to fashion styles and trends, whilst embracing the need to abandon conspicuous consumption in the subdued economy of 2009. Observe how worthy fashion elements have been given the ultimate polish by designers and manufacturers.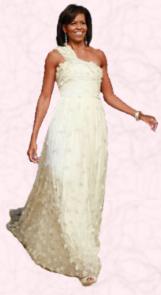 In the credit squeezed world of 2009 the most noticeable fashion trend is of individuals grasping the fashion essence. The zeitgeist reaction to the recession economy has been to tune into the very best fashion trends which took hold in 2008.
The one-shoulder dress is already the hot style of early 2009.
Right - A photo of the radiant and proudly beautiful Michelle Obama, a C21st woman, wearing her Jason Wu white Swarovski embellished CRYSTALLIZED evening gown for the Inauguration Evening Ball of the President of USA. Jason Wu is also the designer of the fuchsia pink dress Mrs Obama wears on the cover of Vogue. Fuchsia, a top spring colour is featured several times on this page.
Above Right - SS2009 - Aquascutum one-shoulder dress in the top tone of blue this year. The styling of this blue dress has been widely copied by retailers. You are reading an original Spring Summer Fashion Trends 2009 article by Pauline Weston Thomas at www.fashion-era.com ©
Yellow is THE Colour of 2009. Watch how it injects new vigour into fashion. Like the yellow glow of a dawn rise, citrine lemon and buttercup gold are the colours of hope, optimism, and new beginnings.
Michelle Obama has shown a clear eye for the newest of fashion colours. Take for example her choice of dress and coat for the Presidential Inauguration Ceremony on 21 January 2009. Mrs Obama's lemongrass wool coat and dress of wool guipure lace, reflected yellow hues in the play of light on the wool guipure raised surface.
The true colour of her coat is hotly debated amongst the fashionistas, because in some images the colour looks citron green and in others lemon yellow. In yet different photographs (there were plenty) the tone appears an almost creamy yellow. The respected Isabel Toledo confirmed the colour was lemongrass. And everyone who has bought a stick of lemongrass or a lemon fruit, knows that colour shading well. To my way of thinking Mrs Obama's coat has several tints that meet each other.
Those familiar with textile yarns know that quality wool yarns are often made of fibres dyed to be several different related colours. When carded, blended and spun together, this creates a more mesmerizing lively effect to the yarn, and in turn to the end material. The play of light on the helical wool fibre will also affect the colour tones reflected when viewed from different angles.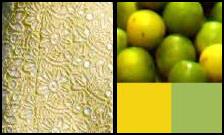 Add to the discussion the fact we all see colour slightly differently, and of knowledge that all media and monitor screens exhibit colour variations, and you can see why people literally see Mrs Obama's iconic outfit differently. You are reading an original Spring Summer Fashion Trends 2009 article by Pauline Weston Thomas at www.fashion-era.com ©
Super lemon and citron are two of Pantones' hip fashion colour predictions for Spring 2009. Clearly this is a First Lady with her eye on the fashion ball, and it marked-out Mrs Obama as a confident fashion dresser, fully aware that texture in dress is very in vogue. Near right - The detail of texture on Michelle Obama's Inauguration wool guipure lace coat. Far right - The citrus tones of spring.
‡‡
For 2009 the statement-making looks of last season have drawn us into the concept of boldness in all areas of fashion.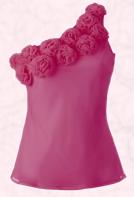 Dynamic garments like the one shoulder asymmetric dress give the designer ample opportunity to enhance the one shoulder with braids, bows, ruffles and fringes. This asymmetric look also extends to swimwear with pretty add-on floral forms. To the right you can see an inexpensive Matalan top. Observe how fabric roses, and surface texture like bows are a repeating ornament used in many areas of women's apparel.
Right - Et Vous rose embellished top £16 - Matalan Spring 2009 Collection.
For evening wear and special occasions, the one shoulder dress is already a winner and destined to take over from bandeau bustline prom styles. I discussed this development in earlier trend pages, when I predicted that the one shoulder Grecian style was a fashion fad to watch. Each season it has grown in strength as a viable alternative to the bustier strapless bodice. Now, having been given the ultimate seal of approval by Michelle Obama, it's likely to be the hottest evening glam for a year, and possibly a good portion of the twenty-teens decade. Also look out for this one shoulder design amongst bridal fashion collections.
Grown up glamorous fashion focuses on dresses, ornate jackets and knee length easy coats, sleeve/shoulder and hemline interest. Fashion looks are becoming LESS careless, more ordered, more statement making with futuristic glamour at the helm.
Observe the importance of the following:-
Vibrant colour block mixing
Lemon yellow gold tones
Stronger shoulder/emphasis
Volume sleeves
Geometric lines
Overall interpretation of drapery
Ornate or trophy jackets
Surface texture and sheen in fabrics
Texture in jewellery with chunky costume and vintage pieces
Note now that 2009 is the year of UPBEAT SELF STYLING where costume jewellery or vintage jewellery play a part as the ultimate 'it' accessory.
Paint Box Colour Blocking and Fondant Colours
Adamant fashion designers trod the path of soft fondant tints. For Spring 2009 they favour blushing pink beiges, neutrals, creamy whites, and tones of slate blue. Such softer dusty tones are easy tints to mix and match with existing black, navy or other neutrals, the result is a new more ladylike wardrobe.
Top Tip - Colour Blocking
Richard Nicoll was a prime example of a designer using colour blocking. However, many other fashion designers have injected statement colour into Spring 2009 clothes by using bright bold hues. While a few other creators played to the neutral palette.
Left - The pink way, striking colour blocking with blushing pink beige, rose to hot pink. All three pant variations are by Richard Nicoll. Note how we have two looks working here - the mixing of fondant tones in large colour blocks, and also the mixing of vibrant brights. Observe also the important boyfriend blazer style jacket.
Colour blocking with strong brights of hot pinks, orange, mango, tangerine and lime are popular. You will also see other brights such as lapis, Yves Klein blue, Santorini blue, lemon yellow, lime, orange and aqua jade tones. These garments can be worn alone or blocked together with the enthusiasm of the Dutch designer Mondrian.
In conclusion, expect bright colours that pop, shock and electrify to cheer up dull days. Mix and match bold colours in the latest silhouettes to add zest and a new tang to your existing wardrobe.
§
Black and white has always been a winning colour scheme, and this year it combines animal prints with Mondrian style colour blocking. In particular look for monochrome effects based on zebra or giraffe prints with stripes and spots. The recent Spring 2009 Chanel Couture, show by Karl Lagerfeld, was an endless stream of white, and then black and white ensembles The high street has paid homage to the monochrome scheme as a foil for those who will never adopt neon bright colours. The monochrome look also translates well into the nautical / yachting / maritime themes which designers celebrate every year. This black and white fashion look is classic, and easy to develop on a budget, or by adapting existing wardrobe items.
All three pant variations above are by Richard Nicoll. Wide legs, or narrow pants mean each silhouette can be equally fashionable on the right body shape. As usual, fashion is accommodating every purse. Some trousers may have more edge than others, but whether a wide, or narrow leg pant, 2009 is the ultimate year to wear the women's trouser style that suits you most. For many this will be the pair of previously unworn wide pants already hanging in their closet, especially so if they are already in a strong colour. One trouser fashion to steer clear of is the nappy style pant.
Read more about the latest new styles of pants here.
Peek-a-Boo Sheers - More Modesty and Less Skin Coverage
In Spring 2009 you will see a trend developing for greater skin coverage. The bare-all too exposed fashions of previous seasons are now considered passé.
What we are now seeing are peek-a-boo sheers, sleeves and more modest, less revealing cuts. Many women protested at the bare-all fashion and went for self-styling where they covered up those bare arms with shrugs. Designers have finally taken notice of consumer mood and are reworking sleeves with new vigour, adding sheer fabrics to décolletage and bringing hemlines down.
Ladylike cover up is in fashion. It is a signal of the more self assured woman. Even the latest jumpsuits are cut in many lengths from playsuit length, mid calf to ankle length. The new trophy jacket is the timeless alternative.
Left - Peek-a-boo sheers and texture are a big trend for 2009. The dress is a Swarovski embellished CRYSTALLIZED Jason Wu Spring 2009 catwalk dress and has textured sheer fabric to décolletage. Images courtesy Swarovski.
Now that the orange glow, and fake mahogany tans, are truly dead in the water there is less desire to show flesh; instead there is a new desire to simply display the natural skin tones of birthright. Indeed, natural skin is the most acceptable. Women like Michelle Obama and Dita Von Teese are very different, but each is beautiful and very fashionable in their own skin. You may have noticed a trend in this year's publicity shots - all the models are showing their own glowing skin base colour, whatever their race. Whether honey, brown, black, pink or milky white, living in your own skin is the biggest fashion trend of all.
If you are still slathering on fake tan or cremating your body under a sun-bed, then you have not only missed the plot, but the very real fashion trend to be natural. This trend has grown season by season as tans have been reduced in depth to the barely sun kissed look using daily summer glow skin tanning creams just for beach holidays. You are reading an original Spring Summer Fashion Trends 2009 article by Pauline Weston Thomas at www.fashion-era.com ©
Big bold chain-store costume jewellery is the easiest most achievable must-have fashion of Spring and Summer 2009. Think - huge chain store necklaces with texture and scale contrasts, big textural rings, stacked bangles - thin or thick cuffs. Mix and match clothes and jewellery with bold colours. For evening looks finish your outfits off with chandelier or elongated earrings. Right - Bangles from £5 and from a selection all at New Look in UK.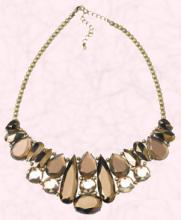 Wear sweet lozenge resin, or Venetian glass bumper beads that gleam and shine, and you will soon tune into the 2009 zeitgeist as you inexpensively self style your fashion look.
Smokey quartz gemstones are one of the hot jewellery sellers of the moment, and the Accessorize necklace right emulates this at an affordable price.
Right - Byzantine Bronze Gem Necklace £25/€42 from Accessorize Spring Summer 2009.
Revive a garment you have worn before with a clutch bag, small hard box (minaudière), or totes with surface beads and embroidery. The advantage of an ornate clutch bags is that they can accessorise a plain dress beautifully, elevating it into the glamour style of red carpet Oscar winners. Every woman needs her lipstick and mobile phone at hand!

This crystal bead decorated high street version of the box clutch (near left) is a fraction of the cost of designer minaudière. The golden tone is perfect for spring. Right - Box Clutch Accessorize.
Accessories mean an outfit can soon be in style and up to date with fashion trends of 2009. These jewellery looks are from the high street, but for luxury jewellery trends see my page on Jewels of Ocean or Van Cleef and Arpels.
You are reading an original Spring Summer Fashion Trends 2009 article by Pauline Weston Thomas at www.fashion-era.com ©
Top Ten trends for Summer 2009
1. DRESSES - Must-haves - Easy A-line 60's shifts, dynamic Grecian drapery, asymmetric off the one shoulder styles. New tier volume tulip skirt shapes over straight longer skirts. Strapless full ethereal fairy prom skirts/dresses. Maxi dresses. Kimono sleeve dresses that morph into tunics when worn over trousers.
2. STRONG INTEREST IN SHOULDER/SLEEVE - Sleeves are truly back. Puff sleeve volume, cap sleeves, 80s batwing draped sleeves. There also kaftan drape kimono sleeves, arm-warmers and chiffon sleeves. The length of the sleeves varies, you will see cropped fuller sleeves, full-length tailored sleeves, furthermore they can be pushed or rolled to elbow. As for the shoulder line, it's expanding with a softened shoulder line, one shoulder looks and halter collier lines.
3. COLOUR - Vibrant popping electric brights compete with soft sorbet tints.
In the red range popular tones are: blush beige, warm rose, lavender, fuchsia, magenta, rust red and hot shocking pink. While in the aqua spectrum we have deep cardamom green, citron green, vibrant green, jade aqua, Santorini blue and royal lapis blue. Monochromes are represented by, slate grey, black, navy, hessian, cream and white. Last, but not least, are the key colours of, lemon yellows, tangerine, orange and antique gold.
4. GOLDEN GIRLS - Think golden days with yellow, golden buttercup, citrus, lemongrass, burnished bronze and copper and all with metallic shine and the gleam of liquid gold shimmer.
5. EXOTIC TRIBAL - Note Amer-African transcontinental tribal references in pattern, print and fabrics. Navajo rust-red/turquoise/brown beadwork southwest colourations. Fringe on bags, fringed boots, sandals and garments.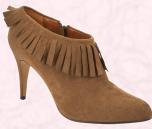 Above Left to Right. Spring/Summer 2009 - Ladies & Accessories. Bag Richness, £85/€115 by Dune.
Accessorize Spring/Summer 2009 Sanguine - Patterned Apache Bangle £10 (€17 Eire) Dakota range and Dakota multi Pocahontas Earring £8 (€13.5 Eire) both Accessorize. NEXT Spring Summer 2009 - Fringe Shoe Boots, £25/€37.
6. WATERCOLOUR PRINTS - Ditzy garden floral print mixes, Ikebana and exotic flora prints in a painterly manner. Animal fashion print materials also worked in non-animal bright colourways.
7. SHEER FABRICS - See through sheer areas create modest cover up looks that add intrigue.
8. RETRO JUMPSUITS - Carrot and peg top trousers versus wide leg jumpsuits. Jumpsuits as above knee playsuits.
9. TROUSERS - Harem dhoti carrot peg top style trousers with skinny ankles. Wide leg pants and boot cut jeans.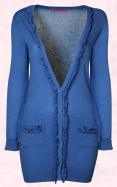 10. RETRO DENIM - Distressed looks with acid and stonewashing, ripping and fraying. Skinnies, baggies, boot cut, dark denim, pale denim, credit crunch chic of any and every denim style. Designer prices or recessionista fashion.
11. KNITS - Chunky cable knits in summer yarns, origami knits and extra long front wraps, superfine longer line cardigans as this blue version right at Monsoon Fusion - no price details yet.
12. THE ORNATE JACKET, TROPHY JACKET OR COAT - Sublime fabrics and workmanship; piping, inlay, beading, raised lace, Fortuny pleating, statement making sleeves. Texture and great cut.
13. GEOMETRY - Circles and origami folds. Drapes and pleats creating new lines and futuristic silhouettes.
14. ACCESSORIES - SHOES - Demanding high teetering taxi heels. Mixed colours and materials. Texture on shoes. GLADIATOR STRAP SANDALS - Gladiator Sandals in natural tones or bold colours, as open strappy fronts on shoes and high leg fronts boots.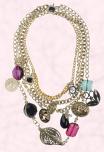 15. BAGS - LEATHER, PATENT - Classic bags that shine or non sheen bags dulled with raffia, wood, natural beads. Cornelli, crewel embroidery or blackwork style imagery on bags. Bags smothered in roses.

16. WIDE BELTS - Embellished buckles on gold embossed snake and lizard 'skin' belts.
17.JEWELLERY - Huge necklaces, big costume jewellery, retro and real vintage gem looks, tribal necklaces, stacked cuff bangles, massive cocktail dress rings and luxury pieces. Right - Dune Costume Jewellery Spring 2009 Collection. Seek exotic brooches that reference nature. Near Left - Large wide enamel and diamond dragonfly brooch pique-de-jour style by Nicole Barr in the fashionable citrus green and yellow tones of 2009.
18. HABERDASHERY ATTACHMENTS - ROSES/ FLOWERS - Flowers in 3D forms on necklaces, as accessories for dress necklines, waistlines and as hair adornment. Dress hems with roses. Rose print fabrics. BOWS - from small to mammoth adorn garments and bags. Necklaces with tie ribbon closures.
19. NAUTICAL STRIPES - Red, white and blue combinations with a European slant that suits the notion of Saucy Sailor Girls, Breton Babes, Maritime Club Med. Reinvented cruise wear.
20. TAN NO MORE - Live in your own skin whatever ethnicity. Drop fake tans or whitening options. For summer sunshine days use no more than a barely kissed gradual build sun shimmer look cream. Mahogany and orange glow tans are OUT.
KEY FASHION TREND ALERT
Now is the time to embrace wearable glamour in the form of texture with crunchy lace fabrics, guipure lace, crinkled chiffons, raised brocades and tucked raised pleating trims.
Folkloric, blackwork and ikat embroidery, fringe and feathers are other textures to consider.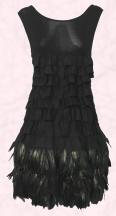 Add drama with silk foulard satin fabrics with surface sheen which glisten and gleam.
Texture, sheen and print is found on everything from dresses to earrings and belts to shoes, bangles and bags.
Left - Asos.com SS09 evening dresses - Textured ribbon lace Oriental Embellished Dress £65.
Centre Right - Prize winning black feather frill dress from the Royal College of Art in association with Oasis collection.
Far Right - Erdem simple 20's inspired shift dress with Crystallized Swarovski decoration and pleated raised fabric appliqué areas to hem.
Note that lemon grass colour again.
This year exotic, animal and Amer-Afro tribal prints will also continue to be seen across women's fashion and accessories and giving options to those who are more minimalist in outlook and never wear florals.
Important Trend for Shoulders
Shoulders have been gaining considerable attention from designers.
The importance of the changing sleeve and now the widening/wavering shoulder line has been growing over the past few years, first with three quarter and elbow lengths and blouson or ruffle flounce frill effects. Now the clear development is toward puff, leg of mutton, batwing fullness and kimono drapery. Kimono sleeves grace dresses, tunic tops and coats.
Right - Erdem dress with Crystallized Swarovski surface raise decorated sleeves creating fuller shoulders.
There is a continued love affair with the dress, in particular the simple shift and now the A-line shift dress has gained a following. Women have always loved the way a dress is so easy to wear, but the newest lines transform it swathes of fabric that twist and wrap. The result is to make a Grecian goddess out of the most ordinary woman whether the dress is cocktail occasion or maxi style.
Even two shoulder dresses are given the asymmetric look, as this pink cocktail dress left by Vera Mont shows. The first impression is of the dress being one shoulder, yet it firmly covers both shoulders. Look out for innovative dresses that are inspired by the one-shoulder look.
Right - Vera Mont Spring Summer 2009 'Fatal Attraction' sheath dress £360/IRL €410.00 - Material: 63% polyester, 33% polyamide, 4% Elastane. Dress Style No: 2163/3130.
The feminine styling of this figure-hugging dress in stretch taffeta enhances the natural silhouette. Unusual gathering, an asymmetrical neckline and the brooch as an extra highlight, reinterpret the classic sheath dress.
The full prom skirt has become a norm for special occasion wear. The bare shoulder prom look dress is making way for the ladylike silhouette of the one shoulder dress. The bandeau bustier bare shoulder look has been in vogue for bridal and evening dresses for over a decade. Time to move those occasion dresses and prom gowns on into the next fashion decade of the twenty-teens. 2010 will be here before you know it.
The newer dress styles favour more interesting one-shoulder detail or attention-grabbing skirt layers. Tops, swimsuits and floor length maxi gowns are all a sign of the strength of this trend.
Left and near left printed blue dresses worn by guests at Swarovski sponsored function.
Bright Blue 'Hare Place' dress by Aquascutum. Far right print dress - River Island Clothing Co. Ltd Spring 2009 - 80s Paint splash dress £59.99.
For this summer 2009 the dress fashion trend most likely to win over every age group is the 60s A-line shift dress like the central blue dress below. The A-line styles are often embellished at the jewel neckline. This is such a wearable silhouette whatever the age group - no wonder Michelle Obama selected the style for her lemongrass coat and matching Inauguration dress. It is a silhouette that helps the wearer feel at ease, and that A-line is much more forgiving of creasing and crumpling. It is also a good disguise over heavier hips and thighs, smoothing and flowing over lumps, bumps and bellies.
Another great disguise for lumps and bumps is drapery and this is evident in a gradually widening skirt silhouette. This style is achieved through designers employing double layer skirts.
Drapery focusing on the waist or side waist was a catwalk special in Autumn/Winter 2008/9. Now this fashion style has been taken up by retailers everywhere.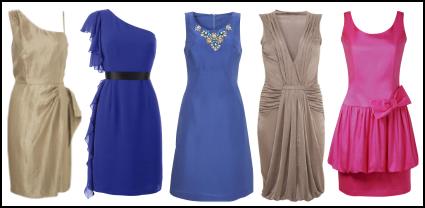 Along with the one shoulder dresses observe how the dresses show more modest bodice lines offering plenty of coverage. Note too, the use of a gradually wider A-line silhouette, side or centre drapery in the form of gathers, tucks pleats and bow ties. The changes are subtle but the inclination toward more modest looks is gaining ground.
Left - Wallis Spring Summer 09 - Metallic One-shoulder dress £55/€90.
Centre Left - Matalan Dresses - Et Vous ruffle asymmetric shoulder dress £25 - Matalan SS09 Women's Apparel.
Centre - Wallis Spring Summer 09 - Beaded neck shift dress £60/€95.
Centre Right - Wallis Spring Summer 09 - Draped deep v-neck dress £40/€60.
Far Right - Dorothy Perkins Spring Summer 09 - Pink bubble hem dress with bow £45 €70.
Dresses of various styles and colour types are a continuing important fashion trend for 2009 and you can see many more on the dress page. Hot colours include lapis, shocking neon pink and flesh tones as above.
It's worth noting how this draping is affecting every silhouette not just the dress. These tops and skirts are all defined by architectural draping and the newer peg top trousers make use of the same swathe and folding qualities.
Kaftan silhouette tunics with easy batwing flowing sleeves, or dropped shoulder 1980s style tops and kimono sleeves are relaxed and easy to wear. All are ideal fashions for summer wear, perfect with jeans, shorts or other trousers. They are especially utilitarian as beach and spa wear worn over swimwear.

The rose printed floral materials or exotic tribal prints are such strong patterns that they can easily compete with the bold brights. There is a fabric and colour suit every woman.
Above Left - River Island Clothing Co. Ltd. Floral sculpture dress £34.99. SS09 WW Hero Pieces
Centre Left - Principles Spring Summer 2009 Asymmetric draped top in orange.
Centre Right - Next Spring Summer 2009 - Womenswear Ruched Skirt £35/€50.
Far Right - Littlewoods Direct Spring Summer 2009 - Seam detail jersey top £22.
Tapered narrow pants first edged their way into fashion with leggings and skinny jeans. Last Autumn/ Winter 2008/9 saw the rising popularity of coloured and textured tights. Hosiery looks became more popular than since the 1980s and the fashion history progression is proving to be very similar.
If you have loved wearing dark coloured tights for winter consider pastel hosiery options for spring. White tights were a big look in the 1960s and their time may well have come again as a transitional fad for cool spring days.
For summer, ankle length narrow pants or jeans rolled up for an edgier look are beating a path to a retailer near you. Worn with a full skirted dress or top, cropped leggings or calf length trousers and jeans are still one of summer's fun ways of wearing the pants.
Narrow pants can be made extra snug fitting at the ankle with zip or button trims. Multiple haberdashery on clothing is big news this summer. Many of these styles also have peg-top waist styling and button closures without zip.
Left - Principles Spring Summer 2009 - Grey printed hook up skirt dress £75.00/ €115 Grey multi strand waist belt £32.00/€49 Pewter peep toe shoes, all from a selection at Principles.
Above Right - Principles Spring Summer 2009 - Fashion model wears a Neutral hook up shirt £55.00 with a Chocolate suede all over tassel cross body bag £45.00 and Chocolate silk washed trousers £55.00; Pink paisley print silk scarf £29.00. Shoes and jewellery selection from Principles.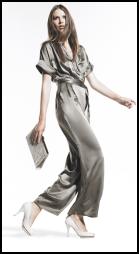 Jumpsuits were an enormously popular fashion trend of the late 60s/early 1970s, and then again in the 1980s as flying suits. There are so many variations that I have separate details page on jumpsuits. Leg style is not so important as the fact the garment is a jumpsuit. Jumpsuits are available in every leg width and every fabric type imaginable, but silk, satin and crepe all hit the 2009 mark.
Right - J by Jasper Conran silk jumpsuit £80/€124, mock croc clutch £25/€39 from Debenhams Spring/Summer 2009 Womenswear.
You have are reading an original spring 2009 key fashion trends article by Pauline Weston Thomas at www.fashion-era.com ©
See more on the New Trouser Styles/Jumpsuits page and read about denim styles.
Conclusion
In recent years it has been possible to pinpoint 20 to 30 mini fashion trends every season. Globalized communication has encouraged us to run ahead of ourselves, as a result people become tired of fashion offerings within a few days of seeing them.
This year is very different because of the downturn in the global economy. Overriding signs in February 2009 suggest that people will always follow fashion trends, but we may be back to the days when a few main trends set the tone for a proper fashion season. Whatever clothing trend you follow, remember you will at some point need to consider replacement purchases, thus there is every reason to make them fashionable. Add colour to your wardrobe may be the hottest trend tip to give.
On this page I have concentrated on the main Spring Summer 2009 fashion trends. I have saved my related musings on the fashion credit crunch for another page. You can read more on my fashion top ten credit crunch tips there. You have been reading an original Spring Summer Fashion Top Trends 2009 article by Pauline Weston Thomas at www.fashion-era.com ©
Copyright of images courtesy of prshots, Swarovski, Aquascutum, Dorothy Perkins, Wallis, Miss Selfridge, Oasis, New Look, Debenhams, Littlewoods, River Island, Marks & Spencer, Accessorize Monsoon, Matalan, Vera Mont, Principles, Hobbs, Benetton, ASOS, Warehouse,,
Date added 18 January 2009 - Ref:P.707.
If you like this page then please share it with your friends
---
--Link--
For more information on ladies and teens fashion trends go to:-
* AW (Autumn Winter)
Archived Sections
Custom Search
About Fashion-Era.com
Fashion-Era.com looks at women's costume and fashion history and analyses the mood of an era. Changes in technology, leisure, work, cultural and moral values. Homelife and politics also contribute to lifestyle trends, which in turn influence the clothes we wear. These are the changes that make any era of society special in relation to the study of the costume of a period.

Fashion-Era.com can take no responsibility for any information on the site which may cause you error, loss or costs incurred from use of the information and links either directly or indirectly. This site is owned, designed, written and developed by author: Pauline Thomas and Guy Thomas. This site is designed to be viewed in 1024 X 768 or higher.
ALL RIGHTS RESERVED. Fashion-era.com reserves the right to add or delete information, graphics and links. Copyright © 2001-2014 on all content, text and images in Fashion-era.com. Images and text in this website may not be used on other websites.
Before you write to me for costume/fashion help or information please, please consult the extensive sitemap which lists all our pages. If you still cannot find the answer after searching the site, then before you email me, please consider if you are prepared to make a donation to the website.
Donations
Reader's donations help this site flourish, in particular donations encourage me to write more articles on fashion history as well as current trends. PayPal allows anyone with a credit card to donate easily and securely. You may donate any sum you feel appropriate.