Ancient Costume - Egyptian Dress Costume Plates
Part 4 - Warrior King Costumes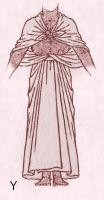 Right - A male costume which is easy to make.
This site concentrates on female dress, but for Egyptian fancy dress purposes I have included these few extra male styles from the book that I researched.
As well as noting that most Egyptian costumes were worn by both men and women, you may have noticed on a previous page the simple robe pattern for the God Osiris, and also the garment a scribe like Ani would have worn.
Model Y) is of a cloak of the sixth century B.C. The fabric is simply arranged as shown on the model Y to the right.
Do remember that men wore a version of the petticoat wrap and tied skirt as shown here.
Briefer male 'active' costumes include W and X below. I think these Egyptian costumes very much reflect our concept of an Egyptian man, of young and powerful physique.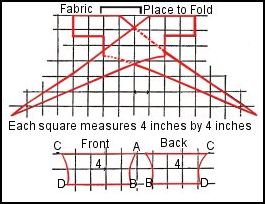 The Warrior King model W of 1200 B.C. below, wears an interesting cross-over garment that sheathes the upper body. On the pattern left you can see a fold. The fold in the pattern is where the shoulder line of the sleeve forms, and which should be stitched at the underarm.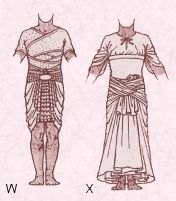 Leather or quilted linen would probably have been the ancient Egyptian material of choice.
On the lower body half, the warrior W also wears a simple wrap fabric skirt tucked into the waistline at the centre front. A short length of fabric would be all you need for this part of the costume. Wear it in the manner of a bath wrap after exiting a bath.
The figure Y also wears one of the decorative belts to which long appendages were attached. You can see appendage designs on the Egyptian Collar page.
The pattern for the waist belt is shown in the lower part of the grid image above. For fancy dress this can be easily decorated with rows of purchased braid. I think Model Y has a real Egyptian look to it.
Egyptian model X of 1300 B.C. wears a stiff midriff corselet made of leather or quilted linen. You can just see the fastenings at the side midriff area.
...(v4r)
Finally, whichever idea you intend to base your Egyptian costume, remember to be flexible and adaptable in your drapery. Egyptians of ancient Egypt were just like us - all different shapes and sizes. The imagery that exists for us today is based on tomb drawings and carvings almost always of the most perfect examples of the era. No doubt there were far more body shapes then just as now.
Capture the essence of Egypt by adhering to typical ancient Egyptian colours. Add a great collar and fantastical head dress; lather on a bottle of fake tan to get a golden glow and and you'll walk away with first prize!
Read more about Egyptian Ornament - You can see some decorative elements for Egyptian collars on the next page.
N.B. If you prefer to work in metric measurements then substitute 10 cm squares for the 4inch squares.
This page contains some costume plates sourced from the book Ancient Egyptian, Assyrian and Persian Costumes & Decorations by Mary G. Houston and Florence S. Hornblower. The book was published by A & C. Black of London in 1920. F. S. Hornblower coloured both the figures and Decorative Ornament plates where colour was needed.
Page Added 15 Nov 2007. Ref:-P661
You have been reading an original costume history article by Pauline Weston Thomas at www.fashion-era.com ©
‡
If you like this page then please share it with your friends
---
--Link--
For more information about the Egyptians
see these pages:
Custom Search
About Fashion-Era.com
Fashion-Era.com looks at women's costume and fashion history and analyses the mood of an era. Changes in technology, leisure, work, cultural and moral values. Homelife and politics also contribute to lifestyle trends, which in turn influence the clothes we wear. These are the changes that make any era of society special in relation to the study of the costume of a period.

Fashion-Era.com can take no responsibility for any information on the site which may cause you error, loss or costs incurred from use of the information and links either directly or indirectly. This site is owned, designed, written and developed by author: Pauline Thomas and Guy Thomas. This site is designed to be viewed in 1024 X 768 or higher.
ALL RIGHTS RESERVED. Fashion-era.com reserves the right to add or delete information, graphics and links. Copyright © 2001-2014 on all content, text and images in Fashion-era.com. Images and text in this website may not be used on other websites.
Before you write to me for costume/fashion help or information please, please consult the extensive sitemap which lists all our pages. If you still cannot find the answer after searching the site, then before you email me, please consider if you are prepared to make a donation to the website.
Donations
Reader's donations help this site flourish, in particular donations encourage me to write more articles on fashion history as well as current trends. PayPal allows anyone with a credit card to donate easily and securely. You may donate any sum you feel appropriate.