Mid 1980s Wedding Photos of Real People
1986 Wedding - Wedding Dress Photos
There are 3 weddings on this 1986 page and they fit with social statistics of today, modern marriage and divorce. The first marriage in the first photo shown directly below is still strong after 20 years. The images of the second two marriages further below, both ended in divorce at much the same time after just a few years. You can read more about marriage statistics here.
Jacquie was married in 1986 when power dressing was all the rage, a fashion that lasted until the early 1990s.

Jacquie wanted a classic, yet modest wedding dress style. She lived in Hong Kong at the time and thus was able to acquire beautiful quality silk fabric. Jacquie asked an old friend Pat whose wedding of 1965 is here to make the wedding gown so she could have exactly the dress style she wanted.
It is interesting that there are no extremes of oversized shoulder dressing in this wedding picture and so this old wedding photo has a very classic feel to it, as a result it does not scream 1980s, when we admire the bridal group 20+ years later.
‡‡
By contrast Karen chose to wear a very daring wedding dress for the time, with a low cowl back.
One famous man divorced his equally celebrity famous new wife for wearing a low backed wedding dress. Celebrity chef Marco Pierre White was not amused by the back revealing dress his first wife wore to their wedding ceremony.
But a woman should wear whatever she feels is best for her. She should choose the wedding dress that makes her feel the most comfortable and the most attractive on her special day. If a man dictates what a woman wears on her wedding day what hope is there for an equal partnership?
Today of course, compared to the volume of flesh most brides expose in their bustier dresses, back, arms and breasts, Karen's dress would be considered very tame. Karen chose this style because she was petite and her back was a good feature. It also of course provided back interest to the congregation during the ceremony.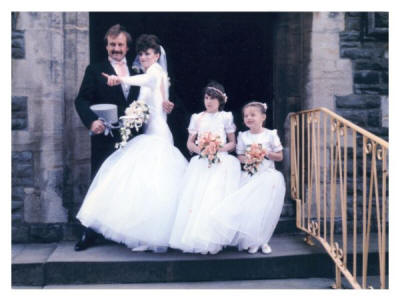 In reality the wedding dress exposed much more flesh than the picture shows because the cowl back was loose and open.
As a guest at this wedding I know it was possible to see the complete spinal column which gave a definite air of undress and erred on the side of over exposure in a church setting.
As you can see it was also a very windy wedding day, which always makes it worthwhile considering alternative venues to the church for the wedding pictures.
Realising on the actual day that a shower or windy weather means taking the images inside the church, may throw you in a way that upsets your day. Railings in your photos are not really the look you expect to see.
It is worth taking a digital camera along to the church and venue weeks before and taking a few shots beforehand to plan where the main photos might be best for the photographer.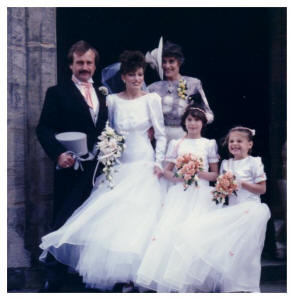 Fortunately Karen had a good wedding video taken and it was possible to select extra prints from that video. You can see elements of 1980s fashion styling in this dress in the sleeves and shoulder line.
Nosegays were revived in the 1980s for bridesmaids. Popular colours for bridesmaid nosegay sprays were often peach. Brides still used shower and trail flower sprays, but more natural loose straw or ribbon tied arrangements became fashionable in the 1990s, especially by the late 1990s.
Popular bridal fabric colours in the 1980s included white, ivory, cream or a very soft hint of champagne or the palest pale magnolia pink. These creamy tones all followed the wedding fashion trend set by Princess Diana at her wedding in 1981 and perpetuated by Sarah Ferguson right in 1986.
...(v4r)
During the 1980s it become more usual to have bridesmaids and flower girls in the colour and exact fabric the bride wore. Usually the bridesmaids dresses were stylistically correct mini versions of the wedding dress itself.
By the 1990s, wedding dress designers started to move from self coloured embellishment and introduced coloured embroidery and contrast piping trim on dress bodices.
Twenty years later by 2005, the red wedding dress was a very popular choice for many brides.
In April 1986 Sarah Ferguson wed H.R.H. Prince Andrew (now divorced)
Bob Geldof wed Paula Yates
Arnold Schwarzenegger wed Maria Shriver.
Other Memorable Events of 1986
Hole discovered in the ozone layer
US space shuttle Challenger explodes on take off killing 7 astronauts.
Devastating nuclear explosion at Chernobyl in the USSR
Halley's Comet passes closest to the earth in its 30th perihelion a second visit in the 20th century. First visit was 1909 when the event was recorded on photograph plate.
Hampton Court Palace burnt in fire. Damage takes years to repair.
Old photos can be useful when tracing family members and narrowing down search dates. These photo pages may help you put an era to your undated images.
These wedding photos must not be published/used elsewhere -
© Copyright www.fashion-era.com 2006
§
You can read more about 1980's fashions in the 80s power dresing section.
You can read how to date an old photo in this section here.
Page added 8 October 2006
If you like this page then please share it with your friends
---
These wedding photos must not be published or used elsewhere - © Copyright www.fashion-era.com 2000-2010.
For more information about Wedding Photos click below:-
--Link--
Old photos can be useful when tracing family members and narrowing down search dates. These photo pages may help you put an era to your undated images. If you have old wedding photos please send them to me and if suitable I will add them to this pictorial section of social history.
OLD WEDDING PHOTOS
RE-ENACTMENT